THE LEGO MONSTER PARTY: The Test Patrol Family Visits Special Halloween Event At LEGOLAND
---
Published 14 October 2022 at 04:44
Tickikids Blog Singapore > Reviews > THE LEGO MONSTER PARTY: The Test Patrol Family Visits Special Halloween Event At LEGOLAND
---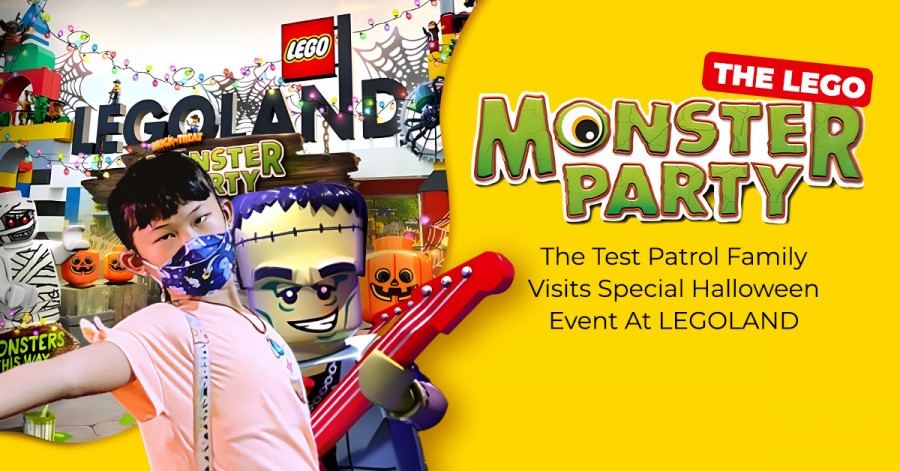 ---
LEGOLAND Malaysia Resort brings together a LEGOLAND Theme Park, a Water Park Hotel, and SEA LIFE in one LEGO-inspired setting. With over 70 interactive rides, slides, shows, and attractions, LEGOLAND Malaysia became the perfect a day-out and family vacation destination. Being the first part of its kind in Asia, LEGOLAND Malaysia offers an exciting adventure for families with kids aged 2 to 12 years old.
This October, the spell has been cast across the LEGO park! LEGOLAND Malaysia Resort hosts THE LEGO MONSTER PARTY, the flagship Halloween season event, where the LEGO Monsters are taking over the park. If you are looking for something scary - but not TOO scary - to thrill your children this Halloween, THE LEGO MONSTER PARTY offers plenty of freaky fun family-friendly activities.
As part of the event, guests can look forward to exclusive entertainment, live shows, and dancing with their favourite LEGO characters. All little monsters are invited to take part in MONSTER DISGUISE Costume Contest, show the judges their best Halloween disguises and get a chance to win exclusive prizes sponsored by CANON and LEGO Malaysia.
TickiKids' Test Patrol family was sent on the mission to join THE LEGO MONSTER PARTY at LEGOLAND Malaysia and is ready to share their experience with our readers!
"My daughter liked the event very much!", shares Ms Fellen after visiting THE LEGO MONSTER PARTY together with her daughter Keola, aged 10.
"She enjoyed the shows during the event", continues Ms Fellen. "During the first show at LEGOLAND Theme Park, she liked dancing with Witch, Frankenstein, Lord Vampire. Then she watched the pirate show at Legoland hotel. She enjoyed the story about all the pirates looking for treasure. At first, they were all fighting each other but ended up they shared treasures equally. The event featured dancers and LEGO characters. All the kids stood up and followed them dancing."
For Ms Fellen and her daughter, it was not the first time at LEGOLAND, but it was their first time they visited LEGOLAND Halloween event. Answering the question about event characters Ms Fellen said: "My daughter liked Frankenstein the most. His dance was funny, and the costume was very detailed."
Describing their experience and impressions from party activities she continues: "My daughter participated in Fashion Show. She hoped she would win, so when she didn't, she was quite sad for a moment. But when she got a lollipop for participation, she become happy again. She also was very excited when she was dancing on the stage together with LEGO character and other kids."
We also asked Ms Fellen what her child learnt during the event: "The Fashion show gave my daughter confidence on stage and helped overcome shyness. She learnt how to accept the loss and come to terms with the fact that not every time she wins, even though she already tried her best." In the end, Ms Fellen shares her advice for other families with kids expect those who are going to take part in THE LEGO MONSTER PARTY: "For THE LEGO MONSTER PARTY, it is better for kids to wear costumes, so they can have the feeling that they join the party. LEGOLAND also gives out masks for kids. Other families can come if they want to join the cutest Halloween party in Asia."

The TickiKids' team would like to thank Ms Fellen and her daughter Keola for providing us with their impressions and photos of the event. To join this ultimate Halloween event for kids for spooky fun and games with LEGO characters, click here.
Subscribe to weekly newsletter from "Tickikids"