Learning To Code with Walnut: Unlock Your Child's Coding Potential
---
Published 03 March 2023 at 22:37
Tickikids Blog Singapore > Childhood reading > Learning To Code with Walnut: Unlock Your Child's Coding Potential
---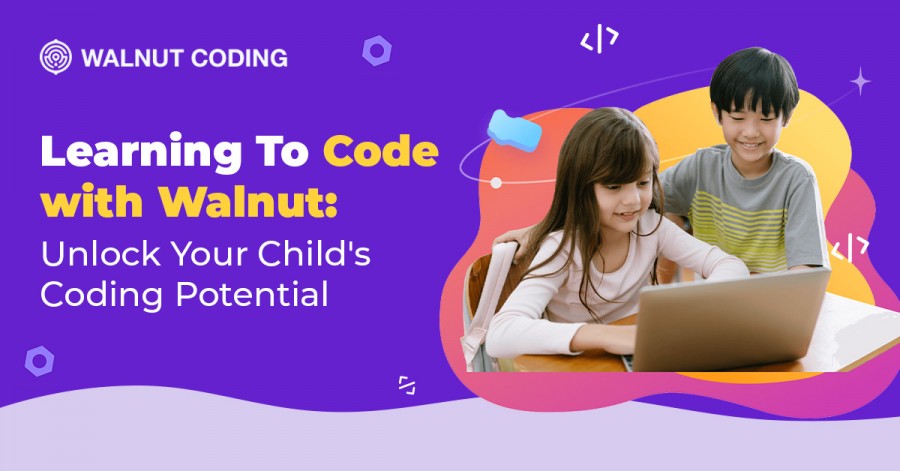 ---
As technology continues to evolve, it is becoming increasingly important for kids to learn how to code. Not only coding is a fun and enriching activity, but also it enhances cognitive skills and opens up a whole new world of future possibilities.
However, with so many online courses and learning platforms available for teaching children coding, it can be challenging to know where to begin. One platform that stands out is Walnut, the leading K-12 coding academy with live online classes that teaches kids everything they need to know about computer science and coding. And here are some reasons why it is an excellent choice for parents looking to teach their kids how to code.
Rich Long-Term Curriculum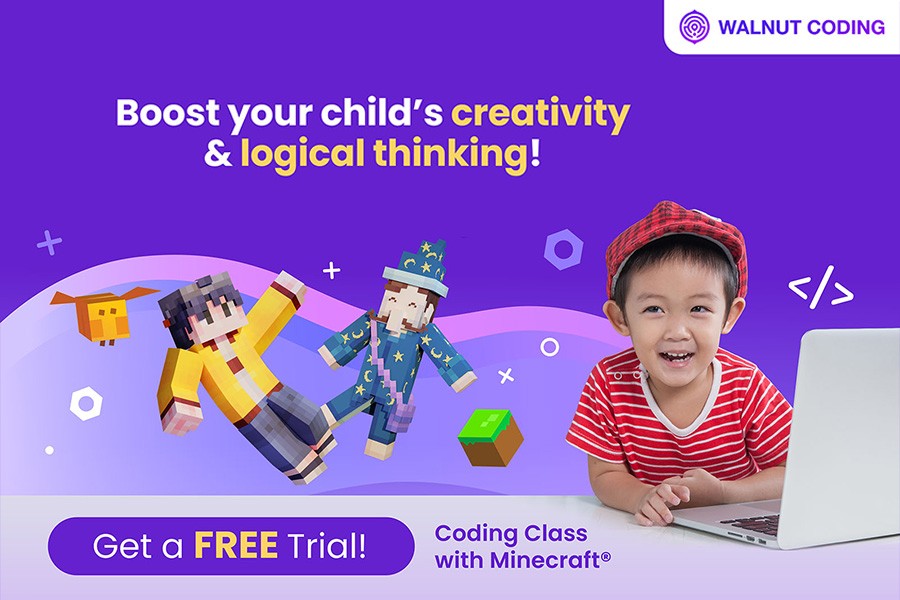 Image Credit: Walnut

With a focus on an extensive range of programming languages, the Walnut curriculum is tailored for kids aged 5-12 years old. Through project-based learning, the students can craft anything they desire, be it websites, games, or apps. The curriculum is divided into different levels, each with age-appropriate content that gradually builds on the previous one. This ensures that kids learn at a comfortable pace and do not feel overwhelmed.
Allowing kids to become creators, not just gamers, the Junior Game Designer course (8 classes) was designed as the starting point of the learning path for future coders. The course will introduce students to the fundamentals of coding and logical thinking through exciting challenges. By the end of the first level, students will be able to build small blocks of code to move game characters and design more complicated game logic like shooting.
The second level, Game Designer (16 classes), is aimed to improve students' game dev skills and build on coding and logical thinking fundamentals. Participants will dive deep into coding concepts to create advanced games like Car Racing and Battle games. Young game developers will explore logic and operators to create winning and losing conditions in their own game, learn about screen-scrolling and multi-level game concepts and more.
During the third level, Advanced Programmer (24 classes), students will gain a deeper understanding of user research and product design. From the sequence and application of programming concepts to code optimization and debugging, participants will delve into algorithms and logical thinking behind complex games and character actions.
With 48 classes at the Junior Python Programmer level, students will extend their skills in text-based coding with Python, a widely used language in the tech world. Before creating their final projects based on AI and machine learning, students will learn about Big Data, and the application of Cloud Services and build a strong understanding of strings, loops, variables, input-output commands, conditional statements, and functions in Python.
The final level, Senior Python Programmer (48 classes), will help students develop their own apps. With a deeper emphasis on problem-solving skills and understanding of abstract concepts, this level teaches students how to design complex flowcharts, use third-party libraries, and various types of algorithms. Finally, they will learn about end-to-end product development, including testing and debugging.
Walnut Complimentary Trial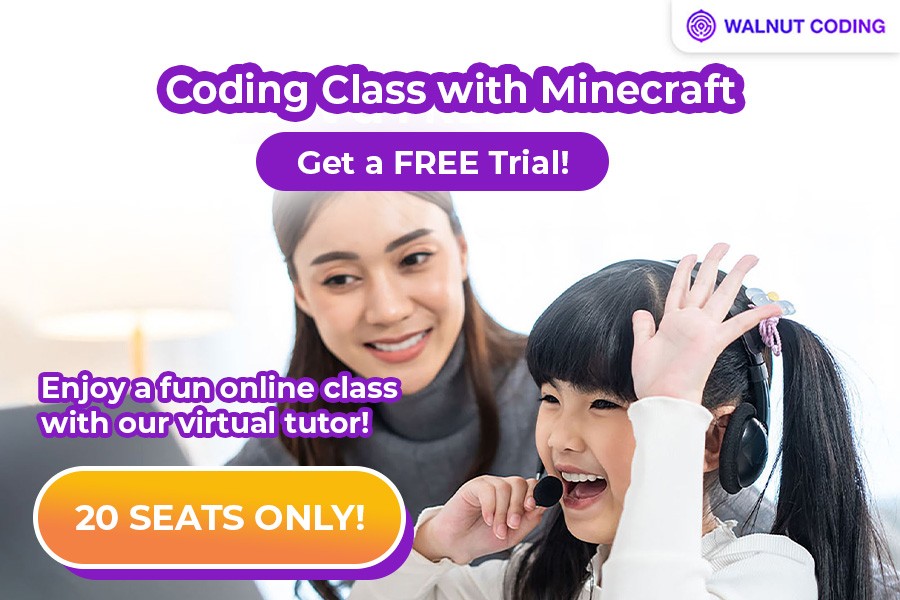 Image Credit: Walnut

Walnut gives an ultimate chance to launch your child's fascinating coding journey with a completely free Minecraft-themed Coding Class. The 40-minute online session is led by a tutor who is available to support your child throughout the class. During the trial lesson, children will be exposed to 5 fundamental coding concepts, which lay the foundation for understanding programming. Participants will also complete 3 coding challenges specially designed to reinforce what they have learned and create their own final Minecraft® project. Upon completion of the class, parents will receive study reports outlining their child's progress and a graduation certificate to celebrate their first coding achievement.
Spots are limited, so hurry up to book Walnut's free trial lesson and watch as your child becomes a coding superstar!

Emphasis on Comprehensive skills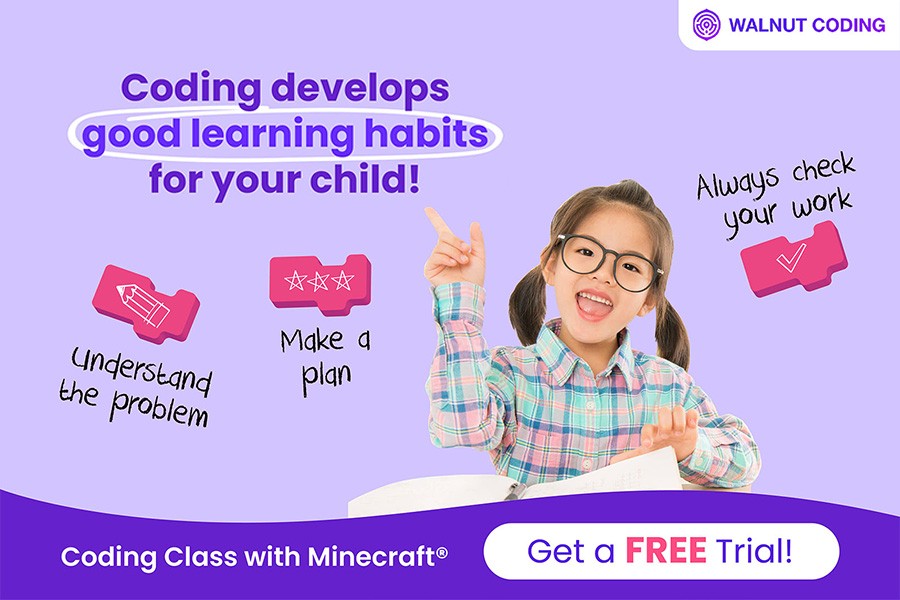 Image Credit: Walnut

Walnut's approach to teaching coding provides an all-encompassing array of benefits, such as enhancing logical reasoning thinking, fostering creativity and problem-solving skills. Moreover, Walnut's coding lessons also assist kids to master their proficiency in English and Math. Finally, coding opens doors to a vast range of job opportunities, laying the foundation for a prosperous future.

Gamification Elements
Walnut
utilizes a Minecraft-inspired game-based approach and uses gamification to make the learning process more engaging and easier. As kids solve problems and complete levels, they earn points and certificates. This helps to keep students highly motivated and encourages them to continue learning.
Experienced Teachers

At Walnut, teachers possess a deep understanding of teaching coding to children. Walnut Passionate Mentor Team consists of STEM graduates from top-tier universities, with an average of over seven years of experience in the education industry and a proven record of success. With Walnut, your child is in the hands of experienced and passionate mentors who are committed to students' success.

Walnut Spring Coding Boot Camp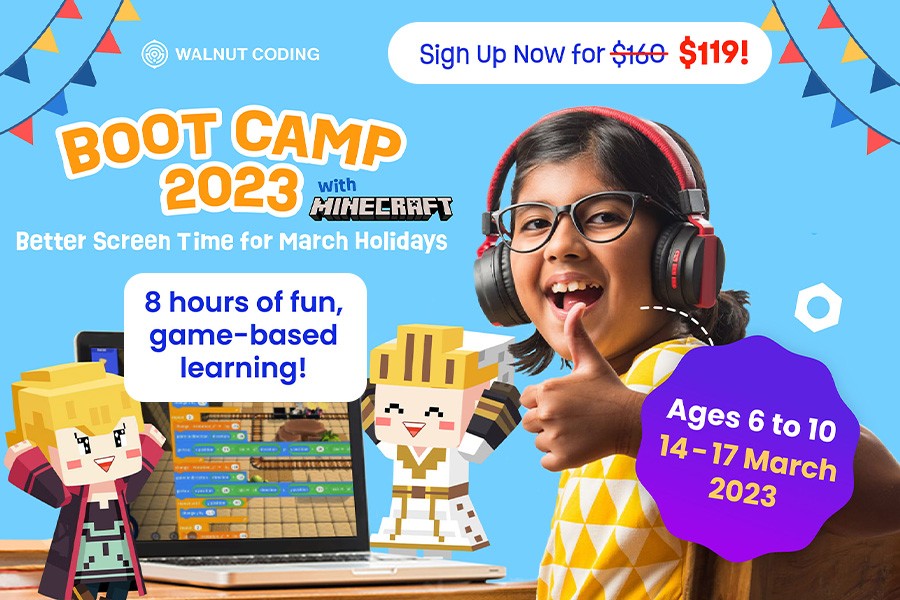 Image Credit: Walnut
As the March Holidays are just around the corner, it is an excellent time to ignite valuable coding skills with Walnut Coding Boot Camp! The Walnut game-based learning program consists of 50-minute live online sessions filled with intriguing animations and exciting challenges that will keep your child engaged and motivated. Sign up here and give your child the gift of the best coding education with Walnut today!
Subscribe to weekly newsletter from "Tickikids"