Peppa's Holiday Time at KINEX & United Square
---
Published 17 May 2023 at 07:19
Tickikids Blog Singapore > Digest > Peppa's Holiday Time at KINEX & United Square
---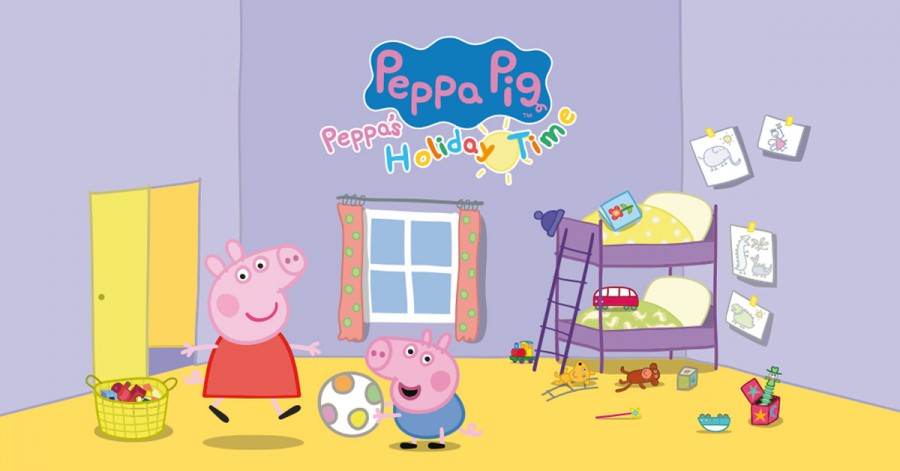 ---
This summer promises to be bright! And, the United Square and KINEX Malls promise to do their best to make every day of summer unforgettable! 

Both KINEX and United Square are the ultimate go-to places for families with children. These venues have all options to turn every visit there into a bonding pastime because families can have fun, explore their talents and develop new hobbies together.   
There, every member of the family can find an activity to suit their needs. Centers for kids, improved customer incentive program that makes shopping truly pleasant activity, public catering that offers all kinds of dining experiences - what's not to love? So it's no wonder that these places attract families and they come back again and again!
So what fun have the Malls got in store for the kids in June?
Peppa's Holiday Time Live Show with Meet & Greet
This June, United Square and KINEX host a free live musical show Peppa's Holiday Time with Meet & Greet. The show is built on the excitement of preparing to go on a family holiday as a surprise treat for Peppa and George, with all the fun that goes with it. On learning Mummy and Daddy's surprise together with Peppa's friends, we must plan the location, pick the transport, pack the suitcases, and all the while of course, with snorts of laughter!
This charming Live Show is filled with popular songs, pig-style dance moves, holiday games and jumps in muddy puddles. Join us for a fun holiday themed show this season. Peppa's Holiday Time has something for all pre-schoolers (and parents) this school holidays!
Spend 50 SGD in a single receipt to redeem a Meet & Greet pass an hour before show time.
Limited to the first 50 redemptions per show and parents don't forget to bring your own cameras.
When: 

KINEX: 1 – 7 June.
Thurs – Wed: 1.00 pm, 4.00 pm & 7.00 pm;
(No shows / Meet & Greet on Mon, 5 June).
United Square: 9 – 18 June
Tue - Fri: 1.00 pm & 7.00 pm;
Sat & Sun: 1.00 pm, 4.00 pm & 7.00 pm.
(No shows / Meet & Greet on Mon, 12 Jun)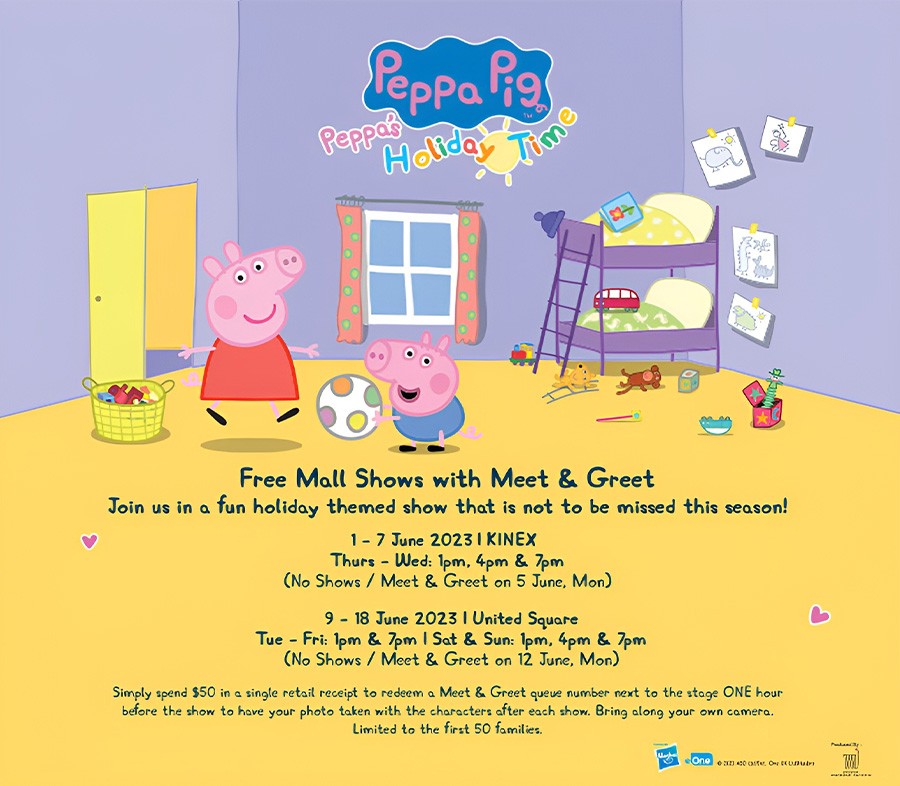 Image Credit: UOL Malls
Spend Redeem Campaign
From now till 25 June, redeem exclusive deals when you shop and spend at KINEX and United Square:
Redeem a $5 UOL E-Voucher with $100 spent;
Redeem an Exclusive Peppa Pig Umbrella with $180 spent.
Exclusively for UOB Cardholders stand to redeem a $5 E-Voucher with $100 spent, or $10 UOL E-Voucher with $180 spent. 
*Terms and conditions apply.
When: 26 May - 25 June.
KINEX Exclusive Events
CultuRediscover Art Competition by Tree Art 
Meet CultuRediscover - Live Children's Art Competition, co-organized by Tree Art, KINEX, and the Youth & Children Education Society Singapore! It is a great possibility to learn more about Singapore's cultural heritage and give reign to the imagination and creativity and create a work of art that represents Singaporean cultural phenomenon. The works will be assessed by the renowned artists Mr. Yip Yew Chong and Mr. Kow Fong.
Pre-registration online is required.
When: 18 June, Sunday.
Register
EDUFair 
Returning for their 3rd edition, EDUfair at KINEX is back this June holidays! Engage the family this holiday with a weekend of music, dance, and exclusive learning packages at EDUfair by brands like The Lab, Zenith Education Centre, Eye Level Learning, Tree Art and more! 
Catch the ever-popular Distinct Creative Arts boys and girls live on stage as they showcase rockin' dance moves; be wow-ed by the graceful and elegant dancers from Yan Ballet as they capture your hearts with their mesmerising dance pieces. Finally dance along to popular tunes in a live band performance by students and teaches of Aureus Academy and the multi-faceted Fine Momentum bringing a whole host of talent to stage. 
When: 23 to 25 June, Fri - Sun
United Square Exclusive Events
Education Fair
United Square confirms its title of the 'Learning Hub' with this Fair, for sure! With participation from brands like Geniebook, Aureus Academy, Tree Art, and I Can Read collaborate, you can expect something incredible, interesting, and enriching. So, do not miss this opportunity for your kids to learn something new and exciting!
When: 26 to 28 May
Kids Bazaar
The seasonal clearance fair welcomes parents and kids to get the most out of the discounts for great items. So, if you have put an eye on branded goods from BloomB, Linen Gallery, VitaKids or The North Face Singapore it is about time to get them and save a hatful of money!
When: 19 to 25 June.
Socials: 
Location: 
United Square: 101 Thomson Road, Singapore 307591;
KINEX: 11 Tanjong Katong Road, Singapore 437157.
#UOLMalls #peppasholidaytime #upopp #unitedsquaresg #kinexsg
Subscribe to weekly newsletter from "Tickikids"