Summer Holiday 2022: The Most Exciting and Enjoyable Summer Camps in Dubai
---
Published 13 June 2022 at 19:27
Tickikids Blog Dubai > Summer Holiday 2022: The Most Exciting and Enjoyable Summer Camps in Dubai
---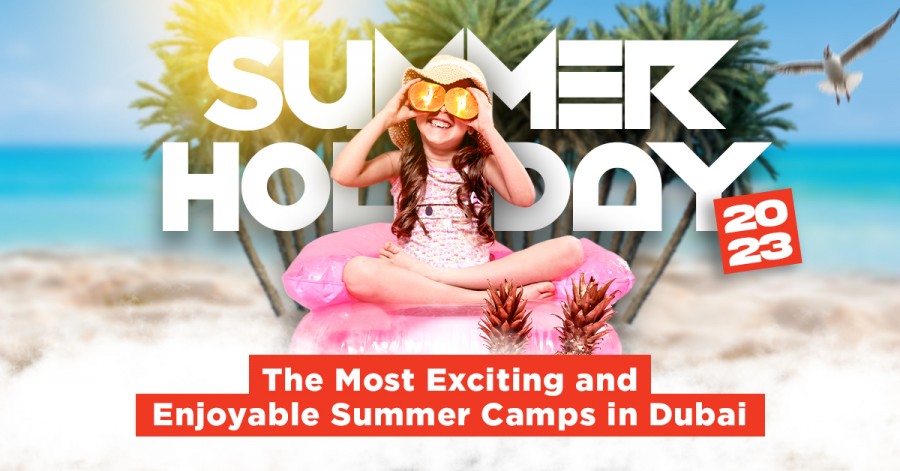 ---
The summer camp time is finally here and is set to be huge! There are numerous types of camps, many of which cater to children's specific interests and needs. When you have so many to choose from, it can feel overwhelming for parents and make choosing a camp in Dubai may seem like a challenge. Fortunately for you, we simplified your life by researching and listing some of the best camps, workshops, and classes to help your kiddos harvest their creativity, learn a new skill set, and just have fun throughout the summer.
Image Credit: Elite Sports

Formed in 2012, Elite Sports Academy prides themselves on being the largest provider of sports training for children in Dubai. Highly qualified and experienced trainers teach foundational sports skills to children in a safe and welcoming environment. This summer break,  hurry up to secure a place for your child on Multi-Sport or Intensive Football Camps.
Multi-Sport Camp
Keep your child active during the summer and treat them to a dreamlike pastime! During Multi-Sport Camp, kids will have loads of fun and take part in different sporting and sport-specific activities designed by the Elite Sports Academy coaches. Little participants will play and train with peers so they can challenge themselves while creating special memories and friendships. Each day incorporates a different theme and involves children in different kinds of sports. Be it Teamwork, Competitions, Action Sports, Adventure Day, American Sports, Points, or Goals&Olympics, your child will have a tumbling good time while working on their skills!
Intensive Football Camp
Elite's Intensive Football Camp is the perfect addition to the weekly coaching sessions and aimed to boost technical and tactical skills. The course has been designed for players who want to take part in an intensive learning environment. The training sessions will educate young players within key developmental areas and those learning points will be reinforced within competitive matches, another great possibility to master football skills offered by Elite Sports Academy. Throughout the week, young players will have a blast training with other children of their age group, making new friends, staying active and practising.
Age Groups:
Multi-Sport Camp 4-14 years
Football Camp 7-14 years
Dates:
Monday 18th – Friday 22nd July
Monday 25th – Friday 29th July
Monday 1st – Friday 5th August
Monday 8th – Friday 12th August
Monday 15th – Friday 19th August
Monday 22nd – Friday 26th August
Locations:
Horizon English School (Al Safa)
Jumeriah English Speaking School (Arabian Ranches 1)
Jumeriah English Speaking School (Al Safa)
Victory Heights Primary school (Sports City)
Fees: AED 882/week per child (Inc. VAT)
20% Sibling Discount is applicable when registering 2 or more children
Contacts: info@elitesports.ae
Image Credit: Aquinas International Academy
Aquinas International Academy (AIA), a fully Accredited K-12 private non-denominational American School, specialises in making American education available anytime and anywhere to students from around the world. AIA provides personalized learning opportunities for each student, giving them the flexibility to learn at their own pace, independently or with live instruction to maximise their learning potential! AIA has a global team of experienced, licensed, and enthusiastic teachers who give a rise to every child's talent and impart a great deal of knowledge to their students.
Over this summer holiday season, AIA is offering various dynamic 6-week programmes that perfectly balance education and discovery. Starting in June, students will get a unique opportunity to attend two hours of a camp of their choice each day. The camp will culminate in students creating a written report or video presentation of their favourite camp experience. Kids and teens will be spoilt for the choice of the AIA summer camps on offer. From STEM, Game Design, AI and Modern Technology, to Mindfulness, Creative Writing and Zumba, AIA has something to cater to every and each interest of your child.
Age: 6yo+
Dates:
6 June - 15 July
18 July - 26 August
Socials: Instagram, Facebook, Youtube
Image Credit: CodeWizardsHQ


Over the years, CodeWizardsHQ has trained thousands of students around the globe. CodeWizardsHQ deeply believes that computer coding is for everyone, and anyone can successfully learn to write code. Inspired by its vision, CodeWizardsHQ delivers the most fun and effective live, online coding classes for children and teens. Designed to give kids the fundamental programming knowledge, skills, and confidence to thrive in a digital world, the CodeWizardsHQ rich curriculum is tailored to engage elementary, middle, and high-school students in a comprehensive and fun, yet challenging way.
This summer season, the CodeWizardsHQ coding camps are all the rage! The 1-week summer camps will use Minecraft and Roblox, the most-downloaded games of all times, to help kids learn basic coding concepts. Led by young coders will build fun projects during camp while playing their favourite games. By the end of the online camp, students will have the confidence and understand the vocabulary they need to continue learning to program.
Ages: 11-18 and 8-13
Fees: $499/1832 AED
Special offer: Enroll your kid today in a 1-week camp for a $250 bonus to spend on any class from CodeWizardsHQ!
Dates: Camp sessions are 2 hours per day for 5 days
May 31 - June 4
June 27 - July 1
July 5 - July 9
August 1 - August 5
Contacts: school@codewizardshq.com
Image Credit: Colabcompany

COlLABORATORY is a UAE-based arts company dedicated to empowering creativity in people of all ages through innovative collaboration and global networking. Being dedicated to celebrating art in its every form, COlLABORATORY brings the young people of Dubai together with the best art instructors to unleash their creative potential. This summer break, teens will take the plunge into the world of arts and crafts during the COlLABORATORY summer holiday courses.
Prop Design: Summer Holiday Course
Your child has read the books written by J.K. Rowling and is fascinated by Harry Potter and Hogwarts? Taking inspiration from Harry Potter, the stage and screen prop design course from COlLABORATORY is for anyone who has always dreamed of attending Potions lessons or classes in Care of Magical Creatures then popping over to Quidditch practice before testing their wand work in Charms or Transfiguration! Get your ticket for the Hogwarts Express and be ready for some magic fun with Prop Design Summer Holiday Course!
Participants will spend the week with the props of Harry Potter, hand-crafting their very own magical Hogwarts luggage case, which will include potions and potion ingredients, an individualised wand, a Hungarian Horntail egg and even an ornamental Golden Snitch! Young wizards will also participate in a special performance at the end of the week and will use created props to bring the famous Sorting Ceremony to life for their families and friends.
Musical Theatre: Summer Holiday Course
It is time to dust off your favourite mixtape cassettes and explore the musicality of theatre and the theatricality of music together with COlLABORATORY!
The COlLABORATORY Musical Theatre course is all about the joy of musical theatre. Using an original play written and directed by the course instructor, Lauren Noble, aspiring young musical theatre actors will get a one-of-a-kind opportunity to produce a performance which merges the worlds of music, dance and acting seamlessly! Participants will spend the week receiving real-world training and learning about all that happens behind the scenes in a theatre show: from auditions to table reads, from acting rehearsals to flashmob choreography, from designing props to bringing them to life. Families and friends are also invited to join and enjoy a rocking performance on the last day of the camp.
Timing&Dates:
18 July - 22 July, time: 10:00-13:00
22 August - 26 August, time: 10:00-13:00
Venue: Mawaheb Art Studio, Al Quoz 3
Age: 13yo+
Cost: 800 AED (with communal materials) or 1050 AED (with an individual design kit to keep)
Socials: Facebook, Instagram, Youtube
Self-Defence Summer Camp from Heroes Academy
Image Credit: Heroes academy

Martial arts are a perfect way for your child to learn discipline, build confidence and strength, as well as make new friends and develop new interests. If you are looking for a place where your child can reach their full potential both physically and mentally, Heroes Academy is the ultimate place to choose.
The summer camp from Heroes Academy offers kids and teens fascinating but also challenging instruction in martial arts and self-defence. During the camp, the Heroes Academy team of professional coaches will equip kids with the skills needed to tackle real-world obstacles and dangers. Children in the Heroes Academy summer camp will be learning practical self-defence strategies, enhancing cardiovascular fitness and muscle strength while developing leadership skills, gaining more self-confidence, and becoming more focused. Through a holistic approach to teaching martial arts, the Heroes Academy dedicated instructors will give every child plenty of attention and encouragement, making their camp experience joyful and productive.
Reserve your spot today to watch your children take advantage of martial arts classes and progress in building self-confidence and physical fitness.
Dates:
July 11 - 15
July 18 - 22
July 25 - 29
August 1 - 5
August 22 - 26
Timings: Mondays - Fridays 9 am - 12pm
Ages: 6 - 15

Location: Control Tower, level 5, Motor City
Contact to register:
WhatsApp at 058-583-6980
info@heroesacademy.ae
Image Credit: Art Jameel

Founded and supported by the Jameel family philanthropies, Art Jameel is an independent organisation headquartered in Saudi Arabia and the UAE that supports artists and creative communities around the globe.
This summer holiday, Art Jameel is excited to announce the return of the Art Jameel Summer Camp and open registration for this creative play!
Designed by Art Jameel skilled educators, Hadeel Al Heeti and Fadi Syriani, the action-packed, five-day, full-day programme is for only 12-15 participants, offering the unique opportunity for immersive hands-on learning, expanding the creative potential and developing new art skills.
The Art Jameel Summer Arts Camp is structured around joyful maker-mornings and unforgettable animation-afternoons. The week will include morning tours of the galleries and a behind-the-scenes tour of the museum and collections storage, followed by stimulating activities to nurture creative learning through process-based and hands-on making. Morning workshops incorporate painting, ceramics, experimental drawing, printmaking and performance activities inspired by featured artists' techniques. Afternoons will be dedicated to filmmaking, via a series of workshops designed by Youth Animation Platform; participants get to explore creative thinking, storytelling and self-expression. Campers produce their own animated films and experience claymation, pixelation and flipbook-making activities.
Camp fills out fast! For booking, please contact learning@artjameel.org and secure your spot.
Date: 4 July - 8 July, time: 09:00-15:30
Age: 8–12
Price: 1500 AED (inclusive of lunch at Teible, snacks and supply of all materials)
Siblings receive a 10% discount.
Image Credit: The Brain Workshop

When the summer school break is here, kids forget about lessons and stop practising reading and writing. During summer, the kids rest, play and have fun, which usually ends up in a Summer Brain Drain, a phenomenon when children lose some knowledge and skills. This results in learning difficulties that children experience during the first school semester.
The Summer Brain Camp by the Brain Workshop offers a possibility not just to avoid the consequences of the summer break in learning but to unleash children's full potential and get the most out of their ability to learn new things.
The Brain Workshop in Dubai is well-known for being the ideal place to improve your brain development at any age. Specialising in developing learning and cognitive skills, The Brain Workshop experts enhance children's cognitive skills through research-based programs that train the brain. The Brain Workshop devoted team can accurately identify the real reasons behind the learning disability and help create successful strategies to boost cognitive skills.
During The Summer Brain Camp, kids will take part in various fun yet challenging and enriching activities like:
Brain Booster Sessions
Rubik's cube
Chess
Arabic Fluency Games
Communication and Comprehension
EQ sessions
Cognitive Games
Mandala Art
Hurry up to secure a spot at The Summer Brain Camp to keep those little curious minds cognitively stimulated.
Dates: 1 July - 26 August
Age: 4–16
Price:
Sessions three times a week: 975 AED
Sessions two times a week: 750 AED
Telephone number: +971 4 243 4620
Socials: Facebook, Instagram, Youtube
Image Credit: High Performance Swimming Club
Swimming is rightfully considered to be the best sport for kids of any age. It has a huge positive impact on the cardiovascular system, physical and cognitive development and above all, it is really entertaining!
This summer your kids can have splashes of fun in High Performance Swimming Club in temperature-controlled, indoor pools. High Performance Swimming Club offers a range of swimming lessons for kids of all levels at various locations across Dubai. Children as young as 6 months old are welcome to join swimming classes in a safe environment with professional instructors. Small group sizes mean fostering friendships, as well as allowing the coaches to pay close attention to help young swimmers improve their skills.
Keep your bundle of joy active during the summer break and check out available time slots at the location of your choice. For your convenience, all swimming classes can be booked online through the website!
Dates: 11 July - 27 August

Locations:
Sunmarke School, Jumeirah Village Triangle


Deira International School, Dubai Festival City
BOOK ONLINE BEFORE 9TH JULY AND GET 10% OFF
Use code: SUMMER22
Lesson fees:
30 Minutes - from AED 84 per 1 session

45 Minutes - from  AED 94.50 per 1 session

60 Minutes - from AED 105 per 1 session

90 Minutes - from AED 131.25 per 1 session
Contacts: +971 50 175 4747

Subscribe to weekly newsletter from "Tickikids"