Summer Holiday 2023: The Most Exciting and Enjoyable Summer Camps in Dubai
---
Published 04 May 2023 at 19:27
Tickikids Blog Dubai > Summer Holiday 2023: The Most Exciting and Enjoyable Summer Camps in Dubai
---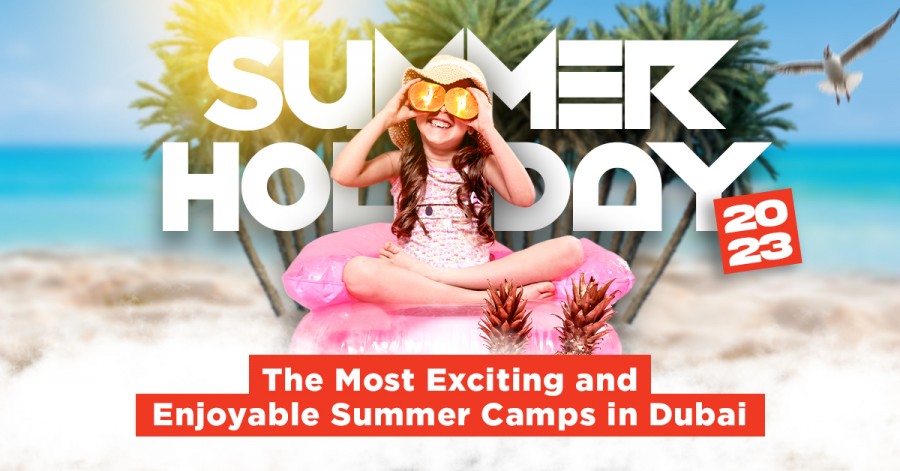 ---
The summer camp time is finally here and is set to be huge! There are numerous types of camps, many of which cater to children's specific interests and needs. When you have so many to choose from, it can feel overwhelming for parents and make choosing a camp in Dubai may seem like a challenge. Fortunately for you, we simplified your life by researching and listing some of the best camps, workshops, and classes to help your kiddos harvest their creativity, learn a new skill set, and just have fun throughout the summer.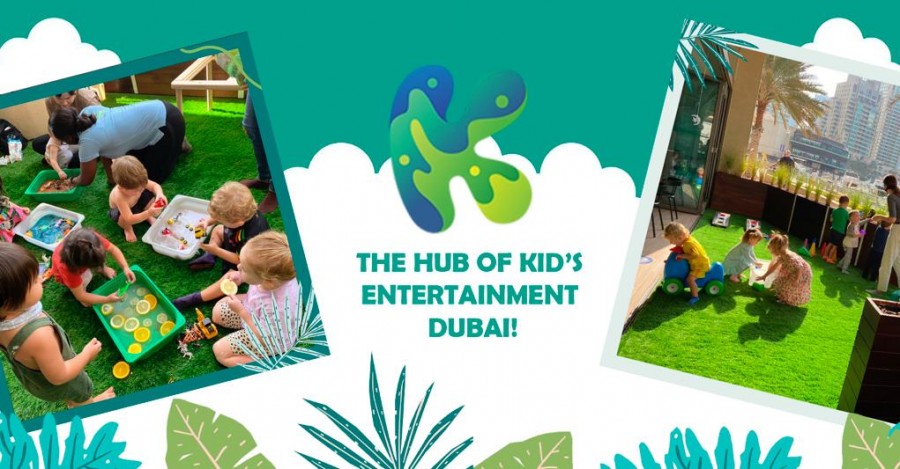 Image Credit: Kids Hub Entertainment

The Kids Hub Entertainment summer camp kicks off on July 1 and runs through September 1, 2023. With daily hours from 09:30 am to 14:00, you can be confident that your child is safe, engaged, and having a good time while you continue with your daily routine. Plus, Kids Hub Entertainment's extended hours (09:00 to 21:00) give you the flexibility to drop off and pick up your child at a time that works for you (the hours might be different during public holidays).
Kids Hub Entertainment truly believes that every child is unique and is dedicated to helping them unleash their creativity, discover and embrace their individual strengths and talents. Wondering what to expect from the Kids Hub Entertainment summer camp program? Do not fret, here are some highlights:
From painting to origami and jewellery-making, your child will have plenty of opportunities to spark their creativity.
Kids Hub Entertainment's challenging obstacle course is a great way to build strength and endurance.
Kids Hub Entertainment's sensory classes let kids explore their senses and learn about the world around them.

With dance and physical training classes, your child can learn new skills and dance techniques.
Slime-making and play dough sculpting are sure to keep your child engaged and entertained.
Toy Making: Participants will create their own toys to take home and share with friends and family.
Storytime sessions give your child time to relax and enjoy captivating tales.
As spots are limited (only 15!), hurry up to book your child's spot today. And here comes the best bit: if you complete your registration before June 15th, you will receive a 10% early bird discount!

Age: 3 - 7
Dates: July 1 - September 1, 2023
Camp hours: 09:30 - 14:00 (Mon -Fri)
Contact Details: +971585351064
Socials: Instagram.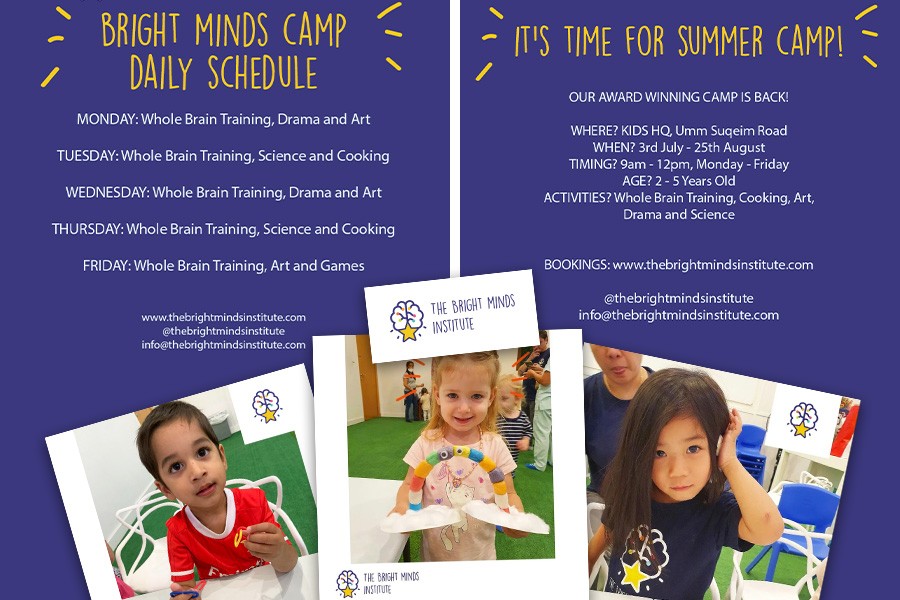 Image Credit: The Bright Minds Institute

If you are looking for setting your child on a path to lifelong success, The Bright Minds Institute's enrichment program is here to lend you a helping hand.
This summer break, The Bright Minds Institute is offering an award-winning Summer Camp that is guaranteed to be a hit with your little one. Designed to be fun and engaging, this summer enrichment program is focused on Whole Brain Training – a unique form of accelerated learning that helps children aged 6 months to 5 years old develop their cognitive, social, and emotional skills from an early age. From drama, cooking, and arts to science and games, the camp is jam-packed with diverse activities to provide your child with an unforgettable experience and help them to unlock their full potential.
With limited spaces available, do not miss out on this incredible opportunity and register your child for The Bright Minds Institute Summer Camp today!
Price: AED 997.50 per child per week
Contacts: info@thebrightmindsinstitute.com

+971 56 688 0773
Socials: Facebook.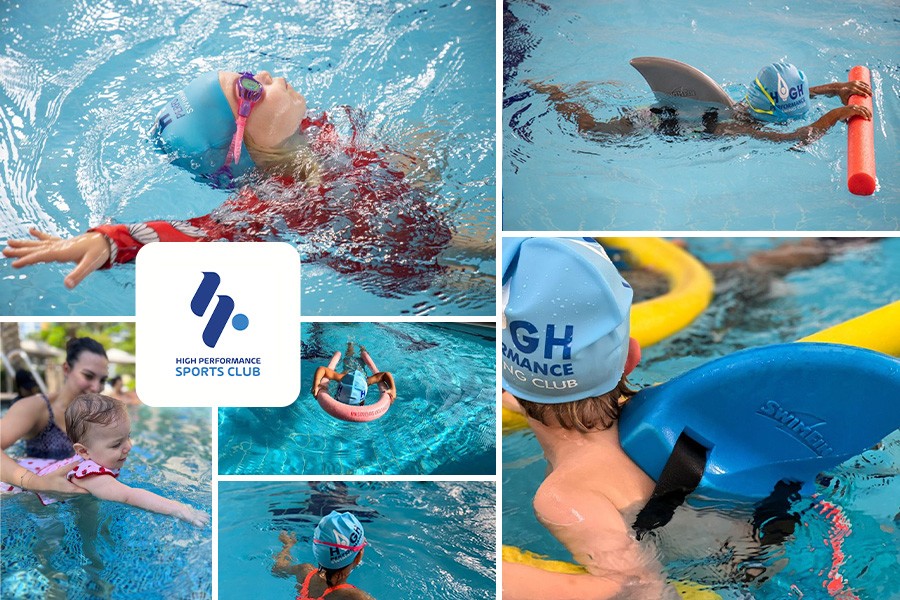 Image Credit: High Performance Sport Club
This summer, instil unwavering confidence in your child as they dive into the world of swimming. With comprehensive programs, including morning and afternoon lessons, High Performance Sports Club (HPSC) provides an excellent summer experience that is both enjoyable and rewarding. Enrol your child now and witness their remarkable journey as they make a splash in the pool!
Swim & Surf Camp at Sunmarke School
The Camp is the perfect opportunity for kids over 5 to enhance their swimming strokes and get introduced to surfing skills in our safe, supervised pool. Swimmers need to be able to swim at least 25m front crawl. During the camp, there will be a warm-up stretching session, 2 swimming sessions and 2 weekly pool surf sessions.
Dates: Thursday 13th July - Friday 25th August

Timing: 9 AM - 2 PM, Monday - Friday

Location: Sunmarke School, JVT
Fees:

1 Day: 262.50 AED
5 Days: 840 AED
10 Days: 1,470 AED
Summer Sports Camp at Clarion School
Ignite your child's summer with an unparalleled adventure at our Summer Sports Camp! Designed for children aged 4 to 12, the HPSC camp is a gateway to thrilling new sports and skill development. What is more, every Friday as campers will embark on thrilling Fun-Filled Day trips. With action-packed games and exhilarating challenges, your child will leave the camp with newfound confidence and a sense of accomplishment. 
Dates: Monday 10th July - Friday 25th August, Monday - Friday
Timing: 9 AM - 2 PM
Location: Clarion School, Al Quoz
Fees:
1 Day: 262.50 AED
5 Days: 840 AED
10 Days: 1,470 AED
20 Days: 2,520 AED
Embark on a remarkable aquatic voyage with HPSC Swimming Lessons tailored to suit children of all ages and skill levels. 
Dates: Monday 3rd July - Saturday 26th August
Timing: 4 PM onwards, class timing depends on student level

Locations: Clarion School (Al Quoz), Sunmarke School (JVT)
Fees:
30-minute classes: 84 AED for 1 lesson, 756 AED for 12 lessons
45-minute classes: 94.50 AED for 1 lesson, 882 AED for 12 lessons
60-minute classes: 105 AED for 1 lesson, 1,008 AED for 12 lessons
More package options are available (1, 3, 6, 9, 12 or 15 lessons).
Early Bird Discount: 20% off if you book before 8th July, use code SUMMER23

Contacts Details:

Swim Camp Director: +971 56 169 1587




General Enquiries: +971 50 175 4747

Email HPSC at 

info@hpsc-dubai.com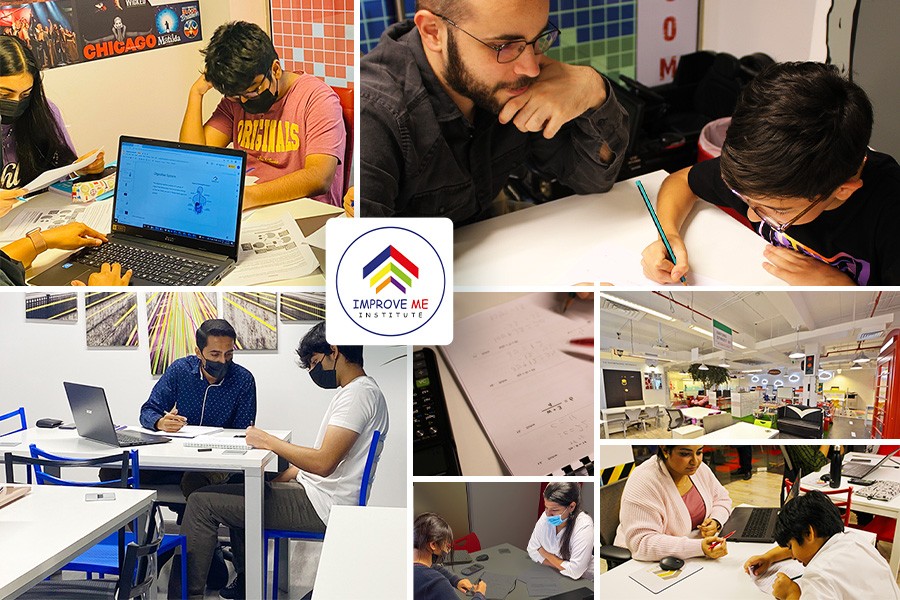 Image Credit: Improve ME Institute
Improve ME Institute is a go-to place when it comes to the academic and skills development of children. A well-thought-out and comprehensive programme offers innovative and efficient methods to boost children's abilities in core subjects - and more than 500 students have successfully tried and tested these methods in their studies with great success.
And you can enroll your kids to the Summer Programme that runs until 1st of September and help children to stay ahead and unlock their talents. 
The list of subjects covered by this programme is: 
Mathesis (3-18 y.o) - this course covers themes from recognizing numbers and 2D shapes to Trigonometry and Advanced Calculus.
EngLit (3-18 y.o) - here students improve their skills from reading and writing to the analysis of writing styles and applying the form, tone, and register of writing for specific purposes and audiences.
BioChemics (6-18 y.o) - from learning the basics to the preparation for the examinations (GCSE, IB (Diploma), and AS/A levels), this course proves that learning Science can be fun!
Coding (7-14+) This course welcomes students in the realm of Python programming. Here kids will be able to make their own snake game (7-9 y.o) to creating the end-to-end project which takes a dataset and analyzes the accuracy based on statistics (14+ y.o)
Psychologos (10-18 y.o) - The course introduces students to the various domains of Psychology as well as research methods in Psychology, and understand their importance in the real world.
BusinessEcon (9-13 y.o) This course helps students understand the decision-making process of businesses through the use of case studies and worksheets.
CAT Prep and IQ Reasoning - This programme entails a sequence of assessments designed to measure a student's academic ability and gain confidence in any Cognitive Ability Test that they might encounter.
Robotics (6-15 y.o) - Here students will learn how to program, design, and construct their own robots using ARDUINO. 
Historia - The course helps students to get ready for the examinations like GCSE and helps them to build on their understanding of the past through experiencing a broad and balanced course of study.
Each course programme has different levels of difficulty and content depending on the age of the students: Early Ages (3-5 y.o), Primary Age (6-11 y.o), Middle School (10-15 y.o), and Senior (15-18). 
The course activities are specially selected to keep the children interested during the learning process to make sure that students learn more efficiently and have fun.  
The groups are small to ensure that all students receive enough individual attention from the teacher. 
Age: 3 - 18.
When: 10 July - 1 September, See the website for the opening hours.
Fees: from 120 AED per week 
Contacts: 050 185 2505, contact@improvemeinstitute.com.
Socials: Instagram.
Location: 62 4th St - Gold and Diamond Park Building 3 Office, 3016-3017 - Dubai.
Find Out More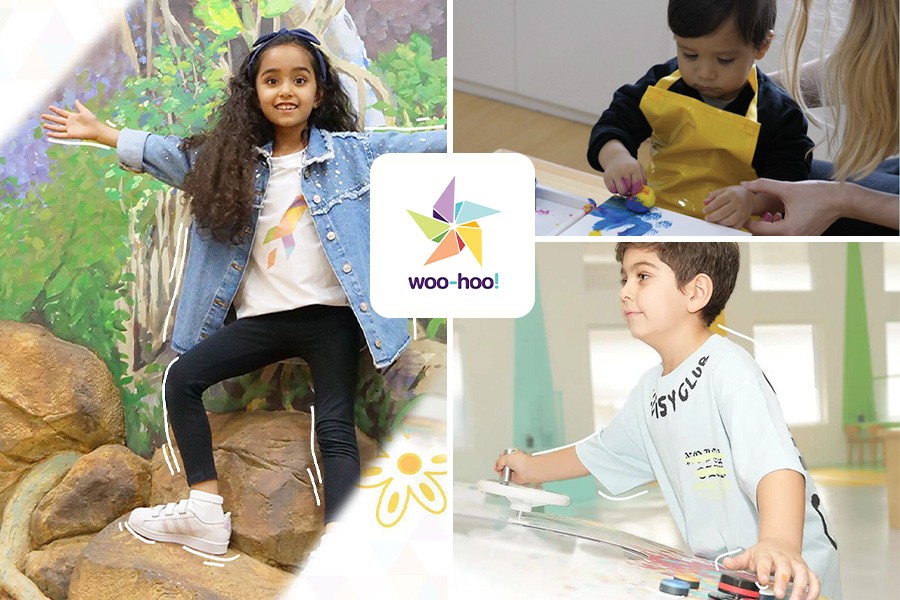 Image Credit: woo-hoo!

Let your little one step into the extraordinary world of woo-hoo! where education meets entertainment in a captivating blend of imagination and exploration. This unconventional learning centre goes beyond traditional education, offering children the opportunity to sharpen numerous fundamental skills while having an absolute blast. With its innovative approach to learning, woo-hoo! combines hands-on play, cutting-edge research, and the STEAM disciplines to create an unforgettable experience. Imagine a place with 11 different galleries, each filled with over 50 interactive exhibits that beckon children to dive in and explore. At woo-hoo! there is never a dull moment!
This summer, get ready for an extraordinary summer camp adventure like no other. At Time Travelers Summer Camp, children will embark on a thrilling journey through human history. From prehistoric eras teeming with dinosaurs and cavemen to ancient civilizations, the chivalry and pageantry of the Middle Ages, and the artistic and scientific innovations of the Renaissance, the possibilities are endless. Each week, participants will be transported to a different time and place through engaging activities, hands-on experiments, and interactive exhibits. This is not just any summer camp—it is a gateway to new horizons, where learning becomes an exhilarating adventure. The unforgettable experiences at woo-hoo! will ignite children's imaginations and leave them with a newfound appreciation for the tapestry of human history.
And for families with multiple children, sibling discounts are available. Let woo-hoo! be the catalyst for your child's educational journey and watch them soar to new heights of knowledge and imagination.
Dates&Timing: July, 3 - August, 25; from 8:30 am to 1:30 pm
Contact Details: hello@woo-hoo.aeor or call woo-hoo! at 800WOOHOO
Socials: Facebook, Instagram, Youtube.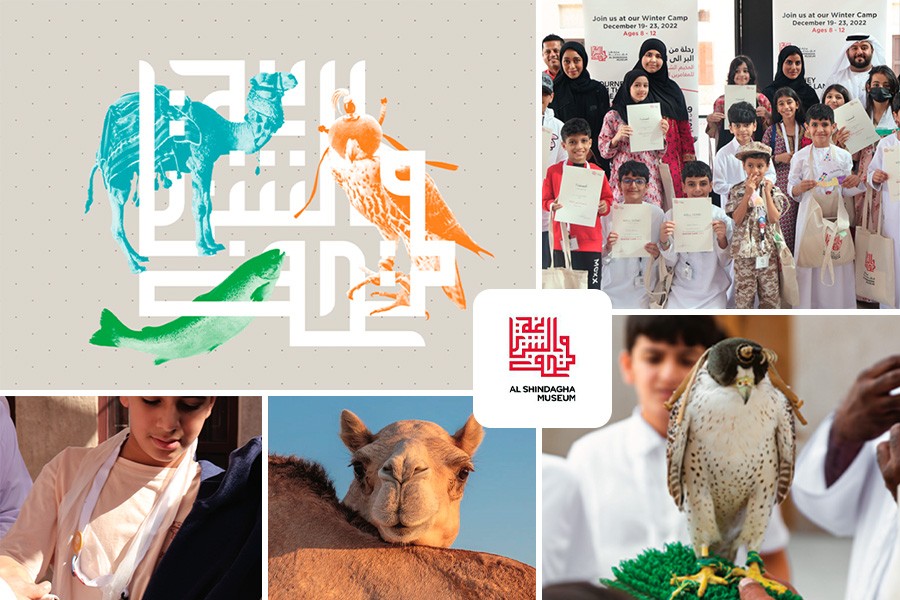 Image Credit: Al Shindagha Museum

Nestled in the heart of Dubai City, the Al Shindagha Museum invites young explorers to embark on an extraordinary journey and create lasting memories! Offering a series of exhilarating activities, Young Adventurers Summer Camp will take campers from the vast desert to the enchanting depths of the sea.
Designed to ignite curiosity and expand the horizons of the youth, this camp incorporates activities that promise to be an experience of a lifetime.
Flying with Falcons: The adventure will start above mountains, where young adventurers will have the opportunity to learn about the ancient art of falconry and witness the unique bond between falcon and falconer.
Trekking with Camels: Children will venture across the golden dunes, accompanied by gentle and resilient camels. This extraordinary trekking experience will leave young explorers with a deep appreciation for the resilience of both the land and its people.
Diving for Pearls: Plunge into the mesmerizing underwater world, where shimmering pearls lie hidden beneath the surface. Kids will join a local fisherman who will guide them on an exploration of the breathtaking marine life and the historical significance of pearl diving in the region.
As adventure-filled days at the camp draw to a close, Al Shindagha Museum invites parents to join an unforgettable end-of-camp ceremony to celebrate the bonds and knowledge forged during the journey.
Contacts: +971 4 515 5100

Booking.AlShindagha@dubaiculture.ae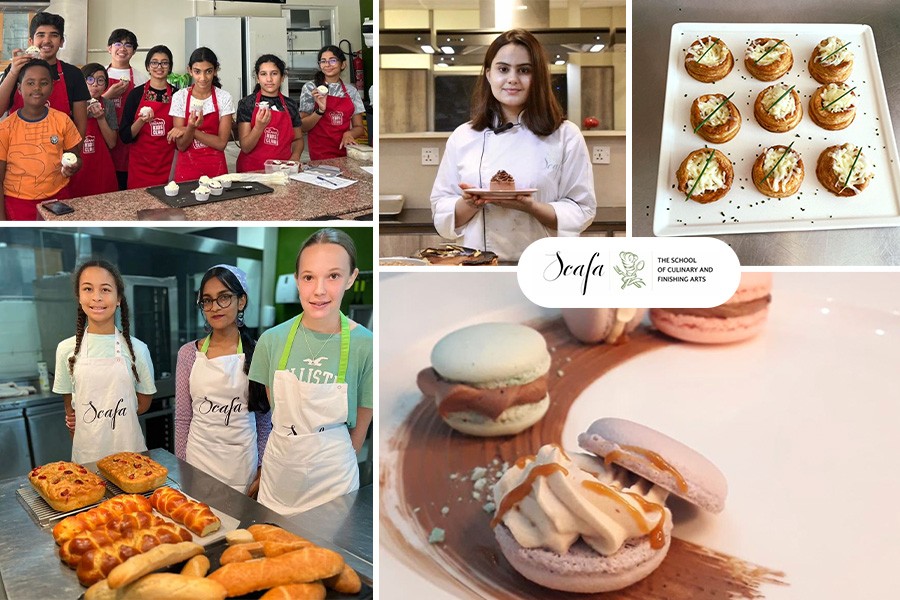 Image Credit: SCAFA
The School of Culinary and Finishing Arts (SCAFA) welcomes little chefs to the most enriching and exciting cooking journey they can have this summer! 
This summer camp is specifically designed to inspire kids and teach them essential cooking skills and techniques, explore cuisines of different cultures, and cook mouth-watering dishes from scratch. 
So, what have SCAFA instructors prepared for young students?
Get ready for the hands-on experience with a set of 10 lessons, where the children will learn new recipes and learn new techniques and skills. Every day is dedicated to a specific theme like knife skills, Italian, Mexican, Thai, and Japanese cuisine, Pastry, and Bread baking. 
Every class will bring kids two delicious recipes so they will learn how to cook them from scratch - Red Velvet Whoopie Pies, Roasted Tomato Soup, Mexican Fajitas, Pad Thai, Sushi, Butter Chicken, and many more!
Every session is supervised by experienced and educated instructors who will guide kids through every step of the cooking process. And, they will teach children essential kitchen skills like cleaning kitchen space, knife skills, and hot equipment work. 
Also, the instructors always put emphasis on the usage of fresh organic ingredients, instilling healthier food habits. 
The number of places is limited so do not hesitate to enroll your kids to Cooking & Baking Summer Camp today! 
When:
10 July - 21 July, time: 1.00 pm - 4.00 pm;

24 July - 4 August, time: 1.00 pm - 4.00 pm;

7 August - 17 August, time: 1.00 pm - 4.00 pm;

21 August - 1 September, time: 1.00 pm - 4.00 pm.
Age: 8–14.
Fees: 
1 class: 267.75 AED;

5 classes: 1000 AED;

10 classes: 1995 AED.
Location: Unit 6, Promenade Level, Cluster I, Jumeirah Lake Towers, Dubai, UAE.
Find Out More
Subscribe to weekly newsletter from "Tickikids"