10 Ultimate Things to Do with Kids in the Run-up to Christmas
---
Published 25 November 2019 at 18:15
Tickikids Blog Hong Kong > digest > 10 Ultimate Things to Do with Kids in the Run-up to Christmas
---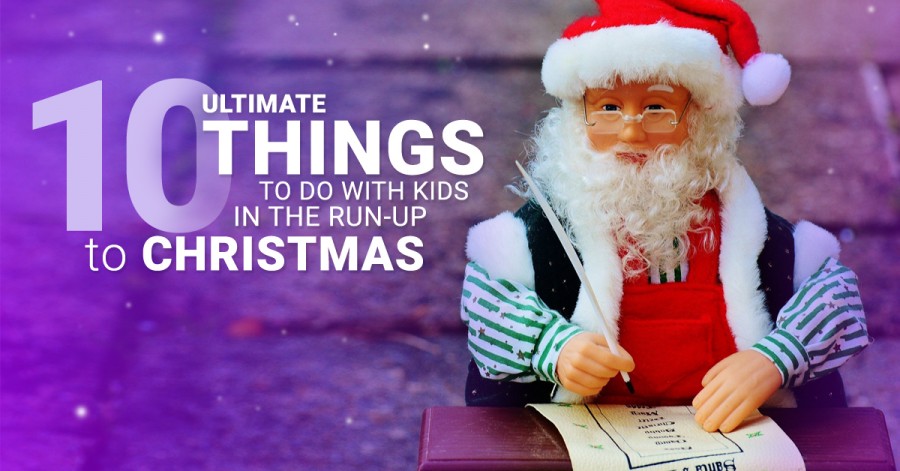 ---
It's officially December and Christmas creeps up ever closer. It means you are now most probably getting excited about family holiday activities over the festive period. Whether you opt for a Christmas performance, family brunch in a restaurant or atmospheric Christmas markets, here is our selection of fun and festive ideas for what to do with kids in Hong Kong during December.


Photo Credit: Kids' Cooking Hub


This year, you can go one better than traditionally made or shop-bought Christmas meals and get your food-loving family members together at the same time. The renowned Kids' Cooking Hub will host a smorgasbord of Christmas holiday cooking workshops over December 2019, alongside yuletide centrepiece edible Christmas Tree Pizza-baking classes.
Focusing on seasonal dishes, the kid's menu features butter cookies with dried fruits, mini apple crumble, aubergine and ricotta roll, blueberries and white chocolate muffins, meatballs with tomato sauce and orange madeleine. You can also fill up on Christmas spirit at an immersive pizza-baking class, a day filled with festive fun, edible Christmas tree pizza-making and decorating it with pepperoni, basil and capsicum. The classes designed for families with children aged between four and 12. Prices start at $300 per child and $50 per an accompanying adult and you are sure to take home everything their top chefs have helped you create at the end of the class. It's a must-visit for food enthusiasts!




Photo Credit: Barefoot Love


Whether you're at the beginning of your Christmas shopping or have already chosen the perfect Christmas gifts for your loved ones, don't forget to pick out appropriate Christmas cards to complement your gifts. If your family wants to ensure that all of your Christmas gifts serve a higher purpose and a greater sense of meaning, make the decision to opt for charity cards. It is an incredible way to celebrate the festivities while knowing that you are giving back to less fortunate children at this happy time of year. The new collection of customised Christmas charity cards at Barefoot Love has been created by children from Solomon's Porch! These little people decided to share their artistic talents to help others. When you purchase one of the cards from the 2018 Christmas Cards Collection or Barefoot Love Cards collection a donation (100% of the profit) is made to people in need. You can also create Your Family collection at Barefoot Love Co sharing with them 3-5 designs of your child's artwork. What better way to create a unique card to delight those you love most? The charity Christmas cards at Barefoot Love are printed on A6 matte cardstock and come with a kraft paper envelope to change the world one small step at a time during the holidays.


Credit: video from DIY Life YouTube channel


Decorating the house for Christmas is hands down the most essential element of the build-up to the festive season and now our thoughts naturally turn to yuletide embellishments. We've found the video tutorial full of rather special Christmas decorating inspirations. Deck out your house with these stylish craft ideas, which are free to steal. Kids will love proudly adorning the home with their own homemade decorations.
There are also plenty of Christmas decorations at Indigo Living and Francfranc that will suit all tastes and are incredibly affordable. Their elaborate festive adornments will turn your living room into a winter wonderland.




Photo Credit: Michael Nunes / unsplash.com


All kids love to create a Pyjama Day, as their imagination runs wild whilst waiting for Santa's arrival. This year, you can easily make Christmas nights extra special with a festive-themed clothing range at Dunnes Stores or Marks&Spencer. It's a charming way to welcome back everyone's festive favourites – the super-cosy novelty nightwear featuring beloved Christmas characters and patterns. Match the chosen pyjamas to your robes and slippers to take your family festive look up a level. Your spouse and kids won't be able to resist the temptations of waking up in the early hours of Christmas morning in these cute outfits.




Photo Credit: Foodie


Who better to host a festive brunch for pre-Christmas family parties and play dates than a family-friendly community Foodie? For loads of family bonding and festive fun, head to the immersive playground DREAM ROOM on Sunday 9th December 2018 for the very merriest of Christmas days out your family will never forget. This Japanese-inspired spacious play centre with exciting family play dates will provide ample opportunities to avoid the pre-holiday fuss. Guests can expect a festive brunch and free-flowing drinks, a wonderful play area with a giant ball pit and fun tactile toys & games, complimentary family snap at the Marriott booth plus tantalising goodies from Santa. Enter the special code for our readers tickifoodie137 for 10% off the price when purchasing tickets online.
Alternatively, check out the number of Christmas family parties during December by Foodie to get you in the festive mood.




Credit: video from BookTrust YouTube channel


Reading with your child is vital and there is no better time to share stories as a family than at Christmas. Although it is fantastic family fun, finding time and energy over the festive period can be a tricky task. It's best to put aside some time for reading with kids every day whilst waiting for Santa's arrival. Get the whole family sitting comfortably next to the fabulously decorated Christmas tree and start reading. There are an enormous number of Christmas stories at the online Bookstore, so you can read together to get fully in the festive spirit. In the meantime, watch the video by experts above to find top tips on how to make reading fun.



Photo Credit: Jessica Rockowitz / unsplash.com


December is saturation party time. There are so many cheerful activities at Christmas, and to make it even more festive throw your own children's Christmas party. Pick a theme, select Christmas background music, dress up for the party and let's get merry. From fantastically festive table decorations, Christmas fancy dress costumes to fun hats, crowns or antlers, Party Family online shop has everything covered to throw the ultimate kid's Christmas party.




Photo Credit: Roman Kraft / unsplash.com
Friends, welcome to heaven. In the run-up to Christmas, Hong Kong will host an array of festive fairs and markets. Everything here is about exclusivity, rarity and entertainment. Shop the chicest small brands from around the world, feast on delicious traditional cuisine or brilliantly presented Reindeer-themed ice cream, enjoy spectacular live shows and fun games, try your hands at the various hands-on workshops and walk through the twinkling Christmas stalls spread out across Hong Kong's picturesque streets. You're sure to find presents for the whole family!

Photo Credit: shutterstock.com


When the Christmas tree is up and the seasonal shopping is done, watching movies filled with festive cheer is one of our favourite things to do. But what about paying a visit to a cinema during this period? It is a charming way to cope with the pre-holiday fuss. Hong Kong's famed cinema exhibitors with its multiplexes in every corner of the city are seriously getting into the holiday spirit with a host of family films. The impressively wide variety of cinema types featuring family-friendly screenings are pretty top-notch. Expect a broad choice of movies, convenience and unparalleled comfort, or even food and beverage if you like. Whether your idea of a family film screening is an action movie or funny animation, there is something to suit each family. Check out all the best Christmas movies available in Hong Kong's cinemas.


Credit: video from DIY with Ollie YouTube channel


Feeling crafty? Ever imagined what it might be like to create a keepsake for your family for decades to come? Discover how to make adorable salt dough ornaments to display on your Christmas tree! This salt dough will certainly become a fabulous DIY Christmas decoration quick and easy to make with kids at home.




Photo Credit: Bruce Mars / unsplash.com
There are many more festive merry-making events and activities happening during December in Hong Kong including festivals, Santa's live shows, the cutest Christmas performances, touching family film screenings, comprehensive Christmas cookery classes, workshops, atmospheric fairs and markets scattered around the city. Consult our guide to the best events that will make you seriously smug about living in Hong Kong.
By Anna Khan
Subscribe to weekly newsletter from "Tickikids"