10 Ultimate Things to Do with Kids in the Run-up to Christmas
---
Published 02 December 2021 at 18:15
Tickikids Blog Hong Kong > digest > 10 Ultimate Things to Do with Kids in the Run-up to Christmas
---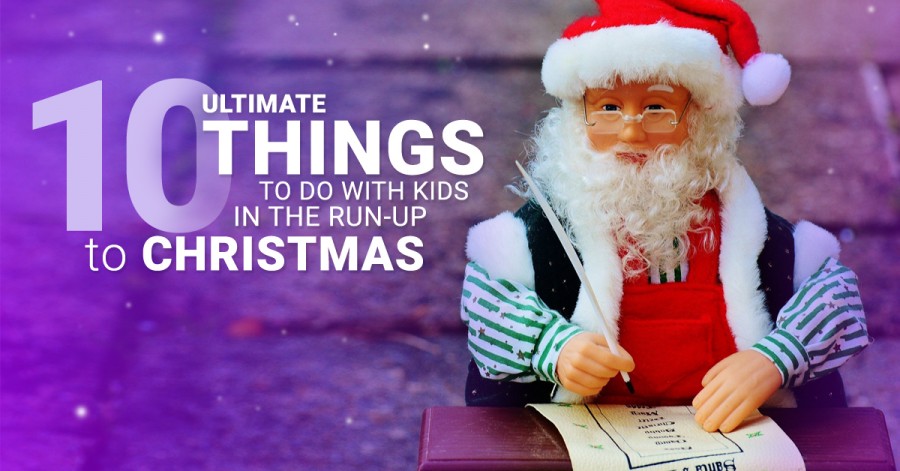 ---
It's officially December and Christmas creeps up ever closer. It means you are now most probably getting excited about family holiday activities over the festive period. Whether you opt for a Christmas performance, family brunch in a restaurant or atmospheric Christmas markets, here is our selection of fun and festive ideas for what to do with kids in Hong Kong during December.
The year-end holidays give kids a possibility to have some rest from school studies and then learn something new with an added vim. And, it is high time to gain some experience in 21st-century skills, especially when top-notch online schools like I Can CO:DE offer mind-blowing discounts! Using promo code X'MAS you can get up to 20% off for X'Mas Game DIY Workshop where kids aged 8 and above can learn how to create their own 3D games. They will get acquainted with the possibilities of TinkerCad and Unity and learn how to design the games. Three 2-hour-long lessons will welcome kids into the realm of programming, digital 3D drawing and game design so they will learn the essentials of how the games are created. The students of I Can Co:De take part in various international programming and robotic science competitions and always succeed as the educational programs there are progressive and well-thought-out.
Find Out More
Can you imagine Christmas without decorations? Christmas tree, garlands, string lights, socks hanging at the fireplace - all these are the essential parts of the holiday. You can buy the decorations created by professionals, for example, Christmas Shop of Gift Flowers HK is filled with beautiful decorations, floral arrangements, bouquets that are able to create holiday vibes in a trice!
Yet, if you want to add a personal touch to the decoration of your house, we have good news! Gift Flowers HK and the WM Hotel offer you the possibility to take part in a Christmas DIY workshop where you can create a beautiful Red Christmas wreath. Or, you can make a mini Christmas tree decorated with dried fruits and ornaments. This event will take place every Saturday and Sunday of December and will cost 699 HKD. WM Hotel room guests or restaurant guests can even enjoy 10% off discount! For more details, you can visit the workshop page and fill in the form to reserve your spot.
The very process of creating such decorations will cheer you up and it can become the perfect bonding time if you decide to attend the workshop with a member of your family or a friend.
Find Out More
The repercussions of the children being cooped up indoors resemble a direct bombing hit. So, instead of rebuilding the whole house after the Christmas holidays, why don't you try to channel their energy into something useful? Growth Guru has prepared something special for your bundles of energy - a Christmas camp where kids can try their hand in 5 different sports over two days. Christmas-themed activities include playing Basketball, Cricket, Soccer, Rugby & Tennis under the supervision of experienced and attentive athletes and coaches. 
All activities are age-appropriate and kids will be divided into age-based groups. Kids aged 1-3 will be assigned to the 'TOTS CAMP' which will be from 9:30 am-10:45 am and will focus mainly on the development of fine/gross motor skills. KIDDOS CAMP (4-10 years) will include different sports activities and these kids will receive complimentary lunch on both days. Kids will be able to take a picture with Santa and there will be complimentary Shuttle Buses from central locations to and from the camp venues.
Also, kids will receive a free T-shirt after signing up and parents will get a possibility to take part in a lucky draw and win various coupons from our sponsors. 
Fill in the form to enroll your kids in the camp!
Find Out More


There is no need to worry, it may sound too dull or scientific for kids, but not this time! STEMex has a gift to work wonders to STEM subjects and create enriching, fun, and catching activities that boost STEM-related skills. 
This December, kids can take part in Pre Xmas (2 hours 16-17 December) and Xmas Camp (4-5 hours 20-31 December) where they will learn the essentials of Roblox, Robotics, CrossOver, and Minecraft. 
For example, during Coding camp kids aged 7-14 years will learn to use the Code Editor and the basics of Java coding to create different fun modes in Minecraft and they will be introduced to the use of conditionals and loops in creating rules for various games. Or they can delve deeply into the realm of Roblox and learn how to code games in Lua.
Robotics Camp will introduce kids to the creation and coding of robots created with the help of Lego WeDo and Lego EV3. Tanks, catapults, robots that fight in sumo ring - these are some of the projects that students will complete. And as for the CrossOver Camp that combines coding and robotics, younger students (4-7) will create wild animals and wind turbine models using Lego WeDo and Scratch. Older students will create and program a street racer and solar boat in action using Smart City, Python, and Scratch. 
Enroll your kids now!
Find Out More


Photo Credit: Michael Nunes / unsplash.com


All kids love to create a Pyjama Day, as their imagination runs wild whilst waiting for Santa's arrival. This year, you can easily make Christmas nights extra special with a festive-themed clothing range at Dunnes Stores or Marks&Spencer. It's a charming way to welcome back everyone's festive favourites – the super-cosy novelty nightwear featuring beloved Christmas characters and patterns. Match the chosen pyjamas to your robes and slippers to take your family festive look up a level. Your spouse and kids won't be able to resist the temptations of waking up in the early hours of Christmas morning in these cute outfits.




Credit: video from BookTrust YouTube channel


Reading with your child is vital and there is no better time to share stories as a family than at Christmas. Although it is fantastic family fun, finding time and energy over the festive period can be a tricky task. It's best to put aside some time for reading with kids every day whilst waiting for Santa's arrival. Get the whole family sitting comfortably next to the fabulously decorated Christmas tree and start reading. There are an enormous number of Christmas stories at the online Bookstore, so you can read together to get fully in the festive spirit. In the meantime, watch the video by experts above to find top tips on how to make reading fun.


Photo Credit: Roman Kraft / unsplash.com
Friends, welcome to heaven. In the run-up to Christmas, Hong Kong will host an array of festive fairs and markets. Everything here is about exclusivity, rarity and entertainment. Shop the chicest small brands from around the world, feast on delicious traditional cuisine or brilliantly presented Reindeer-themed ice cream, enjoy spectacular live shows and fun games, try your hands at the various hands-on workshops and walk through the twinkling Christmas stalls spread out across Hong Kong's picturesque streets. You're sure to find presents for the whole family!

Photo Credit: shutterstock.com


When the Christmas tree is up and the seasonal shopping is done, watching movies filled with festive cheer is one of our favourite things to do. But what about paying a visit to a cinema during this period? It is a charming way to cope with the pre-holiday fuss. Hong Kong's famed cinema exhibitors with its multiplexes in every corner of the city are seriously getting into the holiday spirit with a host of family films. The impressively wide variety of cinema types featuring family-friendly screenings are pretty top-notch. Expect a broad choice of movies, convenience and unparalleled comfort, or even food and beverage if you like. Whether your idea of a family film screening is an action movie or funny animation, there is something to suit each family. Check out all the best Christmas movies available in Hong Kong's cinemas.


Credit: video from DIY with Ollie YouTube channel


Feeling crafty? Ever imagined what it might be like to create a keepsake for your family for decades to come? Discover how to make adorable salt dough ornaments to display on your Christmas tree! This salt dough will certainly become a fabulous DIY Christmas decoration quick and easy to make with kids at home.




Photo Credit: Bruce Mars / unsplash.com
There are many more festive merry-making events and activities happening during December in Hong Kong including festivals, Santa's live shows, the cutest Christmas performances, touching family film screenings, comprehensive Christmas cookery classes, workshops, atmospheric fairs and markets scattered around the city. Consult our guide to the best events that will make you seriously smug about living in Hong Kong.
Subscribe to weekly newsletter from "Tickikids"