Ultimate Guide to After-School Activities for Kids in Hong Kong
---
Published 01 August 2023 at 11:00
Tickikids Blog Hong Kong > digest > Ultimate Guide to After-School Activities for Kids in Hong Kong
---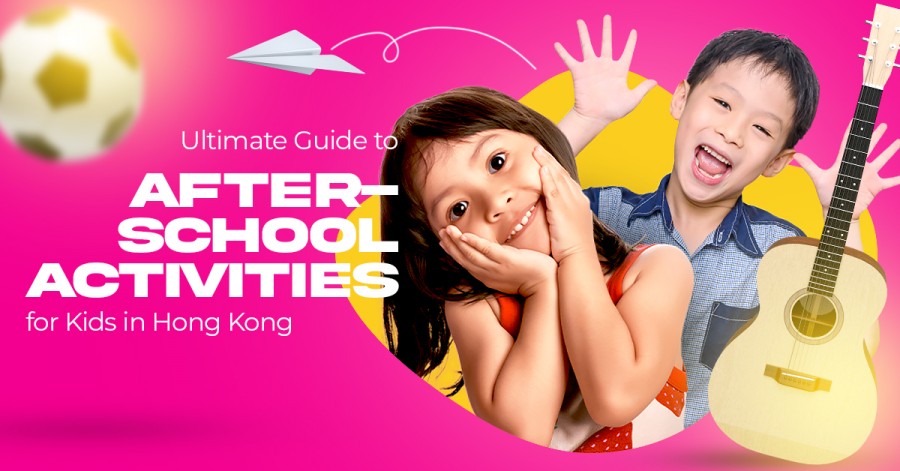 ---
After-school activities are extremely beneficial to a child's growth and development. Linked to improved social and cognitive skills, those activities do wonders for children's self-esteem and creativity. Looking for the best after-school activities in Hong Kong? Whether your kids want to chill out or burn some energy, in TickiKids's ultimate guide there is an after-school activity for everyone. Choose one (or more!) from the list below and your child will thank you!
Everyone knows that to be healthy, children have to be physically active. Being active benefits not only kids' physical health but also make them happier and more successful in life. It might be difficult to raise children who like and desire to be active in our digital world. But Move For Life has a recipe!
A youth health-focused company, Move For Life uses the medium of Dance, and Yoga to bring students together, help them develop skills of movement and give them a big and broad idea of what dance could be! The Move For Life tutors were trained by the former world's top ten Ballroom Dancer and TV's "Dancing with the Stars" choreographer, Joshua Keefe.
Working with children of different ages, Move For Life team instils a love for dancing, music and styles into young dancers through three unique programmes:
Little Movers (kindergarten/preschool kids aged 2-5)
Move Monkeys (Primary School kids aged 6-12)
Koala Bop (SEN kids aged 6-19)
Each of Move For Life courses is adjusted to each age group's very different and specific needs. Utilising the "Multi Dance" teaching style, Move For Life exposes children to various techniques and styles of dance to give them a broad range of skills and open their minds to many types of dance, movement, music and ways to work with teammates, dance partners and themselves. Through elements of Latin, Ballroom, Hip Hop, Jazz, Contemporary and Kpop, Move For Life engages kids immersively. Furthermore, by including important themes, stories and lessons, Move For Life encourages kids for mindfulness and teaches values.
It is also worth subscribing to the Move For Life YouTube channel where you can find some great follow-along videos for kids aged 10 and under.
Email: info@moveforlife.asia
WhatsApp: +852 55778047 (10am-2pm)
Prices: starting from $230 (fees vary on location)
Socials: Instagram, Facebook, YouTube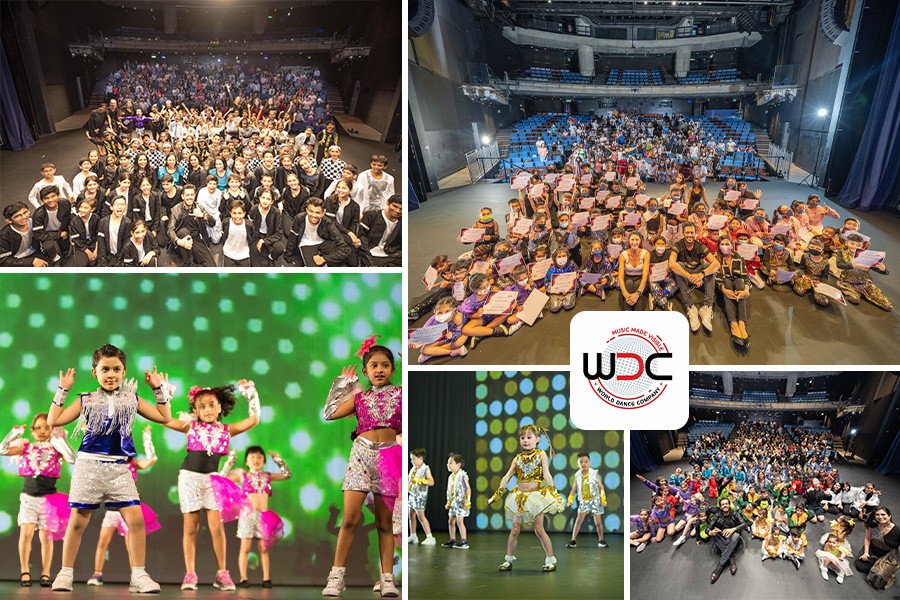 Image Credit: World Dance Company


In the 6 years of its existence, World Dance Company, Hong Kong has been able to open 6 sites throughout the city and more than 150 students attend classes. 
The school has been able to develop in this way because of the experience and dedication of its founder, Mr. Hitesh Amarmani. He is a professionally trained and certified Instructor in 15+ dance forms with 20 years of teaching experience. After many years of acting in Bollywood projects, he decided to devote himself to the art of dance and ignite passion for dancing in youth. Mr. Amarmani has had the privilege of working under some of the world's best dancers like Shiamak Davar, Ashley Lobo, Stomp London etc, and has learned from their experience, generously sharing his knowledge with his students in India, Bangkok, and now Hong Kong. 
The curriculum of the WDC includes such dance styles as Disco Freestyle, Rock n Roll, Kids Hip Hop, Elementary Jazz, Contemporary, Krump, Stomping, Teens Hip Hop, Modern jazz, B-Boying, Foxtrot, Waltz, Jive, Salsa, Cha Cha etc. Here, children have a possibility to learn various styles and moves and develop their own style in a warm and encouraging atmosphere. Because, as Mr. Hitesh Amarmani highlights:
'Everyone has the talent of dance in him / her, you just need to understand your style, and most importantly be you and enjoy it!'
The classes of the WDC are not limited by the dance classes as here adults can take BolliFit lessons: A thematic 60 minute dance fitness workout that alternates between higher and lower intensity dance sequences to get you moving, sweating whilst keeping you energized all the time. BolliFit was inspired by the Bounce Dance Fit Program (UK) and it has helped a lot of people in terms of calorie burning, increased stamina, and improved movement coordination.
Also, WDC also choreographs for Corporate events, School shows, Anniversaries, B'day parties, and Weddings. 
WDC is associated with a variety of local and international schools and works at locations such as Central, Lohas Park, Hung Hom (Whampoa), Kwun Tong (Laguna City), Cyberport (Bel Air), Tung Chung (and soon at Tsim Sha Tsui).
Age: 2.5+.
Fees: on average 1,720 HKD per 8 sessions in a term (basic term lasts 2 months, each 10-month course has 4 terms).
Contacts: tel. 5407 4649 / 5407 1458, info@worlddancecompany.com.hk. 
Location: WDC Main Studio – Unit A, 9th Floor, Winner Building, 36 Man Yue Street, Hung Hom, Kowloon, HK.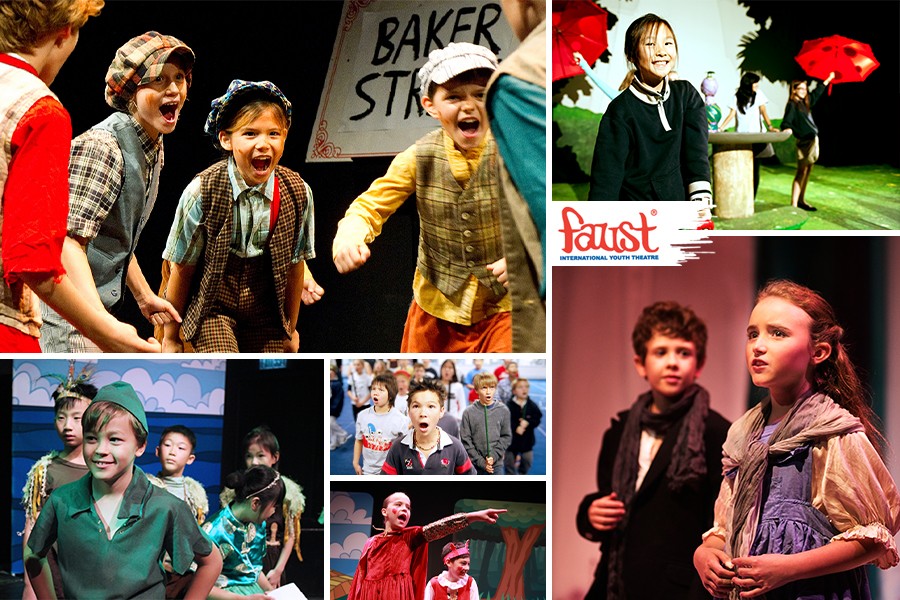 Image Credit: Faust
Faust International Youth Theatre offers Drama, Musical Theatre, and Creative Writing programmes for ages 3 to 18 across Hong Kong. Introducing students to a world of theatre and creativity in a welcoming and fun-filled environment, Faust guides them in their creative journey and helps them develop performance skills, theatre knowledge, teamwork, leadership skills, individual expression and confidence.
Faust's weekly after-school and Saturday Drama workshops aim to provide exciting extra-curricular learning opportunities for children aged from 3 up to 18 years to improve self-esteem, ignite their creativity and express themselves on the stage and beyond.
Faust also offers a variety of week-long creative courses during the Half-Term, Winter, Chinese New Year, Easter and Summer holidays. Whether your child is new to drama or writing or already possesses some experience as a performer or writer, these holiday programmes guarantee a wonderful holiday experience and give a boost to kids' creativity.
In addition, Faust works extensively with international and local schools to provide school-based programmes, specialised workshops, as well as Touring Theatre performances.
To learn more about Faust's Easter Holiday and Term-Time programmes and check the schedules, click here and here.

Age: 3-18 years old

Fees: the price varies depending on the programmes
Main Office & Studios: 5/F, Nan Dao Commercial Building, 359 & 361 Queen's Road Central, Sheung Wan
Workshops are held in: Sheung Wan, Mid-Levels, Taikoo Shing, Ho Man Tin, Kowloon Tong, Tseung Kwan O, Discovery Bay and Tai Wai

Email: Info@FaustWorld.com
Phone: +852 2547 9114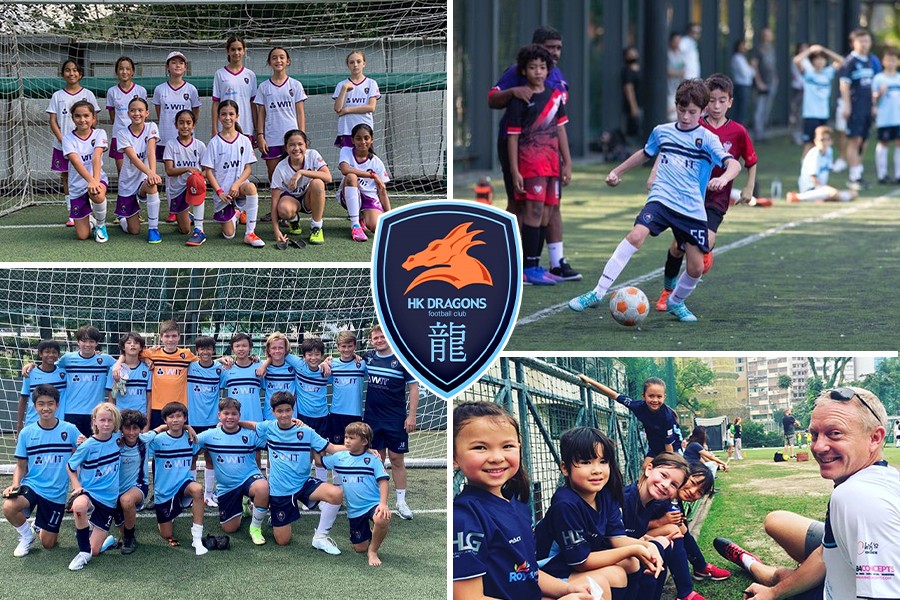 Image Credit: Hong Kong Dragons Football Club

Established in 2003, Hong Kong Dragons Football Club offers classes all over Hong Kong, Kowloon and the New Territories. Providing professional and fun football coaching, the club is currently participating in the Hong Kong Junior Football League, HKFA Golden Age and as well as attending many overseas youth tournaments worldwide.
At HK Dragons FC, all sessions are run by highly professional coaches, giving children a positive introduction to the sport in a fun yet educational environment. Furthermore, the Hong Kong Dragons coaches are First Aid and CPR qualified and hold a coaching license of FA level 2 or above.
Designed for players of all ages and abilities, the Dragons FC curriculum includes daily thematic sessions with small-group training focused on players' specific technical skills, physical fitness, and tactical understanding. The club's philosophy is centred around player development both as an individual and as part of a team. Constantly enhancing the classes, Dragons FC encourages young players to be committed, creative, self-confident and have a passion for the game.
Football has a lot of benefits to offer to youth, so sign up your child and let them be a part of the Dragons Team!
Contact details: +852 31868730
WhatsApp: +852 64173303
Email: theoffice@dragons.hk
Address: 2/F, 55 Ha Ling Pei Village, Tung Chung Lantau Island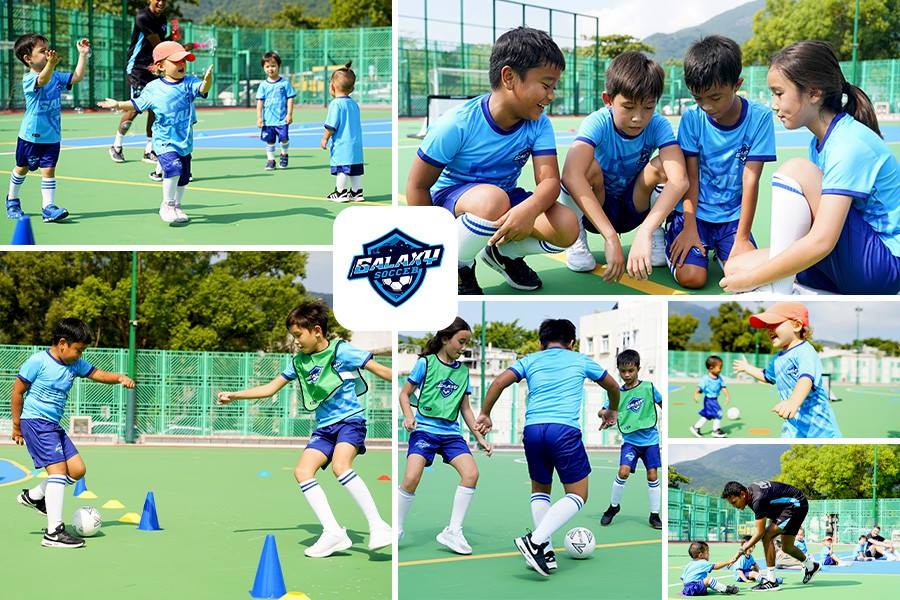 Image Credit: Galaxy Sports Asia

Galaxy Sports Asia is a multi-developmental, soccer-specific play program for children aged 2 to 5 years old and a soccer training program for players aged 5 to 12 years old.
Galaxy Sports Asia is committed to providing a positive and enjoyable soccer experience for children of all skills level. Focused on introducing the basics of soccer in a fun and engaging way, Galaxy professional coaches utilize game-based activities to help children develop their motor skills, coordination, and teamwork.
One of the things that sets Galaxy Sports Asia apart is the focus on developing children as individuals. The Galaxy Team strives to ensure that each child feels confident and capable on the field and encourages them to be creative and independent players. Galaxy Sports Asia also places a strong emphasis on learning and enjoying the game, rather than just winning.
With fun and challenging sessions offered every day of the week, there is something for every child to enjoy. If you want your child to improve cognitive and physical skills, make new friends, and have fun, Galaxy Sports Asia is the right place for you.
Age: 2-12 years old
Price: $180 - $200 per lesson
Locations: Hong Kong/Kowloon/Lantau Island
Contact details: admin@galaxysports.asia
WhatApp - 9029 6990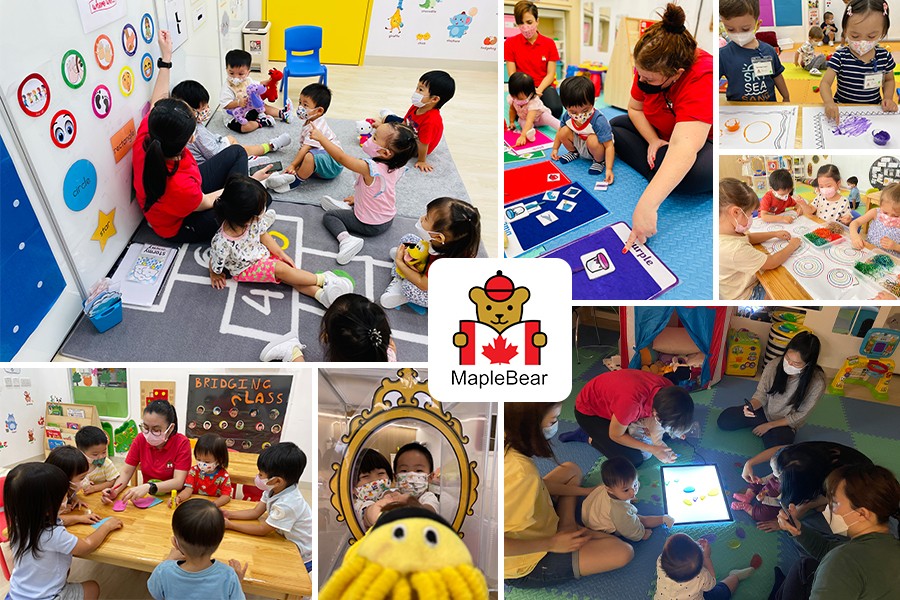 Image Credit: Maple Bear
Maple Bear Canadian International Kindergarten
brings the best of Canadian and Hong Kong's bilingual education. The fun of learning stops at
Maple Bear
! Additionally to the kindergarten programme,
Maple Bear
gives little learners the opportunity to explore new interests and activities at
Maple Bear Academy.
Bear Care is Maple Bear English Enrichment Classes for infants and toddlers, held in small groups of up to 8 students. Developed upon current Canadian early childhood practices, the program facilitates children's growth and development in the five domains – physical, cognitive, communication, emotional and social. Designed to incorporate active learning and hands-on exploration, the program encourages creativity, imagination and self-expression.
Age: 4 months – 20 months
Fee: $350-$390/session
Frequency: Mon-Sat (one-six days per week)
Mode: unaccompanied (1.5 hour) / parent accompanied (1 hour)
Get your child prepared for Kindergarten with Maple Bear's Kindergarten Bridging classes. Designed for young children between 20 to 36 months, Bridging Classes stimulate imagination, creativity, and self-discovery in little learners. With a warm and nurturing learning environment, the program ensures that children develop the knowledge and skills needed for their future academic success.
Age: 20 months – 36 months
Fee: $3,000-$4,500/month
Frequency: Mon-Fri (one-five days per week)
Mode: unaccompanied (2 hours)
From Gymnastics, Drama, Arts, Crafts, and Dance to STEM, Languages and more, Maple Bear offers multiple after-school activities in their Tseung Kwan O campus! Taught by qualified Native English-Speaking teachers, each program encourages children for a deeper exploration of the world and to develop their areas of interest.
Age: 2-8 years old
Fee: $350/session
Frequency: once per week
Mode: unaccompanied (1 hour)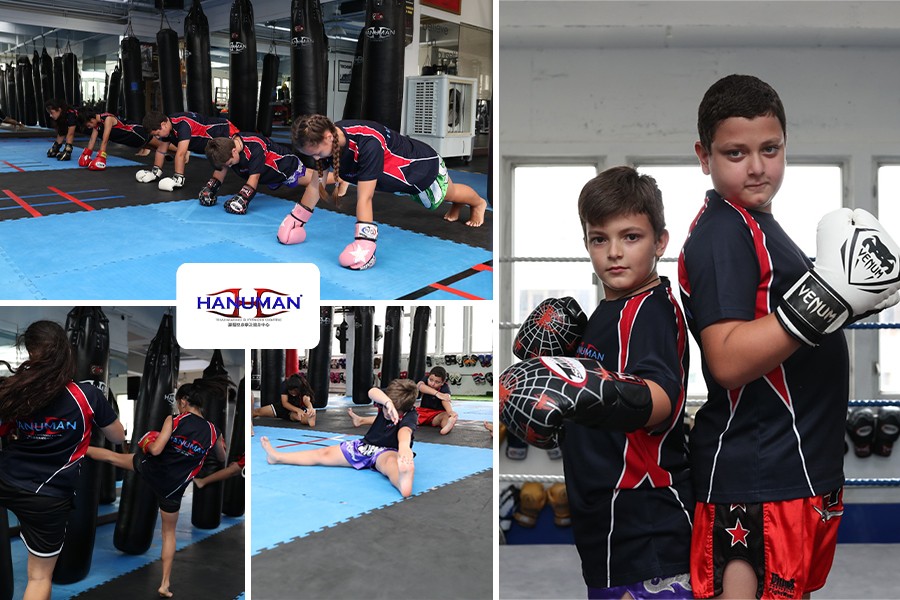 Image Credit: Hanuman
Muay Thai is more than just a sport; it is a discipline that has helped thousands of students attain peak physical performance, effectively manage their weight, and enhance their energy levels and focus. Established in 2010 and located in the heart of Hong Kong, Hanuman Thai Boxing and Fitness Centre has been the go-to destination for fitness enthusiasts and athletes for over a decade. As the largest Muay Thai gym in Hong Kong, Hanuman offers an expansive gym space spanning over 7,500 square feet, furnished with cutting-edge fitness equipment.
Hanuman Team takes pride in unparalleled expertise in guiding over 6000 students towards achieving their training goals. Hanuman full-time coaches are not only passionate about martial arts as a sport, but they also deeply value the immense personal development benefits in areas such as confidence, fitness and happiness. Currently, Hanuman beginner-friendly Muay Thai classes welcome students aged 3 to 12.
With several packages available, Hanuman has a variety of choices for everyone:
Basic 1-month package (4, 8 or 12 classes): starting from $800 up to $1800;
3-month packages (8, 12, 16, 24 or 36 classes): starting from $1600up to $4860;
6-month packages (24, 36, 48 or 72 classes): starting from $4800 up to $8800.
Join the Hanuman community and let your child obtain confidence, discipline and self-defence skills from a new sport they will enjoy.
Age: 3-12 years old

Timing: Tuesdays&Thursdays from 4:15pm to 5:30pm and Saturdays 10:45am to 12pm
Contact information: WhatsApp number +852 5936 1190
Email: training@hanuman.com.hk
Location: 13/A, Kaiser Estate Phase 1, 41 Man Yue St, Hung Hom, Hong Kong
Subscribe to weekly newsletter from "Tickikids"