Best Christmas Gift Ideas for Kids in Singapore
---
Published 09 December 2017 at 17:55
Tickikids Blog Singapore > Digest > Best Christmas Gift Ideas for Kids in Singapore
---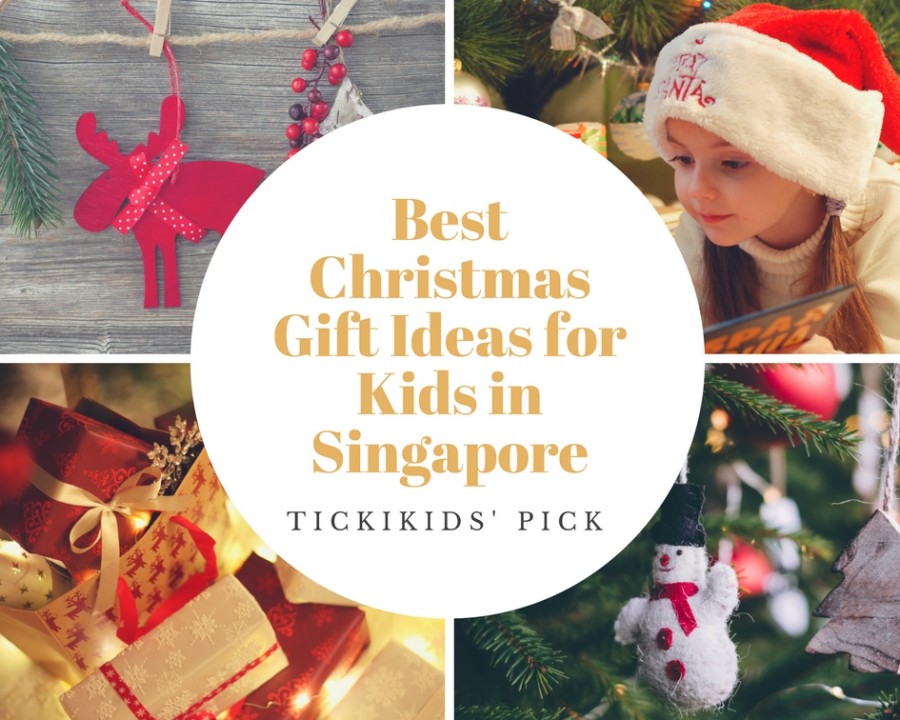 ---
Now when the countdown to Christmas has really started, it is time to make up your mind about the gifts for your little ones. Buying Christmas presents for kids isn't easy, because, let's face it, your children got absolutely everything they wanted last Christmas and on their Birthdays. Of course, the toy industry never fails to flood the market with all kinds of hype toys that children believe they want, but that fall out of favour as soon as the hype is over. But who said that shopping for great gifts for kids has to be child's play? Instead of buying another pricey yet useless toy just for the check in the box, let's see if there are other ways to make this Christmas awesome and memorable. TickiKids has come up with the list of cool Christmas gift ideas for kids in Singapore (or any time of year, really).
Books: Just Because It Is Always a Great Christmas Gift Idea for a Kid

Anyone who was into reading as a kid knows that a good book has the power to immerse you in a fantasy world and train your imagination and creativity like nothing else. Your kids will have life-long memories about the books that you read to them or the ones they enjoyed reading themselves, which makes a book a perfect Christmas gift for kids. Sounds like a good idea, huh? So where do you search for best kid-friendly reads in Singapore?
If you have something specific in mind, check out Kinokuniya, a huge chain of bookstores, having books from all over the world, and Times Bookstore with its amazing dedicated Junior section. 
Woods in the Books and Books Ahoy boast the hand-picked selection of picture books (Woods in the Books) and chapter and picture books (Books Ahoy). 
If you are looking for books by American, British or Australian authors you'll find a great collection at My Greatest Child.
For those who'd like to choose a Chinese picture book, there's
Hook On Books
the first local Chinese bookstore in Singapore fully dedicated to children.
Membership: Fuel Your Child's Curiosity This Christmas




If you are looking for a Christmas present that your kid will enjoy all year long, an annual membership at Singapore's best attractions may be a great option.
If you'd like to show your little ones how the nature changes throughout the seasons in different parts of the world, membership at Gardens by the Bay can make an ideal Christmas gift. Family membership gives you and your children unlimited admission into Flower Dome, Cloud Forest and the OCBC Skyway!
Would you like your kids to have unlimited free admission to Science Centre Singapore? Take a look its membership schemes. Other perks include 6 issues of Singapore Scientist Magazine and even free admission to more than 290 (!) science museums all over the world! Doesn't it sound like an amazing Christmas present for your little science aficionado?
There are also great offers for budding zoologists: Jurong Bird Park, Singapore Zoo, River Safari and Night Safari all have their own membership schemes. All of them have their own membership benefits, including 20% discount at selected F&B outlets at all WRS parks and 5% discount off education camps!
If you are a proud parent of a young artist you definitely need to consider National Gallery Singapore's membership programme. Such a Christmas gift will give your child artistic inspiration and help boost imagination and creativity. Besides unlimited free entry to all exhibitions and galleries, family membership includes discounts and priority booking on selected family programmes at the Keppel Centre for Art Education and other benefits!
Gift boxes: A Christmas Gift of Learning



A surprise gift box addressed to your kid and delivered right to your doorstep can make a wonderful Christmas present too!
If you have a little hands-on science fan in your family, check Thinkasaur boxes coming with 3-4 DIY experiments inside, based around a different theme (e.g. Magnet Magic, Groovy Gravity, Crazy Chemistry etc.) to provide kids with endless hours of discovery and fun! 
Some gift boxes offer a year-long subscription, which means your child can get a Christmas gift that will keep on giving. Wonderful boxes by My Messy Box contain everything your child needs for a meaningful sensory play that encourages development of independence, motor and language skills, creativity and problem-solving abilities. 
Spur Box's P-Skool boxes are aimed to spark kids' curiosity for learning; they include fun writing worksheets and craft materials. Every box comes with a new carefully selected Tinker Toy that your child gets monthly! Sensoria, another type of subscription boxes by Spur Box, focuses on sensory play, providing a new fascinating topic every month. 
Boxes by LolliBox provide inspiration for your child's own hands-on projects in arts and crafts, science, imaginative play and much more. In the case of monthly subscription, a box is going to have a new fun theme every new month!
An Unforgettable Holiday Experience for the Whole Family



Christmas is time for creating memories. This holiday season think about making the golden time you spend with your little ones really shine. Maybe a Christmas family day out in an awesome place can be something your kids are dreaming about?
Go on a family adventure at LEGOLAND Malaysia, with its rides, shows and splash-tacular Water Park. Do you want a true snowy Christmas? Travel to a real winter wonderland not leaving the island at Snow City. Enjoy a day of fun and educational role-play at KidZania Singapore. Let kids have a great time with their family while exploring a multitude of different professions!
At TickiKids we hope that our list of Christmas gift ideas will help you prepare perfect presents your kids will love! And whatever present you choose for your little one, we hope this Christmas is going to be the best holiday ever!  
Images sourced via Pexels, STB Content Hub, LolliBox, Thinkasaur,  LEGOLAND Malaysia and Snow City websites.

Subscribe to weekly newsletter from "Tickikids"