Best Summer Holiday Camps in Singapore for Children & Teens in 2018
---
Published 08 May 2018 at 18:50
Tickikids Blog Singapore > Digest > Best Summer Holiday Camps in Singapore for Children & Teens in 2018
---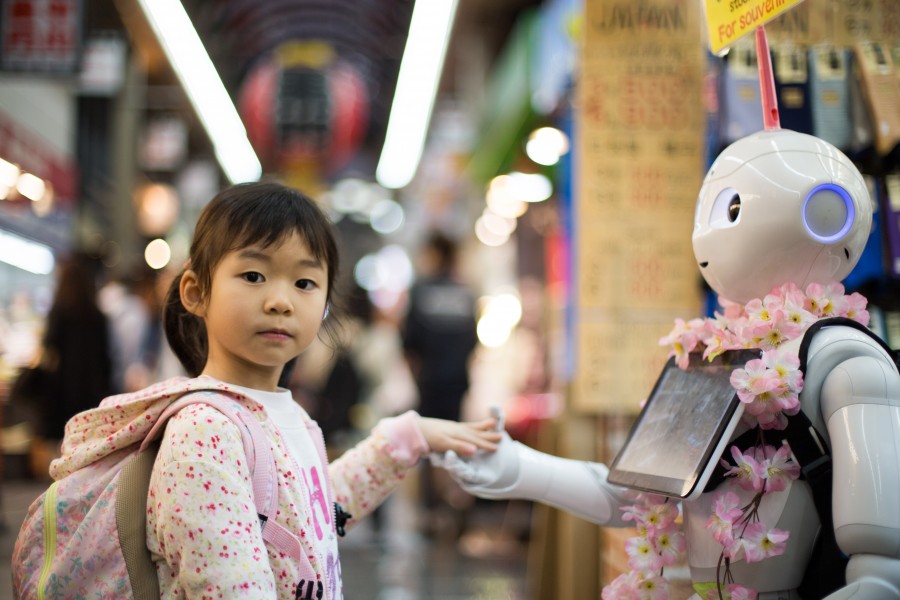 ---
The June School Holidays are nearly here. Experience the amazing array of summer camps in Singapore! 


We do not think you can feel a greater sense of pride than when you hear of the success achieved by your children. TickiKids has been fortunate enough to see for ourselves how well the camps in Singapore have designed a variety of programmes to prepare your children for their trip of a lifetime.
From English and Mandarin courses to drama, music and art activities, from hardware development, coding, robotics classes to science and engineering adventures, from interactive hands-on ventures to various outdoor pursuits. We've got loads of excellent ideas to help you keep the children happy.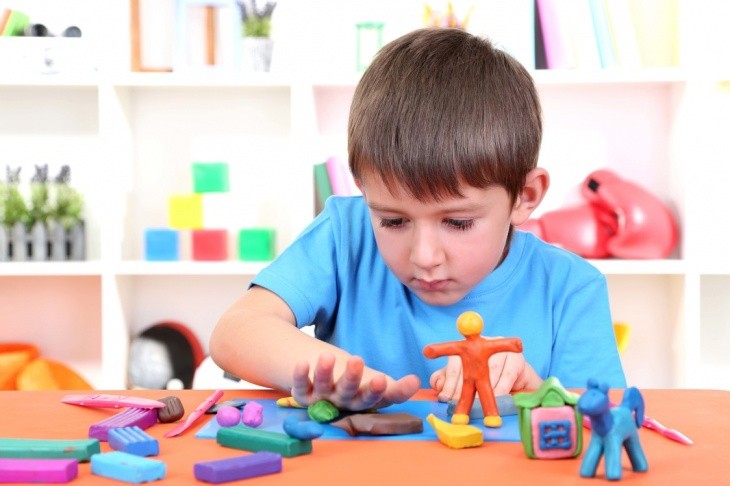 Photo Credit: image supplied by Discovery Camps


Highly qualified, experienced teachers will boost your child's talents with fun educational holiday camps for children aged 3-12 years!
Discovery Camps take place across the local and international summer school holidays. They work in partnership with the reputable Lorna Whiston schools, renowned for its high-quality education programmes, professionalism and academic excellence across Singapore, Malaysia and Hong Kong. Their three convenient locations at Novena @United Square, East Coast @Parkway Parade, SJI International School – Thomson Road (bus service is available for this location) will make it easier for parents to arrive. Essentially, the camps are perfectly transparent and open about their all-inclusive price, which is S$595 per child for a 5-day camp programme from Monday until Friday from 9am to 3pm. The price includes camp fees, lunch, morning and afternoon snacks, cooked freshly and delivered daily by Michelin Star Celebrity Chef Emmanuel Stroobant. More importantly, they satisfy any child's specific dietary needs. And furthermore, the camps provide all relevant supplies and materials, such as a laptop for Code Academy, or paints for Art Studio, as well as branded T-shirts for kids to wear. What more could any busy parent want besides the perfect online booking system? It has been simplified to one-click ease of payment via credit card! Quite apart from anything else, they allow you to change the starting date up to 10 days before the commencement of your camp, subject to availability.
The wide choice of camps will fulfil the needs and desires of different age groups, covering a wide variety of interests and abilities: English Explorers, Actor's Studio, Lego® Robotics, Code Academy, Magic Maths, Movie Makers, Multi-Activity, Art Studio.
Camp fees: S$595 per child for a 5-day camp programme including lunch, morning and afternoon snacks, all relevant supplies and materials, branded T-shirts.
Dates: 28th May – 10th August 2018;
Opening times: Monday – Friday, 9:00 – 15:00;
Age groups: 3 –  12;
Locations: Novena @United Square, East Coast @Parkway Parade, SJI International School – Thomson Road.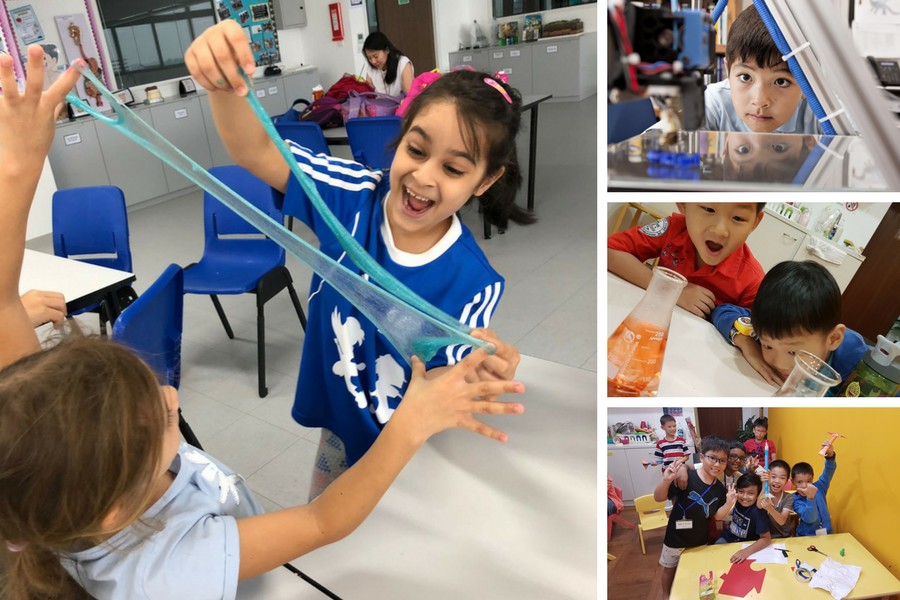 Photo Credit: image supplied by Kids DiscoveryWorks


Kids DiscoveryWorks offers to take an advantage of the upcoming June School Holidays to introduce your child to STEM! From 28th May till 29th June 2018 their highly qualified staff will provide your kid with opportunities to take part in the most popular programmes as 2-3-day STEM camps. Embark your youngsters upon science and engineering adventures with their favourite superheroes and fairy tale characters!
What is so special about these camps?
Their 13 distinctive camps for children aged 3-12 years are specially designed to appeal to children's natural sense of curiosity and enthusiasm, to encourage exploration and discovery through experimentation, provide opportunities for inventive problem-solving and creative thinking.
Through role-playing, experimentation with new techniques and materials, investigation and open-ended discussion, Kids DiscoveryWorks's unique curriculum and project-based activities build a bridge between your child and subjects like math, engineering and science.
The camps are organised according to age groups and kept small so that children are able to fully participate in the lessons.
LEGO Animation Adventures, Superhero Science, Junior C.S.I., Once Upon a Time, Snap! Shutterbugs, Whizz, Pop, Bang!, Dinosaur Discovery, Back-To-School Science Boot Camp, Masters of Invention, Space Camp, Giants of Science, Secrets of the Lost Tomb, Makerlab: 3D.
Camp fees: S$304 up to 495 per child (depending on the course) for a 2-3-day-programme including lunch, snacks and all necessary materials.
Dates: 28th May – 29th June 2018;
Opening times: Monday – Friday, 9:00 – 15:30;
Age groups: 3 – 12;
Location: 209A Upper Thomson Road, Singapore 574347.
Find Out More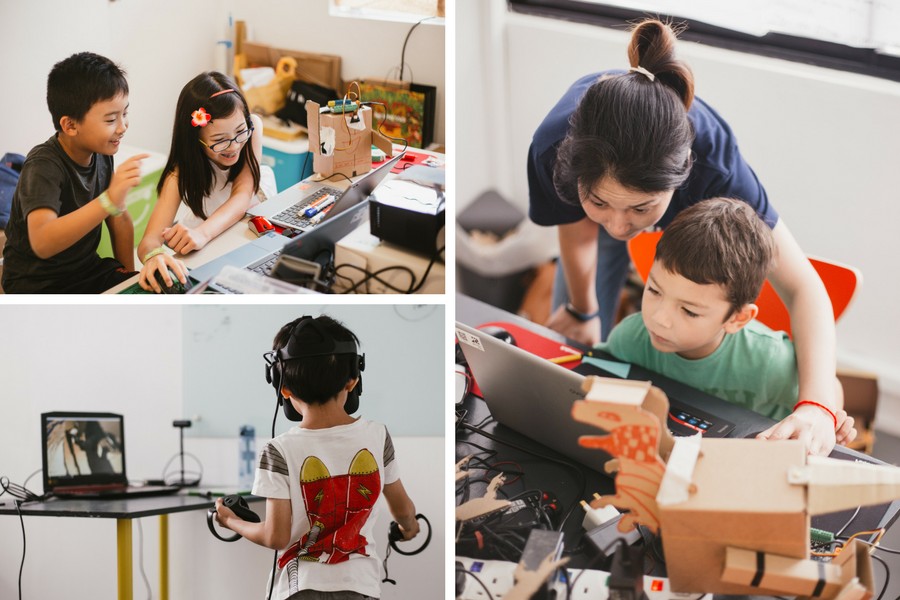 Photo Credit: image supplied by Saturday Kids


Let curiosity lead you down the rabbit hole of the tech world this holiday. At Saturday Kids holiday camps, kiddos aged 5-16 years get to build their own robot animals, debut as a rockstar code DJ, learn how to build apps, assemble their own laptops and more. Looking for one-off workshops? Paint in the virtual world with Google's Tilt Brush and create 3D masterpieces! Or animate your favourite farm friends with code, and use motion sensors to make them come alive. All of this awesomeness coming to convenient locations near you, including new locations at Thomson Plaza and Northpoint City.
At Saturday Kids, students don't just learn to code. They code to learn. "We cannot teach kids everything there is to know, but what we can do is bring out the curiosity in kids, encourage them to look at problems and think "I can figure this out myself", the camp instructors say. The mission of Saturday Kids is to use digital literacy classes to transform kids into self-motivated learners who are curious, inventive & resourceful.
Camp fees: S$590-$660 per child for a 16-hour-camp, and S$120-$150 per 3-hour-workshops;
Dates: 28th May – 23d June 2018 (Full schedule is available here);
Age groups: 5 – 16;
Location: Orchard Central, Bukit Timah Plaza, Parkway Centre, Thomson Plaza and Northpoint City.
Perk for TickiKids readers: $15 off camps and workshops in June. Use promo code: TICKICODES at checkout. 

Find Out More and Register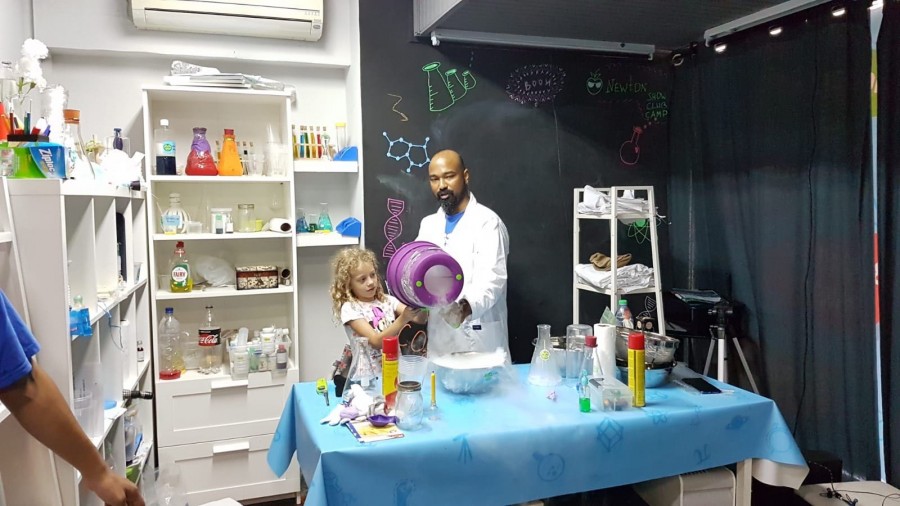 Photo Credit: image supplied by Newton Show


Newton Show is one of the most experienced science camps in Singapore. 10 years of experience, 5 countries, more than 1000 happy campers prove their well-established international reputation!
This summer Newton Show offers 3 brand new super fun programmes: SCIENCE 4.0, SPACE 2.0 and FBI SCIENCE for children aged 3-13 years. The cutting edge teaching methodologies, resources and technologies help them to acquire knowledge in a new format – FUN science. It will definitely make your kids' holidays memorable, educational and full of fun! They will undertake many experiments and explore the world, not just watching the spectacular experiments and amazing miracles, but actively participating in the process themselves, feeling fully immersed in the experience, like real scientists.
Each weekly programme runs from 9am to 4pm from Monday till Friday involving children in hands-on activities, fun science experiments, outdoor activities and games devised to develop social skills.
Newton Show is the only camp in Singapore, which sends you videos from the camp every day. This service has been created to provide parents with regular information about your child's progress on the course, so you can keep an eye on all the activities and ensure that they stay safe and sound.
All the materials are sourced and certified in the USA and Canada. All experiments and tests featured within the courses are extensively verified and approved by actual scientists.
Camp fees: S$630 per child for a 5-day programme including door-to-door bus services and super tasty food (2 snacks and 1 lunch).
Dates: 28th May till 10th August 2018
Opening times: Monday- Friday, 9:00 – 16:00
Age groups: 3 – 13;
Locations: EAST of Singapore (Joo Chian Place – 229 Joo Chiat Rd) and WEST (2 Pandan Valley 1-206).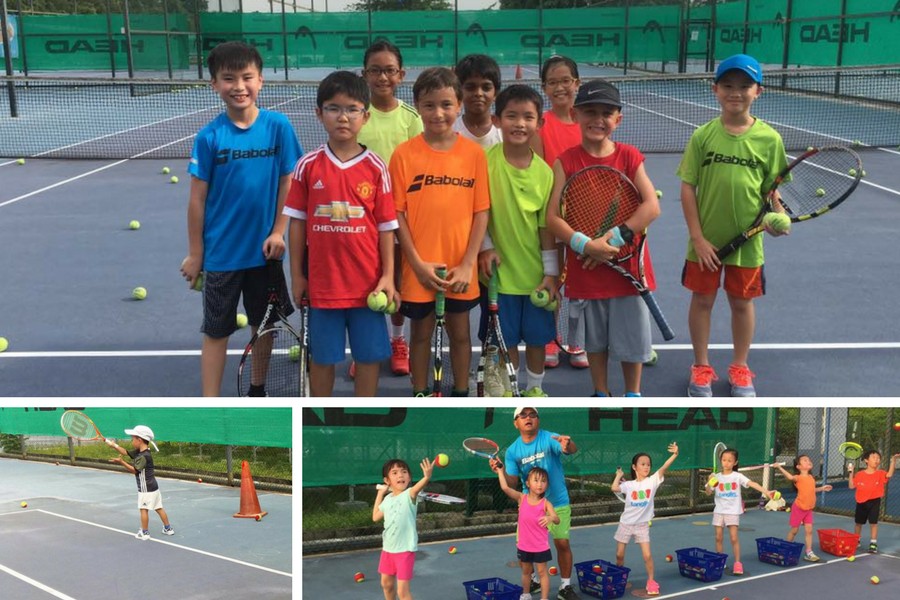 Photo Credit: image supplied by Tanglin Academy
Tanglin Academy provides 3-day tennis camps beginning from 28th May 2018. Tennis at Tanglin Academy is not just for the gifted. They offer scheduled, structured programmes for kids aged 3.5 - 13 that open up a whole gamut of technical, physical, mental aspects to enable them to learn tennis basics in a short timescale. Children work at a level of difficulty that is relevant to their age in order for them to achieve and be successful.
Nestling in the middle of the former horse racing tracks in Singapore called Turf City, Tanglin is acknowledged as one of the best and largest tennis academies on the island. In the gargantuan grounds, there are 9 outstanding hard tennis-courts and 6 Play & Stay mini courts (Quick Start). Through a range of coloured ball programmes (RED - ORANGE - GREEN), kids learn to build on their achievements from the previous level and are encouraged to strive towards reaching higher standards in all court sizes using different balls. The Play & Stay is a FUN programme that introduces little kids to tennis in an engaging and entertaining way. It aims to accelerate their love of the game through successful learning.
Promoting tennis and an awareness of how strength, speed, flexibility and stamina affect juniors, the teachers, coaches & educators enhance their natural ability and encourage the youth of today to work hard to master new skills.
Camp fees: S$ 300 per child for a 3-day Beginner Camp (Play & Stay Program); S$380 per child for a Junior Camp;  S$400 per child for a Performance Camp;  S$130 per child for a 1-day Drop In Rate. 
Dates: 28th May – 15th August 2018;
Opening times: Monday – Wednesday, 8:30 – 12:00 with a 15-minute break;
Age groups: 3.5 – 13;
Location: Singapore, 220 Turf Club Road, Singapore 288001.
Find Out More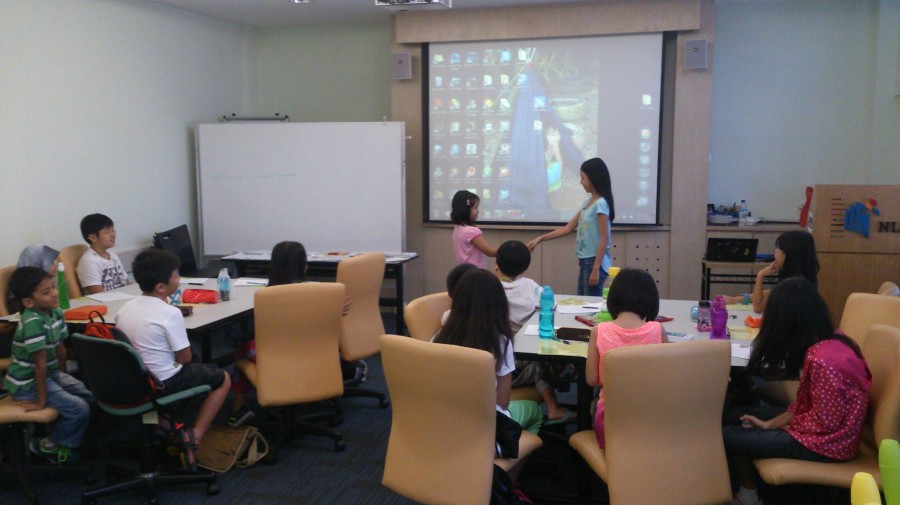 Photo Credit: image supplied by Molly Manners 


Good manners are an essential part of our upbringing. For the upcoming June Summer Holidays, Molly Manners has prepared classes as a 2-day camp for preschool-age and primary school-aged children. Every day, during 2.5-hour lessons, children will take part in interactive hands-on activities, all about manners. The kids will be engrossed by these activities and will develop a sound understanding of what represents good manners through a series of discussions, games, crafts, stories, songs and quizzes!
Children and teens are also offered the opportunity to study topics such as respect and rules, first impressions, dining etiquette and speaking on the phone politely. Be sure that your child will leave the class with essential life skills, fond memories and new friendships!
Through this blend of study and practical activity, the youngsters shall gain a sophisticated skillset in the multifaceted field of manners, in addition to benefitting from a healthy dose of enjoyment and fulfilment, laying the foundations of what will hopefully become a lifelong appreciation of the essential topics introduced in the course.
Camp fees: S$168 per child for a 2-day camp;
Dates: 28th May – 13th July 2018;
Opening times: 9:00 – 11:30 and 12:00 – 14:30;
Age groups: 4 – 7, 8-12;
Location: Kembangan Plaza (Opposite Kembangan MRT), Jurong East (opposite Jurong East MRT), Toa Payoh HDB Hub (walking distance from Toa Payoh MRT), Bugis, Singapore Shopping Centre (walking distance from Dhoby Gaut MRT). 

Find Out More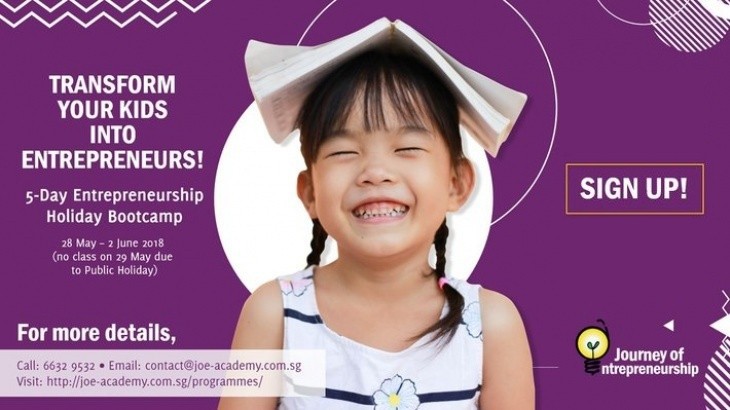 Photo Credit: image by Journey of Entrepreneurship


Let's make money and new friends by starting a small business over the school holidays! Obtaining a basic understanding of Entrepreneurship is an important area of study for all young people aged 9-16 years, which the Journey of Entrepreneurship offers to do during the June school holidays.
Their JOE Holiday Bootcamp is a 4-full-day programme, which will end up with the Mini-Market Fair on the 5th day. Such a platform is an important feature of the camp, which enables the students to immediately and practically use their new knowledge and skills and become entrepreneurs themselves through this programme. It prepares the youth to participate in tomorrow's rapidly changing society and helps to reinforce the teens' natural enthusiasm for the subject.
The JOE Bootcamp's 36-hour entrepreneurship syllabus incorporates various teaching techniques, including hands-on activities, classroom instructions, project works and participation in a real-life flea market, reflecting the importance that the coaches attach to this subject.
The elements of JOE's holistic and comprehensive syllabus are based on four topics:
Traits of an Entrepreneur (i.e. teamwork, creativity, innovation, problem-solving, risk-taking, passion, goal-setting, recognising opportunities, etc.);
Interpersonal Skills (i.e. communication skills, networking skills, negotiation skills, presentation skills, leadership, etc.);
Business Skills (i.e. financial management, competition, basic economics, marketing, customer service, etc.);
Prepare for the mini-market fair (an ALL-CHILDREN flea market).
Camp fees: regular price is S$ 498, (special price is S$ 428 subject to booking by 14th May) which includes workbook, T-shirt, learning materials and tea breaks.
Dates: 28th May – 2d June; 5th June – 9th June 2018
Opening times: 9:00-17:00
Age groups: 9-12 y. o. and 13-16 y.o.
Location: Paya Lebar Square #02-12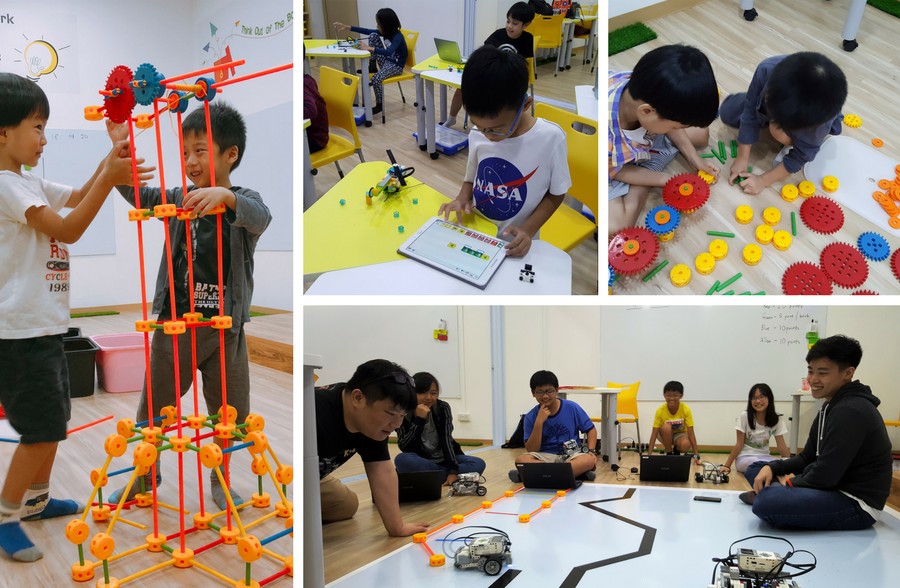 Photo Credit: image supplied by Inventive Kids


The holiday programmes allow students to become gloriously independent and creative problem solvers, as individuals and members of teams, by developing a range of ideas and making products and systems. Many hands-on programmes require an interdisciplinary approach involving children and teens in various STEM fields.
Through building toy models to replicate real-life objects or applications, students will evaluate design solutions and technological advances, enjoy meaningful activities that help to give them an understanding of Science, Technology, Engineering and Math concepts. Each workshop is designed to engage students' creativity in an exciting, stimulating and fun way.
Please note, that specifically for this June holidays the Inventive Kids has integrated several workshops and camps for the students to optimise their process of learning. Up to 15% discount applies on such combinations of camps and workshops: https://www.inventivekids.asia/june-camp-bundle.
Let's have a look at the particular range of workshops that Inventive Kids offers this year.
LEGO Education, Robotics, WeDo 2.0 for children aged 6-9 years is the best introductory robotics programme to young explorers with no prior robotics experience to enter the robotics world. It includes such workshops as WeDo Accelerated Basics; WeDo Play-gineering (WeDo Simple Automation, WeDo Off Road, WeDo Sporty Robots); WeDo Parent-Child).
LEGO® Mindstorms EV3 offers children aged 8-9 year or 10-14 a full-day intensive Mindstorms Camp with the duration of various workshops being either 6 or 8 hours a day) or Mindstorms Play-gineering option based on 4 different 3-hour workshops for children aged 8-14 (Tug of War, Square Grid, Sumo, Race Track).
Discover Series (Discover Cars, Flight) are built on various workshops for children aged 7-12, duration of each is 3 hours.
Kinder STEM is a variety of workshops (Dream Garden, City Builder, Rescue Unit) for children aged 5-6, duration of each – 1.5 hour)
Camp fees: from S$ 60 up to S$ 525 per child
Dates: 28th May – 23d June 2018
Opening times: 09:00-18:00
Location: Inventive Kids Play-Based STEM Learning Centre Festive Mall @ Our Tampines Hub 51 Tampines Ave 4 #02-83 Singapore 529684

Find Out More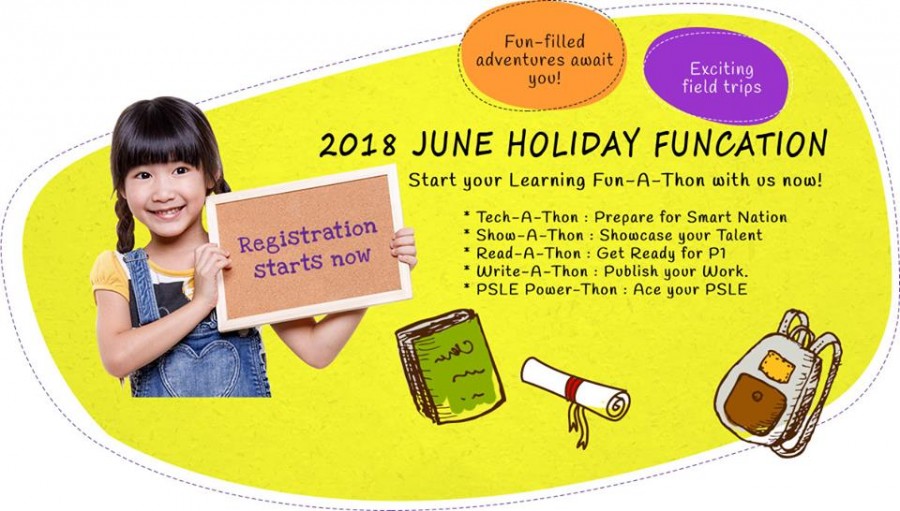 Photo Credit: image by KRTC Simei
Since 2003, KRTC Simei has been guided by the proven methods of Kent Ridge Education Hub (Singapore's leading education chain) in bringing out the utmost of their students' potential. Great programmes, meticulously crafted curriculum and infrastructure, well-qualified dedicated teachers are able to unlock the potential in each student.

KRTC's June Funcation offers you a way to realise your kids' ambitions. Would you like your child to be a superstar, programmer, artist, food blogger, medical engineer or nature activist? From Show-A-Thon, Tech-A-Thon, Read-A-Thon to Write-A-Thon to their popular PSLE Power-Thon, pick a track to success and let your children be what they want to be!
The 10 courses in medical engineering, food blogging, website development, game coding and even acting covering English, Math and Science disciplines are designed for aspiring kids from 4 to 12 years old. There are plenty of courses to look forward to.
READ-A-THON  course consists of two programmes:
BE A SUPER READER IN 5 DAYS!  will help your child begin reading independently and motivate to read after learning the know-how. Meanwhile with the BE A HANYU PINYIN PRO IN 6 DAYS! programme, its personification techniques, mnemonics and pictograms, which are innovatively used to help children associate and understand the meaning of Chinese words, children will master accurate pronunciation and recognise Hanyu Pinyin through specially-crafted oral practices and interactive games. Get your child P1 ready now!
The topics of SHOW-A-THON  course are built on 3 exciting workshops, such as BE THE NEXT CHANNEL 8 SUPERSTAR!, a Chinese speech and drama workshop, conducted by a local production house; BE AN OUTSTANDING ORATOR  works on enunciation, helps learn personal branding and create a great first impression; BE AN ARTIST IN STYLE enables kids to see synthesis between art and technology, let their imagination soar, so that to design a multimedia product using conductive paint.
TECH-A-THON course, consisting of three programmes, BE A LEGO ROBOTICS PROGRAMMER, BE WEBSITE DEVELOPER, BE A MEDICAL ENGINEER, offers to get on a journey of scientific discovery by designing, building and programming small-scale robots, applying mechanical engineering principles. It also will help your children to create their very own websites, content and images. With a focus on the Circulatory, Respiratory and Skeletal Systems, future medical engineers will make models of the heart, lungs and spine to understand each organ's function and intricacies, create a blood model to see the different components in blood, conduct a breathing rate experiment.
WRITE-A-THON course features 2 programmes, BE A FOOD BLOGGER and BE A NATURE ACTIVIST. This course will encourage your Junior Master Chef to be a food critique, write a food blog and publish a cookbook. Kids will learn to cook in a 5-star kitchen, cultivating a taste for gourmet cuisine. Field trip to a 5-star kitchen to pick up kitchen and cooking skills from a professional chef included!
PSLE POWER THON. There are only 120 days until the single most important exam in primary school. Is your child well-prepared for English, Math, Science, Chinese? Help them gear up with the PSLE POWER UP classes.
Dates: 30th May – 23d June 2018;
Opening times: Tuesday – Friday: 13:30 – 21:00, Saturday & Sunday: 9:00 – 18:00;
Age groups: 4 – 12;
Camp fees: to find out the details, please, call on 6789 0440 or email: simei@krtc.com.sg;
Location: 3 Simei Street 6 Eastpoint Mall #06-05, Singapore 528833.
Find Out More


By Anna Khan
Subscribe to weekly newsletter from "Tickikids"