TickiKids Guide to 2020's Most Enjoyable CNY Family Events
---
Published 02 January 2020 at 18:33
Tickikids Blog Singapore > Digest > TickiKids Guide to 2020's Most Enjoyable CNY Family Events
---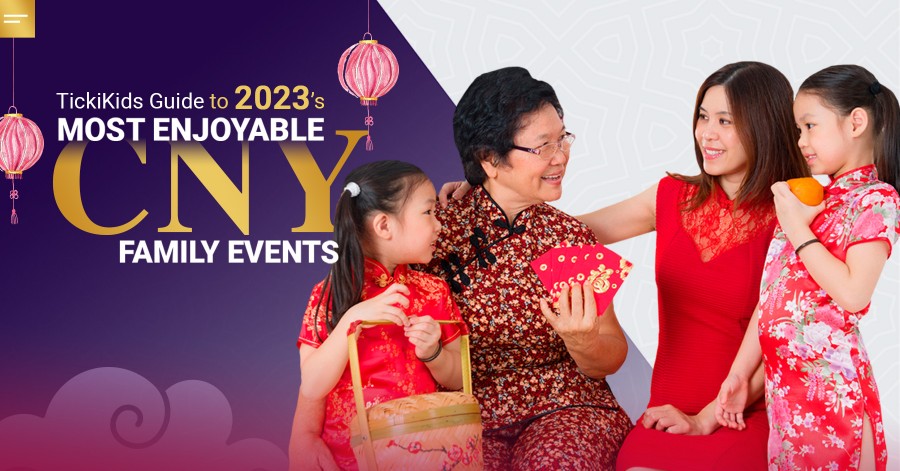 ---
After indulging in Christmas and New Year, Chinese New Year celebration has long been the most wonderful time of the year for kids and parents to enjoy together. But, where to go, what to book and how to keep the kids entertained over this period? Whether you wish to embark on a cultural journey combining traditions with modern arts, experience a spectacular array of parades and street performances or immerse yourself in an exploration of Chinese customs, here's a round up of the most exciting family events that will keep the holiday spirit alive long after the festivities.
Video Credit: Chinatown Festivals


Chinatown continues to wow visitors with its entertaining performances, spectacular firecrackers, firework displays and twinkling festive lights. Kick-start your Chinese New Year celebration in Singapore with the official Light-Up and Opening Ceremony which will take place on 4th January 2020 on New Bridge Road and Eu Tong Sen Street. Browse the countless food stalls at traditional street markets at Chinatown, enjoy mouth-watering New Year delicacies and authentic Cantonese cuisine, witness the power and strength of the 'King of the Lions' and catch nightly stage performances at Kreta Ayer Square to spark the festive feeling. It is impossible not to be captivated by the idea of making New Year wishes at the Chinatown Wishing Tree, singing along to festive songs, enjoying lion dances, limitless interactive games and rhythmic beat of drums and jaw-dropping stunts, plus intricate manoeuvres on the meihuazhuan.
Dates: 4th January 2020 – 22nd February 2020.


Photo Credit: Esplanade - Theatres on the Bay


Turn a family festive day out into an incredible one with a spellbinding children's production Gullinkambi by a Taiwanese theatre troupe of the Bon Appetit Theatre. The Esplanade – Theatres on the Bay is currently home to Huayi, Chinese Festival of Arts 华艺节 2020, offering you and your children a number of the daytime showcases of Gullinkambi production from 7th to 9th February 2020. This original puppet show with a storyline accessible for children of three and over explores ideas of the redemptive nature of love and courage through the powerful story about friendship and adventure of a little girl Sonna and her best friend polar bear Gullinkambi living in a small town near the North Pole. When Gullinkambi disappears, his heartbroken friend Sonna sets off in search of him undertaking an arduous journey and facing a mountain of challenges. Will little Sonna brave through these obstacles and bring her friend home safe and sound? What awaits them upon their return?
Book your tickets today for this heartwarming production brought to life through puppetry, physical theatre, lights and music.
Dates: 7th – 9th February 2020. Friday: 11am, Saturday & Sunday: 2pm and 5pm;
Running Time: 1 hour approx.


Video Credit: Resorts World Sentosa


You can't help but fall in love with the Universal Studios Singapore over the Chinese New Year period. Located on Sentosa Island within Resorts World Sentosa, it has been designated the hotspot du jour, where you can find inspiration from their mesmerising Chinese New Year activities. Its crowning glory? Mystical dragon dances on an exciting park-wide trail, your favourite cartoon characters dressed in their New Year best, many thrilling rides, shows and attractions as you celebrate a new season of good fortune and prosperity with family and friends. Gong Xi Fa Cai!
Dates: 11th January 2020 – 9th February 2020.




Photo Credit: Singapore Chinese Cultural Centre


The Roof Garden of the Singapore Chinese Cultural Centre is an incredible place to usher in a New Year. It's been tastefully decorated and transformed into a pineapple paradise, Huat Huat Land. The Centre's amenities will keep any guest more than entertained. For truly memorable setting, it's hard to beat its enormous illuminated pineapple sculptures, a series of murals depicting local Chinese New Year practices designed by an award-winning local illustrator Lee Xin Li (Pok Pok & Away), giant mahjong tiles and a 3D money bag. In a nod to local traditions, the Cultural Centre commissioned Xin Li to design the limited-edition red packets which would depict the scenes of boisterous lion dance performances, lohei and exchanging of Mandarin oranges through interactive Augmented Reality (AR). Visitors to Huat Huat Land won't get bored – you can redeem these red packets when posting photos of yourself in Huat Huat Land on Facebook, Instagram or WeChat with hashtag #HuatHuatLand! Who wouldn't want to come here?
Dates: 1st January – 8th February 2020 from 9am till 11pm.


Photo Credit: River Hongbao 2020


If your idea of a festive Chinese New Year celebration conjures up images of lion dances only, you clearly haven't been to The Float@Marina Bay. To celebrate the new decade start your journey at River Hongbao 2020 by walking through the dazzling walkway. Being inspired by tropical trees which are linked by rows of fairy lights in a zigzag pattern, they will lead you towards its main event grounds. The River Hongbao 2020 features breathtaking musically choreographed firework displays, interactive exhibits and intricate handmade lanterns that truly bring the festivity to life! The event will be packed with exciting fringe activities, over 20 thrilling games, daily evening shows with intriguing performances by local and overseas troupes, carnival rides and traditional street food by Singapore Kwangtung Hui Kuan, Singapore Hainan Hwee Kuan, Singapore Hokkien Huay Kuan, Teochew Poit Ip Huay Kuan, The Nanyang Khek Community Guild and Tian Fu Association (Singapore). There is another reason to make a visit – the Chingay performers with an exciting cross-over with River Hongbao on 31 January and 1 February 2020. Book the best viewing spot – you are going to need to see it!
Dates: 23rd January to 1st February 2020 from 2pm till 11pm;
Venue: The Float @Marina Bay.


Credit: Snow City SG


Where else can you go for sledging, ice sliding or snowboarding in Singapore over the CHY period? Singapore's first permanent indoor snow centre Snow City has a three-storey and 60-metre long snow slope and the coldest bumper car arena to have heaps of fun with family, without the hefty price tag of travelling abroad. Celebrating the best of the season from 25 to 27 January 2020, the Snow City offers its visitors to get into the winter spirit with snow fall experience and witness first hand a snow blizzard as depicted by heavy snowfall and strong winds. Which is terrific, you can take a photo of your kids with Snow City's mascots Oki and his friends Nooka, Suki, Ila and Koko after their dance show. Flit between Snow Chamber and Snow City lobby to see God of Fortune appearance and lion dance performances. And, even more winningly, it boasts complimentary oranges for all guests. Try it – you'll leave with sweet oranges in your hands and a glow in your heart.
Dates: 25th – 27th January 2020;
Location: 21 Jurong Town Hall Road, Jurong East, Singapore.


Credit: PassionChingayClub PA


Revel in Lunar New Year atmosphere with the magical seasonal Chingay Parade to spark that festive feeling. This annual street parade is a national festival celebrated by Chinese, Malays, Indians and Eurasians alike. There is always plenty to choose from, including vibrant "Bridge of Harmony" float, dancing dragons, prancing lions, stilt walkers, wushu masters, performers of different races in their traditional costumes and more.
With the theme "Colours in Harmony", Chingay 2020 will be a colourful showcase of different communities in Singapore and how we come together at Chingay platform to celebrate our differences in harmony. So take your kids and be sure to catch the electrifying opening ceremony with a release of 200-m long firecrackers, the world's biggest and longest flying dragon and stunning display of lights, lasers, pyrotechnic and fireworks. To round off, marvel at the the acrobatic wonders by highly-skilled stilt walkers and sky runners followed by multi-ethnic cultural performances by local and international troupes.
Dates: 31st January – 1st February 2020;
Location: F1 Pit Building Singapore.


Credit: Resorts World Sentosa


S.E.A. Aquarium will mark Chinese New Year in fabulous style, with the wealth of family activities, including underwater dragon dance and meeting Mouse Grouper and the Pineapple Fish. Being surrounded by water, keep your eyes open for other interesting animals along the way. Families can also enliven their selfies with festive décor and photo props throughout the aquarium.
Dates: 11 January – 9 February from 10am till 7pm;
Location: S.E.A. Aquarium, 8 Sentosa Gateway, Sentosa Island, Singapore.
Credit: Wildlife Reserves Singapore


2020 is the Year of the Rat and Wildlife Reserves Singapore is putting on a show to promise the best edu-taining activities. So make sure to plan a visit to its world-known zoological institutions — Jurong Bird Park, Night Safari, River Safari and Singapore Zoo over the festive period. They are welcoming in the Year of the Rat with an abundance of nature-oriented and animal-friendly activities from searching for 12 zodiac animals around Singapore Zoo, upcycling crafts, hand-feeding manatee family to lions performing incredible stunts, auspicious God of Fortune and Fu Lu Shou mascots. There's nothing more satisfying than meeting this year's adorable superstars — Gambian Pouched Rat and Agouti — as they enthral you with their intelligent traits, and discovering the heroic and helpful side of these animals.
There is so much to do at Wildlife Reserves in Singapore that you may want to come back straight away after your first visit. If you want to join in the celebrations, you must have secured a ticket in order to attend.
Dates: 25th January – 8th February 2020;
Location: Jurong Bird Park, 2 Jurong Hill, Singapore.


By Anna Khan
Subscribe to weekly newsletter from "Tickikids"