TickiKids Guide to 2022's Most Enjoyable CNY Family Events
---
Published 19 January 2022 at 20:00
Tickikids Blog Singapore > Digest > TickiKids Guide to 2022's Most Enjoyable CNY Family Events
---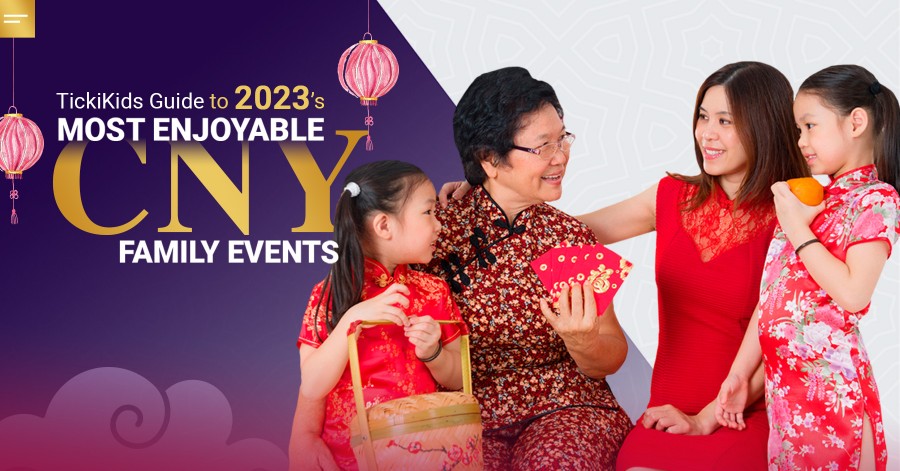 ---
After indulging in Christmas and New Year, Chinese New Year celebration has long been the most wonderful time of the year for kids and parents to enjoy together. But, where to go, what to book and how to keep the kids entertained over this period? Whether you wish to embark on a cultural journey combining traditions with modern arts, experience a spectacular array of parades and street performances or immerse yourself in an exploration of Chinese customs, here's a round up of the most exciting family events that will keep the holiday spirit alive long after the festivities.
Photo Credit: Oh Dear Studio
There's nothing more cheerful and bright than the festive Chinese New Year decorations! Imagine how lovely the family portrait will look in this backdrop! Taking a CNY family photoshoot can become your favorite holiday tradition as you document an important milestone for your family. Besides, it is a great way to spend some time together with a whole family, especially now when due to the pandemic restrictions traveling and dining out is questionable. 
And, it is so important to choose the best place to gather your family and capture those precious moments together! How about taking pictures in a beautiful colonial shophouse filled with natural light and whimsical and well-matched festive decorations? Every year Oh Dear Studio prepares something special for this holiday and this year is not an exception! The unique festive backdrop setting features two actual lion dance costumes, one of the main symbols of the holiday, and it is exclusive for 2022 only. On top of the CNY backdrop, you can also take another setting of your choice and, after the session, you will get all soft copies taken. And with 300 5-stars-google-reviews of Oh Dear Studio, have every confidence that your photos will be splendid!
Find Out More
Photo Credit: Dahlia Dreams
Dahlia Dreams Chinese New Year floral display at Gardens by the Bay promises to be one of the most memorable places to visit this year. There, you will see a stunning River Hongbao lantern "Spring Fragrances". The composition includes three Chinese moon gates, a pair of rabbits, and larger-than-life narcissus blooms surrounded by thousands of dahlias, azaleas, chrysanthemums, and cymbidiums. Gorgeous in the daytime, this lantern will light up in the evening and the view will be mesmerizing! So, attending the festival twice at different times will be a sound solution. Apart from the "Spring Fragrances" Dahlia Dreams welcomes visitors to have the cutest and most symbolic start of the year as there the adorable tiger cubs will ring in the Year of Tiger. Auspicious decorations like giant pouches and couplets will support the holiday spirit and bring prosperity and good luck to you in the forthcoming year! And, apart from the CNY setting, you can also enjoy the view of thousand-year-old olive trees, giant baobabs, and a wide range of exotic plants, catch the flight of the Moth Orchid, and visit the world's tallest indoor waterfall!
When: 14 January - 20 February, time: 09:00-21:00.
Find Out More
Photo Credit: Universal Studio Singapore
Universal Studios Singapore is always a must-see, no matter what day it is. However, this year they surpassed themselves so you and your family can get the most out of the festive vibes there. For the first time ever, visitors can meet Master Tigress from DreamWorks Animation's Kung Fu Panda, including Po and the Yang Warriors. Your kids will adore the festive meet-and-greet sessions as there they will meet the Minions from Illumination's Despicable Me, your Sesame Street friends, and other their favorite characters. 
Get ready to hear Optimus Prime and Megatron respond to your Lunar New Year greetings in Mandarin! Boost your luck with the help of wishing trees and tempt your fortune with lucky draw giveaways! Thrilling rides, attractions, and shows, catching activities and contests are waiting for you!
Find Out More
Photo Credit: Esplanade - Theatres on the Bay
Do not be afraid of the phrase "theatre production"! Long gone are the days when theatre and theatre productions were interesting only to theatre enthusiatst. When Esplanade gets the ball rolling, everything becomes catching and amazing! So, instead of watching a movie or TV series, you can spend some quality time with your family going out for Niu, an intelligent young man who became an underdog and found himself facing a choice to give up or try and save his beloved kingdom. 
A digital screening of the puppetry production The Universe According to Niu will allow nobody to stay indifferent. It is a story of courage, resilience, and the importance of doing the right thing at the right time. And, the little ones will learn more about Ox-related Chinese idioms in a fun and engaging way.
Also, it is another possibility to introduce kids to the Chinese cultural traditions, as The Universe According to Niu uses both traditional and modern Chinese puppetry.
This theatre production will be available online from January 13th to March 6th.
Find Out More
Photo Credit: The S.E.A Aquarium
Starting a new year in the realm of 100,000 marine fish is a breathtaking opportunity! And the S.E.A. Aquarium welcomes everyone to walk through the Trail of Fortune and visit five auspicious animals: the sand tiger shark, red lionfish, weedy seadragon, tiger crowie, and alligator gar. Get ready to seize every opportunity like a shark, be wise like an ancient alligator, and find your prosperity attracted by the vibrant colors of weedy sea dragons and lionfish!  
Adorable manta mascots in their festive best will be happy to pose with you in your photos! You can find them on weekends and 31 Jan – 6 Feb at 1.30 pm, 3 pm, and 4 pm. And here is another great spot for capturing memorable and symbolic photos: an auspicious wall mural featuring the star animal of the year, the sand tiger shark.
And for those who want to bring a token of good fortune home, the S.E.A Aquarium has prepared a Chunlian workshop (18 SGD per pax). There, you will learn to write and compose a spring festival couplet to invite good luck in your life. 
When: 15 January - 15 February, See the website for the opening hours.
Find Out More
Subscribe to weekly newsletter from "Tickikids"