Cheery Family Activities to Get You into the CNY Spirit
---
Published 27 December 2022 at 17:34
Tickikids Blog Singapore > Digest > Cheery Family Activities to Get You into the CNY Spirit
---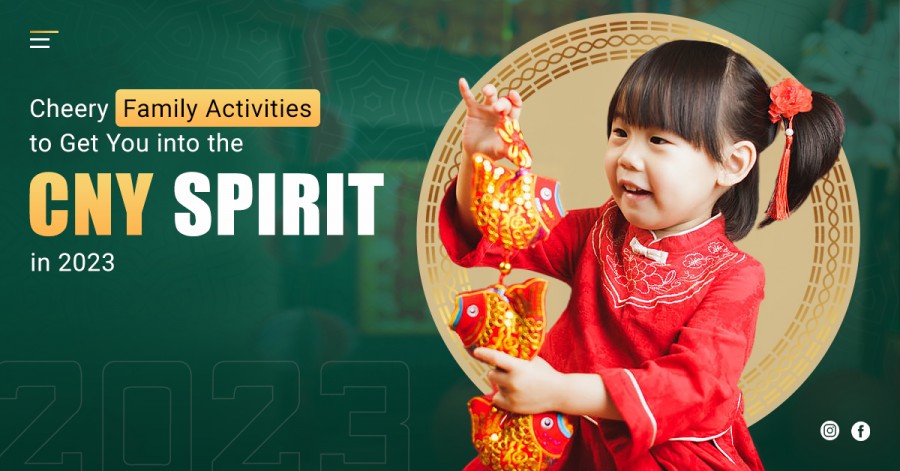 ---
Chinese New Year is a time when families gather to celebrate together and there is an overall feeling of happiness in the air. From baking, crafting, decorating to attending festivals and having themed family photo sessions, every element of the season brings a smile to your face and warmth to your heart. It is truly the most wonderful time of the year. We've put together a list of fun and cheery family activities to partake in and spend some quality time together.
Watch traditional Dragon & Lion Dance shows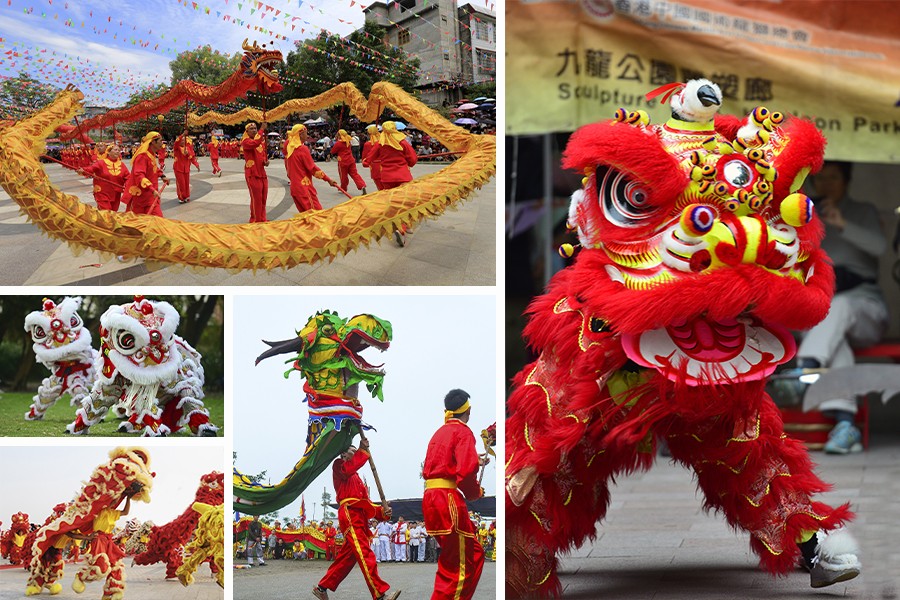 Photo Credit: Depositphotos
Want to attract prosperity and good fortune in the coming year? The lion and dragon dance will help you do just that! And residents and visitors to Singapore are especially lucky because it's here that this centuries-old tradition is observed with the utmost care. 
You can witness world-class performances, with drums, fireworks, light shows, and musical accompaniment. Or, you might even be lucky enough to see a dragon dance in front of a small shop in the street, scattering greens to attract good fortune.  
Luckily for us, Singapore has prepared many events where you can enjoy the sight of the dragon and lion dance.  
Here is a list of dates and locations where you can see some of the bright and colorful performances:
Jan 19th 1.00 pm, 7.00 pm - LED war drums and lion dance on high poles at Causeway Point, L1 Main Atrium
Jan 20th 1.00 pm, 7.00 pm - LED war drums and LED lion dance at Causeway Point, L1 Rectangle Atrium
Jan 22, 23,24 10.00 am, 2.00 pm - Majestic Lion Dance at the entrance of Singapore Zoo
Jan 25th 11.00 am - Roaring into Spring Lion Dance at Alexandra Retail Center, ARC Atrium 
Jan 26th 3.00 pm - Lion Dance performance at 313 Sommerset, L1 Main Entrance 
Jan 27th 2.30 pm - high energy lion and dragon dance performance by Wen Yang Lion Dance Troupe at Jurong Point L1 Centre Stage
Jan 27th 12.00 pm - Lion Dance Performance at i12 Katong 
Jan 28, 29 5.00 pm - Lion Dance Kids Performance at Kallang Wave Mall
Jan 30th 12.30 pm - Lion Leaping on high poles with dragon dance at Century Square, L1 Main Entrance
Feb 5th 4.00 pm - Lion Dance on Water at Stadium Waterfront
Choose the best presents for your nearest and dearest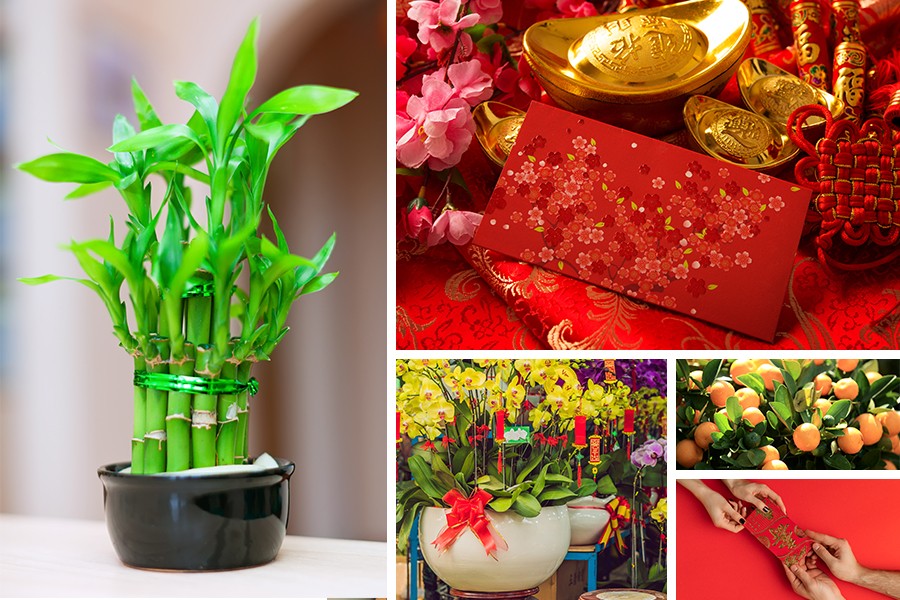 Photo Credit: Depositphotos
Children adore getting gifts, that's true. But, such festive occasions like Chinese New Year can show them that presenting gifts can be fun and pleasant too! And, it is the perfect way to introduce them to some cultural traditions connected to this holiday! As in all things, presents have a symbolic meaning in Chinese culture, so selecting the right present is almost an art. 
For example, one of the most traditional presents is hongbao, a red envelope with a monetary gift. Usually, it is presented by adults to children as a symbol of good fortune and protection against evil spirits.  
Flowers also have different meanings and extend good wishes. Orchids, for instance, signify fertility and abundance. Lucky bamboo can top all plants in terms of meaning as each quantity of stems has its own meaning from true love to good luck, good health, and powerful blessing. Potted plants with miniature oranges or kumquats are the most-favored symbol of abundance and happiness as oranges are associated with the sun and the yang principle. Peonies, a flower of riches and honor, are often presented as a symbol of innocence, affection, and charm. Or, you can go even further and present your beloved ones with "future" flowers that they can grow in their gardens. For example, the hummingbird flower plant is a set of local flowers that are easy to maintain, bloom for three seasons, and do not need chemicals to grow.
With knowledge of the meaning of flowers, you can even make a quest for your kids to choose the most personalized present for your dear ones! Discussing the presents and searching for the most appropriate gift for each member of the family can be the perfect bonding time and a possibility to get to know each other better.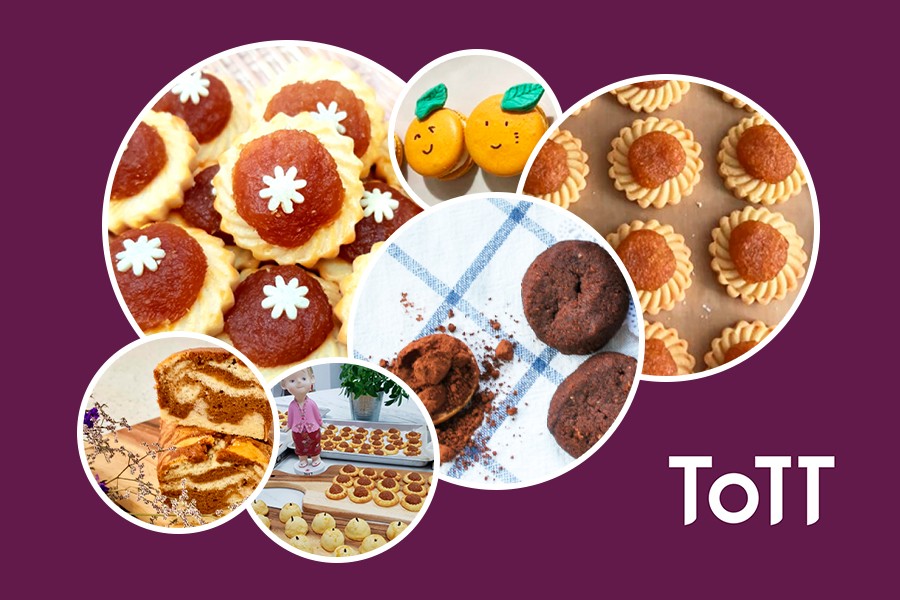 Photo Credit: ToTT Store
Chinese New Year is famous for its traditional delicacies so why not try and bake them on your own? Even if you have zero skills in baking and cooking, celebrated chefs are here to lend you a helping hand! Attend a workshop where you will learn to bake traditional CNY delicacies like Eight Treasure Rice Pudding, Sesame Seed Balls, Nian Gao (Chinese New Year Sticky Rice Cake), Fa Gao (Fortune Cake), Chinese Almond Cookie, Fortune Cookies, Chinese Glutinous Rice Balls, or Taro Balls.
These cooking sessions can be a great bonding time for you and your family where you will learn something new and have a great time. As a rule, such workshops take place in studios with fully equipped cooking stations, and all participants are provided with all the necessary ingredients. And attentive and knowledgeable instructors are ready to guide you through all steps of the cooking process and you will be able to recreate it at home!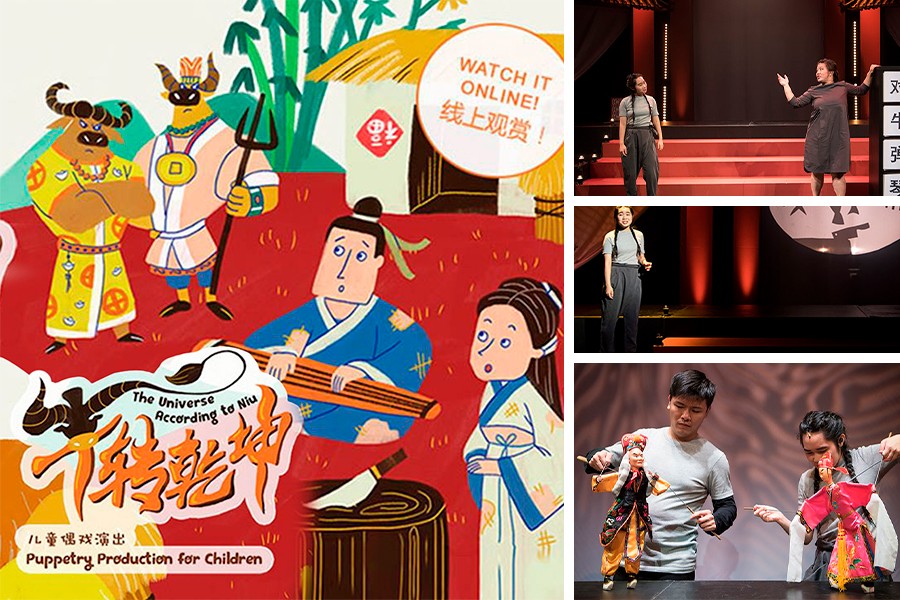 Photo Credit:  Esplanade – Theatres on the Bay
A word in your ear: the annual Chinese Festival of Arts Huayi is back to celebrate contemporary Chinese arts in the Lunar New Year. Presented by Esplanade – Theatres on the Bay, it's the largest annual CNY art festival of its kind.
With a plethora of theatre, music, dance events, workshops, online and free programs everyone can find a pastime to one's liking. And if you are searching for an interesting show to watch with a whole family, search no further as The Universe According to Niu is the one you need!
This puppetry production tells a story of an intelligent young man Niu who became an underdog and found himself facing a choice to give up or try and save his beloved kingdom. 
Featuring an array of lively characters captured from different camera angles, this digital screening makes for a memorable adventure for all in the family. 
The Universe According to Niu is told through a mix of modern and traditional Chinese puppetry and keeps young audiences enthralled as they find out what it takes to soldier on. The young ones will also learn more about Ox-related Chinese idioms in a fun and engaging way.
This theatre production will be available online from January 13th to March 6th.
Psst! Can you spot three Ox-related idioms hidden in the illustration?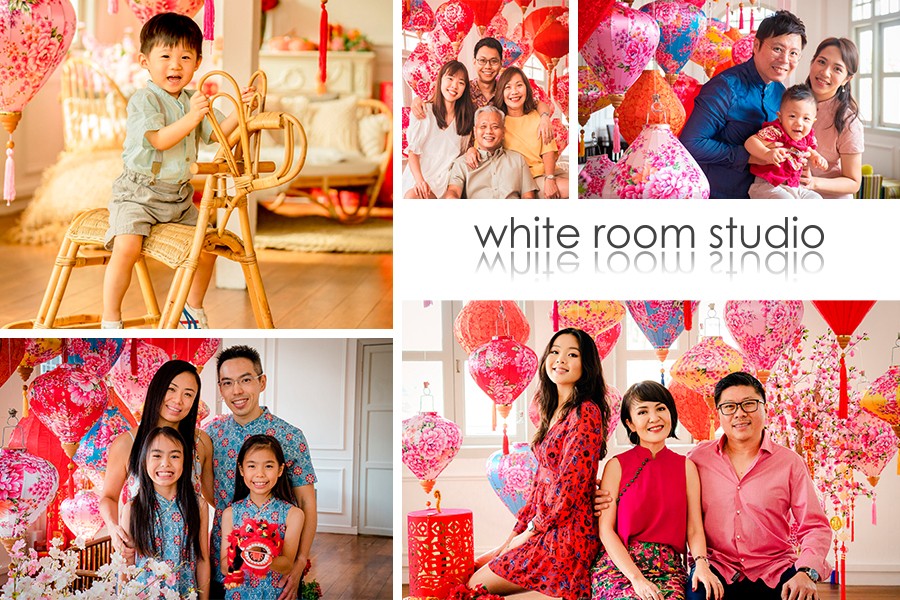 Photo Credit: White Room Studio
Chinese New Year calls for reunions, and one of the best ways to celebrate this festive season is to spend time with your loved ones and bring home family portraits you can keep for a lifetime!
Having photographed more than 9,000 families over 13 years, White Room Studio is the finest natural light photo studio in Singapore – renowned for its impressive space and stellar customer service.
Their spacious 2400 sq ft shophouse can host large families if you plan to invite your relatives for some quality time. When you arrive at the third floor of the studio, you will be greeted by 30 beautiful handcrafted lanterns, each one carefully suspended from the ceiling. Cherry blossoms and firecrackers also fill the hall, making an enchanting contrast against the studio's modern elegance!
If you prefer to enjoy the outdoor breeze or admire unique heritage décor, White Room Studio's iconic Peranakan corner and open-air balcony overlooking the greenery of Fort Canning are incredible photo spots as well.
When you book a shoot with White Room Studio, you'll even get access to their brand-new guest lounge and changing room, both of which are designed for ultimate comfort. If that doesn't convince you, they also have dedicated studio assistants on hand to ensure each shoot runs smoothly.
Cook Family Reunion Dinner Together


Photo Credit:  shutterstock.com (Dragon Images)
What better way to celebrate the Chinese New Year than with the whole family? This provides an opportunity to meet, celebrate and spend time with not only immediate members of the household but the wider family, grandparents, aunts, and uncles and their families. One way to cement this gathering is to cook together.
This can take the form of initially bringing prepared dishes that can be safely stored at the appropriate temperature. The next step is a preparation of a communal meal, this can be the preparation of food, cooking, and mixing. Cakes, pastries, and other such foods are great for little ones as there is squidgy fun to be had in stirring and kneading dough-like mixtures and even adding food colorings where appropriate.
For teenagers and adults, tasks requiring more care and skill are appropriate. You can share the activities of preparation of meat and vegetables, frying, and roasting. This provides time together in a communal space for catching up on life and laughter whilst sharing the pleasure and challenge of making a shared meal.
Finally, the meal can be enjoyed by everyone, taking pride in a delicious meal produced by their shared efforts. Bon Appetit!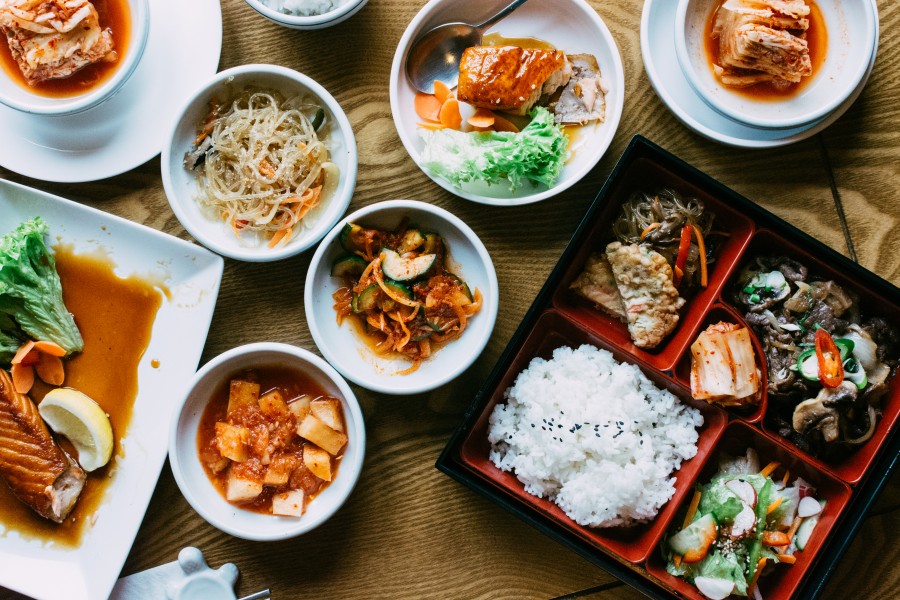 Photo Credit:  freepik.com (Foodiesfeed)
CNY is a great time to relax and enjoy good food with family and friends. What better time to enjoy a feast with specially prepared food requiring precious ingredients and exemplary culinary skills? This is where take-outs from restaurants come to the fore, you are safe in the knowledge that the food is made by professional chefs, and the quality of the dishes prepared is guaranteed. You simply enjoy eating. Simple and satisfying.
A variant of the takeaway meal is the semi-prepared meal. These are sometimes available from restaurants where they carefully gather the finest ingredients and carefully prepare them for you. You are provided with clear and simple instructions on the final steps such as frying, roasting, or boiling. Complicated sauces are made for you as are complex food preparation techniques done by professional chefs. This gives you an easy shortcut to creating restaurant standard food at home and has proved popular.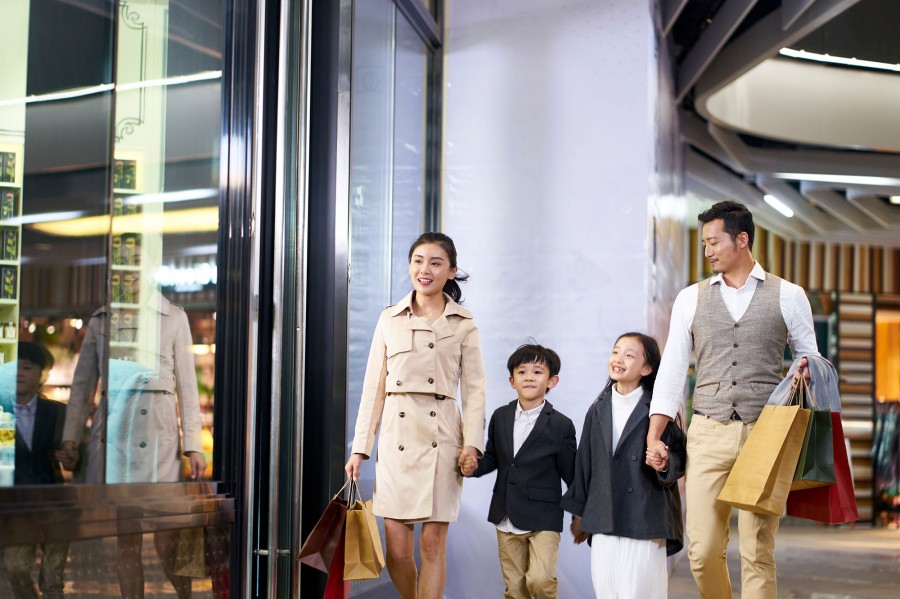 Photo Credit: shutterstock.com (Imtmphoto)
Does your Lunar New Year spirit need a bit of pepping up? Singapore shopping malls are bringing some much-needed festive cheer and merrymaking with the Spring Festival Season. From photographing with the God of Fortune and Bull Mascot, festive gifts, deals and rewards to a visual feast of colourful lanterns, gigantic Wheel of Fortune and Chinese Zodiac forecast on display, there is a bumper crop of the best places in Singapore for CNY shopping in 2022 to turn the experience from a nightmare into a great day out.
Subscribe to weekly newsletter from "Tickikids"