Fascinating Year-End Holiday Camps in Singapore 2021. Part 1
---
Published 11 October 2021 at 09:44
Tickikids Blog Singapore > Digest > Fascinating Year-End Holiday Camps in Singapore 2021. Part 1
---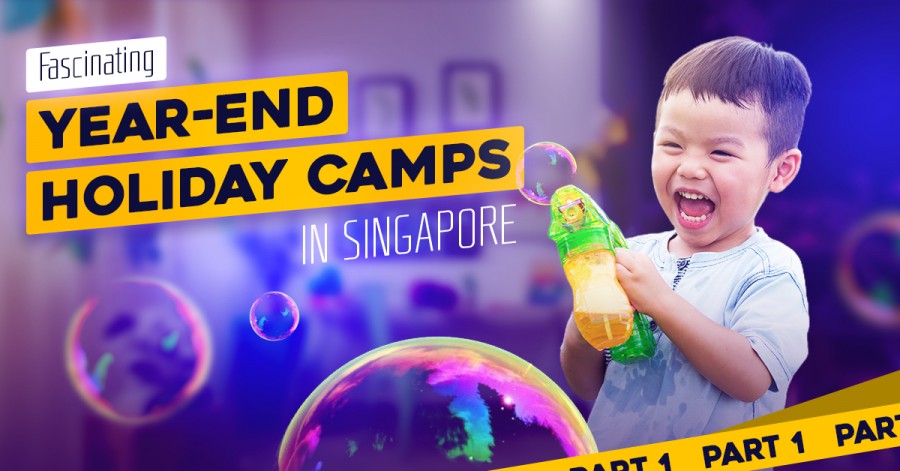 ---
Year-end holidays are coming and thoughtful parents do not waste time and plan kids' activities beforehand. 
We have saved you some time and effort and selected some of the best year-end holiday camps in Singapore. Get ready for the most interesting, enriching, and entertaining camps for your kiddos! Sports, drama, coding, cooking - Singapore has everything your kids are interested in and even more. In this article, you will find camps for all interests and ages and some of them offer pleasant discounts and early bird offers for the TickiKids followers. So, take a look and choose the best year-end holiday camp for your children!
Related reading: Fascinating Year-End Holiday Camps in Singapore 2021. Part 2.


For more than 20 years Little Artists boost the imagination, creativity, and artistic skills of the young painters, sculptors, and sketch artists. The team of Little Artists is expertized in the creation of a pressure-free and fun environment and providing a positive learning experience. Innovative Fine Art Teachers and Practicing Artists with degrees in Fine Art and Design from around the world introduce kids to a variety of mediums, techniques, and art forms.  
During the year-end holidays, parents can enroll little creators in a wide range of activities gathered in the Holiday Palette by Little Artists. Young creators aged 2.5-7 years can try their hand at drawing their masterpieces at Little Blossoms using different mediums and take part in different artistic activities. Pen&Ink Architecture (7+ years) program is aimed at kids who want to learn how to build 3D forms of buildings and structures using different techniques of pen and ink. At the Clay sculpture program (4-15 years) young sculptors will create 3D fantasy world figures and older sculptors will try to create portraits or other sophisticated projects. Students aged 8-20 can learn Digital art or Sketching and portraiture. 
Or, maybe your early talent wants to create something spectacular? Then Big Canvas (8-12 years) hits the spot with the possibility to create a really large painting using different techniques of acrylic. Older students can take advantage of the Portfolio workshop camp (10-20 years) where they can get ready for SOTA, DSA or art college admission and create the perfect works for their portfolios. Also, the curriculum includes Fashion Design, Fantasy Illustration, Early Fine Art Education, and many other enriching programs. Here, your children will definitely find a program that will catch their fancy!
When: 20 November - 9 January.
Timing: see the website. 
Age: 2.5-20.
Fees: starting from 195 SGD per program.
Contacts: +65 6449 0960, shalini@little-artists.com.
Find Out More


The Holiday Study Camps by British Council need no introduction. Decades of the experience, dedication and high professionalism of the teachers of this institution make British Council one of the best places to develop the 21st century competencies needed for academic and future success. 
This November, the team has prepared something special for the campers. Each week of the camp will be dedicated to a certain topic and kids will explore it using different skills, polishing their English. Here, learning the language is not the main purpose of the camp, instead, English is a tool for exploring the chosen theme. Each week includes a set of activities like games and group research projects, hands-on experiments, presentations, and drama games. 
Such a deep immersion in the theme allows children to develop their vocabulary, learn to communicate in different situations, find out more about the world and become true explorers. 
Camps are available for Early Years, Primary, and Secondary-aged students. Small classes ensure that kids will get enough individual attention and support. 
25% discount for four weeks, 20% discount for three weeks, 15% discount for two weeks and 10% discount for one week of Study Camp. Weekly camp starts every Monday.
When: 
22 November - 26 November, time: 09:00 am -17:30 pm;
29 November - 3 December, time: 09:00 am -17:30 pm;
6 December - 10 December, time: 09:00 am -17:30 pm;
13 December - 17 December, time: 09:00 am -17:30 pm.
Age: 5–17.
Fees: 736 SGD per week.
Location: 
Napier Road Centre (Early Years, Primary and Secondary Camps)
30 Napier Rd, 258509;
Tampines Centre (Early Years and Primary Camps)
11 Tampines Concourse #01-02/03/04 528729;
Toa Payoh Centre (Early Years, Primary and Secondary Camps)
480 Lorong  6 Toa Payoh #09-01 HDB Hub East Wing 310480.
Find Out More


This November, children can step into the shoes of real doctors during Little Medical School Year End Twin Camp by Little Skoolz. 
Little Skoolz is an Edtech company for students aged 2-18 offering an innovative approach to traditional education. There, instructors use various engaging activities that help to explore a theme in all matters. And Little Medical School is not an exception!
Here, kids will learn how doctors and veterinarians work, explore the basics of medicine and how science is used to cure different diseases using interactive demonstrations, crafts, and role-plays. 
The eventful schedule of the camp includes exploration of the doctors' and pet-use instruments and how they are used, how our body works, how to respond when the first aid is needed, and what items are used for the first aid. They will also try themselves in the role of a surgeon, veterinarian, and a scientist. After the camp, kids will get their graduation certificate issued by Little Medical School. And, during the camp, kids will get or make and bring home such items as First Aid Kit, Brain Model, Make Your Own Take-Home Snot, Dog plush, Dog Bone Cookie Cutter, Adoption Certificate, Lab Coat, and so on.
TickiKids readers get $50 off! Type "TICKI" in the Discount Code section! And, you can also get $10 off the camp fee for every friend you refer to the camp and who signs up. You can get your unique referral code by texting the team of Little Skoolz at ​​88454045.
When: 22 November - 26 November.
Timing: 10 am - 4 pm (snacks are provided).
Age: 5+.
Fees: 600 SGD per camp.
Location: Goodman Arts Centre, 90 Goodman Rd, Singapore 439053 (Nearest MRT: Mountbatten).
Find Out More




Established in 2002, Ray Educators has developed a reputation as a dedicated and experienced provider of enrichment courses and holiday programs to children.
Now, the team offers several catching and fun camps that will catch kids' fancy:
Christmas Fabulous Fun Camp

This Christmas-themed camp offers engaging Art and Craft sessions, cooking sessions where kids will be able to make strawberry push-pop cakes. Also, kids will go on an excursion and take part in many engaging and interesting games like the Fabulous Race, Hunters and Wolves, etc.
This camp is all about fabulous fun and fantastic friendship! Here, children learn important life skills and competencies, learn to work in a team, and take part in activities that were listed as the most favorite by Ray kids who participated in the previous camps.
When: 22 November - 7 January.
Age: 7-12.
Fees: 550 SGD
Location: Drama Centre, 100 Victoria Street (Bugis). 
Drama Camp – The Little Engine That Could

As the name suggests, this Drama Camp is centered on the tale "The Little Engine That Could". Here, kids will be engaged with drama activities, storytelling, music, and movement, and learn how to integrate music into drama. On the basis of this story, kids will learn the power of positive thinking, courage, and perseverance. This is the perfect place to foster a never-to-give-up spirit together with new friends!
Be sure to check out their other Drama Holiday Camp - Heroes!
When: 22 November - 7 January, weekly classes available.
Age: 4-8.
Fee: $395 (4-day camp)/ $465 (five-day camp).
Location: Drama Centre, 100 Victoria Street (Bugis)
 Christmas Baking Wonderland
Santa and his reindeers are here to surprise kids with great Christmas presents! The next stop is the Polar Express that will take kids and Santa on the journey to the North Pole! During this fun-filled adventure, kids will bake different Christmas treats and follow Dasher the reindeer in her journey pursuing her dreams. It is a true Christmas story about kindness, bravery, and love and kids will learn many invaluable life lessons from it!
 When: 22 November - 7 January, weekly classes available.
Age: 5-8.
Fee: 315/495 SGD (3-day/5day camp).
Location: KAP Mall, 9 King Albert Park (Bukit Timah).
Junior Chef
Here, kids will learn to bake and cook independently under the supervision of experienced instructors. Kids will get acquainted with kitchen safety and hygiene, learn how to make different dishes from scratch on their own and, of course, have fun! Reindeer cakes, mouthwatering snowman cupcakes will definitely create the Christmas vibes for kids! All young chefs will get their own sets of utensils and ingredients to ensure the best experience for everyone.
When: 22 November - 7 January, weekly classes available.
Age: 8-14.
Fee: 350/525 SGD (3-day/5day camp).
Location: KAP Mall, 9 King Albert Park (Bukit Timah).
At all camps, kids will get surprise Christmas gifts! And, you can take advantage of the discounts:
Enjoy a 5% discount when you book before 1 November 2021! Promo code: EARLY5
Book for 2 children/camps or more to enjoy 5% off – Promo code: HAPPYTWO
Promo codes are not stackable.
Find Out More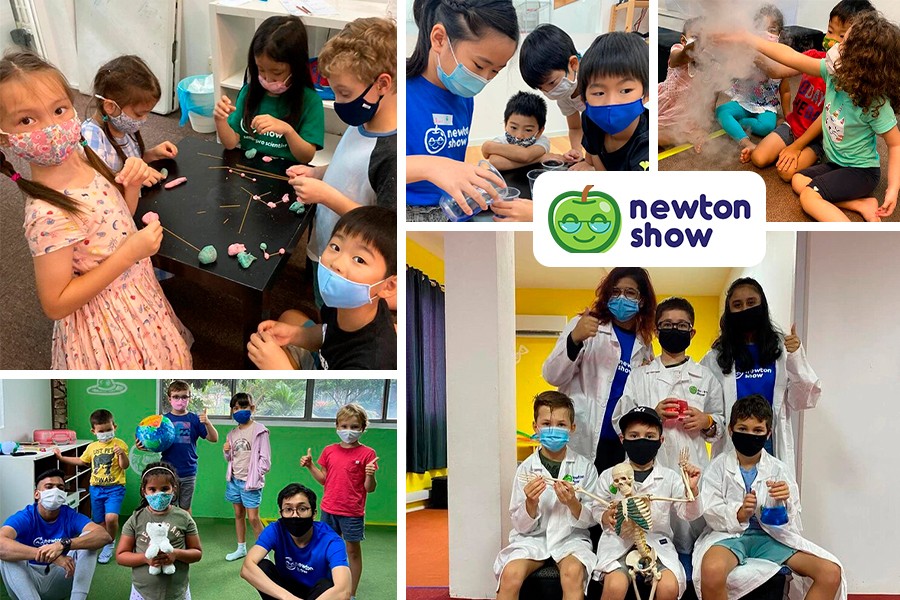 The holidays are never boring with Newtonshow! This season promises loads of fun and edutainment with three brilliant science programs - Multi Science, Harry Potter, and Chemical Chaos. 
Science Academy calls young investigators to use their knowledge of forensic science and solve mysterious crimes. Kids will explore the universe, find out more about black holes, eclipses, and our planet. At the camp, young scientists will create their own greenhouse and water purification system.
Harry Potter Camp. Young witches and wizards from all four Houses of Hogwarts are welcome to this camp! Here, they will find many different magical activities: magic wand workshop, Quidditch, making potions, and so on. No Muggles allowed as here Hogwarts students will learn about astronomy, divination, alchemy, and even how animals communicate!
Chemical Chaos. Newtonshow's team are the real experts in edutainment and Chemical Chaos Camp is another confirmation of this status. They know how to show children that chemistry is fascinating! The program of the camp includes making periscopes, wind power generators, an echo chamber, and even a phenakistiscope! And making manners to the technologies of the past, young scientists will learn the technologies of the future: 3D printing, exploring of DNA and viruses, and the legendary chemical battles (harmless and safe). 
When: 22 November 2021 - 7 January 2022, time: 09:00 am -16:00 pm.
Age: 3-11.
Contacts: info@newtonshow.com, tel. +65 82 64 66 55.
Location: 
887a Bukit Timah Road;
9 Mohamed Sultan Road; 
221 River Valley Road;
229 Joo Chiat Road;
175 Thompson Road. 
Find Out More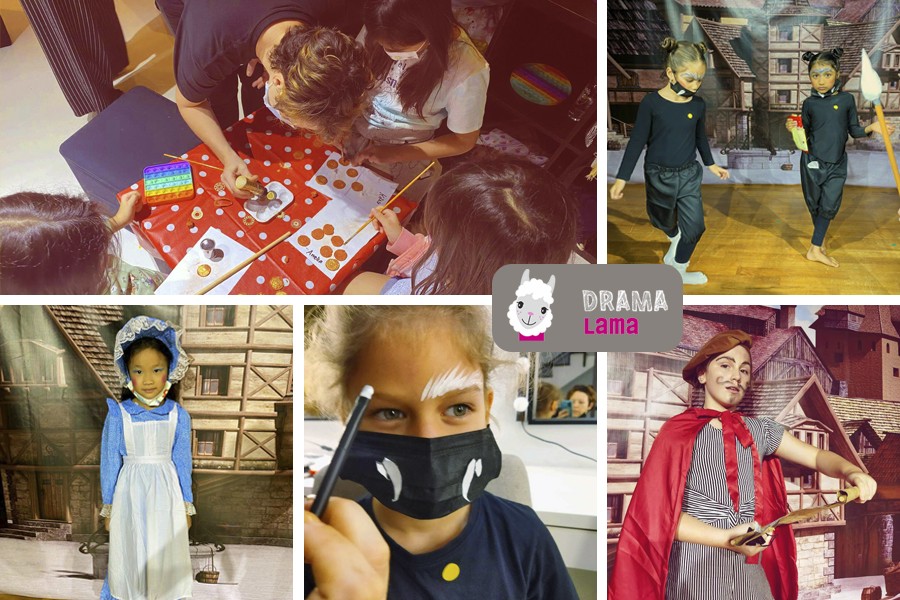 Drama Lama is a theatre group aimed at kids from 6 to 14 years old. Here, children learn to act and perform on stage, boosting their self-confidence, creativity, artistry, and ability to express themselves. 
Experienced, attentive, and highly qualified teachers of Drama Lama have a solid theatrical background: for example, the leading teacher Anna has a Masters Degree in Drama, she has directed at Moscow's renowned Shchukin Theatre and has 10 years of experience teaching kids as well as a 15-year professional career on stage. 
Each holiday season Drama Lama offers a 5-day course that ends up with a play performed by all the students. And such a holiday has all chances to become unforgettable!
This winter, children will perform in a new production named "Brian the Christmas Tree" - a great possibility to get holiday vibes at the beginning of winter! 
The schedule includes drama games, improvisations, character exploration, History of Theatre, and lots of fun! Kids will be able to give free rein to imagination and creativity, make new friends, polish their performing skills and find out more about theatre.
The final stage performance in costumes will be the culmination of the camp and young actors will get real rewards after it.
There are two time slots to offer - 9 am - 12 noon and 1 pm - 4 pm. Parents can book a full day with lunch.
When: 22 November 2021 - 7 January 2022.
Timing: 9 am - 4 pm.
Age: 6–14.
Fees: 630 SGD per week.
Contacts: tel. +65 88 92 46 04, info@dramalama.sg.
Location: 278 River Valley Road at OMG building, Singapore 238319.
Find Out More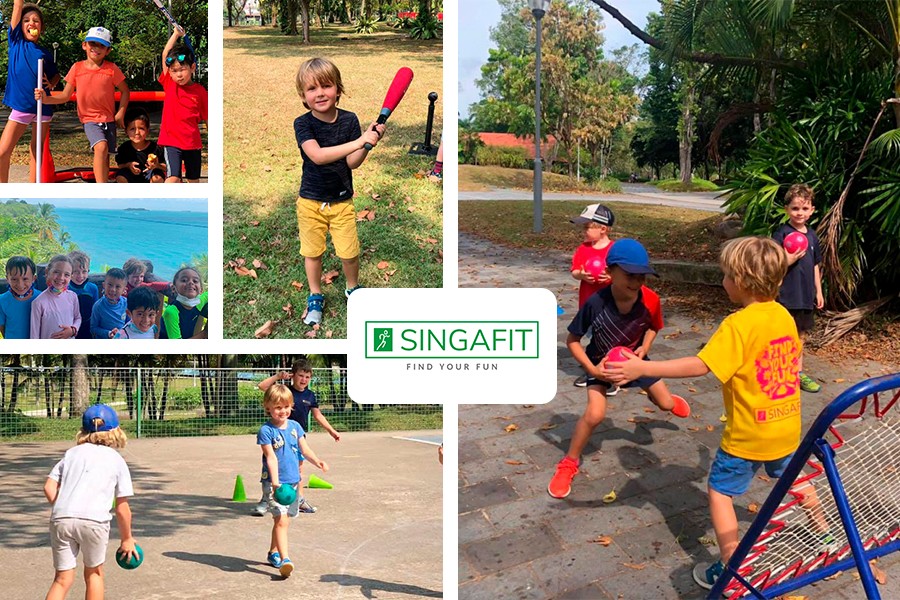 Singafit Multi-Sports Camps are packed with activities and it is just the thing that all kids need! During the holidays, our kiddos prefer to be glued to the screens of smartphones and PCs days on end, so some good old physical activity is just what the doctor ordered. 
Singafit Multi-Sports Camps offer more than 50 different activities and 30 kinds of sports including rare disciplines like kinball, capoeira, and circus arts.   
Singafit is well-known for the set of values called C.A.R.E.S Value System (Courage, Appreciation, Respect, Effort, Selflessness). And all camps support and develop these values in children. Each camp offers a unique set of activities so campers will be able to try and test different kinds of sports. It is impossible to underestimate the influence of sports: such activities develop endurance, discipline, improve health, cognitive and memory functions of the brain, help kids make new friends, and work in a team. 
It is possible to select the most convenient time and location of the camp - you can check the dates, activities, and locations on the website.
Attentive coaches, teammates of the same age, engaging activities, and the perfect possibility to spend tons of energy - what's not to love?
Dates: November 22 - December 31.
Timing:
Morning: 9:30 am - 12:30 pm;
Noon: 1:30 pm - 4:30 pm.
Age: 3-5; 6-9; 10-13.
Fees:
Half-Day: 240 SGD - 350 SGD;
Full-Day: 500 SGD - 525 SGD.
Locations:
Bishan Park;
West Coast Park;
Serangoon Park; 
Tanjong Rhu.
Find Out More

The team of Creatopia has prepared many interesting and enriching workshops for kids this autumn and winter. Here, all activities are focused on the development of creativity, curiosity, and imagination. And the workshops held by professional and experienced instructors are always engaging, fun, and educational.
Little Creatopians 'World'
It is an all-rounded introductory program for kids aged 3-6 years that presents the foundation of arts - music, movement, art&presentation. Kids will be engaged in fun and catching activities to introduce kids to different art forms. This workshop includes different games and activities that teach kids to observe, interpret, analyze and develop critical thinking.   
Age: 3-6.
When: November 6 (you can choose 3 more dates) 11:00 am – 12:00 pm.
Fees:
Promo price 280 SGD for the class of 4;
Single drop-in class 85 SGD.
Location: Groove Music School, 177b Thomson Rd, Level 3, Goldhill Shopping Centre, Singapore 307625.
There's an Art to Public Speaking
Learn the secrets of success in public speaking from the award-winning, experienced keynote speaker - co-founder of Creatopia Johnny Tan. 
Age: 13-18.
When: November 13, 2:30 pm – 5:30 pm.
Fees: 150 SGD.
Location: Singapore, 15a Duxton Hill, Singapore 089598.
Be a Wildlife Presenter!
The scouts Shawnrick and Cheryl will take kids on an imaginary, interactive tour through the jungle. During this adventure, kids will make fascinating discoveries, meet and interact with the Hooga tribe and the result of the journey will depend on their actions!
Age: 6-8.
When: November 6, December 4, 1:00 pm – 3:00 pm.
Fees: 90 SGD. 
Location: Groove Music School, 177b Thomson Rd, Level 3, Goldhill Shopping Centre, Singapore 307625
Cakepopsicles Decorating Workshop
Serena, the founder, and baker of Nanatang Baking Studio welcomes parents and children to the cake popsicles decorating session! The perfect bonding time that will result in 5 pieces of cake pops that you will decorate and eat with kids.
Age: 7+.
When: November 27, 2:00 pm – 5:00 pm.
Fees: 180 SGD per parent and child.
Location: Nanatang Baking Studio, 41 Kampong Bahru Rd, Singapore 169358.
Contacts: info@creatopiasg.com, tel. +65 9030 5537.
Find Out More
Subscribe to weekly newsletter from "Tickikids"