Fascinating Year-End Holiday Camps in Singapore 2021. Part 2
---
Published 22 October 2021 at 13:23
Tickikids Blog Singapore > Digest > Fascinating Year-End Holiday Camps in Singapore 2021. Part 2
---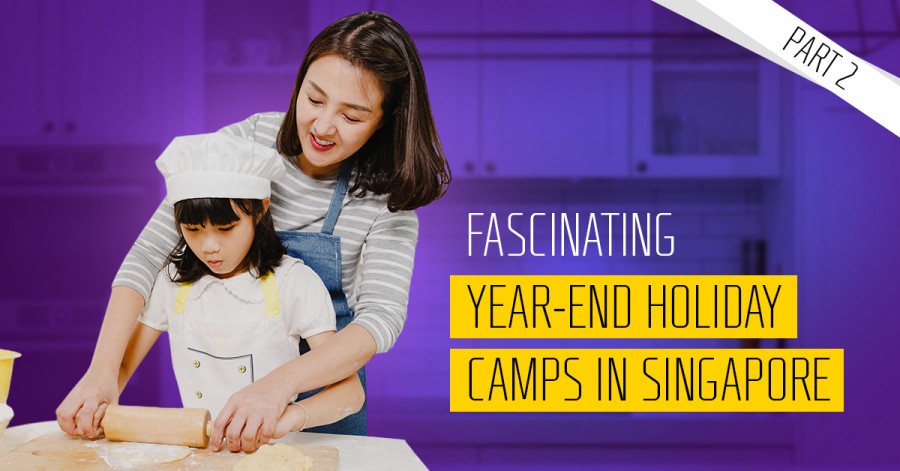 ---
It is about time to plan your kids' pastime for the year-end holidays! There are so many interesting camps, workshops, and programs for kids of all ages so you will definitely find the one that will catch the interest of your child. From cooking to coding, from arts to improving English to making whimsical futuristic devices, this winter promises to be filled with fun and edutainment. 
Holiday camps are the perfect possibility to have a good time, make new friends, and learn something new and interesting. We have rounded up some of the top year-end holiday camps in Singapore and some of them even offer special promotions and discounts for our readers! So, keep reading to find the best camp for your little one! 
Related reading: Fascinating Year-End Holiday Camps in Singapore 2021. Part 1.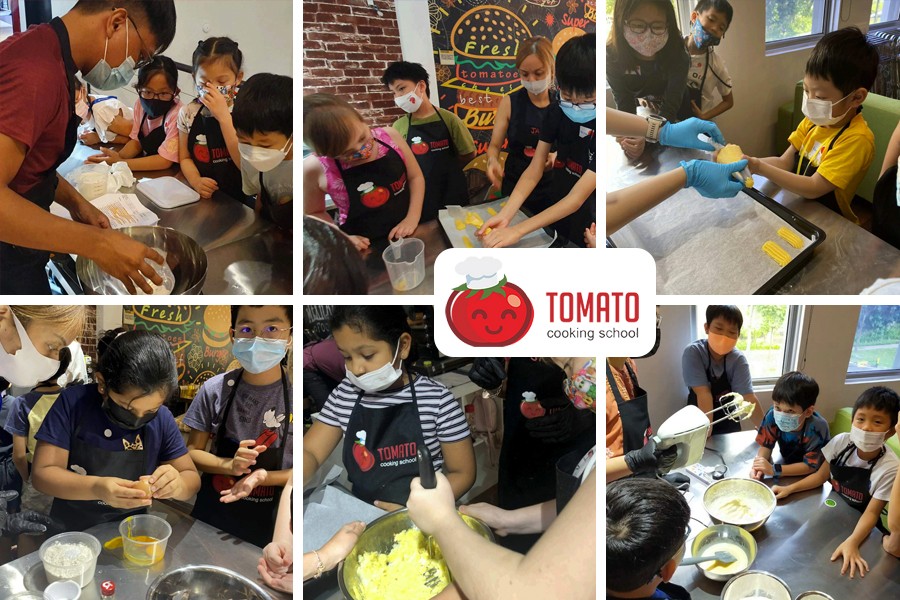 At Tomato Cooking School children learn to cook restaurant-level dishes in a fun-filled and stress-free way. Here, experienced chefs who have worked in renowned Singapore restaurants teach kids the most essential cooking skills and show them how to prepare their favorite dishes in no time! 
During the Christmas holidays, kids can take part in a new program where they will find out how to cook Christmas dishes from 5 different countries: Italy, the USA, UK, Russia, and India.
Every day will be dedicated to one country and its dishes to ensure a full immersion into the atmosphere. 
The process of learning is well-thought-out: all students have their own cooking stations with full sets of kitchen utensils and ingredients. Kids do not work in groups: each child will do all the cooking processes on his or her own to make sure that they all know how to do everything properly. All steps of the process are supervised by experienced and friendly chefs who know how to create a comfortable learning environment for the children. 
And by the end of the day kids can take home all the goodies that they have cooked!
Camps run 9 am - 12 noon and 1 pm - 4 pm (with a full-day option 9 am - 4 pm).
When: 22 November 2021 - 7 January 2022, time: 9 am - 4 pm.
Age: 6-14.
Fees: 400 SGD.
Contacts: tel. +65 8264 6655.
Location: 278 River Valley Road at OMG building, Singapore 238319.
Find Out More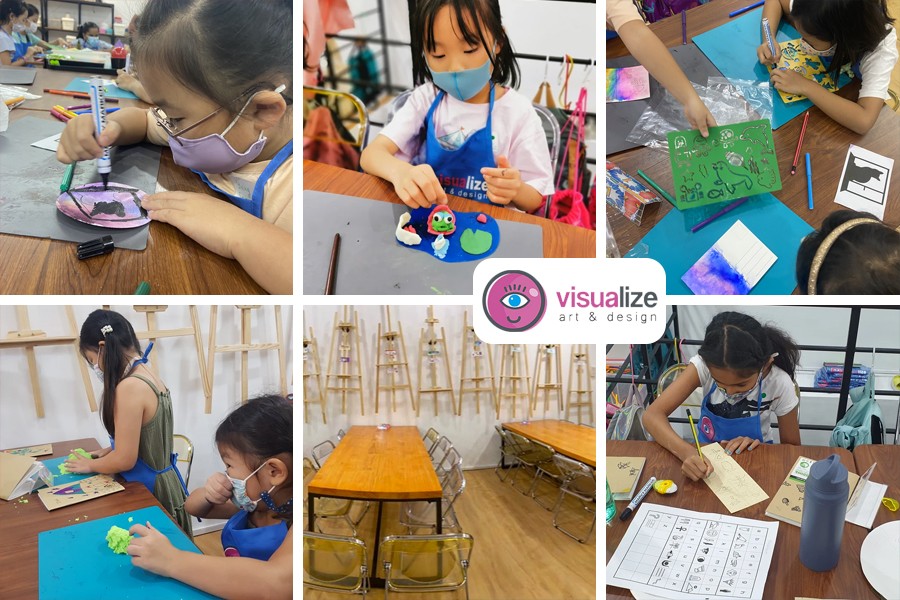 Home is not the best place to give full reign to creativity, it is so. And it is unlikely that your kid will find there all the necessary equipment for the exploration of cutting-edge art technologies. There is no need to worry, Visualize Art & Design lends you a helping hand!
Visualize Art & Design is a team of passionate art admirers who have expertise and experience in introducing children to the world of art and design. Here, the expert art teachers conduct lessons about all types of art techniques and materials including the latest in the sphere. 
During the Christmas camp, kids will learn different drawing techniques, sculpture, tessellation, posters, portraits, collage, resin work, graphite, clay modeling, plastering, colorful sand work, etc. Thus, kids will make a door sign, snowman toy, wire Christmas tree and so much more! The process of creation of Christmas decorations will create the perfect holiday vibes.
Every day teachers will take photos of the kids' works and send them to the parents so you will be able to track the creative progress of your young artist. 
Also, kids will have lunch and two snacks to fuel their imagination and tank energy.
When: 22 November 2021 - 7 January 2022, 9 am -12 noon and 1 pm - 4 pm, full-day option available.
Age: 6-13.
Fee: 400 SGD per week.
Contacts: ​​info@dramalama.sg.
Location: 278 River Valley Road, 238319, Singapore 82646655.
Find Out More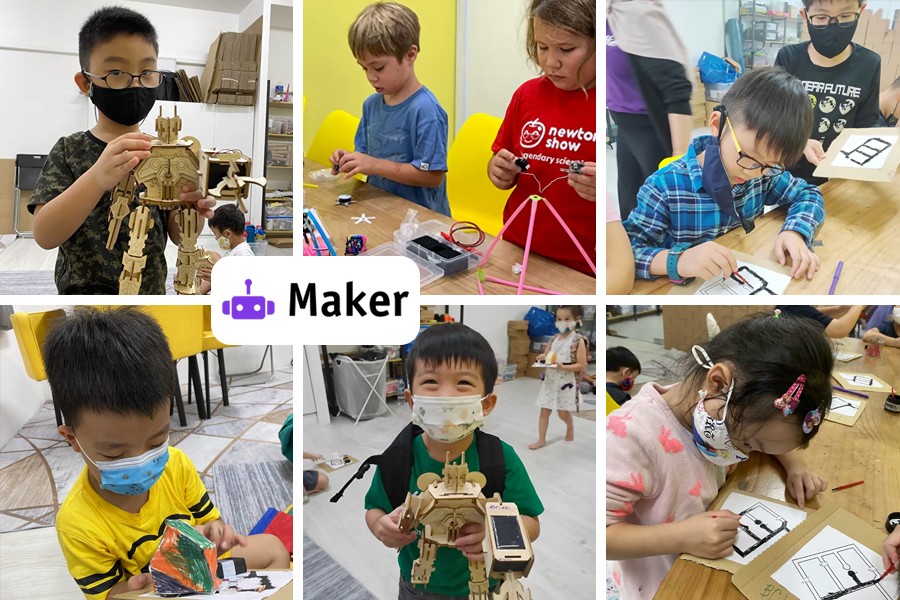 Maker.sg is the perfect place where little inventors can try their hand at creating cool devices, learning new technologies, and having fun!
Two new Christmas programs, Alice in MakerLand and I am Maker welcome all enquiring minds to the realm of robotics, coding, and maker projects. Together with experienced and highly qualified teachers, kids will deepen their knowledge of technologies, sharpen skills and learn to work in groups. 
During the I am Maker camp kids will create a solar and frog robot, hydraulic excavator, solar trams, traffic lights project, and many other items that they can take home! Also, kids will explore the wonders of a solar-powered city, take part in games and competitions and find out about the 7 Wonders of the World and so much more!
At Alice in MakerLand young scientists will make their own Cheshire cat using a 3D pen and a DIY moving white rabbit, a solar vintage car, and a musical box. Also, they will learn some Math tricks and take part in a Maths competition, make a marble run, hoist puzzle, and a sundial machine, and so much more!
All camps run 9 am - 4 pm and 2 snacks and lunches are provided for all campers. Bus transportation can be provided on request.
Kids will be in small groups of 5 children of similar age to make sure that each child gets enough individual attention.
When: 22 November 2021 - 7 January 2022, 9 am - 4 pm.
Age: 5-13. 
Fees: 630 SGD per camp.
Contacts: tel. +65 8264 6655, info@maker.sg.
Locations: 
887A Bukit Timah Road Singapore 279896;
175 Thompson Road Singapore 307624;
232A River Valley Road 238319 Singapore.
Find Out More


Winter offers a splendid opportunity to learn more about the world and boost knowledge of English! British Council launches intensive holiday programs for the students aged 4 to 15 years with a focus on the development of communicative, problem-solving skills, and critical thinking. Students of all levels, from beginners to advanced speakers are welcome! 
Each week is a complete, stand-alone camp dedicated to a specific topic and students will use all their knowledge and skills to explore it. For example, the first week of the Early Years camp will be dedicated to the short plays and improvisations, so kids will have to use all their creativity and eloquence to perform in the play. 
Students of Primary Camp will learn to make presentations, dialogues in the first week. And as for the schedule of the Secondary Camp, students there will collaborate to come up with an innovative solution to the front-burner issue. Thus, they will develop research skills, critical thinking, and creativity. 
All activities are age-appropriate, engaging, fun, and enriching! Kids will be involved in the group research projects, presentations, drama games, and so on. Highly qualified teachers will help children to develop their vocabulary, improve skills and deepen knowledge of English in a safe and comfortable environment. And, parents can discuss the academic success of their children via parent-teacher meetings.
25% discount for four weeks of Study Camp;
20% discount for three weeks of Study Camp;
15% discount for two weeks of Study Camp;
10% discount for one week of Study Camp.
When:
22 - 26 November 2021
9.00 am -1.00 pm, Early Years and Primary (Napier Road, Toa Payoh and Tampines);
1.30 pm - 5.30 pm, Secondary (Napier Road and Toa Payoh);
29 November - 3 December 2021
9.00 am -1.00 pm, Early Years and Primary (Napier Road, Toa Payoh and Tampines);
1.30 pm - 5.30 pm, Secondary (Napier Road and Toa Payoh);
6 -10 December 2021
9.00 am -1.00 pm, Early Years and Primary (Napier Road, Toa Payoh and Tampines);
1.30 pm - 5.30 pm, Secondary (Napier Road and Toa Payoh);
13 - 17 December 2021
9.00 am - 1.00 pm, Early Years and Primary (Napier Road, Tampines and Toa Payoh);
1.30 pm - 5.30 pm, Secondary (Napier Road and Toa Payoh);
3 - 7 January 2022
9.00 am - 1.00 pm, Early Years and Primary  (Napier Road);
1.30 pm - 5.30 pm, Secondary (Napier Road).
Age: 4–15.
Fees: 736 SGD per week.
Locations:
Winter 2021/2022 Study Camps at British Council Singapore @Napier Road Centre
30 Napier Rd, Singapore 258509;
Winter 2021/2022 Study Camps at British Council Singapore @Tampines Centre
11 Tampines Concourse #01-02/03/04, Singapore 528729;
Winter 2021/2022 Study Camps at British Council Singapore @Toa Payoh Centre
480 Lorong 6 Toa Payoh #09-01 HDB Hub East Wing, Singapore 310480.
Find Out More


Thinking about an original Christmas present for your nearest and dearest? You are on the spot! Presto Studios is running a holiday program "Give the Gift of Music" where you can present a Christmas gift voucher to your kid or someone you love. 
These vouchers cover one of the following packages:
Piano lessons for 1
Piano lessons for 2 (a child with a parent, a child with a sibling, a child with a friend, or even 2 adults)
Each package includes the following:
4 piano lessons
Learning of 2-3 Christmas songs
Christmas gift pack
Christmas themed activity sheets
Piano scores
Video performance portfolio
Presto Studios is well-known for the innovative approach to learning music as here musicians can learn music independently and learning to play the piano is a joyful journey rather than a duty. The team at Presto Studios is brilliant at creating a warm, all-rounded, and progressive learning environment so this pastime will be filled with fun and and memorable moments.
Learning different Christmas songs together will help to create the desired holiday vibe and leave a memorable experience. In addition, it is a great way to inspire your kids to start learning music! Presto Studios is the perfect place for learning, as here education is filled with fun activities, quizzes, competitions and recitals, and experiential learning.
When: 1 November - 23 December, see the website for the opening hours.
Age: 7+.
Fee: 280 SGD/350 SGD.
Contacts: +65 9695 1830. 
Location: 7B Flora Drive, Singapore 507012.
Find Out More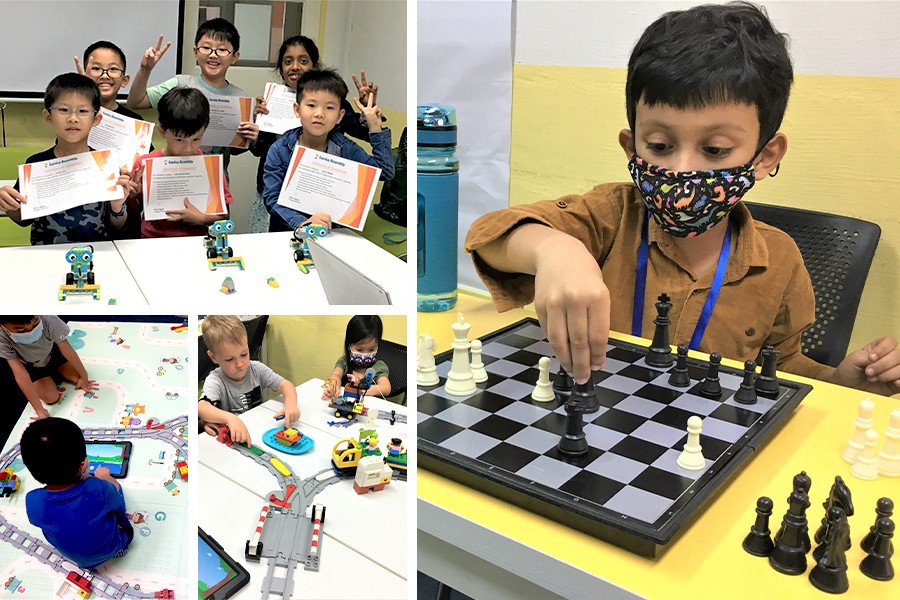 Genius Assembly is a well-known provider of holiday camps and weekly courses for kids in different disciplines that develop essential 21st-century skills.
STEM Camps
Lego Science & Robotics (6-8 years) is a captivating mixture of Science, Robotics, and computational thinking. Here, students will learn to build and program different robots using Lego and get acquainted with block-based programming language. Lego Advanced Robotics (9-12 years) is dedicated to the development of STEM and robotics skills so here students can practice their knowledge and skills in a 'near real-world environment'. Early Coding & Robotics is the perfect course for preschoolers, where they will build Early Simple machines, learn coding concepts using Lego Coding express, use electric motors to run the machines etc. Micro:bit (7-9 years) course will help children to learn the hardware and how to program it using the block editor. AI for Kids camp (9-12 years) includes modules about Computer vision, Face recognition, Speech recognition, Game development.AI for kids offers in-depth knowledge of how AI-driven devices and services work.
Chess Camps
It is impossible to underestimate the role of chess in the development of critical and visionary thinking, logic, problem-solving skills, and the ability to think ahead. Genius Assembly offers 5 chess camps for kids of different ages and levels. During the course, kids will learn the rules of the game as per the International Chess Federation from an experienced coach, get acquainted with different moves, strategies and tactics. 
When:
STEM camps:
22 - 26 November, 13 - 17 December, 20 - 24 December.
Chess camps:
29 November - 3 December, 6 - 10 December, 20 - 24 December. 
Timing: 9:30 am -11:30 am; 12:30 pm -2:30 pm. See the website for the dates and hours of each camp.
Age: 6+.
Fees: starting from 200 SGD per camp.
Contacts: +65 9183 1993, info@geniusassembly.com.
Location: 212 Hougang Street 21 Hougang #01-319 2nd Floor, Singapore. 
Find Out More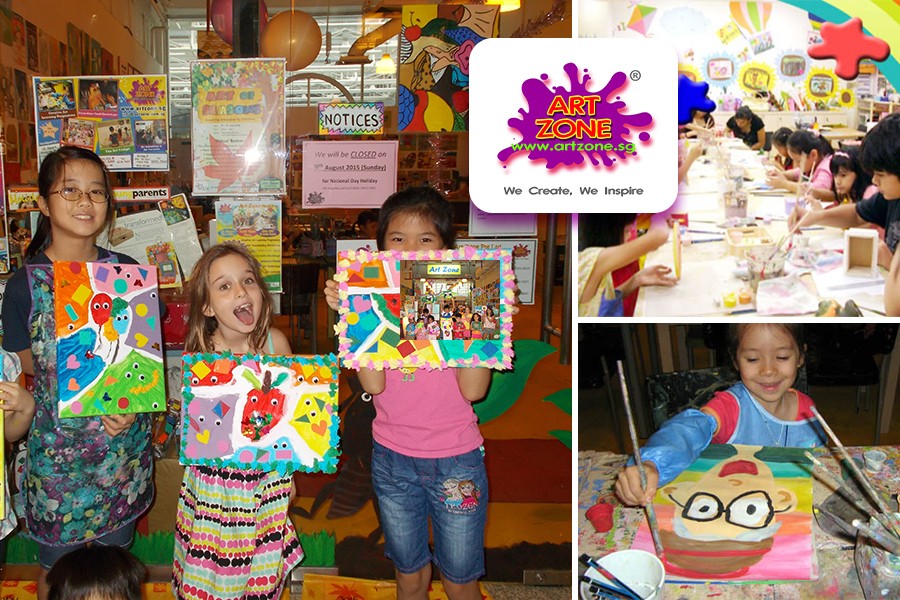 Art Zone has been providing a unique art learning experience for both the expatriates and the local community for more than 16 years already. Every lesson, masterclass, or event is a catching, enriching, and fun-filled pastime where kids can unleash their creativity, learn new techniques and art concepts. Here, attentive and knowledgeable instructors apply an individual approach to every student as all children have different learning abilities and perception levels. Here, kids can give a full reign to their imagination as teachers make sure that every activity brings only joy and a sense of accomplishment. 
These year-end holidays promise to be a real celebration of creativity with two programs by Art Zone:
Year-End Holiday Art Camps
Art Zone offers a wide selection of mini projects your kids will love! To complete these tasks, kids will learn new materials and media: they will learn to make wooden signage, draw canvas art, create a gift box, a mirror, or a poster. Other activities include creating a treasure chest, pen holder, door sign, party masks, collages, and so on. 
When: 22 November 2021 - 15 January 2022.
Timing: 2.30 pm - 5.00 pm.
Age: 6-12.
Fees: 5 Camps for 300 SGD/net inclusive of Materials. 
Acrylic/Canvas Art Programme
Acrylic paint is considered to be one of the favorite mediums for many experienced artists. During these lessons, your kids will create their masterpieces under the supervision of an experienced instructor and they will bring home 2 canvases with their drawings.
Duration is 1 hour for age 5. As for age 6 and above, duration is 1.5 hours per lesson
Age: 5-12.
Fees: 250 SGD plus 50 SGD (registration fee) for 8 lessons. Fees include art materials plus 2 pcs of canvases.
Advance booking is a must. Tel 63338203/64407968.
Contacts: info@artzone.com.sg.
Location: 
No. 81 Clemenceau Ave #02-25 UE Shopping Mall (near Clarke Quay) Singapore 239917;
No. 1 Jalan Anak Bukit #02-36/37 Bukit Timah Plaza Singapore 588996;
Bukit Batok Singapore;
Katong V, #03-07/08 30 East Coast Road Singapore 428751.
Find Out More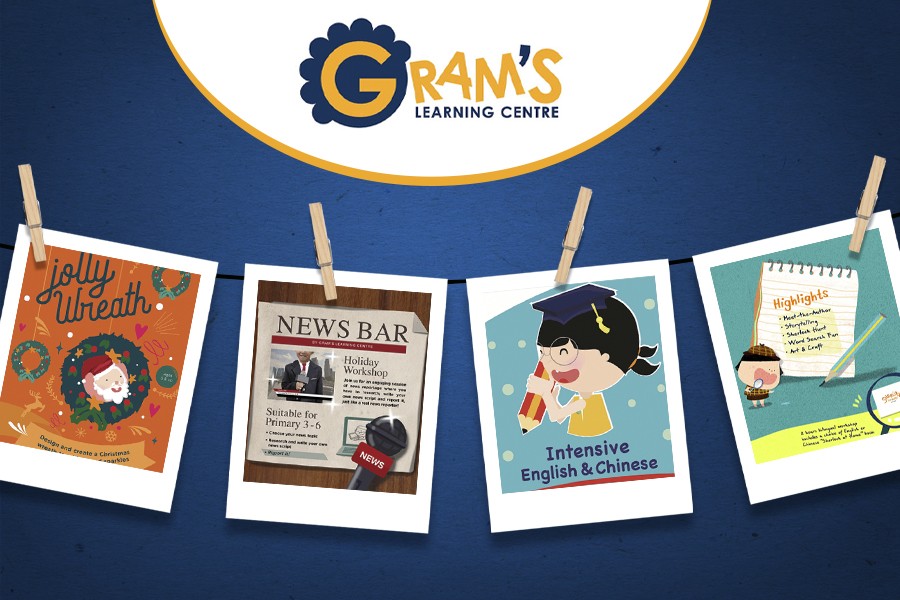 A holistic approach is the basis of Gram's Learning education and that's what makes every event or camp exciting and enriching. Dedicated educators here make an all-out effort to unlock the boundless potential of every child and help kids bring their talents to light.
This winter, the team of Gram's Learning has prepared something special for kids!
Sherlock at Home Bilingual Workshop
This bilingual meet-and-greet workshop promises to be an unforgettable experience with lots of fun, story-telling, catching language activities, and a Sherlock Hunt.
Kids will get to bring home a copy of #OopsOdelia's "Sherlock at Home" too!
When: 09 December, 10:30 am –12:30 pm; 17 December, 12:30 pm –2:30 pm.  
Age: 5-8.
Fee: 65 SGD.
News Bar 
Let kids dip their toes into the work of a news reporter! During this workshop, kids will create their own news reportage where they will do well-rounded research, write a script and report it. After the report parents will get a video of their young journalist's report.
When: 24 November, 10:00 am –1:00 pm; 2 December, 10:00 am – 1:00 pm.
Age: 9-12.
Fee:1 Pax: 118 SGD; 2 Pax: 216 SGD.
Christmas Wreath Art Workshop
It is a spot-on workshop for those who want to create a beautiful handmade home decor - a Christmas wreath. Lots of fun, welcoming and comfortable environment and boost of creativity guaranteed!
When: 28 November, 10:00 am –11:30 am; 3–4 December, 12:30 pm – 2:00 pm.
Age: 4+.
Fee: 42 SGD.
Art Jamming Happy Beads
Here, kids can create a lovely handmade necklace for their friends under the supervision of attentive instructors. Kids can use their creativity to the max, combine their favorite items and colors to create a customized masterpiece.
When: every Thursday, Friday, Sunday. Check the website for the opening hours.
Age: 4+.
Fee: 1 Pax 55 SGD; 2 Pax 88 SGD.
English/Chinese Class with GRAM'S Learning Centre
End-year holidays are the perfect time to polish knowledge and skills! And the best way to improve kids' knowledge of English or Chinese languages is a 1-to-1 session with an experienced and highly qualified instructor! 
When: 8 September 2021 - 31 December 2021, see the website for the opening hours.
Contacts: +65 64671258
Location: 144 Upper Bukit Timah Road #02-15 Beauty World Centre, Singapore 588177.
Find Out More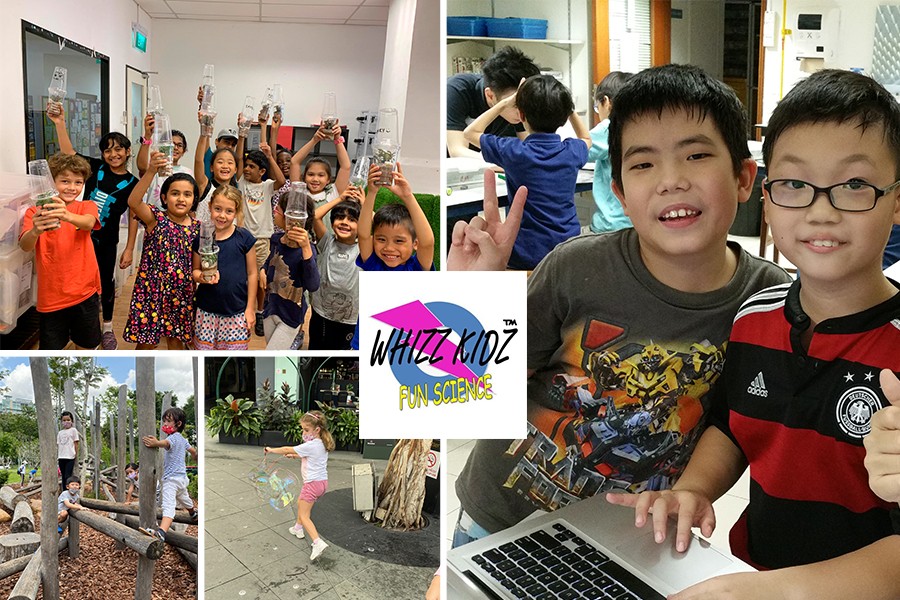 Whizz Kidz is rightfully considered to be a Home of Fun Activities! Here, kids learn through experiences, have a great pastime, learn to work independently and in groups, and make new friends. Experienced and attentive instructors create the most comfortable environment for learning and children are always eager to find out more about the world. The programs of the camps are customized to boost STEM-related skills and include Wacky Science Experiments, Coding and Robotics, Tinkerer and invention challenges, Teambuilding, Cooking, Arts and crafts, and more. Also, all campers will be provided with a camp T-shirt.
Whizz Kidz have 4 camps in River Valley, Dairy Farm, Joo Chiat, and Jurong so it is possible to choose a location near you. Bring into notice that sets of activities differ in every location.
For example, a schedule of Jurong camp includes un Science, Cooking, Lego Robotics, Coding, Invention Challenges, Teambuilding, 3Doodlers, and many others. Thus, here kids will be involved in activities like cooking muffins, building robots using Lego, doing stop motion animation, and so on. And the participants of Camp Cobra at Dairy Farm will delve deep into the Crazy Science Experiments, learn the essentials of recycling and give reign to creativity when crafting interesting artistic creations. The Escape Artist camp will focus on STEM-related activities and on the development of artisan skills. And campers at Huone will get the most out of the unique surroundings of the Huone, like an igloo, sandbox, and a nest.
When: 22 November 2021 - 14 January 2022, See the website for the opening hours.
Age: 4–12.
Fees: starting from 420 SGD. 
Contacts: info@whizzkidz.com.sg, +65 9188 4081.
Location: 
Huone @ Clarke Quay;
 2 Dairy Farm Lane;
The Escape Artist @ Joo Chiat;
135 Jurong Gateway Road.
Find Out More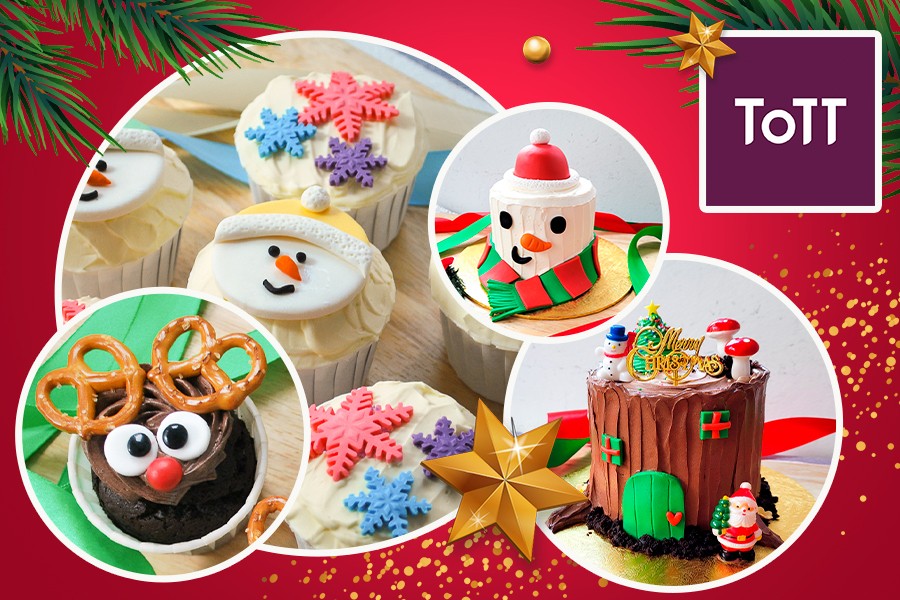 ToTT Store knows everything and even more about enriching, catching, and tasty culinary experiences! Two state-of-the-art cooking studios at Century Square and Suntec City provide a wide range of cooking and baking classes, private parties, and team-building programs. The studios are equipped with top-notch kitchen appliances and homeware brands of global renown. 
These year-end holidays promise to be especially delicious with a selection of Christmas-themed classes for your little chefs. 
On 25 November, kids will learn how to bake Vanilla, chocolate, and spiced cookies and decorate them during ToTT Junior Chef: Melting Snowman Cookies (108 SGD 1child+1parent). On 2nd and 12 December, little culinary architects will build a gingerbread house from scratch and decorate it with royal icing and white chocolate ganache (128 SGD 1child+1parent). On 4 December, kids will make snowmen out of Vanilla chocolate chip cupcakes with Vanilla bean cream cheese frosting. And as a bonus demo, they will learn how to make soft double chocolate cookies with dark and mint chocolate (138 SGD 1child+1parent). On 5 December, Christmas donuts are waiting for little chefs (2 x Snowman Donuts, 2 x Reindeer Donuts and 2 x Holly Christmas Donuts 108 SGD 1child+1parent)
Kids aged 8-14 can take part in 1 DayDrop Off Culinary Camp where they will work in pairs and make ​​Christmas Tree Stump Buttercream Cake with Orange Milk Chocolate Chip Cake and Vanilla Bean/Chocolate Swiss Meringue Buttercream and decorate it with Mildly Spiced Brown Sugar Cinnamon Shortbread Cookies (178 SGD per child).
Also, the list of activities includes Winter Wonderland Unicorn Cake (138 SGD 1child+1parent) on 11 December, followed by Snowman Cake (148 SGD 1child+1parent) made of Banana Chocolate Chip Cake and Vanilla Bean Swiss Meringue Buttercream. And on 23 December, kids will bake Reindeer cupcakes (138 SGD 1child+1parent).
ToTT Members/UOB Cardholders will get a 10% Discount (this promo is only valid for weekday classes)!
When: 25 November - 23 December.
Age: 5-14.
Contacts: cookbakehost@tottstore.com, tel. +65 6215 9186.
Location:
Century Square 2 Tampines Central 5, #02-14 Singapore 529509;
Suntec 3 Temasek Blvd, #02-427 Singapore 038983.
Find Out More
Subscribe to weekly newsletter from "Tickikids"