At Kinderland Preschool, The Wonders of Learning Never Cease
---
Published 26 October 2021 at 12:40
Tickikids Blog Singapore > Childhood reading > At Kinderland Preschool, The Wonders of Learning Never Cease
---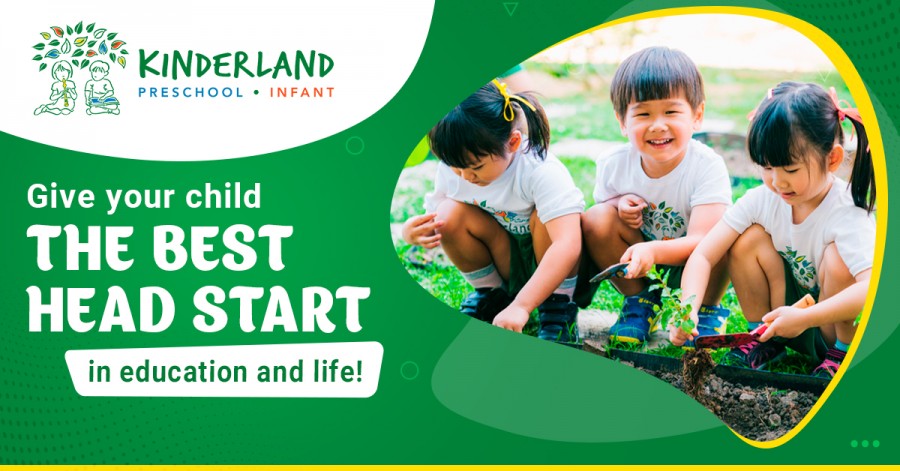 ---
Are you looking for a preschool in Singapore that offers quality childcare along with a rich, holistic curriculum? Finding a right preschool or childcare centre, which ticks all the boxes, does take time and research.
To spot the right one among many, nothing works better than visiting a potential preschool before enrollment. For this reason, Kinderland, the leading provider of preschool education, invites you to join a virtual tour of Kinderland's centres! As the number of meeting slots is limited, early registration is highly recommended.
Since 1978 Kinderland has developed a time-tested curriculum to unleash a child's fullest potential and maximise his or her talents and abilities. Are you wondering what makes the Kinderland curriculum so unique? Keep on reading!
Kinderland puts the best education approaches into practice


Kinderland's curriculum was carefully designed around the K.I.N.D.E.R. philosophy. The K.I.N.D.E.R. approach consists of six multidisciplinary lands (Kineticland, Intelliland, Natureland, Digiland, EQ-land, cReativeland) that cover six crucial development domains:
Kineticland – Strengthen Motor Skills through physical activities
 

Intelliland – Hone children's Language & Literacy through curated programmes
 

Natureland – Spur inquisitive minds through Discovery of the World
 

Digiland – Understand Numeracy and build Logical Thinking for application in real-life
 

EQ-land – Develop character by refining Social and Emotional skills


cReativeland – Encourage Creative Expression through Arts

The learning areas of the K.I.N.D.E.R. approach are in line with the Singapore Ministry of Education's Nurturing Early Learners framework. The K.I.N.D.E.R. approach is essential for your child's well-balanced development.
Music-infused curriculum designed to enhance children's brain development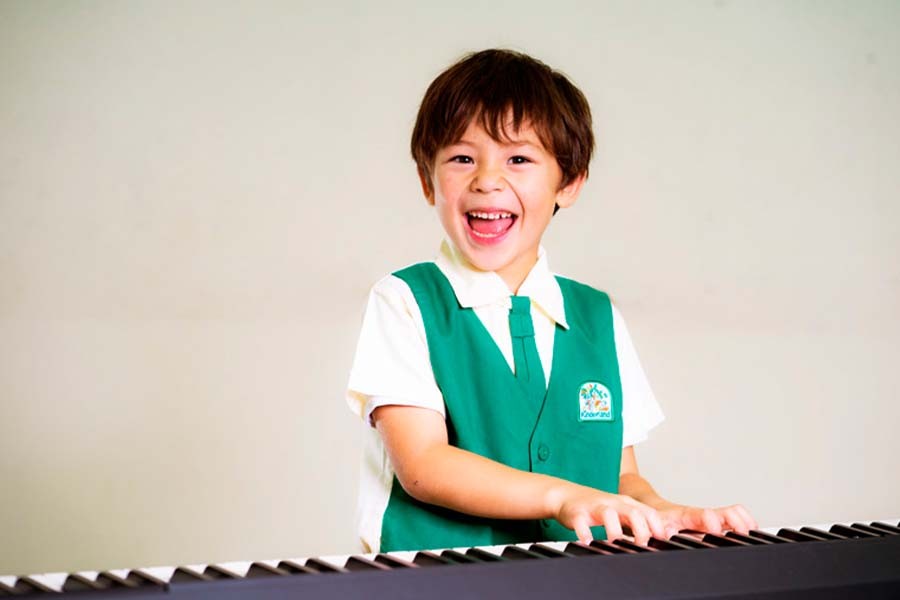 Image credit: Kinderland

The Children's Music programme, taught by professional teachers, is the main element of Kinderland's music-infused curriculum. Various research has proved that music is a key propeller when it comes to early children's development. Training with instrumental music stimulates the part of the brain that is responsible for visual-spatial skills, which are vital for learning maths and science, while honing memory, improving verbal communication skills and literacy. Kinderland's music programme is a great booster for your child's brain development, especially so in the first five years of his or her life.
Kinderland empowers literacy through I.T.
Originated in the U.S., Kinderland's multi-sensory I. T. programme was created to empower kids to write even before they learn how to read. The primary objective of this programme is to spark children's interest in conveying their thoughts in words and expanding their creativity. Preschoolers are encouraged to express their ideas freely using sound association without needing to observe the rules of grammar. Improvements are introduced later to reinforce their learning.
KinderFit programme: healthy body, healthy mind
KinderFit is a cardio-wellness programme set up to develop children's self-confidence, boost acquisition of fundamental motor skills, and ability to control their body movement. At Kinderland your little ones have an opportunity to enjoy 50% more physical activity than most of their peers. Early exposure to Kinderland's fitness programme helps rapidly growing little ones to build stronger and healthier bodies in preparation for exciting new learning opportunities.
S.T.R.E.A.M.: an integrated programme to sharpen problem-solving skills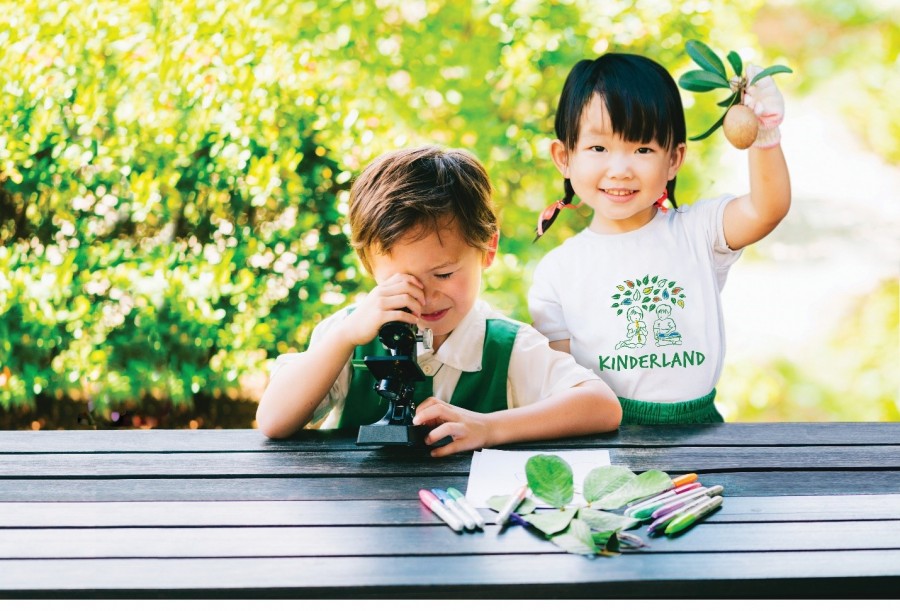 Image credit: Kinderland

Kinderland's S.T.R.E.A.M. (Science, Technology, Reading & wRiting, Engineering, Arts, Mathematics) programme engages preschoolers with the exploration and effective learning through inquiry-based project work. Combining fun elements with academic components, the programme gives children the opportunity to think, plan, communicate and break down a big project into sizable tasks whilst enhancing social skills and building resilience and confidence as they overcome issues during the course work.
Character development programme: shaping positive character attributes for future
In Kinderland, children are taught to care not just for themselves but also for the community. Through EQ-land, Character Development programme nurtures the caring Kinderland preschooler to be curious, socially responsible, mindful, and have a growth mindset. This is especially important in preparing kids to live meaningfully and sustainably, moulding them as global citizens with a heart.
Kinderland's timeless programmes aim to provide children with integrated tools to unlock wholesome development and growth by stirring curiosity, promoting creativity, expanding capability, building confidence, cultivating care and above all, sharpening communication as core competencies in our children. Kinderland opens an amazing world of learning for your little ones and gives them a solid start in the future. With multiple centres across the island and some vacancies still available at selected locations, it is definitely worth checking out Kinderland's virtual open house event.
Subscribe to weekly newsletter from "Tickikids"