TickiKids' Educational Guide: Top preschools in Singapore
---
Published 03 July 2019 at 15:35
Tickikids Blog Singapore > Digest > TickiKids' Educational Guide: Top preschools in Singapore
---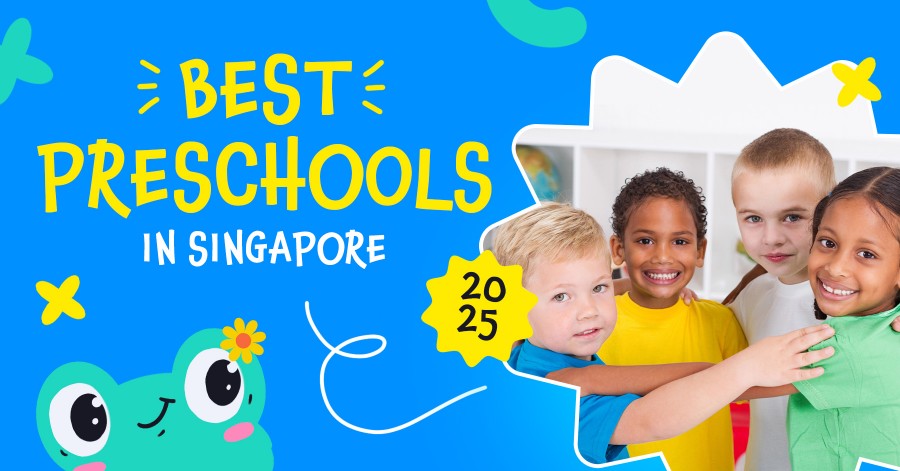 ---
TickiKids' Educational Guide is famous for candid reviews of leading private and state schools for children aged 3-18 in Singapore. We scrutinise academic performance, well-being and atmosphere, extra-curricular activities, games and arts, childcare and much more. Due to a large number of requests, we have decided to offer parents a genuine flavour of what Singapore's preschools for children between the ages of about one and six are like. Take a look at the best childcare centres and preschools in Singapore and discover which ones came out on top.




Photo Credit: GUG Preschool


There is a reason why GUG Preschool has gained a reputation as the premium educational institution in Singapore − their 5-Point Intelligence® methodology and GUG Smart Phonics™ system encompasses the best teaching practices of multiple disciplines in an integrated and highly cohesive system. It gives students an exceptional learning experience through diverse activities such as reading, composition, cooking, artwork, drama, music and science experiments. One mother reports that her daughter looks forward to going to GUG every morning and she can do most of the P1 assessments WITHOUT guidance. As the mother says: "This is a strong testament of GUG's fantastic curriculum." How brilliant is that?
Lots of parents praise the school's learning resources which includes over 200 activity books and readers in English and Chinese. We wholeheartedly approve – all developed with the curriculum expertise of their founder and team of education specialists. With over 60,000 hours of research and development and 15,000 students to-date, GUG Preschool's approach has proven to be highly successful since 2002. Nominated by parents, GUG Preschool has received accolades such as "Best Preschool & Enrichment Curriculum" and "Best Preschool for Higher Thinking Skills". Places at GUG Preschool are highly sought after, but don't panic: it's never too late to ring and try to register.
Contact details: 6258 4722 (Thomson) / 67884722 (Tampines), email: enquiries@gugifted.com;
Locations:
GUG Preschool @ Tampines, 300 Tampines Avenue 5, Tampines Junction. #07-01/07, Singapore 529653;
GUG Preschool @ Thomson, 2 Derbyshire Road, Singapore.




Photo Credit: White Lodge


White Lodge has a tip-top balance of practical activities, fun and entertainment, with an approach that nurtures the development of talent and skills. This is the first chain of preschools and childcare centres in Singapore to run the Primary Years programme, UK, US and Australian-led programmes, which encourages children to learn though play. Incorporating the theories of High Scope, Reggio Emilia and Howard Gardner, White Lodge provides and promotes the most advanced early childhood education.
Since last year, as part of 21st anniversary celebration of success in the education industry, White Lodge has been offering to all new students an enrolment fee waiver of up to $750 before 31st October 2020 at any of the eight preschools and childcares. You can also enjoy free drop-off from 8am – a real bonus for busy parents.
It will be the beginning of a new chapter at this renowned preschool as they increase facilities opening a new Toa Payoh centre for enrolment from January 2021.
Contact details: 6255 4230 or email us at admin@whitelodge.edu.sg;
Locations:
PRESCHOOLS
Loewen Gardens | 75E Loewen Road;
Phoenix Park | 310 Tanglin Road;
Bukit Timah | 39 Linden Drive;
East Coast | 102 Guillemard Road;
West Coast | 9 South Buona Vista Road.
CHILDCARE CENTRES
River Valley | 262 River Valley Road;
Upper Bukit Timah | 1 Jalan Siap;
Upper East Coast | 36 Toh Drive.




Photo Credit: Little Footprints Preschool


Conveniently located in multiple heartland areas around Singapore, Little Footprints Preschool's comprehensive curriculum focuses on holistic development of children. By providing quality and affordable childcare and education services to the community, Little Footprints Preschool has been appointed by the Early Childhood Development Agency as an exclusive Partner Operator. Majority of Little Footprints Preschool has also been awarded SPARK that recognises preschools with extraordinary contributions to the holistic development and well-being of young children.
At Little Footprints, each lesson is integrated into a central theme of each term across all learning domains. For habitually curious children and natural explorers, integrated theme-base learning approach helps to make connections during their learning journey. Making use of multi-sensory hands-on activities encourage the children to observe, explore and experience their environment a little more. Little Footprints strives to nurture every pupil into a civic-minded citizen, confident communicator, problem-solver and independent thinker with a love for learning. 
At Little Footprints, children are often introduced to community collaborations with various partners such as Singapore Police Force, Public Utilities Board, Singapore Kindness Movement and Henkel Singapore. Through these collaborations, the children can understand more about the world around them and inculcate good values from positive role models. Parents are also often invited to the class as speakers or to participate in parent-child activities.
Opening times: Monday to Friday 7am – 7pm;
Contact details: 6463 3465;
Location: 24 preschools and 4 infant care centres located islandwide.




Photo Credit: Josiah Montessori


On the back of a passion to provide a homely nursery environment coupled with an exciting and lively Montessori approach, three families opened Josiah Montessori School in March 1997. The essence of Josiah Montessori is reflected in happy pupils, enthusiastic staff and thrilling parents; an exciting, diverse and caring community. What sets Josiah Montessori apart from other schools? Kindness is king at their six centres housed near business districts around Singapore, but it's what's inside the school that enthrals and surprises – classrooms are designed to be easily accessible to children. The quality child-sized cupboards, shelves, dressers, tables, chairs, toilets and wash basins are the perfect theatre of dreams for children to be enthusiastic about retrieving and putting away their belongings by themselves.
Physical development remains an important part of the early years foundation stage and the children in Josiah Montessori have plenty of opportunities to develop their skills through the Fitness and Musical Arts programmes, indoor and outdoor learning. Charging through the obstacle course designed by a PE teacher, crawling, jumping, rolling, throwing a ball, playing in the outdoor or indoor playgrounds, going for a walk around nearby places – pupils are kept busy here. Josiah's dynamic Music Arts programme draws on the methods of acclaimed composers and educators Kodaly, Dalcroze, Hillary Henshaw and Carolyn Lucento. Parents are equally impressed, commenting on this balanced, holistic and effective curriculum. In the words of one parent Angel Nigam, "Josiah Montessori was a perfect start for my child. The school did not only groom my child but nurture him with loads of love and care beyond my expectations." Thanks to a wealth of musical talent, there's plenty of fun for the kids too, with vocal trainings, dance, art, appreciation of music, Chinese speech & drama.
Ages: 2 months – 6 years;
Opening times: 7am – 7pm;
Contact details: 6336 6906, info@josiah.com.sg;
Locations:
Suntec City Mall, Infant Care & Childcare - 3 Temasek Boulevard #01-618/619/620, Suntec City Mall, Singapore;
Josiah (Plaza 8), Infant Care & Childcare, 1 Changi Business Park Crescent, #01-05/05A/06, Plaza8@CBP, Singapore;
Josiah (Tampines Mart), Kindergarten, 5 Tampines Street 32, #02-01, Tampines Mart, Singapore;
Josiah (Aperia), Infant Care, 12 Kallang Ave, #03-37, Aperia, Singapore;
Josiah (Aperia), Childcare, (Franchise by iMontessori Pte Ltd), 12 Kallang Ave, #03-37, Aperia, Singapore;
Josiah (Raffles), Infant Care & Childcare, (Franchise by Montessori Ark Pte Ltd), 14 Robinson Road, #05-01, Far East Finance Building, Singapore.




Photo Credit: My Learning Haven


Parents feel incredibly lucky to watch their children flourish at such a safe and secure prep school as My Learning Haven. There is an undeniably cosy family feel to the school among children from different backgrounds, which makes it a real learning haven for kids and parents seeking to give their children an early grounding in the modern 21st-centure prep school. The school is known for its thematic approach and Nurturing Early Learners curriculum that involves integrating syllabus areas around particular topics or themes. They are keen to place increasing emphasis on six domains of learning: language and literacy, numeracy, aesthetics and creative expression, discovery of the world, motor skills development, social and emotional development to provide a more all-round experience for their pupils. The teachers of My Learning Haven advocate the 'learning through play' approach, while maintaining the emphasis on structured programmes that are purposefully designed to integrate concepts, skill building and knowledge into games and activities.
"For example, at My Learning Haven, we have life sized board games like "Snakes and Ladders" that come to life and children engage physically as they act as the board pieces. Through such activities, various Maths concepts are weaved into the game and children learn about taking turns and problem solving whilst having fun," say the founders of the School Lena Lim and Wendy Tan.
Creativity is at the core of everything the school does, and the children are encouraged to express their feelings and showcase their capabilities through dramatic play, repeated reinforcement and practice. Parents praise the fact that their children are absolutely confident in their own skins.
Ages: 18 months – 6 years;
Opening times: 9am – 17.15pm;
Contact details: 6235 0159, info@mylearninghaven.com;
Location: 3 Temasek Boulevard Suntec City Mall #03-374 to 378, Singapore 378 038983.


Photo Credit: Children's Cove


2020 is a big year for Children's Cove as they celebrate 10th anniversary. Home to gardens and forest, this 30,000 square feet prep, nestled in leafy Queenstown, seamlessly blends academia with creativity. It's hard to believe that buzzy Queenstown MRT and Central Business District are mere moments away. Children's Cove boasts incredible modern facilities including a new library jam-packed with books full of immersive stories and a dark room where imagination runs wild when light and shadows collide to endless permutations. Everyone is raving about the brand new cookery room which has seen the children master their culinary skills. This is definitely a school that suits children of all types. Their Drama Centre is superb: an all-round commitment to inclusion encourages all pupils to take part be it in acting, ballet dancing, music or other performing arts. Block room is at the school's heart, of course, with lots of basic building blocks to build the highest buildings ever, but so too is the Art Atelier which sees kids unleashing their creativity in splashes of paint and crafts.
There is ample opportunity to get outside, whether walking through the forest trail around a still emerald pond, splashing water in the mini pool, racing on a spacious cycling circuit or feeding the farm animals. Parents feel very lucky to have made a wise choice in sending their little ones to this natural haven.
Contact details: +65 6655 0077, jp@childrenscove.sg. Follow them on Facebook @childrenscovepresch.
Location: 58 Jalan Penjara, Singapore 149382.


Photo Credit: Odyssey The Global Preschool


Central to the success of Odyssey The Global Preschool is its creative multi award-winning curriculum inspired by innovative global teaching pedagogies adopted from the United Kingdom, United States, as well as the Reggio Emilia educational practices from Northern Italy. Their fully-equipped Reggio Emilia inspired campuses conveniently located at Wilkinson Road, Fourth Avenue, Loyang, Still Road and Orchard give children aged 4 to 6 the power to explore, play with ideas, use new materials and develop creative projects on an ambitious scale. Nurturing curious, resourceful young minds, engaging them in sophisticated pre-writing and writing experiences, shared problem-solving and teamwork are central here. Odyssey is driven by a team of highly qualified and experienced early childhood educators: curriculum specialists, Chinese and English-speaking teachers motivated by a strong desire to care for your kids and provide them with every opportunity to flourish.
For more than a decade, the School's innovative approach to learning has resulted in high-profile public recognition – Odyssey The Global Preschool has become a member of the Busy Bees Singapore family of education companies (formerly known as Knowledge Universe Singapore), a winner of eight awards including ECDA Outstanding Award for Teaching and Learning 2013, for Innovation 2014 and 2016, Outstanding Early Childhood Teacher Award 2016 to name but a few.
Opening times: 7am – 7pm;
Locations:
20 Fourth Avenue, 268669. Tel: + 65 6781 8800;
101 Wilkinson Road, 436559. Tel: + 65 6781 8800;
191 Jalan Loyang Besar, 506996. Tel: + 65 6781 8800;
25 Still Road South, 423934. Tel: + 65 6781 880.


Photo Credit: MOE Kindergarten


MOE Kindergarten strives to produce a broad, high calibre pre-school education affordable for all Singaporeans. The team of centre heads, qualified educators, teachers and curriculum specialists aim to ensure a happy, secure and energetic community in which every child can thrive, and to promote an exciting and stimulating environment which will foster a deep love of learning, a confidence to ask "why?" whenever possible. The children are incredibly bright and enthusiastic and demonstrate brilliant social skills and academic achievements in literacy and numeracy. Parents are beside themselves with praise for the MOE Kindergarten flagship programmes - the HI-Light Programme and Starlight Literacy Programme. Each child is given every chance to develop through activities with a distinctive Singapore flavour. The strategy encourages children to participate in sophisticated conversations, learn about people and places around them from festivals, traditions to local food. This provides an authentic context for learning, which makes learning more relevant for children.
And what is really outstanding is that MOE Kindergarten is one of the few pre-schools in Singapore which offers a programme in three official Mother Tongue Languages – Chinese, Malay and Tamil Languages. With such an emphasis on nurturing early childhood bilingualism through the Starlight Literacy Programme, you can be assured of a strong foundation for your child's future language learning.
Opening times: Monday to Friday. MK: 8am – 5pm, KCare: 7am – 7pm;
Locations: to find out where your nearest Centre is please visit the MOE Kindergarten website.


Photo Credit: British Council Singapore


The British Council deserves particular commendation for the dedicated work they are doing to immerse kids in a bilingual English-Mandarin language-rich environment. Using the best preschool practices from both the United Kingdom and Singapore, the British Council provides holistic, hands-on and concrete learning, with a strong emphasis on language and literacy. Parents are nodding in approval at the best possible childcare in a happy, secure and healthy learning environment. We love their preschool curriculum that encompasses the areas stipulated in both the Singapore Kindergarten Curriculum Framework (KCF) and the United Kingdom's Early Years Foundation Years (EYFS). They place great importance on aesthetic and creative expression, discovery of the world, language and literacy, motor skills development, numeracy, social and emotional development. The multi-sensory Jolly phonics programme will be introduced in stages, complete with hands-on activities and fun games, supported by worksheets where necessary. By the end of K2, the phonic sounds, the technique of blending, formulating sentences, and writing simple stories will all be taught. Additionally, to cultivate the love of Mandarin and awareness of the Chinese culture, your little ones will be introduced to Chinese art, music and literature.
Blessed by a vast number of specialist teachers, the British Council aims to provide them with ongoing training throughout the year to keep teachers up-to-date with the latest teaching methodologies, techniques and technologies.
Opening times: Monday - Friday, morning sessions from 9am - 12noon; afternoon sessions from 1pm - 4pm. Opening times from 8:45am to 4pm;
Contact details: +65 6807 1599; 
Location: Tampines Centre. 11 Tampines Concourse, #01-02/0304, 528729.


Photo Credit: Dover Court International School Singapore


Dover Court International School has built its reputation on its Early Years curriculum for Nursery and Reception which was developed within the Early Years Foundation Stage (EYFS) and based on the best practices and current trends in the UK. Its principal Christopher Short ensures that your kids will get the best possible start on their educational journey.
Their speciality is children's personal, social and emotional development, communication and language, physical development, literacy, Maths, understanding the world, expressive arts and design. Children in Nursery have Mandarin lessons three times a week and in Reception – four times a week. All Mandarin lessons are taught by native language specialists. Music is delivered through the Juilliard Nord Anglia Performing Arts programme by the School's specialist teachers. This embedded programme gives your child a unique opportunity to both experience and learn music through well-known and world-class masterpieces.
Highlights include two large outdoor learning areas, which act as extensions to the classrooms and give the School an opportunity to expand the range of activities. Small class sizes allow the teachers to focus on each child, giving them a more personalised education and helping kids through any academic or social challenges they may encounter.
Opening times: Monday to Friday, 7:45am - 5pm;
Location: Singapore, 301 Dover Rd Queenstown.


Photo Credit: Pegasus International Preschool


This is a full-time international preschool for 18-month- to six-year-olds, with campuses in Grandstand and Novena. They follow the Ministry of Education's guidelines for Kindergarten and Early Childhood Development Agency's (ECDA) requirements for childcare services, as well as the stimulating Reggio Emilia inspired inquiry-based curriculum.
The Pegasus classrooms are airy, safe and calm but full of activity – arts, dancing and music lessons etc, – and there's a large outside space for daily doses of fresh air and a huge amount of fun. Expect little ones to study in three languages – English, Mandarin and Japanese.
The Pegasus philosophy shines through all their work, and children benefit from a low child to teacher ratio, plus the close attention and encouragement that the US-trained teachers provide. Parents appreciate the detailed thought given to developing children at languages, literacy, Mathematics, and developing their confidence, physical well-being, character and extending the stimulating possibilities on offer around them. They encourage children to develop a genuine curiosity about the world, to ask questions, to raise awareness of the wider world beyond the preschool and family, to explore and experiment.
Opening times: Monday to Friday, 7:30am – 7pm;
Locations:
Grandstand Campus: 200 Turf Club Road, #06-08, Singapore 287994. Tel: +65 6735 2494;
Novena (Keng Lee Road) Campus: 72 Keng Lee Road, Level 2, Singapore 219248 (Opposite to KK Hospital Novena). Tel: +65 6291 8286.




By Anna Khan
Subscribe to weekly newsletter from "Tickikids"