All You Need for a Child's Birthday Party to Succeed
---
Published 20 July 2023 at 09:00
Tickikids Blog Hong Kong > digest > All You Need for a Child's Birthday Party to Succeed
---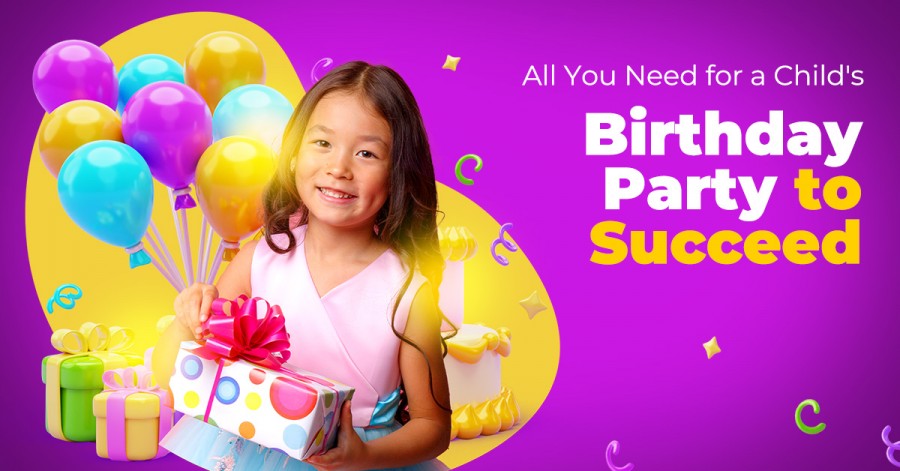 ---
If the thought of throwing a child's birthday party makes you break out in a cold sweat, do not worry! There are plenty of ways to celebrate a birthday in our vibrant city. From themed birthday parties, best bakeries, stylish party supplies & decorations to face painting sessions, these are the coolest ways to make the birthday bash an unqualified success.



Related reading: How to throw the best child's birthday party


Face painting is one of the wonderful activities kids of any age enjoy. If you are looking for a highly experienced and friendly face painter to add extra magic, sparkle and colour to your child's birthday party, look no further!
Opt for Hong Kong-based face painter Yo who has been adding an extra wow factor to birthday parties and events for years. Being Hong Kong's only IntFPS Certified Face Painter (International Face Painting School), Ms Yo delivers the highest quality face-painting service and brings your kid's imagination to life with her unique designs.
From adorable animals to favourite characters, Ms Yo's art is suitable for both adults and children alike! In her kit, Ms Yo only uses high-quality, non-toxic paints, glitters, and supplies. They are made to look great, last a long time, and be soft enough to apply on sensitive, young skin. More than 500 parties and photos in her marvellous portfolio prove her well-established reputation and showcase Ms Yo's face-painting talent!
Not sure how much time or how many face painters you need to book? The face painter Yo works fast, producing around 10-12 face paint designs per hour.
Contact FacePainter Yo today to reserve your spot and bring your artistic vision to life.
Contact details: info@yofacepainting.com
+852 9819 7486
Socials: Facebook, Instagram, Youtube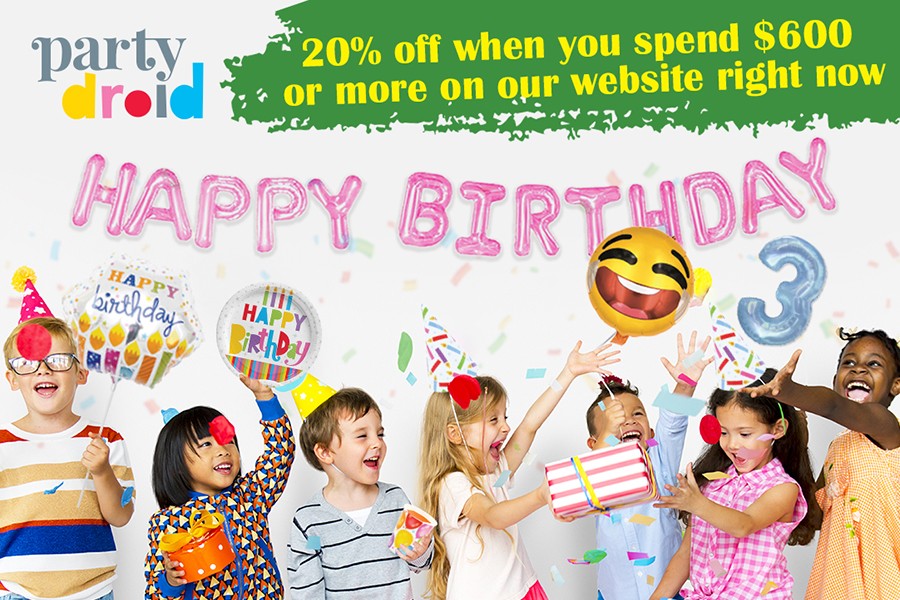 Do you want to make your child's next birthday party extra special? PartyDroid, the premier provider of party decorations in Hong Kong, is here to help.
PartyDroid offers a wide range of party decorations to choose from, all of which are designed to make your child's special day even more magical. From themed piñatas and foil balloons to full birthday party table sets, PartyDroid has everything you need to make your child's birthday party unforgettable. PartyDroid takes pride in the fact that their products always comply with internationally recognised safety standards and exceed the expectations of our customers when it comes to quality.
And here comes the best bit! Customers can enjoy a 20% discount and free delivery service by entering the discount code "TK80" when spending $600 or above for the categories of "Party Products and Foil Balloon" on PartyDroid's official website. But do not wait too long to take advantage of this amazing offer! So start browsing our selection of party products and foil balloons today and get ready to add a touch of magic to your next event (Hong Kong Island, Kowloon and New Territories only, excluding outlying islands and Macau).
So why wait? Browse the PartyDroid website today to see all of the amazing party decoration options they have and make your kid's next birthday party the one they will always remember.
Links: HKTVMALL shop,  Deliveroo shop

Contacts: Telephone 94198124, WhatsApp 65477858

Socials: Facebook (English version), Facebook (Chinese version)


If you want to throw a party that every child will love, Science Party is the way to go!
Hiring Curiosity Kids, professional Science Party entertainers, will make your event unforgettable and will spark kids' imaginations with spectacular experiments! Founded with the idea to encourage children to connect with science and teach them about the role of science in our daily life, Curiosity Kids delivers high-quality services making each party special and enjoyable for children and adults alike.
Curiosity Kids has both educational and fun experiments on their offer that will make your child and friends laugh and keep them entertained for 1 or 2 hours. With all science materials provided, Curiosity Kids provides numerous hands-on science experiments, each carefully tailored for children's age. From colourful oil bubbles, catapult, slime party, personalised perfume, and bath bombs to magic colour and volcano explosions, pick your own combination of activities to build your custom science session and create an ultimate birthday party. Additionally, experiences can be customised based on your party theme and held at your home or at one of recommended by Curiosity Kids locations.
To show your kid and friends the wonders of science, book your science party from Curiosity Kids today. 
Age: 3-12 years old
Contact details: For more information or booking email contact@curiositykidshk.com or call 4615 7174
Are you looking for an exciting and unique venue to host your child's next birthday party? Look no further than Hong Kong's one and only jumping field! With over 7,000 square feet of connected, world-class trampolines, Ryze is the perfect place to celebrate your child's special day.
The trampoline field features over 40 trampolines, including the famous angled wall trampolines, launching decks, and a few surprises up in the ceiling to test your vertical. This means that there is something for everyone to enjoy, from the experienced trampoline jumper to the first-timer.
With 4 different birthday packages to choose from (party for 10, 15, 20, and 30 flyers), Ryze has something for every party size. The party packages include 1 hour of Jump Time for your group, with the option to upgrade to 1.5 hours or even 2 hours of jumping fun. When it is time to have your party, you will have a dedicated party host to assist with decorations, table setting, and cleaning. Additionally, Ryze has multiple flight safety crew members on hand to ensure that all flyers are safe and have the time of their lives.
What is more, Ryze provides Extreme Lock-In Party at the trampoline park. This one-of-a-kind party experience allows your child and their friends to enjoy the entire park all night long. That is right, you read it correctly, all night long! Safety is a top priority for Ryze, so you are required to provide chaperones for this event and the Ryze Flight Crew Members will be present to provide supervision throughout the night. The Lock-In will begin one hour after check-in is complete and guests will not be allowed to leave the park unless escorted by an adult.
Imagine the excitement of spending the night at a trampoline park with your closest friends, jumping, flipping, and soaring through the air. It is a birthday party that your child and their friends will never forget!
Price: Starting at HK $2700

Address: 3/F, Kodak House 1, 321 Java Road, Quarry Bay

Contact details: +852 2337 8191
ryze_events@skyzone.com
Socials: Instagram, Facebook, Youtube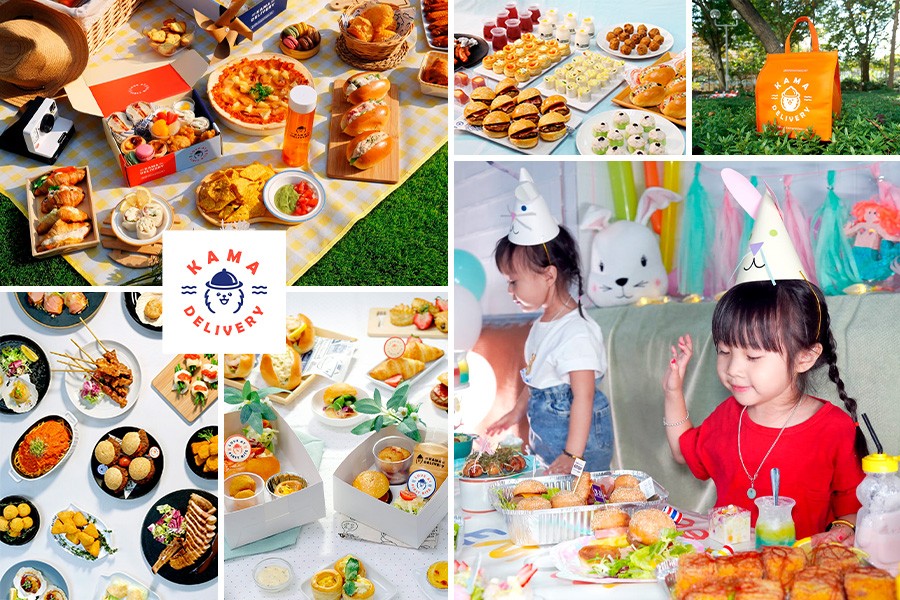 Image Credit: Kama Delivery Catering
Throwing a memorable birthday party for your little one is every parent's dream. But let's be honest, organizing a party can be a nerve-racking and time-consuming task, especially when it comes to catering to a group of kids (and we know how picky kids can be!). That's where the expert catering service comes in!
Just imagine that all the worries about menu planning, grocery shopping, food preparation, and food presentation are taken off your shoulders. You will have so much free time to spend with your child on such an important date, instead of spending all day at the stove and in the evening washing dishes!
Kama Delivery Catering is a gourmet takeaway catering service that adds global cuisine with high-quality ingredients and offers a variety of themed menus. 
Here, you can customize the menu of the party using the wide range of options of soups, meats, salads, seafood, pasta dishes, sandwiches or burgers, desserts, and drinks on the A La Carte menu. Or, you can take advantage of the catering sets that include freshly cooked delicious dishes with balanced taste and nutrition. You can customize the sets by choosing different variants for every option. For example, you can choose among 5 variants of the main dish in Little Friend Set: Spaghetti Napoleon with Sausage, Herbed Cheesy Tomato Meatballs Sauteed Spaghetti, Carbonara Pasta, Spaghetti Bolognese, or Triple Cheese Tomato Crawfish Macaroni Cream. 
The desserts section includes brownies, chocolate cream puffs, chouquettes with creat, chocolate puddings, o-jelly, and panna cottas - your sweet-tooth guests will definitely be satisfied!
Takeaway gifts of the package include exclusive gifts - bear-shaped bottles with homemade chocolate or strawberry milkshakes.
The delivery locations include Hong Kong Island, Kowloon, and the New Territories, except Lok Ma Chau, Outlying Islands, Lantau Island, Park Island and Discovery Bay, etc. Each area is committed to delivering on time. 
Contacts: info@kamadelivery.com, tel. for urgent orders: 5188 0757 /6599 9941.
Find Out More


Photo Credit: Sweet Bites


Customised, eye-catching, utterly scrumptious and downright delicious cakes are a wonderful addition to any kind of children's party! The legendary local licensed bakery Sweet Bites knows exactly how to make cute little faces light up. And it's not all just a feast for the eye. Their exclusive selection of kids birthday cakes is compelling. But there is plenty more on offer: cupcakes, cookies, brownies, tarts, loaves and other delicious creations in a range of vibrant flavours are as good as anything you have eaten in years. But what makes cakes by Sweet Bites a must is its consistently high quality - no wonder first-rate trendy coffee shops across Hong Kong, including Fuel Espresso and NODI Coffee, order their baked goods. The minimum number of days you must place your order is 1-2 days for a cake from their wide range on offer. For bespoke and personalised options we advise anywhere from 2 weeks to a week's notice. No matter what you choose, the cake will bring joy to any gathering long before anyone starts eating and there won't be any going to waste. It's so moreish! Don't forget about candles.
Opening Times: Monday to Friday: 8.30-17.30; Saturday: 8.30-14.30; Sunday: 08.30-10.00. Cakes can be delivered via Lalamove service straight to your door at an extra cost or collected from the bakery.
Contact details: WhatsApp (+852) 6751 8870, email: sweetbitesltdhk@gmail.com


Photo Credit: Jewel Jam


How best to combine your daughter's stylish birthday bash and immersive girlish activities with practical consideration? What would be the best mood lighting? Jewel Jam is a treasure trove of inspiration and design direction who has famously captured the hearts of parents and kids across Hong Kong by jewellery making birthday parties for school-age children. With the benefits of 16 years' hands-on experience in jewellery design and teaching, Jewel Jam has become an epitome of effortless, laid-back birthday service, always in demand to run bespoke children's jewellery parties either at home or at a private venue. Armed with over 100 jars of high-quality beads, their hostess will bring to the venue all the tools and jewels to entertain a group of children for two hours. The little guests will learn how to make their own beaded jewellery such as necklaces, bracelets, sterling silver earrings, that the girls won't want to take off, or key chains and clip on beaded bag tags. Meanwhile, you will receive a complimentary pack of Jewel Jam online party invitations. The package also includes a special gift for a birthday girl and party bags for all guests to put their own special piece of jewellery in. All you have to do is round up at least 10 guests to book a party.
Age Range: for children aged 6 and above. No prior experience needed.
For more detailed information call: +852 9442 5351 or email: bek.jewel.jam@gmail.com.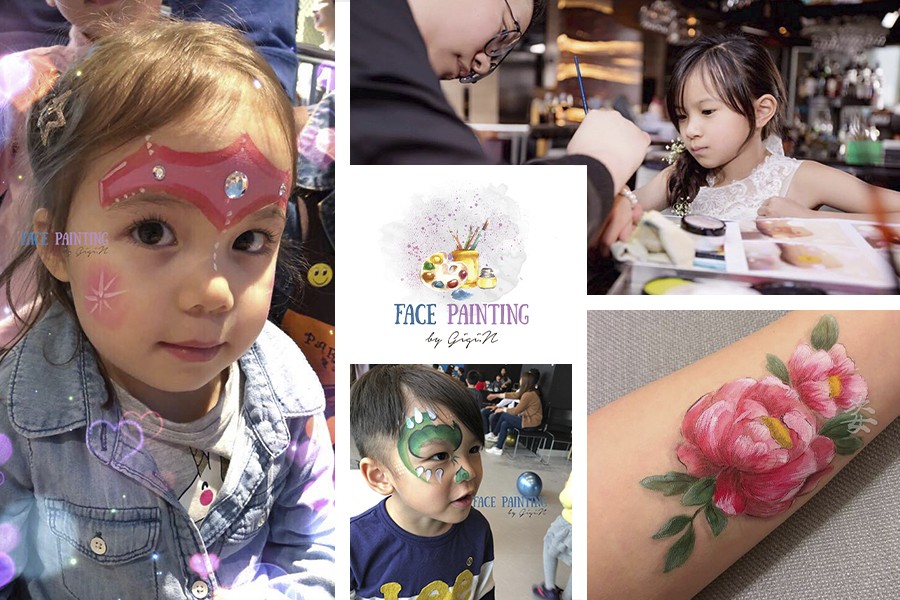 Face-painters are always a yes at children's parties, but opt only for lead artists like Gigi.N, so it works for all types of occasions including birthday bashes, school fetes, christenings, festivals, anniversaries, charity events etc. Being obsessed with art, theatrical makeup creations and children, Gigi. N has been face-painting kids for ages, and, more precisely, since secondary school. Through the years, she has become an in-demand professional face and body paint artist serving in Hong Kong. Providing elaborate, fantasy-inspired and whimsical designs, Gigi. N will quickly transform your little ones into animals or their favourite superhero characters (her portfolio is endless). We love that your kids will show off their glitter face paintings during the whole day and wish to never wash their faces again. Gigi. N is super-speedy and promises to paint 12-14 kids per hour using high-quality professional face painting products and equipment to meet the highest standards. So if you have a children's party in mind, It might be advisable to plan the entertainment in advance – Gigi's booking list is growing as you read this.
For more information call or message Gigi.N via WhatsApp 64940214.
Photo Credit: Hong Kong Disneyland


An amazing Disney-themed birthday party by Disneyland is what everybody is talking about – and rightly so: it's sensational for Hong Kong! Get a glimpse of what it's like to throw a birthday bash that turns a special day into a magical moment. At Hong Kong Disneyland Hotel the kids will draw Mickey, make towel animals or a Mickey paper bag. The vast range of packages here is a delight: Deluxe and Standard packages include a 3-hour party from 12:00 to 15:00 with a buffet lunch, unlimited soft drinks, fruit punch, orange juice, hot chocolate and a delicious Disney-themed birthday cake and desserts, plus one complimentary birthday kit for a birthday child. Upgraded packages can provide even more fun for the birthday child and guests, plus optional extras such as character greetings with Disney friends and Princesses, face painting, balloon twister, magicians and caricaturist, extra tasty treats including cotton candy, popcorn, Disney-themed cupcakes and Disney's sweet station etc. Your little guests will never be at a loss for things to do at this magical venue in a true Disney style. A minimum of 50 kids is required to book a party.
Subscribe to weekly newsletter from "Tickikids"