Summer Camps Guide 2019: Best Programmes for Kids & Teens in Hong Kong
---
Published 13 May 2019 at 16:49
Tickikids Blog Hong Kong > digest > Summer Camps Guide 2019: Best Programmes for Kids & Teens in Hong Kong
---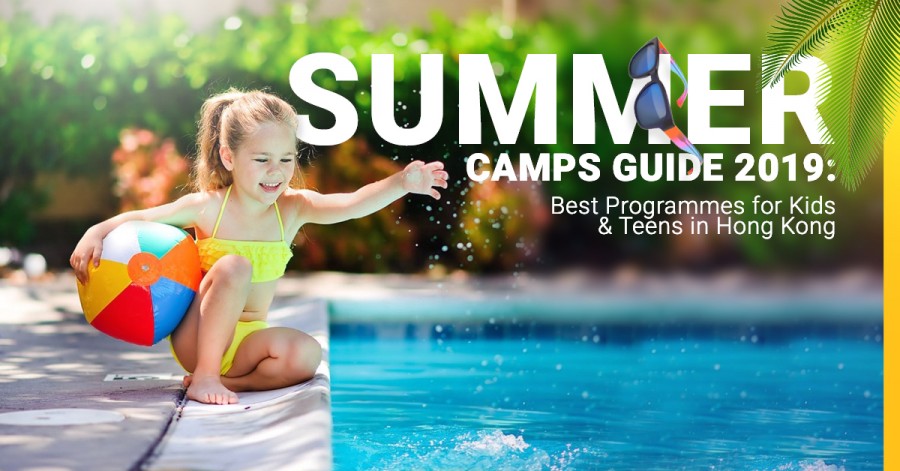 ---
There is a host of summer holiday programmes popping up all over town and they are all unique. It is vital that you take time to find the summer camp that best meets your child's needs and personality. Here is TickiKids' pick of some of the most interesting ones that will start from June 2019. Each has its own particular features that make it quite distinct. It goes without saying that, your little ones will make new friends and discover new interests and hobbies, progressing outside of school through these vibrant programmes. Be sure to check out the comprehensive summer camps guide for booking and detailed information.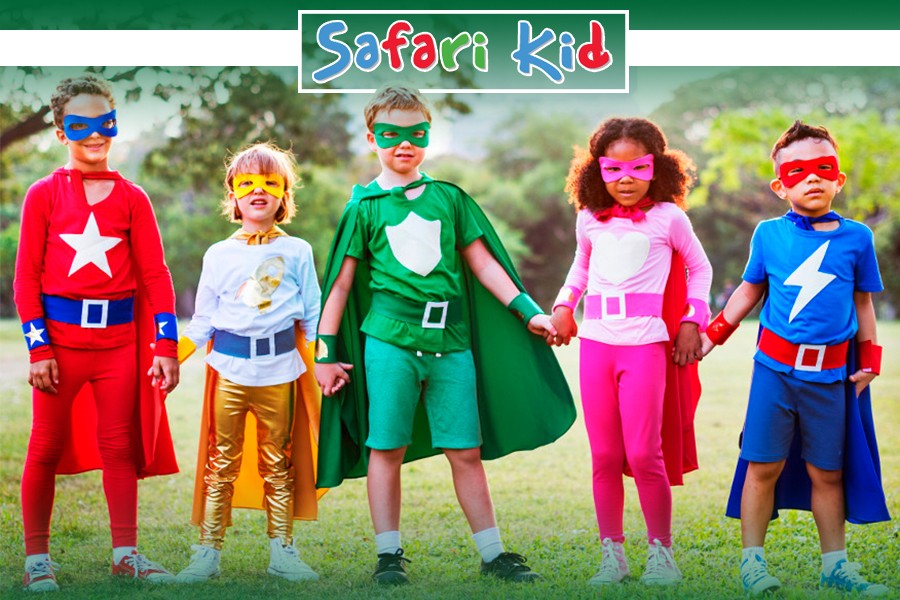 If you are looking for an action-packed summer holiday for your child, Safari Kid is on hand to help. This year they run superhero-themed summer camps from 2nd July to 9th August for children aged 6 months to 6 years at their kindergarten in Pok Fu Lam and at the nursery in Repulse Bay. Due to popular demand, Safari Kid has also developed Robotics classes for children who are interested in the latest technologies, as well as the joyful day care & playgroup sessions at Repulse Bay. Over six weeks, expect a rich mix of hero-themed subjects which will be guaranteed to spark your child's interest. Every week your kids will go on a different journey, starting with a Search and Rescue expedition followed by Deep Sea Adventure where the campers will learn about protection of the ocean floor. At the same time, the little heroes will Save the World by learning more about environment protection during the Superhero Bootcamp. In weeks 5 and 6, the kids will talk about the Global Heroes who make this world a better place. They will show appreciation to the superhero in our life as part of the You Are My Superhero activities.
Pok Fu Lam only: Please note that a school bus will be available from most Western and Southern districts on HK Island. On top of that, Safari Kid offers a complimentary bus if you sign up for 4 weeks or more.
Dates: 2 July - 9 August 2019;
Camp fees: Morning session: HK$2,750 / week; Full day session: HK$3,250 / week;
Timing: Morning session: 9.00 - 12.00; Full day session: 9.00 - 15:00;
Age groups: for children aged 6 months - 6 years;
Contact details: Repulse Bay: + 852 2874 3007, repulsebay@safarikidasia.com; Pok Fu Lam: +852 2177 0001, infohk@safarikidasia.com
Venues:
Safari Kid Pok Fu Lam: L101 Chi Fu Landmark, Chi Fu Fa Yuen, Pok Fu Lam, Hong Kong;
Safari Kid Repulse Bay: Shop G106A - 107A, The Repulse Bay, 109 Repulse Bay Road, Repulse Bay, Hong Kong.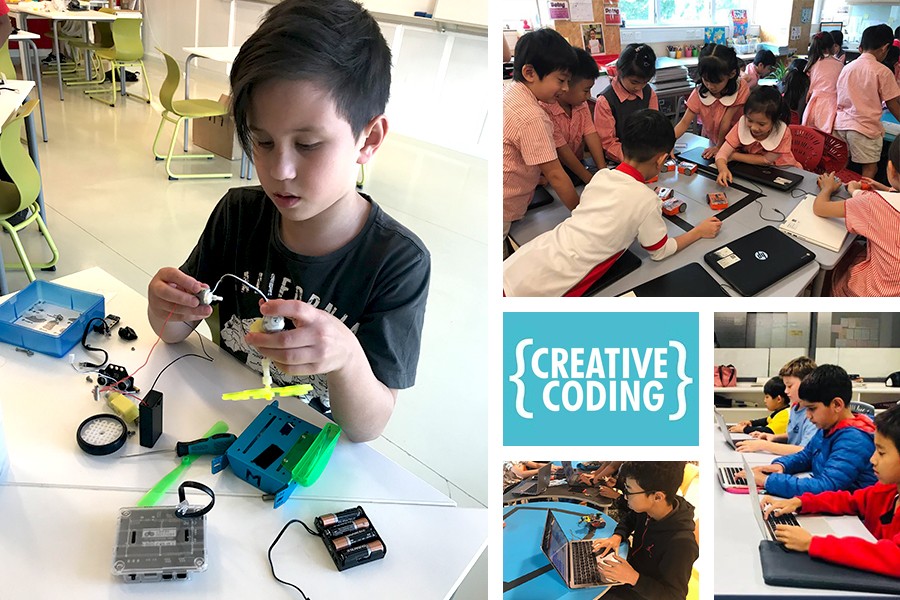 Creative Coding integrates the fundamentals of Computer Science and Digital Literacy with a "design first" approach. Their exciting and progressive summer courses enrich each child's educational experience by empowering them to confidently navigate in the modern technological world. Kids from the age of five can learn and apply fundamental principles and concepts of S.T.E.A.M. an interdisciplinary camp covering Science • Technology • Engineering• Art • Maths. through project based learning. Whether your child chooses a camp that focuses on Coding with Robotics or Coding with Game Design,  the courses aim to develop these four key skills: creative problem solving, critical thinking, communication and collaboration.
Their summer courses has been designed with all the elements of S.T.E.A.M. education:
S.M.A.R.T. Kids (age 5 - 8). Theme: "The Movement of Water". Science, Maths, Art, Robotics, Technology;
Minecraft (age 8 - 14). Theme: "Water Farming - Build your own Automatic Farm". Key Skills - Java Modding and Design Thinking;
S.T.E.A.M. Kids (age 9 -14). Theme: "Water and Energy". Project based learning with Micro:bit & mBot.
Dates: 1 July 2019 - 30 August 2019
Camp fees: from HKD 3000 to 3500 for a 5-day camp including participation certificate and branded T-shirt. Early Bird Discounts: 20% off camp fees for participants who sign up before 30th May, and 10% –before 30th June.
Timing: 9.30am - 12.30pm, 10am - 1pm, 1.30pm - 4.30pm, 2pm - 5pm, 2.30pm - 5.30pm;
Age groups: 5 - 8, 8 - 14, 9 -14;
Contact details: +(852) 2707 6578, WhatsApp: 94698225, email info@creativecoding.hk;
Location:
Wong Chuk Hang;
Tung Chung;
Discovery Bay;
Sai Kung;
Olympic.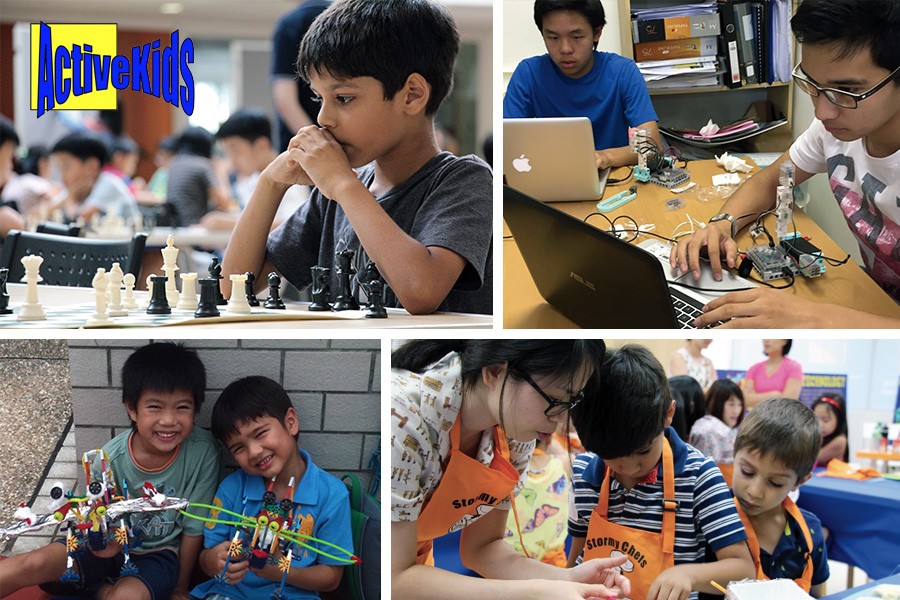 Just to remind you, since 2004, ActiveKids has been providing unique, top-quality educational programmes to children of all ages in Hong Kong and Greater China. Their carefully designed splendid activities offer a beneficial multi-disciplinary approach to a child's development. They are particularly big on creative and leisure activity camps that provide kids with an endless source of inspiration.
The ActiveKids's superb and imaginative camps programmes for children – Science Adventures, Stormy Chefs, The Chess Academy, RoboCode, ArtCrafters and Mission Runway – are one of the most widely trusted summer break solutions, chosen by hundreds of parent around Hong Kong. 
Science Adventures Camps. Join the action-packed, electrifying and fascinating Science Adventures this summer. It features The Great Dino Mystery, Lunar Rover Workshop, Gizmo's Robot Factory and Extreme Sports Science.
Stormy Chefs Camps. Bring home something delicious! Your Full Course Meal includes: drinks, appetisers, entrees and desserts.
The Chess Academy Camps. Incredible brain workout! Capture your rivals in a good battle of chess!
ArtCrafters Camps. Unleash Your Inner Picasso! Join MIX, MOLD, PAINT and GLAZE for the Summer Fun Painting & 3D Modelling Art Works! 
RoboCode Camps. Build and Code your own Robot! Develop systematic and logical thinking skills plus learn about Robotics & Coding to become a future innovator! 
Mission Runway Camps. Dream big, let your imagination soar, become a top designer! Design and construct your own summer collection and accessories!
Dates: 17th June – 31st August 2019;
Camp fees: HK$1,850 – 3,400. Special Promotions: $500 off before 31 May, $300 off before 30 June or 5% off for 2+ sign up, 10% off for 4+ sign up;
Opening times: 9.30am - 5.30pm;
Age groups: 3 – 17;
Contact details: +3480 4199, email info@activekids.com;
Venue: ActiveKids Learning Centre – Unit A, 1/F, Nan Sang Building, 86 Belcher's street, Kennedy Town.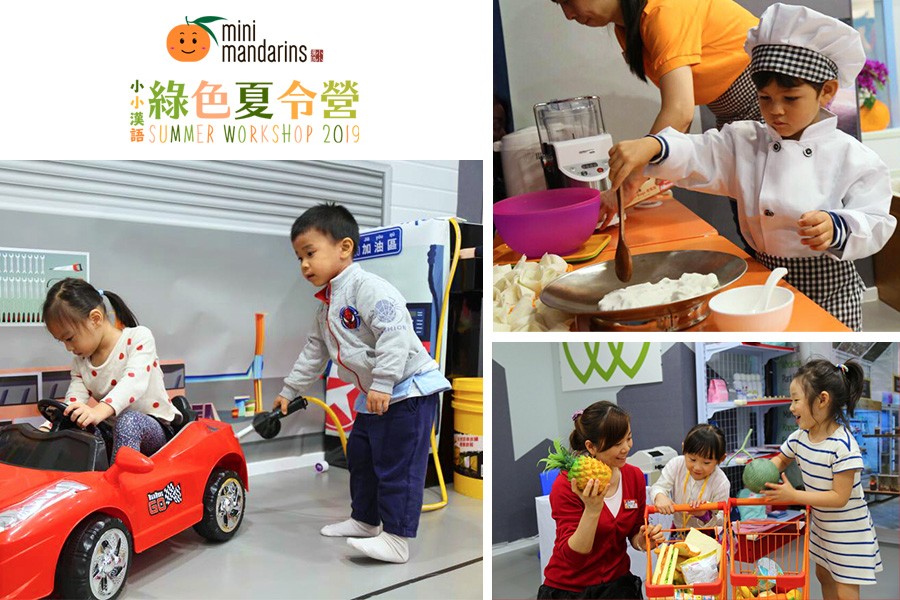 Mini Mandarins Learning Centre is most notable for its immersive Mandarin environment with focus on the cultural aspects of the language. Being here with Summer Fresh Camp will see your child experience the Mandarin speaking programmes taught by native specialist teachers, that combine Chinese culture and cutting-edge teaching techniques, alongside developing speaking and listening skills. Children aged 2.5 to 10 will have 2.5 hours of camp time daily where Mini Mandarins offers a wide range of fun, immersive and interactive activities.
The summer programmes for 2019 have been tailor-made in collaboration with Green Common concept grocery store and a car repair shop Meguiar's HK, so young campers can achieve their goals whether it is cooking, art, Chinese cultural experience or storytelling. The kids will find themselves at Green Common store filled with fun and nutrition knowledge about Green Monday, while Meguiar will help the young engineers discover an amazing world of engineering by dealing with real problems to widen their experiences and horizons in science and math, as well as developing mandarin language skills.
Dates: 17th June – 30th August 2019;
Camp fees: HK$800 per 2.5-hour session or HK$4000 for a 5-day programme;
Timing: daily from 9.30am - 12noon or 1.30pm - 4pm;
Age groups: 3 - 10;
Contact details: Causeway Bay Campus: tel.: 2330 1128, email: info@minimandarins.com. Central Campus: tel.: 2320 5208, email: central@ minimandarins.com
Venues: 
Causeway Bay Campus: 7/F, Capital Commercial Building, 26 Leighton Road, Causeway Bay, HKSAR (Opposite Leighton Centre, upstairs to HSBC Bank);
Central Campus: Room 1703 17/F Universal Trade Centre, No. 3-5A Arbuthnot Road, Hong Kong.




Widely regarded as a trendy after-school learning centre, First Code Academy beckons with its structured, unique and robust curriculum of STEM & coding camps which take place across Hong Kong, including Sheung Wan and Yau Ma Tei. Using proprietary syllabus adapted from Silicon Valley high schools, First Code Academy attracts the coolest primary and secondary students aged 4 to 18. After all, is there anything more essential in today's digital world? From beginners to advanced campers, all of them become fanatical about interactive web projects, digital products, 3D modelling and software programming tasks.
Special mention must go to the type and range of courses on offer this summer at the First Code Academy.
Junior camp highlights:  Cubetto: Investigate Through Codes, Electric Dough: Start An Electric Journey, Edison: Fun Adventure into Robotics.
Tinker Camp highlights: Game Development: 3D Minecraft Modding & Roblox; Scratch: Creating Mini Games & Animations; Hardware Exploration; Digital Making with Micro:bit. Lego Mindstorms EV3: Program Logo to Life.
Explorer Camp highlights: Game Development: 3D Minecraft, Roblox; AppJamming: Make Your Own App; Digital Making with Micro:bit; Introduction to 3D Printing; Lego Mindstorms EV3: Program Lego to Life, Virtual Reality with CoSpaces Web Programming.
Creator Camp highlights: Game Development: Roblox with Lua, Unity; Exploring Internet of Things (IoT) with Micro:bit & Python; Language Programming: Python; Web Programming: HTML, CSS & JavaScript; Web Design with CSS Framework Virtual Reality with CoSpace.
Entrepreneur Camp highlight: Python Holiday Camp.
Dates: 10th June - 23rd August 2019.
Camp fees: from HK$3080 to 5580. Camps options range from 3 to 5 days. Sign up for more than one camp to get up to 10% off. E.g. if you enrol into two 5-day camps, you can receive HK$500 off total payment amount in addition to anther promo code.
Timing: Monday to Friday, 9am - 12noon, 9.30am - 12noon, 1pm - 3pm, 1pm - 3.30, 1pm - 4pm;
Age groups: Junior 4 - 5, Tinker 6 - 8, Explorer 9 - 11, Creator 12 - 14, Entrepreneur 15 - 18;
Contact details: +852 2772 2108 (Sheung Wan Main Campus), +852 2772 2161 (Yau Ma Tei), +852 2772 3077 (Fortress Hill), email: hello@firstcodeacademy.com;
Locations:
Sheung Wan - 5/F, Gee Tuck Building, 16-20 Bonham Strand, Sheung Wan, Hong Kong;
Yau Ma Tei - Unit 404, 4/F, Kowloon Building, 555 Nathan Road, Yau Ma Tei, Kowloon, Hong Kong;
Fortress Hill - Unit 11B, 11/F, KP Tower, 93-95 King's Road, North Point, Hong Kong;
Clearwater Bay School (Tseung Kwan O) - Lot 235, DD229, Clearwater Bay Road, Kowloon;
Rosebud Primary School (Tsuen Wan) - 38 Wing Shun St, Tsuen Wan;
Kellett School Kowloon Bay - 7 Lam Hing St, Kowloon Bay;
Discovery Bay International School - Discovery Bay Rd, Discovery Bay;
Renaissance College (Ma On Shan) - 5 Hang Ming St, Ma On Shan;
Sha Tin College (Fo Tan) - 3A Lai Wo Ln;
Mills International Preschool (Yau Tong) - The Spectacle, 8 Cho Yuen Street.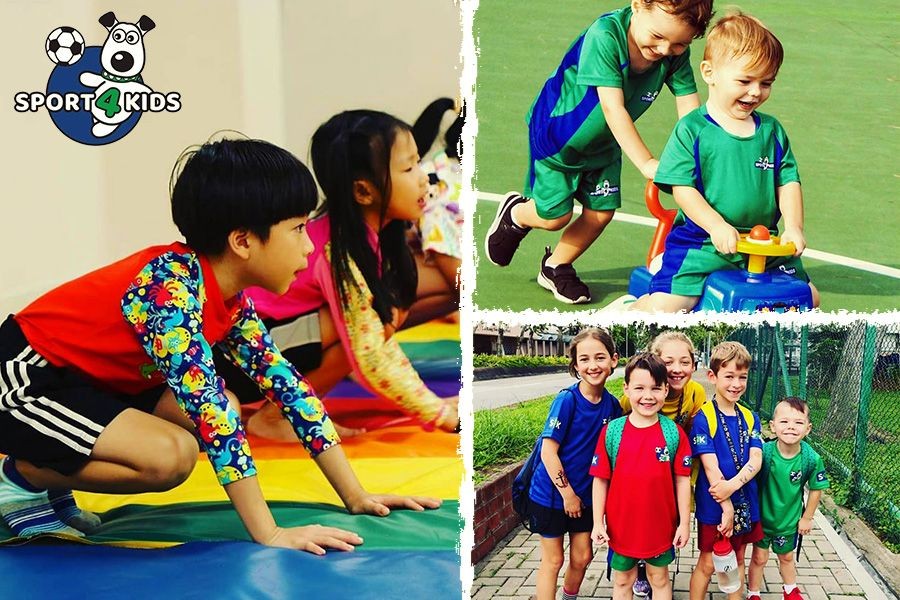 Sport4kids continues to delight, its Shenzhen Mandarin Immersion Summer Camp completely eclipses what came before it. In partnership with world-renowned Maple Leaf International Academy (Shenzhen), Sport4kids brings the first of its kind camp to Asia, and for sheer enjoyment, the camp mustn't be missed.
Youngsters will have a rare chance to try out a variety of sports and new exciting activities plus work on their Chinese speaking skills at this overnight camp. This is the place to go to learn new things, have fun, make new friends and hone in on your strengths. Students will be collected in Hong Kong on Sunday and return on Friday afternoon. All food, drinks and transportation are included in the cost.
This summer, Sport4kids also offers other fabulous Multi-Activity Camps to develop skills and knowledge across a wide range of activities. At Sport4kids' Multi-Activity camps there is an abundance of activities on offer: new sports, fun games and crafts, to name a few, led by dedicated specialist coaches.
Dates:
Shenzhen Mandarin Immersion Residential Camp: 14 - 19 July, 21 - 26 July, 28 July - 2 August, 4 - 9 August 2019
Multi-Activity Summer Camps: 1 June - 31 August 2019;
Timing: 9am - 11am or 9am - 2pm;
Camp fees:
Shenzhen Mandarin Immersion Residential Camp: HK$11250 for 7-14 year olds, 12500 for 15-18 year olds. Early Birds: enrol before 19th may and pay $9,000 or $10,000). Use our promocode #ticki20 to get 20% off Shenzen camp;
Multi-Activity Summer Camps: from 1750 for a 5-day camp;
Age groups: 1- 6, 2 - 3, 2 - 7, 4 - 10, 6 - 8, 9 - 15, 7 - 18;
Contact details: +852 2773 1650;
Venues:
Hong Kong Academy - 33 Wai Man Rd, Sai Kung, Hong Kong;
Canadian International School of Hong Kong - 36 Nam Long Shan Rd, Wong Chuk Hang, Hong Kong;
Malvern College Hong Kong - 3 Fo Chun Rd, Pak Shek Kok, Hong Kong;
Kellett School -  7 Lam Hing Street, Kowloon Bay, Hong Kong;
American School Hong Kong - 6 Ma Chung Rd, Tai Po, Hong Kong;
Unit 703A, 7/F, Heng Ngai Jewelry Centre, No. 4 Hok Yuen Street East, Hung Hom, Kowloon Hong Kong.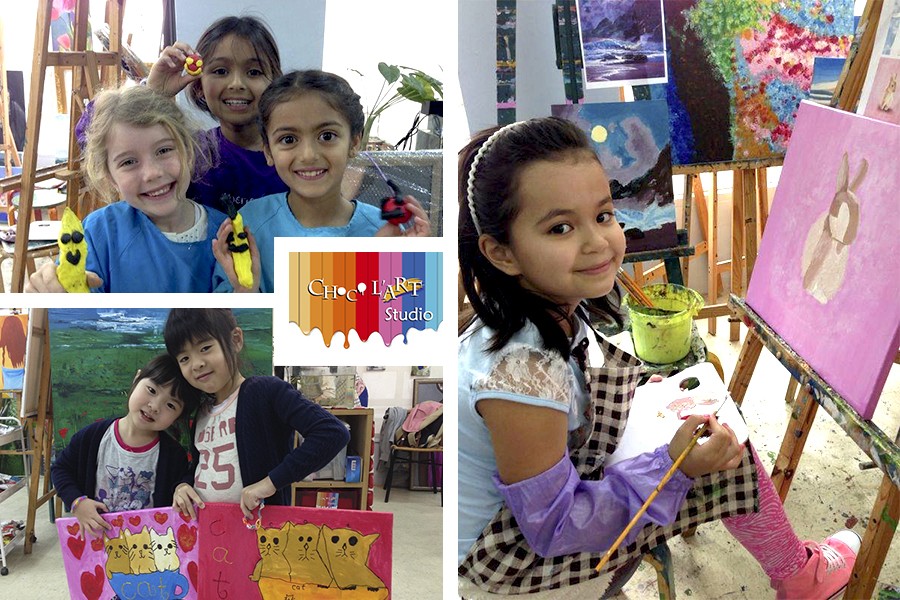 Choco L'Art Studio allows children and adults of all ages and abilities to explore different artistic styles through a wide range of techniques which include oil painting, acrylic painting, sketching  or other handicraft, creating a well-balanced appreciation for the visual arts. This summer boys and girls can join one of the art classes and workshops that will encourage each of them to explore different topics, equipping the children with skills to experiment and create their own works of art and craft. As students progress, they will be able to create a masterpiece in acrylic or oil or make a decoupage. The wide choice of workshops will fulfil the needs and desires of different age groups, covering a wide variety of interests and abilities:
Creative Kids Art Workshop: Drawing, Collage, Crafts, Clay for 4-8 year olds;
Artistic Junior Art Workshop: Painting, Crafts, Mixed Media for 9-15 year olds One lesson lasts 1.5 hours;
Sketching / Colour Pencil / Pastel / Acrylic / Oil Painting Workshops: Colour theory, Composition, Shading for 15 year olds and above full time students. One lesson lasts 2 hours;
Dates: 6 June - 31 August 2019;
Camp fees: from HK$ 1210 for 4 lessons and from HK$2180 for 8 lessons. Enrol before 15 May to get HK$200 off or before 6 June to get HK$100 off;
Age groups: 4+;
Contact details: tel: +852 6695-1161, email: info@chocolart.com.hk;
Location: 2B, Yan King Court, 119-121 Queen's Road East, Wanchai, Hong Kong.




Developed and run by early childhood specialists, Woodland Camp will engage, challenge and inspire your child through their summer multi-activity programme. Set within the outstanding Woodland Pre-Schools indoor and outdoor play spaces, each week your child will have the opportunity to participate in a number of activities which include water play, cooking, construction, art, music, sport, games and much more. Children will be immersed in a world of amusement, adventure and imagination, where they will learn new skills though play and develop new friendships. This year, Woodland's Camp will take your child on an adventure around the world. Each week they will "visit" a new country and experience the culture of six differing nations: Australia, Hawaii, England, France, Kenya, and India.
Camp Woodland is open to all children aged 2.8 years to 6 years.
The Summer Camp runs weekly from 9am to 3.30pm, with the option to join for a half day, morning or afternoon session. The start and finish times vary slightly by school. Woodland provides healthy snacks for morning and afternoon break. For students attending the full day camp a packed lunch is required. Please note that Camp Woodland has a strict no nut policy.
They also offer a convenient, safe and secure bus service to and from Woodland Camp, calling at a stop near your home. Your child's space on the bus can be secured at the time of booking.
Dates: 2nd July - 9th August 2019;
Timing: 9am - 3.30pm, 9am - 4pm; 8.30am - 3.15pm;
Camp fees: from HK$2240 for an extended day, from HK$1760 for morning or afternoon only, including an exclusive FREE Woodland Camp T-shirt.
Age groups: 2.8 - 6;
Venues: 
The Woodland Montessori Academy. G/F -3/F, On Fung Building, 110-118 Caine Road, Mid-Levels, Hong Kong;
The Woodland Repulse Bay Montessori Pre-School. Shop G118-G119, G/F, The Repulse Bay, 109 Repulse Bay Road, Hong Kong;
The Woodland Beachside Pre-School (Repulse Bay). 35 Beach Road, Repulse Bay, Hong Kong;
The Woodland Happy Valley Pre-School. G/F, 2 Hawthorn Road, Happy Valley, Hong Kong;
The Woodland Harbourside Pre-School. G/F, Ocean Court, 3 Aberdeen Praya Road, Aberdeen, Hong Kong;
The Woodland Kennedy Town Pre-School. G/F, 1/F & 2/F, Hau Wo Building, 3C Davis Street, Kennedy Town, Hong Kong;
The Peak Pre-School. 81 Peak Road, The Peak, Hong Kong;
The Woodland Pokfulam Pre-School. Shop 29, G/F, Commercial Complex, Wah Fu Estate II, Pokfulam, Hong Kong;
The Woodland Sai Kung Pre-School. Shop D, G/F, Marina Cove Shopping Centre, Sai Kung, New Territories, Hong Kong.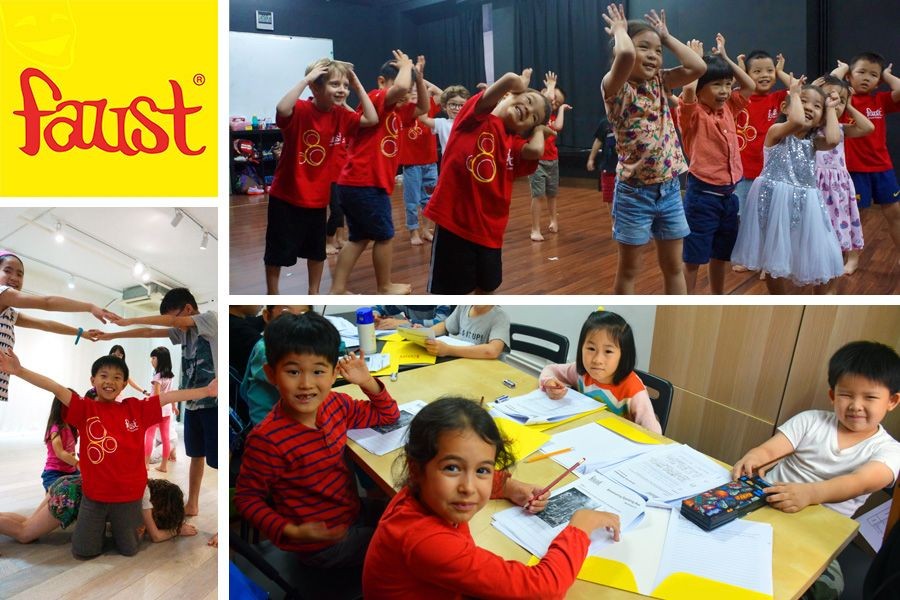 Faust International Youth Theatre offers two amazing courses based in the heart of Hong Kong, including the popular Summer Theatre and Creative Writing programmes. If your kids love acting, singing, drama, text work and dance, these are the summer camps for them. The classes are also developed to build confidence, imagination and creativity, simply have fun and make friends for life throughout the 5-day programmes.
The Summer Creative Writing course is designed to give children and teens an opportunity to flourish while improving their creative writing and/ or performing skills during the weekly classes. Different themes and writing aspects are available each week as children enjoy experiencing a wide variety of skills and styles. The youngsters will be split into small groups up to 8 participants so teachers can give everyone the attention, constructive and inspirational support. The original worksheets and written feedback are supplied.
Summer Theatre course focuses on developing confidence, performance skills and creativity based on a wide variety of stories and themes. The kids will leave the course with lifelong skills which benefit their professional and personal lives. The programme offers every child the opportunity to be involved in a fantastic and challenging experience exploring the wonderful world of theatre. At Faust Summer Theatre course, they offer a comprehensive range of activities and different content during each week. Parents are invited to come and see an open session at the end of the week. Please note, students must be fluent in English.
Dates: 24 June - 23 August 2019. *Due to a Public Holiday (July 2nd), workshops in week 2 will be run from Tuesday to Saturday.
Timing:
Creative Writing. Monday - Friday 10:00 - 12:00 or 14:00 - 16:00.
Summer Theatre. 10:00 - 12:30 or 14:00 - 16:30
Camp fees: HKD 2980 per course. Early bird: register before 17th May 2019 and pay 2680 HKD per course.
Age groups: 3 - 14 and 6 - 13;
Venues:
Faust Studio 5th Floor, Nan Dao Commercial Building, 359 & 361 Queen's Road Central, Sheung Wan
Island School Tai Wai, Sun Chui Estate, Sha Tin, New Territories
King George V School 2 Tin Kwong Road, Ho Man Tin
Discovery College, 38 Siena Avenue, Discovery Bay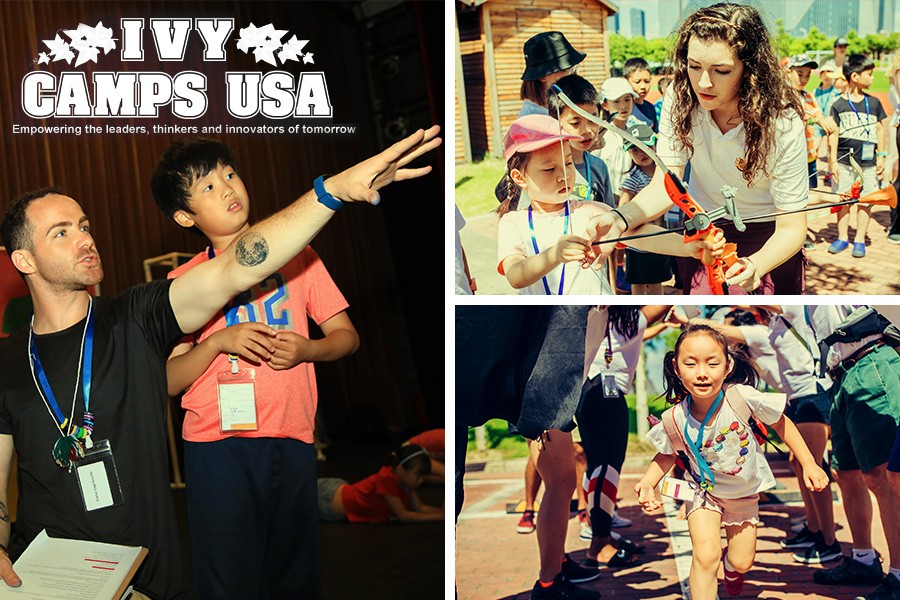 With this overarching ethos in mind, Ivy Camps USA has developed a well-balanced programme schedule which allows campers to experience a wide variety of fun and engaging activities outside of the traditional classroom. Their skilled instructors help the campers improve their abilities whether on the soccer field, in the arts and craft studio, or through challenging team building exercises. With an emphasis on technique development, participation, and teamwork, every camper leaves Ivy Camps USA with clear improvement, self confidence, and a healthy dose of fun.
World class instructors? Check. Pioneering curriculum & activities? Natch. Inspiring learning environment? Certainly. And with a 1:15 camper to instructor ratio, your child will always feel supported, mentored, and supervised throughout their time at Ivy Camps. Depending on which session your child attends, Ivy Camps will host its programming at either the Canadian International School or the Hong Kong PHAB Association Jockey Club. Each campus provides campers access to high-tech classrooms and premium sports complexes designed for modern learning practices.
At Ivy Camps USA you can truly spoil your kids with a wide selection of tailor-made programmes for the upcoming summer holidays:
STEAM Discovery is intended for children aged 7-12.
Build your Own Business is a one-week hands-on, challenging program intended for children aged 7-12.
Junior Ivy includes an interdisciplinary curriculum on topics such as STEAM, Business, Performing Arts, Public Speaking and intended for children aged 5-6.
At the end of each session, your child will receive a Certificate of Completion marking the significance of their amazing academic achievement this summer.
Dates: 15 July - 16 August 2019;
Timing: Full-day sessions: 8.30am - 15.30pm. Half-day sessions: 12.45 - 16.00;
Camp fees: HK$ 4,000 - 7,000;
Age groups: 5 - 6, 7 - 9, 10 - 12;
Contact details: +852 3480 4199, info@activekidshk.com
Venues:
Canadian International School - 36 Nam Long Shan Road, Aberdeen;
HK and Hong Kong PHAB Association Jockey Club PHAB Camp - 75 Pokfulam Reservoir Road, Hong Kong.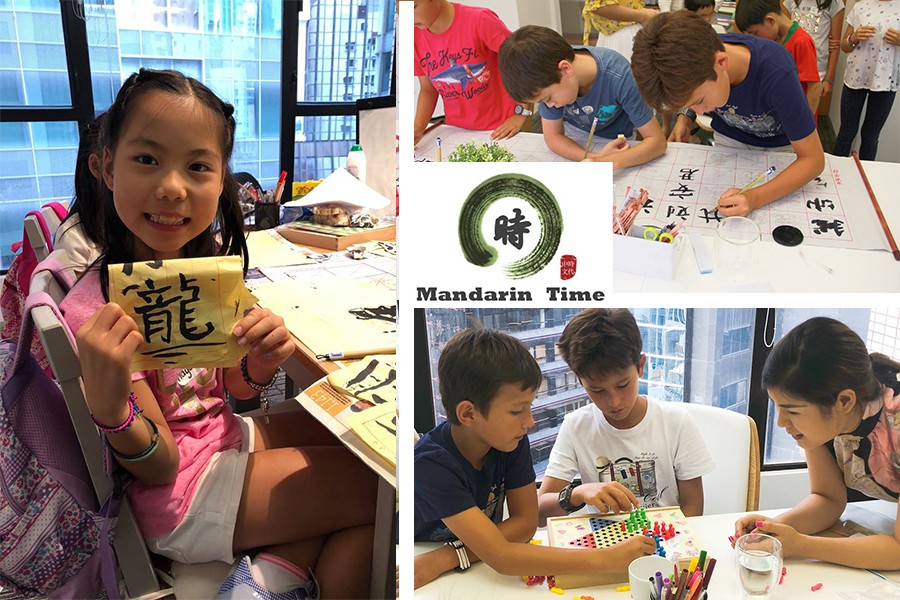 Mandarin Time School has been a favourite with Hong Kong multinational society, universities and renowned publishers since it first opened. Now it's more popular than ever before, thanks to the team of full-time Mandarin teachers of the highest calibre who offer the immersive half-day and full-day summer programmes for kids and teens in Hong Kong. The standard of their Mandarin camps is exceptionally high and once again offers opportunities for all. During half day summer camps all children will experience 12 or 16 hours of Mandarin per week, whilst full-day campers will have lessons 4 or 5 days a week, totalling 7 hours every day. The total duration of the camp is eight weeks, but students are allowed to sign up on a termly basis and attend from one to eight weeks. Mandarin Time School maintains the perfect balance between learning and fun. The lessons are delivered in the form of games, weekly excursions and other interactive activities which ensures that the sessions are fun and the learning is challenging and stimulating.
For summer camps 2019, the school has developed five Mandarin levels, so that your child will thoroughly enjoy and benefit from his or her time here. After the free placement test their consultants will help you choose the most suitable course of study for your child in accordance with his/her needs and level of Mandarin.
Dates: 2nd July - 23rd August 2019;
Timing: Monday - Friday. Morning camp 9.30am - 12.45noon. Afternoon camp 12.45pm - 4.30pm. Full-day camp 9.30am - 4.30pm
Camp fees:
morning camp: HK$2900 per week (4 days a week, 16 hours per week);
afternoon camp: HK$2200 per week (4 days a week, 12 hours per week);
full-day camp: from HK$4900 to 6150 per week (4 or 5 days a week, 7 hours per day);
Age groups: 5 - 9, 10 - 15, 16 - 19;
Contact details: tel: +852 6111 0523, email: info@mandarintimeschool.com;
Venue: Central, Hong Kong. 14/F,Word Trust Tower, 50 Stanley Street,Central.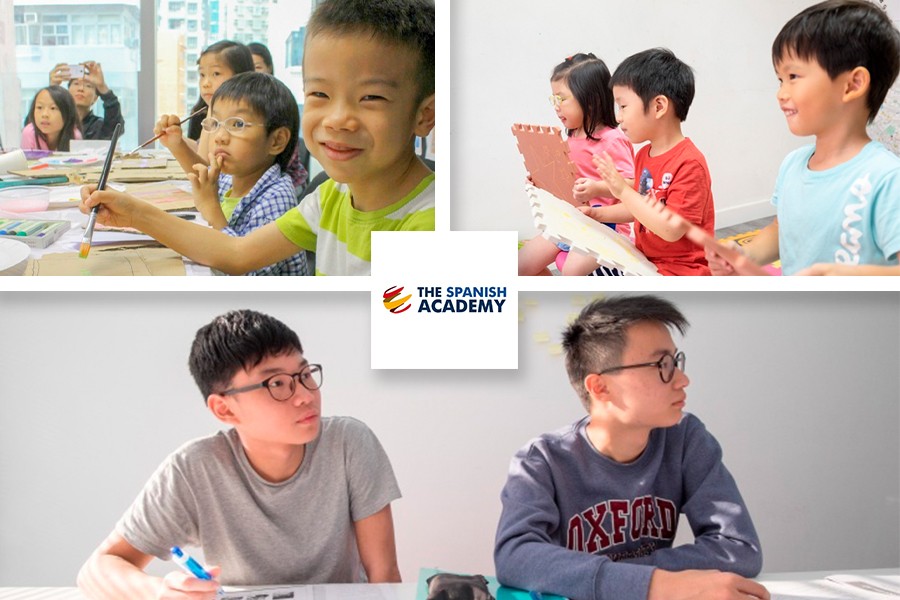 Naturally, Spanish at The Spanish Academy is a major subject, one in which their native qualified teachers help each child to achieve their full potential in both the use and understanding of the language. They also encourage students to appreciate the power and the beauty of Spanish language in both written and spoken forms. With an official status in 21 countries and rank as the second most spoken language in the world, Spanish is invariably seen as one of the most important languages to study. If your kids are interested in exploring the Hispanic world, then Spanish is the subject for them.
Throughout the summer Spanish courses for playgroups, kids and teens, students will broaden their understanding of the modern day language and absorb an understanding of the rich cultural differences developing language communication skills.
The summer curriculum is distinguished by the variety of courses appropriate to their age and ability:
Summer Courses for Playgroups is designed for toddlers and children aged 2 to 5.
Summer Courses for Kids is designed for toddlers and children aged 6 to 9.
Summer Courses for Teens is designed for 10 - 14 year olds and for 15 - 17 year olds.
Dates: 1 May - 30 September 2019;
Opening times: Monday - Friday, 9am - 5.30pm;
Camp fees: HK$ 275 - 300 per hour; Semi Intensive - HK$ 2200 for 8 hours in 2 weeks, Super Intensive - HK$ 5500 for 20 hours in 2 weeks. Special Offers: get a 30-minute free session. Bring a friend and get HKD 300 off. Early Bird - enrol before 30th May and receive HKD 150.
Age groups: 2- 5, 6 - 9, 10 - 14, 15 - 17;
Contact details: +852 6899 5497, info@thespanishacademy.hk;
Location: Suite 701, Keen Hung Bldg, 80 Queen's Road East. Wan Chai, Hong Kong.
By Anna Khan
Subscribe to weekly newsletter from "Tickikids"