Great Ideas for Throwing a Spooky Halloween Party for Kids
---
Published 09 October 2019 at 17:24
Tickikids Blog Hong Kong > digest > Great Ideas for Throwing a Spooky Halloween Party for Kids
---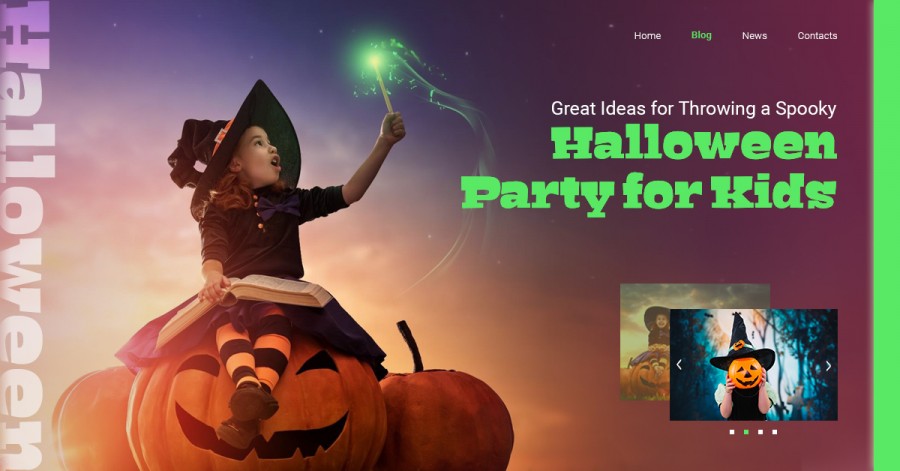 ---
Halloween is fast approaching, that time once again when children of all ages and the not so young dress as all things spooky, scary and ghoulish. Cursed to walk the earth or at least their local neighbourhood not so much in search of blood and souls but rather sweets and treats. Welcome to trick or treating a tradition that is popular in North America, parts of Europe and more recently in Hong Kong. So how can you make the most of this and the accompanying blood chilling parties, that children and adults enjoy so much? Luckily for you we've done the research to provide you with all the top ideas and resources to make your Halloween party or gathering memorably spooky and fun so that everyone will enjoy and feel suitably terrified. Waw ha ha!!!
Party Theme and Invitations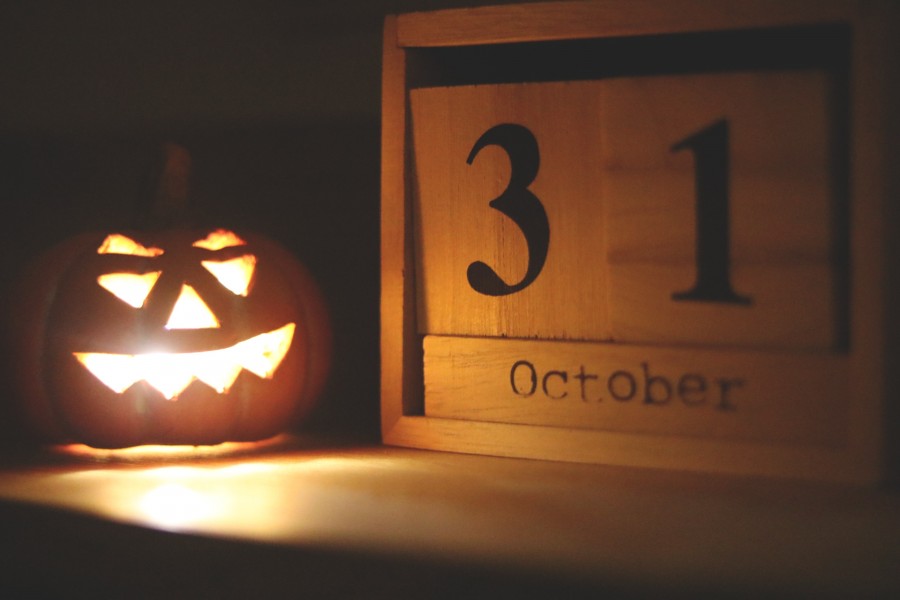 Photo Credit: Александар Цветановић / pexels.com


First things first! A carefully curated theme makes any Halloween bash. Let your kids' imagination run wild with ghoulish ideas that will have your little ghosts and ghouls screaming with delight. Harry Potter, wicked witches and vampires or a murder mystery party? Or maybe you fancy throwing a scary clown and carnival party?
Once you've chosen a theme, it's time to think about the size of the guest list and pick the matching invitations. Fill in all the gory details of your Halloween party and invite friends in advance, preferably at the beginning of October. Advance planning makes it easier for other parents to dress-up their monsters and get them into character.




Halloween is an ideal opportunity to get creative. If you have an hour to spare, there is nothing to beat homemade decorations, and you won't need to break the bank either. Plus, if you get the kids to work on some elements you will free up more of the day for other party preparations. No one expects you to recreate the set from a horror movie in your front garden. Just a few small touches can make all the difference. First impressions count! A super scary front door, a classic Halloween pumpkin jack-o'-lantern, lights, scary signs and cobwebs crawling with giant dangling spiders will immediately get your guests in a party mood.


Photo Credit: Swoon Soirées


Finish off your look with table decorations for a feast adding an extra sense of fiendish fun to the party. At Swoon Soirées, an online party boutique based in Hong Kong, they specialise solely in high-quality and on-trend tableware and accessories to help you express and capture your events. The wide range of intricate Halloween-themed designs would brighten up your home in the most fabulous way, whether you are throwing a Gothic party for Dracula himself or feeding little trick-or-treaters after a busy night. The themed beverage cups, confetti, cupcake toppers, gold-foiled napkins, banners, garlands, Halloween party picks, creepy 3D bugs, spooky plates, wall decorations and more, these would convert even the most vicious vampire to feasting on your delicious party food.
For a less-mess option, children's party venues for a scarily ambitious Halloween bash are the perfect alternative. Normally they offer entertainers, spooky decorations, terrifying props, creepy costumes and, of course, super fun activities to keep children overexcited.


Photo Credit: Choco L'ART Studio 


Why not visit one of the themed workshops that are guaranteed to give your kids scary Halloween-inspired ideas of the sort of things that they might like to make at home with friends. If you fancy creating something for guiding your way as you trick or treat this Halloween, children's centre Choco L'ART Studio is throwing open its doors for a Halloween special with creepy crafts on offer. There is plenty going on there till 31st October, from the Paper Lantern and Magical Wand workshops for 4-8 year olds to the Mason Jar Lantern with LED lights and a Magic Wand workshops for 7-12 year olds. Booking is recommended as capacity is limited.


Halloween Games and Activities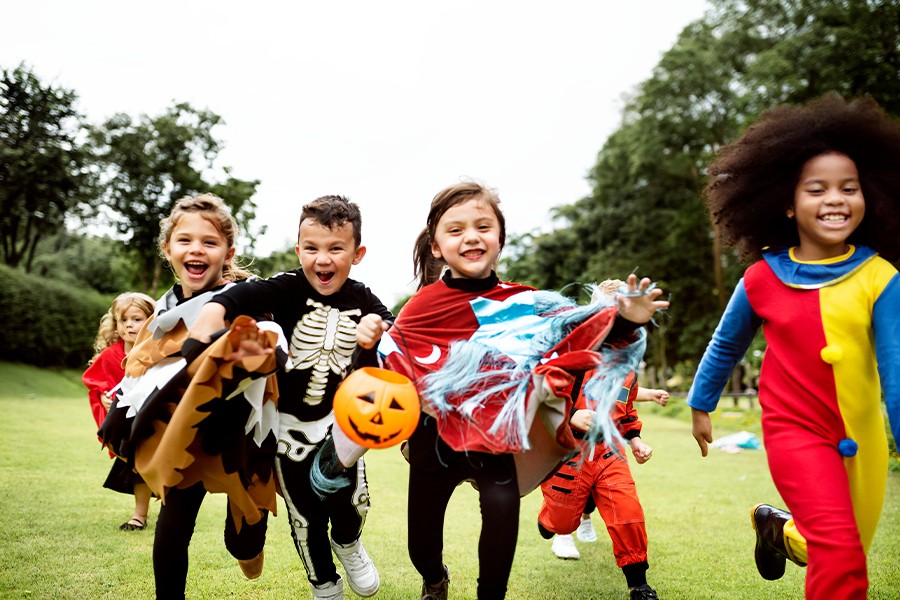 A kids' Halloween party wouldn't be complete without funny games. A great source of entertainment for kids of all ages is going trick or treating. Take your kids out in small groups as this is one of the safest ways to approach this activity in a big city. If you don't fancy traipsing up and down the street knocking on strangers' doors, you can organise a trick-or-treat treasure hunt in your own house. Hide sweets around the room or garden if you have one, turn down the light and get the little guests to hunt them out with torches.
Another twist on a Halloween classic is apple bobbing. You will need some plastic sheets on the floor, two washing up bowls and plenty of tea towels or kitchen paper. Fill the bowls with water, place some apples afloat, and tell the kids to fish out the fruit using only their mouths.
Halloween charades with scary book and movie titles is a fun party game that kids and adults of all ages can enjoy. 


Halloween Science Experiments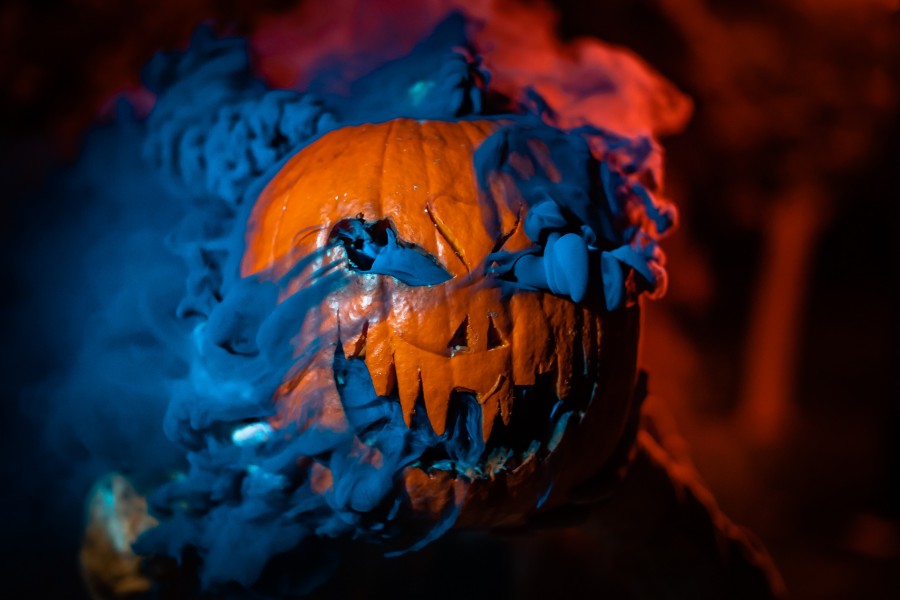 Photo Credit: Grayson Savio / unsplash.com


How about a witchy laboratory or pumpkin lava lamps to capture kids' interest and imagination during the party? There are so many spectacularly spooky activities with a ghost and monster theme for young scientists! Opt for some Halloween-inspired scientific resource packs with a series of children's science experiments. They normally contain details of what you will need, along with step-by-step instructions on how to carry it out.


Costumes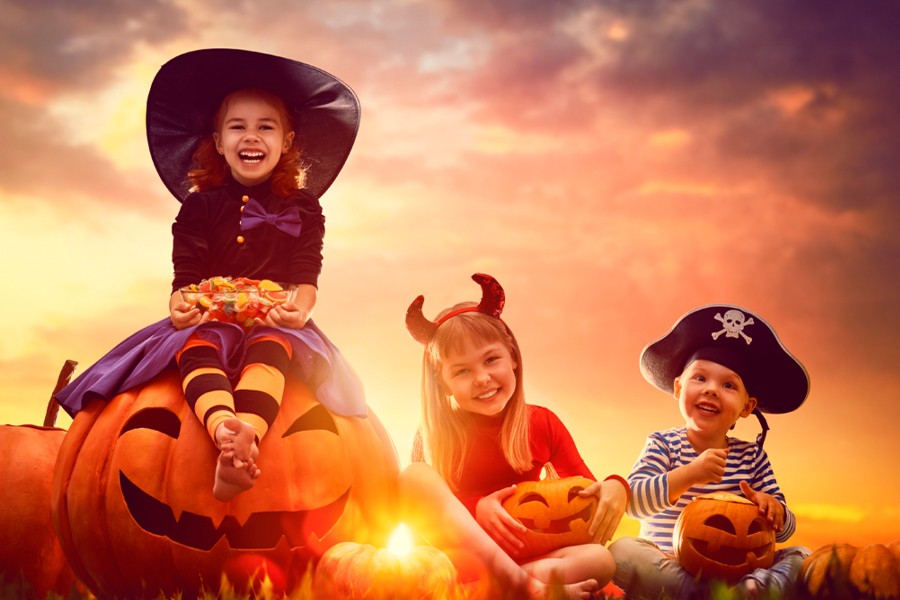 Whether you are heading out to trick or treating or hosting your very own Halloween party, you should make your choice from a ready-made outfit or a homemade costume. Long gone are the days of dressing up as a humble pumpkin and these days the possibilities are endless. Once you have chosen a character for your little monster, we would recommend you to make your way to the Halloween costume shops, where you will find everything you need to complete the look. They are certain to make your hair stand on end and make your kid's Halloween downright blood curdling.


Food and Drink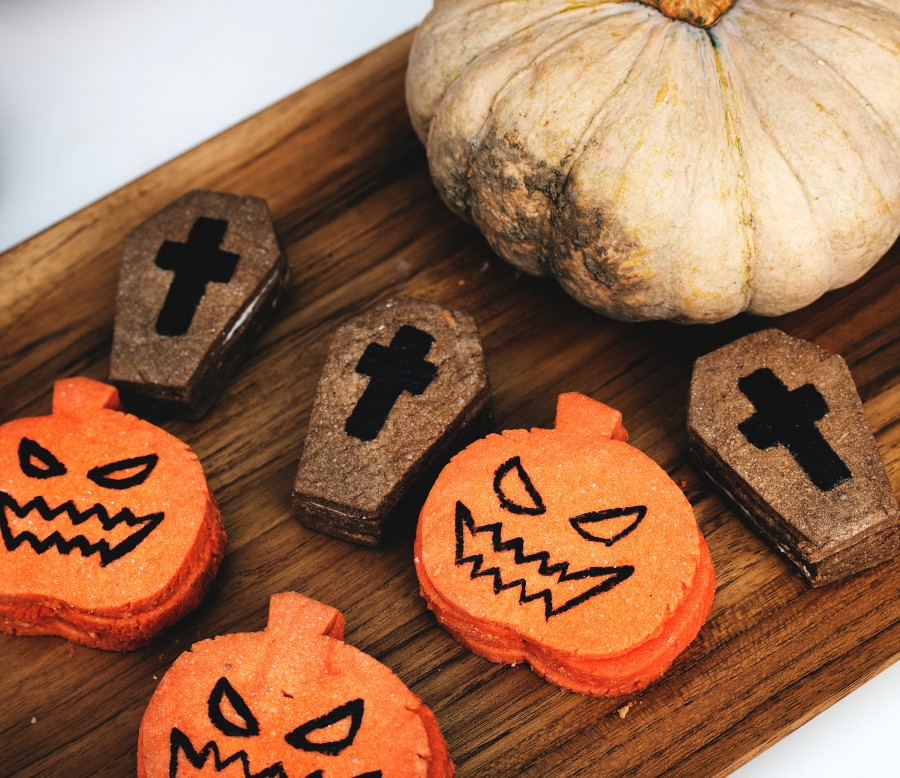 A few spooky snacks and terrifying sweet treats are a must on fright night. Why not impress the kid's friends and their parents with your creativity. Simply pick up Halloween party food recipes to keep all ages happy and have lots of fun with kids in the kitchen. They can get involved with making cupcakes or biscuits and learn about different ingredients when designing the scary creatures on top.
Your little Draculas can quench a deadly thirst with kid-friendly Halloween punch or ghoulish squash of cranberry juice, lemonade and fresh lime. Don't forget to serve your drinks and food with matching Halloween table cloths, cups, centrepieces, bowls and accessories.
Pumpkin Trick or Treat Bucket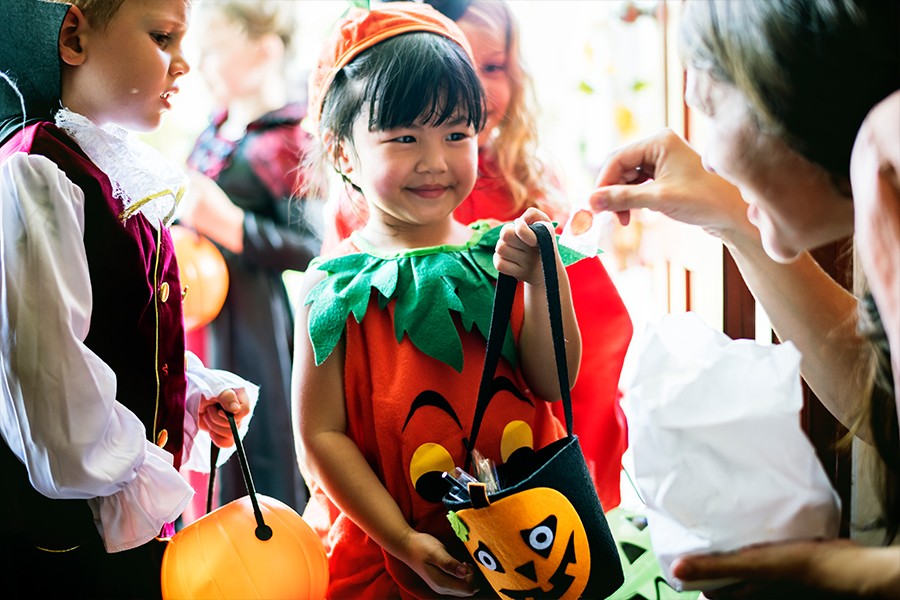 You've planned the party. You've got an original costume for your little monster. You've even got an outfit for yourself. And all you need to complete the spooky looks is funny orange trick-or-treat buckets with the happily smiling pumpkin for the little ones to carry all their sweet treasures home safely. Fill these creepy containers with confectionary and use them as an alternative to party bags.


By Anna Khan
Subscribe to weekly newsletter from "Tickikids"