TickiKids reveals Hong Kong's Best Easter Holiday Camps in 2020
---
Published 02 March 2020 at 05:18
Tickikids Blog Hong Kong > digest > TickiKids reveals Hong Kong's Best Easter Holiday Camps in 2020
---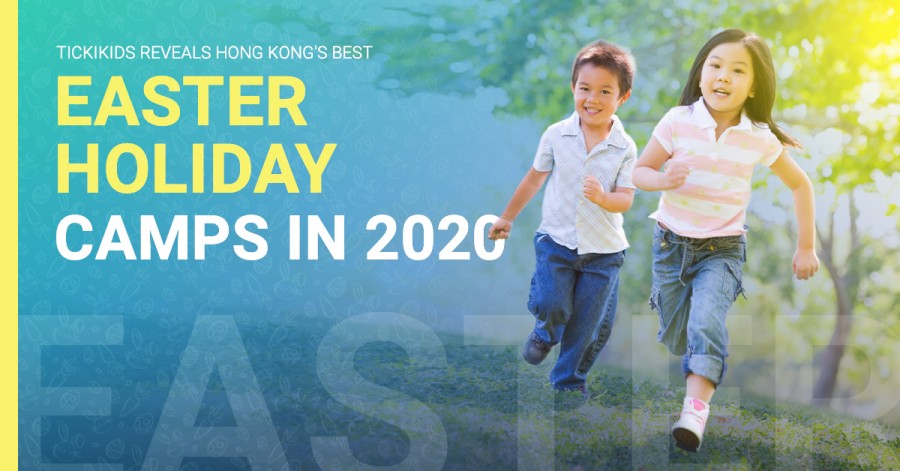 ---
Good news, Easter school holidays are around the corner. We know how hard it can be to keep up with highly-rated children's holiday programmes while you're battling through the working days. That's why we have done the hard work for you and handpicked a selection of Hong Kong's best Easter holiday camps in 2020. From art & design portfolio development, STEM programming courses to theatre, photography and filmmaking camps you'll enjoy a clear, trustworthy and well-rounded overview of our readers' top picks of this spring.




Photo Credit: Konrede


From the initial portfolio review and consultation to extensive professional support and educational advice, Konrede's highly capable creative instructors get things exactly right to assist students in a range of art and design subject fields. Many talented artists and designers don't know where to get professional support when building up or extending their portfolios. A person who truly understands this is Stephanie, Director and Art & Design Instructor, who formed Konrede Art & Design Portfolio Development Studio to guide anyone pursuing their creative education and career goals. Just two years after first opening its doors in fashionable and vibrant Sheung Wan, Konrede has rapidly become the go-to destination for gaining invaluable industry insights, university application guidance and career preparation from the diverse expert team of fully qualified fashion and graphic designers, photographers, digital art instructors, fashion stylists and artists.
Always at the forefront of the newest and most advanced techniques, Konrede is proud to offer something beyond typical run-of-the-mill art classes. Your Easter Portfolio Course can be as broad or narrow as you want it to be. You can choose subjects across fine art and contemporary art, fashion design, graphic design, advertising, digital Illustration, sequential art, visual communication, animation, fashion photography, architecture, interior design, product design and much more. In this way you will experience a superb all-round art indulgence at this fully equipped spacious studio with art supplies, painting easels, industrial sewing machines and materials where you can create your work at ease. The first consultation and art portfolio review are free. Students should bring all hard- and soft-copy works to be assessed by one of the specialists. Afterwards the instructor will recommend the best options on how to improve your art & design portfolio. You can study these portfolio programmes individually (One-on-One sessions), or as structured courses such as the Taster course and University Application & Career Preparation.
Dates and timing: courses vary in length and timing. University Application & Career Preparation, One-on-one Sessions are flexible. Book a session based on the availability of an instructor.
Taster Course runs for 4 weeks on Tuesdays and Fridays at 4.30pm. Monthly enrolment.
Ages: 14+
Fees: portfolio review – free of charge. Courses start at HK$1000 for the course subject to the type and length of course;
Contact details: +852 2567 9999, konrede@gmail.com and follow on Instagram @konrede and @konredearts on FB;
Locations: RM 3011, 30/F, Shun Tak Centre, West Tower, 200 Connaught Rd, Central, HK.




Photo Credit: RoboСode


RoboСode has long been a bringer of good news to school holiday education courses – and now that news has got better still. As one of Hong Kong's leading STEM education centres, RoboСode has already found a solution for studying over the school suspension and offers an array of 4-day STEM programming courses for the upcoming Easter school holidays. First up, it's a special online teaching which can be arranged as an alternative to attending regular classes in the centre. Next, regardless of face-to-face or online teaching, the maximum teacher-student ratio is one to two. 
A key name in Hong Kong's "little black book" of artificial intelligence, data science and machine learning experts, Dr. Jackei Wong is renowned for his remarkable personal contribution to developing computational thinking and digital literacy in children to equip them with the foundational skills, knowledge and understanding of computing. Being a strong believer in the fact that actually not technical coding skills matter, but logical thinking, experimenter's mindset and innate desire to be a creator (not just a consumer) render the kids advantageous over their peers in their future challenges. And this belief permeates every aspect of RoboСode's holidays programmes.
Where to start? There's MIT Scratch course for children over 7 where they will create animations and games; Minecraft Modding course for children aged 9 and above where they will be engaged in creating their own world of coding; AppInventor course offers to develop your own mobile applications; Web Programming course for teens over 12 to design a personal website and Python course to explore a very popular programming language.
Dates: 11 March - 17 April 2020;
Timing: 9.30am – 11.30am, 11:45am – 1:45pm, 2:15pm – 4:15pm, 4:30pm – 6:30pm subject to a course;
Ages: 7+
Locations:
Tsuen Wan Centre: Unit 1311, 13/F, Grand City Plaza, 1-17 Sai Lau Kok Road, Tsuen Wan;
Kowloon Bay Centre: Unit 1306, 13/F, Telford House, 16 Wang Hoi Road, Kowloon Bay;
Shatin Shek Mun Centre: Unit A, 16/F, Kings Wing Plaza 2, 1 On Kwan Street, Shek Mun, Shatin.




Photo Credit: Lifelong Labs


Combining technology with nature exploration, Lifelong Labs Studio offers 4-day signature photography and filmmaking camps – Film Production Stream and Digital Photography Stream. Producing amazing visuals whilst learning about cinematography, students discover film production from all angles – from screenwriting to voiceover. The campers will also have a chance to master lighting, composition and Photoshop and create truly stunning photographs. If anyone desires an activity beyond photography and filming, there is a field trip to Shek O (parents are welcome to join the field trip too!). It is impossible to write about Lifelong Labs's camps without mentioning their passionate creative educator, expert photographer and filmmaker Mo. Being a graduate from Harvard University and the University of Chicago and exhibiting works around the world, it's fair to say that she transforms film and photography streams into the most highly desirable holiday programmes. Fundamental to this encouraging approach are small class sizes – just 4-student cohort.
Demand for a place at these camps is high, attracting families from far and wide. The majority of parents who visit Lifelong Labs go on to send their kids there. 'Their individual attention and small team approach is refreshing and rare in a city studded with commercial lessons that purely focus on scale and efficiency. Thank you for a wonderful education and look forward to future sessions for the boys!' as a parent Isaac Vun puts in.
The idyllic creative atmosphere is matched by the studio itself. Based in a picturesque penthouse, Lifelong Labs is a wow-factor top-performing learning community and place where aspirations and desires become realities.
Dates: 7 – 10 April, 14 – 17 April 2020;
Timing: Tuesday to Friday 9am – 11am, 12pm – 2pm subject to the course; Field Trips: 8 April and 15 April (Wednesday) 9am - 12pm or 1pm-4pm;
Ages: 7+
Fees: sign up by 22nd November 2019 with promocode ticki to enjoy a $200 early bird discount on camps;
Location: 1-3 Wing Lok St 14/F Cheung's Building, Sheung Wan.




Photo Credit: Faust International Youth Theatre
The Faust International Youth Theatre's success in offering a tempting selection of workshops and holiday courses for both young children and teens is built on its team's vision of bring the wonderful world of theatre, performing arts and creativity to the young people of Hong Kong. Only the most effective methods are selected to help the students unlock their creative potential with a series of exciting challenges. Founded in 1999 with the purpose of providing a fun-filled learning environment where those involved not only learn, but also develop greater self-confidence and an enhanced ability to work with others, Faust's principle focus will always remain unchanged. 'My daughter absolutely loves being part of Faust. Absolutely a great way to build confidence, open minds and have a great time!' happily reports one parent Anne Copeland.
Faust International Youth Theatre offers two amazing courses based in the heart of Hong Kong, including the popular Easter Holiday Theatre and Easter Creative Writing programmes. If your kids love acting, drama, text work, singing and dance, these are the Easter camps for them. Using stories such as Room on The Broom, Sleeping Beauty and Harry Potter, the campers will explore the School of Witchcraft and Wizardry, magical realms, crack codes and stretch their imaginations throughout the 4-day programmes.
While experienced and enthusiastic leaders of the Holiday Theatre group promise to teach children and develop their drama skills using different themed stories as inspiration, the Creative Writing teachers will take the students of the Creative Writing programme on an enthralling journey, assessing their writing skills and showing them different aspects of creative writing including metaphors, similes, dialogue, poetry, descriptive techniques and genre writing, to list but a few. The students of Holiday Theatre course will tell a story and present what they have learned in an open session at the end of the week for family members. Each student of Creative Writing programme will build up their own portfolio of work to share with parents by the end of the course.
Please note, students must be fluent in English.
Dates: 6 – 9 April or 14 – 17 April 2020;
Timing: 10am – 12.30pm, 2pm – 4.30pm;
Ages: 4 - 12 and 6 - 13;
Fees: HKD 2160 for a 4-day programme if you register before 15th Match;
Location: Faust Studio 5th Floor, Nan Dao Commercial Building, 359 & 361 Queen's Road Central, Sheung Wan.


Photo Credit: shutterstock.com


Whatever your plans, have a fantastic Easter holidays in Hong Kong. If you want to get the most out of Hong Kong's Easter camps for kids and teens, make sure to check out our website for more fabulous programmes.
By Anna Khan
Subscribe to weekly newsletter from "Tickikids"