Fun Birthday Bundles for Last Minute Gifts
---
Published 19 July 2022 at 14:35
Tickikids Blog Hong Kong > digest > Fun Birthday Bundles for Last Minute Gifts
---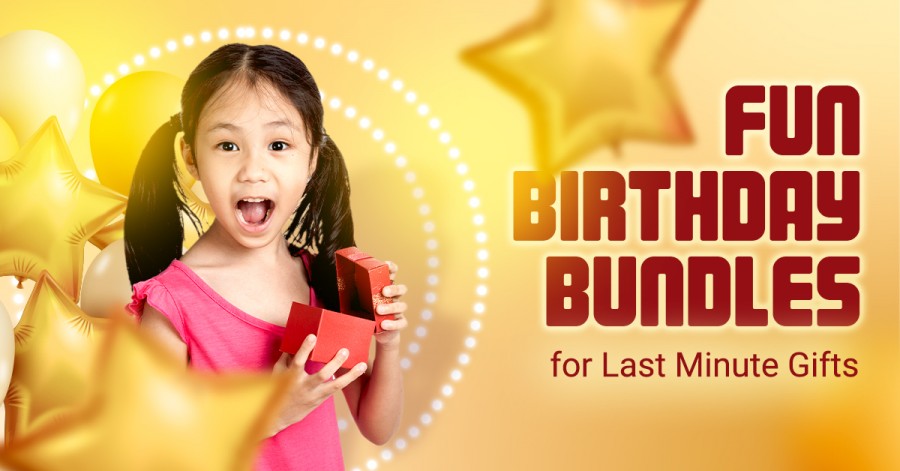 ---
Have you ever felt the panic and jittery excitement of remembering someone's birthday at the last minute? If you answered Yes, so have we! The rush of having to scramble for a quick gift for the birthday boy or girl is one hassle we shouldn't have to endure. Thankfully, options for quick last-minute birthday gifts are plenty these days. Here are some birthday bundles that you could get and even deliver to any location in Hong Kong on the same day. We're talking about birthday bundles from our favourite online stores. Whether you're looking for a birthday present for kids or for adults, we've curated an ideal selection of the best bundles for you to choose from.
Flowers and Balloon Bundle
Let's go classic for our first entry on the list. You can't go wrong with flowers and a balloon. This iconic combination is suitable for all ages and genders. We love the flower and balloon gift ensembles from our local online flower delivery, Flower Chimp. These guys are professionals when it comes to last-minute flowers and birthday gifts. Thanks to their same-day delivery, you can place your order and have the birthday combo delivered to your doorstep within a few hours. How cool is that?!
Chocolates Galore!
What's a treat that everyone loves? Chocolates! These delicious confections are a delight to our senses. Chocolates can be paired with a variety of other confections such as ice cream, cakes, and cookies. It doesn't take a sweet tooth to love these smooth, decadent, dairy candies – they make awesome birthday presents. Be sure to choose the right types of chocolates. Here are some of our favourite brands of chocolates to send for birthday gifts:
•    Ferrero Rocher
•    Kinder Bueno
•    Cadbury
•    KitKat
•    Godiva
The trick to getting chocolates as last-minute birthday gifts is to splurge a little. Go ahead and choose the premium chocolate rather than cheaper ones. Godiva, for example, is one luxurious brand of smooth chocolate you can try.
Couple Gifts
Here's one suggestion rarely thought of – couple gifts. Get your Significant Other a couple's gift such as a couple's t-shirt, mugs, wallet and purse, or sandals. Some of these options may not be the ideal last-minute gifts, but you can surely get them from a variety of stores. Shop online for the fastest orders and look for same-day delivery on any of these items. We suggest you look for cute matching couple's t-shirts as a start. Each tee complements the other when both are together. For a plethora of ideas, check out Etsy or Pinterest.
Fruit Baskets and Hampers
Did you know that you could get fruit baskets delivered to your doorstep on the same day? That's right. Fruit baskets make the best last-minute gifts as they are healthy and downright beautiful to look at. The vibrant colours of the fruits such as bananas, oranges, apples, kiwi, dragonfruit, and pineapples make it visually irresistible. Fruit baskets are also great as gifts for kids. Instead of getting them toys, why not a healthy, delicious, natural supplement they'll love? Order your fruit baskets with same-day delivery here.
These are just some of the suggestions for last-minute gifts you could try. Be sure to tailor each gift with add-ons for that special someone. For kids under 12, add toys or colouring books to your gifts for added value. They'll love it. For adults, don't be afraid to add wine, perfume, or even a spa voucher as the cherry on the cake. What's your go-to last-minute gift?
Subscribe to weekly newsletter from "Tickikids"