Dubai's Best Kids Sports and Activities
---
Published 03 May 2019 at 18:51
Tickikids Blog Dubai > Dubai's Best Kids Sports and Activities
---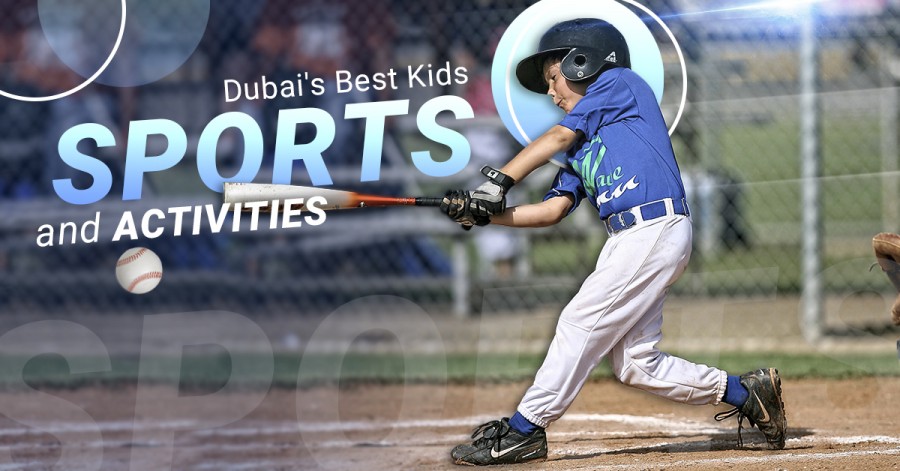 ---
The importance of sport is undeniable and indeed, sport plays a huge role in the lives of our kids. We are blessed in Dubai with sports clubs and their magnificent facilities that inspire children and promote enjoyment through participation in all sports regardless of their ability. There is a healthy rivalry between sports centres in order to breed a desire in children to be active and healthy and hence develop a new generation of well-rounded young people. Health and sportsmanship remain the most vital factors as well as the ability to play as a team. According to recent research, to maintain a basic level of health, children aged 3 to 18 should do three types of physical activity each week. If you are considering options for your child's sporting activities appropriate for their age and stage of development, these are the best modern sport centres to take into account.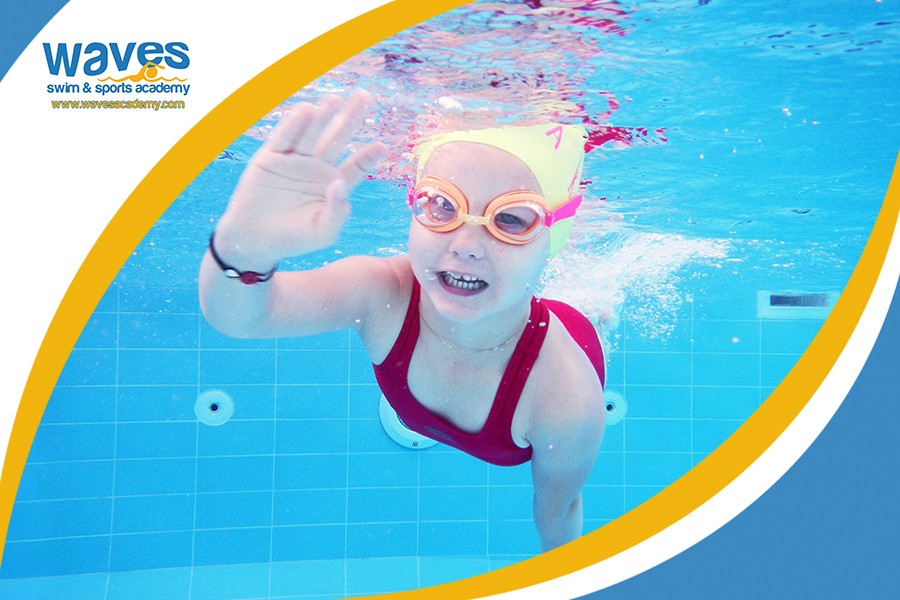 Photo Credit: Waves Swim & Sports Academy


Swimming is a really great all-round exercise and a fantastic way to get your kids physically active, having fun and staying healthy. Why the Waves Swim & Sports Academy? This licensed & registered swim school in the UAE is an international member of Swim Australia, ASCTA (Australian Swimming Coaches & Teachers Association) & UAE Swimming Federation. Since 2011, Waves Swim & Sports Academy has been providing swimming lessons for children and adults of all ages, from non-swimmers to advanced levels, teaching a wide range of techniques. All instructors are experienced, first aid and lifeguard-qualified coaches that follow the ethos of the academy in promoting excellence, whilst, most importantly, making sure each child is safe in the water. The Squads, Baby Swim, Learn to Swim and Stroke Development are just some of the regular programmes taking place here. Their carefully designed 8-week Summer Sizzler programme which takes place from 7th July to 29th August 2019 is also noteworthy. And there's more – get into 3rd semester which is ongoing till 6th July 2019 at Al Mizhar 1 and Nad Al Shiba 1, where the key focus is on high efficiency swimming irrespective of ability or age.
Contact details: 055 575 2888; swim@wavesacademy.com;
Location: Al-Mizhar American Academy, Corner Street 11A and 4A Mirdif Area, Mizhar 1, Dubai.


Photo Credit: Little Gladiators


Little Gladiators boasts all in one kids' fitness centre covering 7,400 square feet in at the Golden Mile Galleria Mall, on Palm Jumeirah. Its mission inspired by Sheikh Mohammed is to improve the health and wellbeing of the UAE's citizens and residents.
You too can benefit from the activities at the gym that include gymnastics, interactive wall climbing, tree climbing, virtual sports gaming, kids' Yoga, kids' cardio, kickboxing, kids' hammam, kids' spa and a swimming pool with highly qualified instructors leading all lessons.
There are dedicated ladies only aerobics sessions held every morning for busy mums. Bringing the latest trends to Dubai, classes include underwater cycling, underwater treadmills and water boxing classes by female instructors for female fitness fans.
The centre provides full changing and shower facilities and has qualified, experienced lifeguards.
The gym also hosts pool parties for birthdays, special occasions and private family swimming lessons.
Opening times: Monday – Sunday 10am – 8pm.
Location: Palm Jumeirah, Golden Mile Galleria Mall Bldg. 3 Mezzanine Level


Photo Credit: Goal


Goal! Junior creates football fun for children between the ages of 5 and 15. Designed and built for safety and security, GOAL! Junior recreational centres offer kids the opportunity to play their favourite game in 10 to 15 minutes matches in a pleasant and fun environment.
Through football themed parties and tournaments GOAL! Junior brings alive the football dream with an emphasis on fun to all kids. Football merchandising is also available as apparels and equipment.
At special events GOAL! Junior fans and followers have the opportunity to interact and mingle with well recognised international players such as Fernando Morientes, Edwin van der Sar, Ruud Gullit or local heroes like Jasim Yaqoub.
Opening times: Mon – Wed 10am – 10pm, Thursday – Saturday 10am – 12noon, Sunday 10am – 10pm;
Location: The Dubai Mall between Sega Republic and Reel Cinemas on Level 10, Downtown Dubai, Dubai.
Find Out More


Photo Credit: Simply Gymnastics


Simply Gymnastics offers recreational and academy level programmes for young gymnasts aged 3 - 12. With venues around Dubai, Symply Gymnastics perfects the basics of artistic gymnastics offering children a chance to experience this all-round amazing sport. Simply Gymnastics has extended they curriculum to include boys artistic, girls Rhythmic and girls Cheerleading.
The academy is fully fitted out with Gymnova equipment and the programmes cover all basic tumbles, vaults, balance beam and uneven bars, utilising the equipment available at each venue. Simply Gymnastics has highly experienced international team of qualified coaches consisted of: the lead coach, Lise Slane, British recreational gymnast, Dori from the USA, Erin and Liam from Scotland, Sarah from Ireland, Katie, Laura and Simone from the UK, Mel from the Philippines, Sagarika from and Gyuzel, Rhythmic Coach from Russia.
Opening times: Mon 3pm – 7pm, Tuesday 3pm – 8pm, Wednesday 3pm – 7pm, Friday 8:30am – 1pm, Saturday 2:30 – 6pm, Sunday 3pm – 8pm;
Location: 61 Street Community 597 DIP2, Dubai.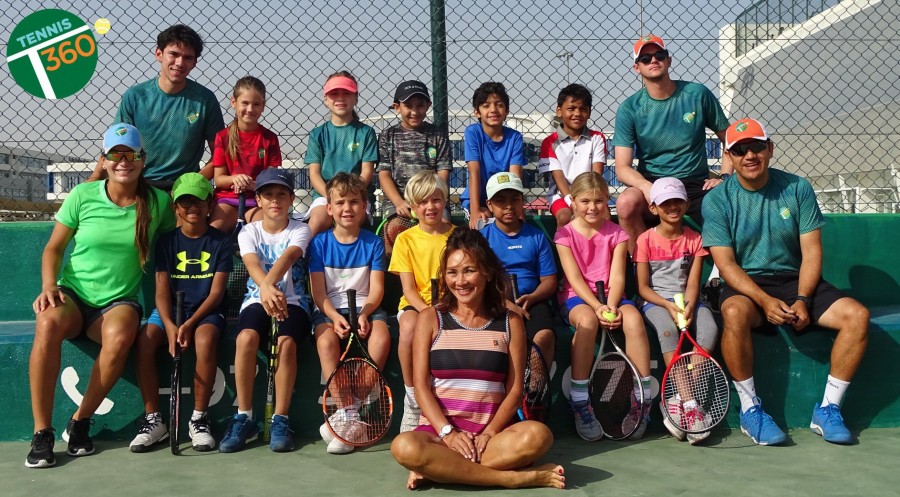 Photo Credit: Tennis 360


Tennis 360 is the UAE's premier tennis coaching academy that delivers a top level of tennis coaching for beginners, intermediates, professionals, kids and adults. Launched in 2010, it is owned and operated by tennis professionals having the world-class facilities. So it's no surprise that professionals such as Roger Federer, Novak Djokovic, Robin Haase, Andy Murray and Jo-Wilfried Tsonga often choose Tennis 360 as their regular pre-season training ground. The facility has 10 tennis and padel coaches, one tennis fitness & rehabilitation specialist, nine off-court personnel, year-round outdoor and indoor tennis courts.This is the only tennis academy in the UAE operating 12 months a year, 7 days a week.
Progressive programmes in recreational and competition streams commence from 4 years and upwards for all ages. Free court use is every Saturday between 1pm - 3pm, hourly court rental is all year round daily from 8am to 10pm.
Opening times: Monday – Sunday 9am – 10am;
Location: Tennis 360, Nad Al Sheba 1, Nad Al Sheba, Dubai: Tennis 360, Nad Al Sheba 1, Nad Al Sheba, Dubai.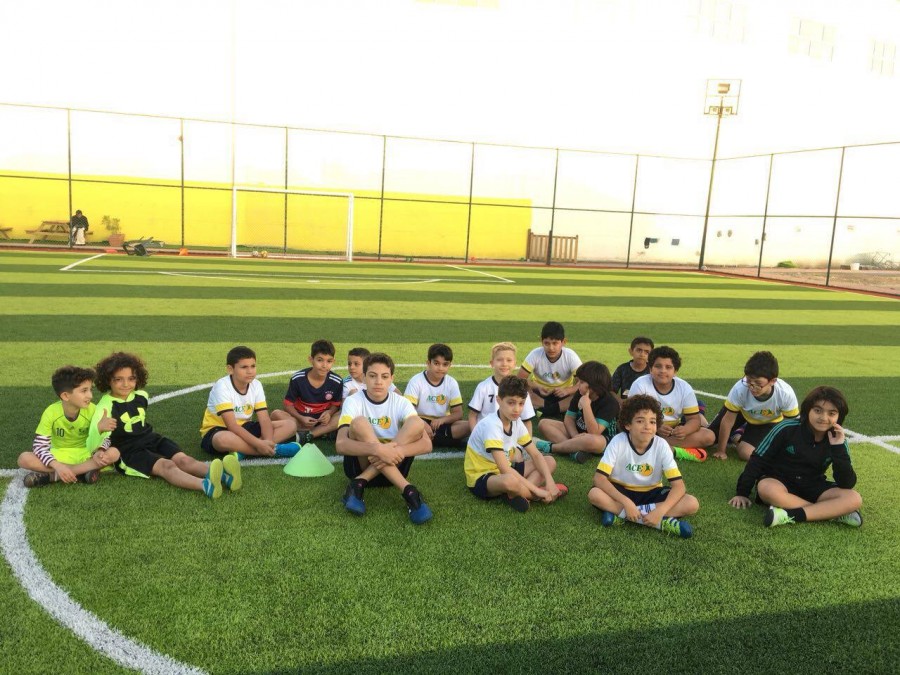 Photo Credit: Ace Sports Academy
The Ace Sports Academy was founded by a professional tennis tennis player and coach Feras Neameh in 2010 as a tennis academy, and has grown to encompass sports such as basketball, football, rugby, gymnastics, swimming, karate, hockey and badminton. It creates a challenging sport academic environment, while incorporating a modern athletic programme accessible by all. The Ace Sports Academy focuses on skills excellence and sport education to inspire the students to explore and develop their sport skills by individual and group lessons. They provide a rich and engaging academic programmes which will challenge kids at every level and encourage each child to reach their full potential in sports. The Ace Sports Academy has currently Mini Aces, Super Aces, Ace Aces, Teen Aces and Adults Sports programmes. The students are taught by specialist coaches and they are encouraged to take part in team games to develop them as confident athletes who are able to perform at their very best at all times.
Video Credit: Rugbytots Dubai


Location: Unit 104, Bldg. 7, Gold & Diamond Park Bldg.
By Anna Khan
Subscribe to weekly newsletter from "Tickikids"