The Best Music Classes for Kids and Teens in Hong Kong
---
Published 22 January 2020 at 07:29
Tickikids Blog Hong Kong > digest > The Best Music Classes for Kids and Teens in Hong Kong
---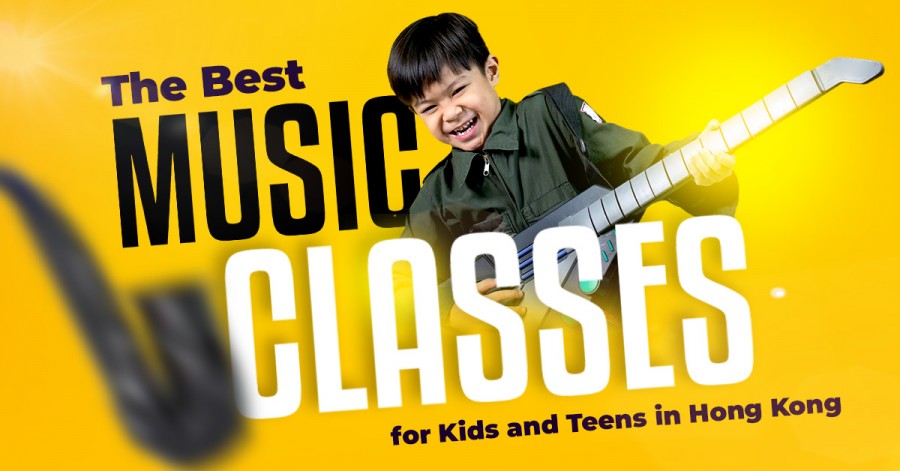 ---
It's scientifically proven that music education is beneficial for children, even if they're not particularly musical. Actively making music helps to fire up the imagination of children, boosts self-esteem and self-discipline, and results in improvements to concentration and listening skills. Almost all children enjoy the opportunity to perform in concerts and plays. Playing or singing in any type of ensemble or orchestra means your child is a part of a team. It fosters co-operation and mutual support, plus promotes the importance of working with others towards a common goal.
We know how tricky it can be to choose the right school or tutor that provides the highest quality music education for their students, especially when you're a parent who works through your daily routine. That's why we've taken the time to handpick a selection of the most reputable music schools and independent music classes in Hong Kong.
Photo Credit: MusicSage


Imagine being able to search for tutors that match your music tuition needs, followed by reviewing videos of their gigs, finally scheduling and securely paying for lessons online while sitting on your sofa. This dream can become reality with a music online platform MusicSage that connects students of any age, interest, skill level or instrument with professional music tutors. It could be agreed that the most impressive feature about this web-based service in Hong Kong is its vast database which boasts over 100 private tutors who teach more than 25 different instruments ranging from piano, guitar and violin to saxophone, cello, trombone and others. But there's so much more than that.
MusicSage is a growing online community that makes the first steps in learning music easy, enjoyable and as safe as possible. What it does so brilliantly is to provide you with easy-to-navigate tools to find tutors of your choice based purely on their merit, experiences and qualifications. Simply select an instrument, district and preferred venue (either at your home or teacher's studio) to view a tailored list of the best tutors in your area. Parents are very impressed by the wide-ranging support they receive from MusicSage's team. That's why, almost two years after it was launched, MusicSage is perennially popular with parents, students and tutors alike.


Photo Credit: Suzuki Music Institute HK
'I was referred by many of my friends to the reputable Suzuki "mother-tongue" approach a year ago. What massively impresses me are the concerts held throughout the year that help to build up confidence in budding musicians and raise their self-esteems. My son's achievement in the past year is so unexpectedly remarkable that it almost seems magical to me,' says Ingrid, a happy mother of a 5-year-old student.
It's very easy to see why. At Suzuki Music Institute their mission is to bring joy to children's lives by creating the right environment for learning cello and violin. They are proud to offer the internationally-celebrated Suzuki Method, a music curriculum and teaching philosophy, developed in the mid-20th century by Japanese violinist, pedagogue, educator and humanitarian Dr. Shinichi Suzuki.
Director Dr. Evelyn Osborne, who joined Suzuki Music Institute HK back in August 2015 from Canada, is a reflection of this method. A passionate Suzuki educator and violinist, she has experienced first-hand how Suzuki musical community nurtures children to develop noble hearts and play beautiful music. The faculty boasts international musicians with high-level training in how to work with young children and their families.
In Suzuki philosophy, there is a real focus on playing an instrument from a very young age. To accomplish this, families participate in regular concerts and special events throughout the year. Students are encouraged to not only focus on their own playing, but also to learn by listening and watching others. This develops their motivation to perform to a high level from their early years. Parents and children work together to learn the fundamentals of music, and violin or cello in particular. With parents' help at home and during the lessons children can both excel and cultivate a love of music. With no exams, competitions or prize-giving, Suzuki Music Institute appears to be the antithesis of the exam culture, yet it still yields impressive results and radiates an authentic sense of joy for the art of music.
Programmes:
STEP 1: Infant Toddler Music for children aged 0-3;
STEP 2: Pre-Instrument for 3-year-olds;
STEP 3: Instrumental Programme Cello/Violin/Viola/Piano for children aged 4-7;
Opening times: Tuesdays to Fridays 10am to 6pm, Saturdays 9am to 2pm;
Location: Pacific Plaza, Suite 1107-1108, 418 Des Voeux Road West, Shek Tong Tsui, Hong Kong.


Photo Credit: M.int Academy


M.int Academy was built by musicians and for musicians. Its name M.int Academy is short for Music International Academy, but it would be disingenuous not to equate M.int Academy to a mint leaf – a strong yet subtle plant that can be a central ingredient when required. The students here are naturally bright and treated as the unique individuals and musicians that they are. The children have an enviable array of facilities at their fingertips and performing opportunities that motivate them to excel whatever their level of passion, talent and excellence. Under the watchful eye of academically focused co-founders Andrea and Philippa Wong, M.int Academy helps develop students into well-rounded and accomplished musicians through a variety of year-round musical events including concerts, recitals and masterclasses.
And the teachers' professionalism is paramount here. The facilities house an international faculty from top music conservatories around the world. All of the teachers are recognised for their numerous accolades and bring a wealth of experience and knowledge in musical education. The directors are stating that there is no one-size-fits-all syllabus or teaching method to suit everyone. The classes are versatile and designed for musicians of all ages and abilities. A personal consultation with a proposed instructor reassures parents that their child's potential will be identified and fulfilled wherever their skills, interests, and passions lie.
The students are able to perform in front of their peers, families and professional musicians at every stage of their musical development. M.int Academy's unique approach, care and expert teaching all culminate in a celebration of music and lasting musical memories you wouldn't find anywhere else.
Opening times: Monday, Friday 3pm - 7pm; Tuesday, Wednesday, Thursday - 10.30am - 7.30pm; Saturday 9am - 6pm;
Location: 19/F, Casey Aberdeen House, 38 Heung Yip Road, Wong Chuk Hang, Hong Kong.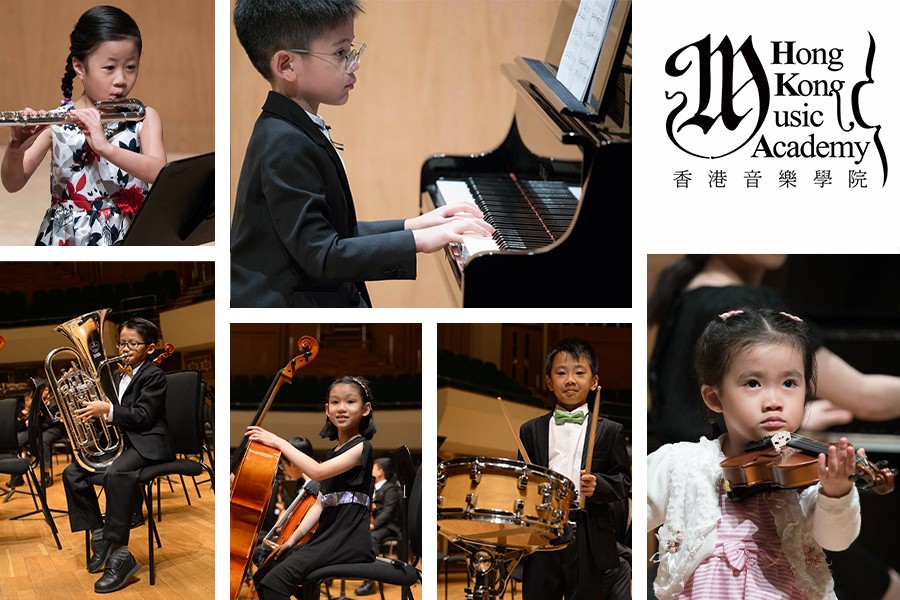 Photo Credit: Hong Kong Music Academy


The Hong Kong Music Academy (HKMA) is unashamedly proud of its stellar results in nurturing all-round, professional musicians with qualifications that are internationally recognised. Those who decide to fly the nest go on to the Hong Kong Academy for Performing Arts and world-renowned conservatories. To meet increasing demand, this progressive and proactive music school provides students with the best tuition by experienced musicians, fully qualified and well-trained teachers. The curriculum includes a combination of regular instrumental courses, music theory lessons, aural training and children's playgroups.
The director and chief conductor Ray Tsoi is credited with much of the school's success. Being a violinist, violist and conductor, he has given recitals and performed with many orchestras in North America, Europe and Asia. It is no accident that the school has a large number of visiting musicians from internationally reputed orchestras and they offer HKMA's students a chance to perform together or attend their masterclasses.
The orchestras and ensembles tailored for different levels of young players are an important part of the students' music during an academic year. The children are happy to maximise their stage experience and demonstrate their music talents through the concerts, music camps and tours.
Location: Office: 8/F Wai Hing Building, 146 Prince Edward Road West Kowloon, Hong Kong.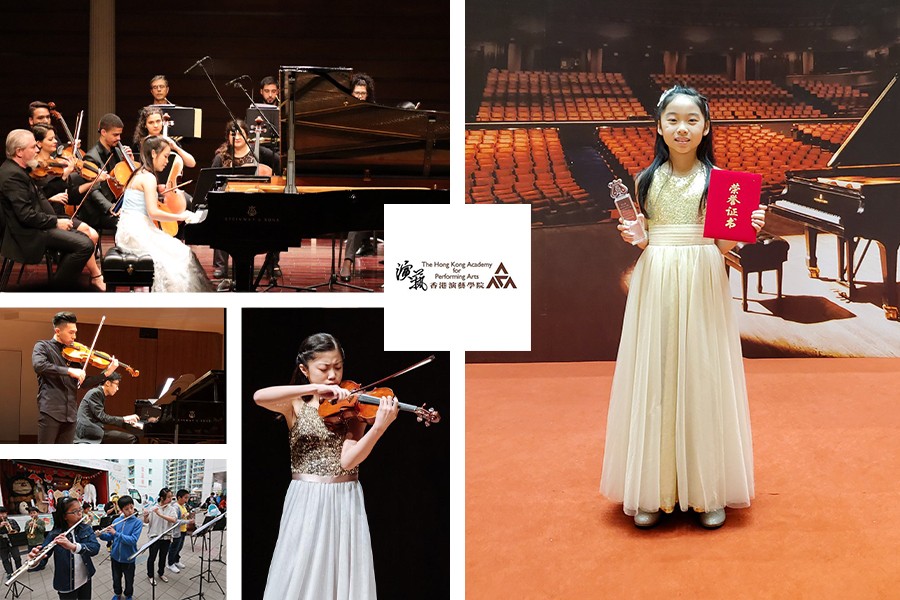 Photo Credit: The Hong Kong Academy for Performing Arts


When parents and experts tell us that the Junior Music Programme at the Hong Kong Academy for Performing Arts is the most comprehensive programme for talented young people in Hong Kong, they're not exaggerating. It is evident that musicians must begin to discipline themselves and nurture their talents at an early age. Parents feel incredibly lucky to watch their children's artistic gifts and technical skills flourish at the Academy.
Although this programme requires considerable devotion and seriousness by students dedicated to their study in music, there is an undeniably cosy family feel to the Academy. In addition to individual instruction on the student's instrument, the curriculum includes musicianship classes and ensemble activities, and offers many opportunities for public performance. Plenty of the students pursue music training at tertiary level. Such students are excited to be able to apply for the Bachelor of Music Programme after completing Senior Secondary Three and Hong Kong Diploma of Secondary Education Examination.
This does not mean that every child is expected to seek a professional career in music. Parents praise the fact that their children have been lucky enough to gain the knowledge and skills to become appreciative audiences and amateur musicians, and understand the value of music in their lives.
Location: 1 Gloucester Rd, 852 Hong Kong.
By Anna Khan
Subscribe to weekly newsletter from "Tickikids"