Top 10 Places to Visit in Hong Kong with Kids
---
Published 14 November 2017 at 20:17
Tickikids Blog Hong Kong > digest > Top 10 Places to Visit in Hong Kong with Kids
---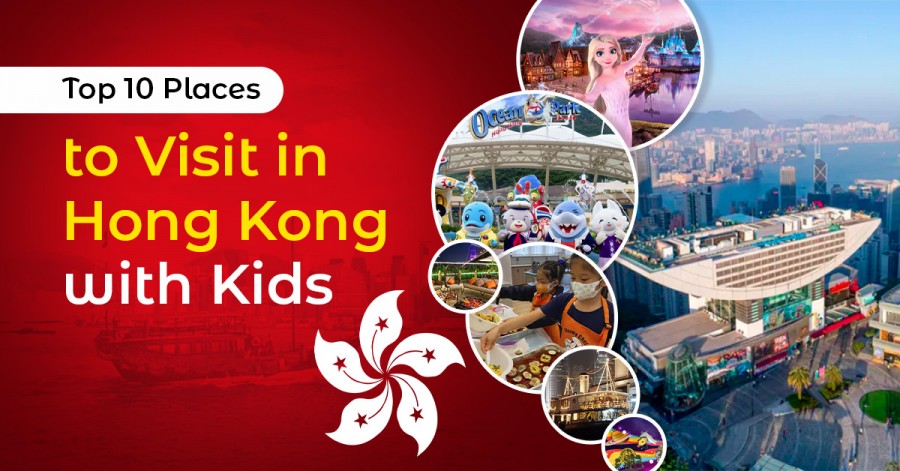 ---
Hong Kong is known for the variety of experiences it has to offer for everyone. It's a fun city rich in amazing places to spend time with your kids. TickiKids picked the best ones for you, so that you explore Hong Kong with your little ones and get the best moments of your life.


1. Ocean Park Hong Kong
Credit: video of Ocean Park Hong Kong
Ocean Park Hong Kong is a theme park, located on the south side of the island. The park, covering in total more than 915,000 square meters, is divided into two parts: The Summit and The Waterfront. You get an aquarium, a zoo, animal shows, roller-coasters, play areas, all the things that make kids and teens happy and involved. Ocean Park is a home to more than 12,000 animals, including many rare species, like giant pandas, orcas, dolphins, monkeys and other kids' favourites. Ocean Park has enough adventures for the whole family!
2. Hong Kong Disneyland Theme Park
Credit: Video of Hong Kong Disneyland
The first Disneyland in China and undoubtedly one of the best adventure destinations for the whole family in Hong Kong. It provides fun for kids aged 3 and above, no one is too old for this fairytale dream land. The very place to make your little ones happy and excited. Disneyland is every child's dream. They can meet their favourite Disney characters, enjoy the astonishing live shows and parades, and of course visit all the rides and attractions this paradise for kids has to offer. There's so much to see and try, that one day might not be enough. Check their calendar before planning the visit to ensure you get exactly what makes you loved ones talk for days and weeks about the glee they had.
3. The Peak Tower
Credit: Video of of The Peak Hong Kong
Get the most spectacular view of Hong Kong from The Sky Terrace 428. Your kids can eye the city from the highest 360° viewing platform. Take a family picture with the background of stunning panorama of city line. The journey up in the first Asian cable funicular, Peak Tram, is a stunt itself. What is the best time to go? The place is worth visiting both during the day and at night, just make sure it's not cloudy.
4. Chocolate Museum of Hong Kong
Not sure if your kids fancy going to museums? Just try this one. Opened in May, 2017 it has already won hearts of numerous little chocolate lovers around Hong Kong. Kids will enjoy the exhibits crafted by a renowned chocolatier, while indulging in chocolate tasting and learning about chocolate history. For those who like hands-on experience, the Art of Chocolate offers various engaging workshops. Suitable for kids aged three and above. It's time to taste the museum!
5. Hong Kong Maritime Museum
Credit: photo of Maritime Museum
The Hong Kong Maritime Museum presents the city's rich seafaring and trade history. The museum is found in Pier 8, Central, looking across Victoria Harbor. More than 500 exhibits are showcased in two galleries, the ancient one and the modern one, telling the naval history of Hong Kong up to present day and even getting a glimpse of its future. Kids will definitely enjoy numerous interactive displays and hands-on exhibits and will learn a lot about the seafaring. 
6. Star Ferry
Credit: Video of Maritime Museum
Star Ferry, a modern re-creation of 1920s double-decker ferries, is much more than just a transportation between Hong Kong Island and the Kowloon Peninsula. You get probably the best view of the island's coastline and skyline. Kids love all the three options of Star Ferry Harbour Tours. And this can be a fun way to take them to the Disneyland as well!
7. Tian Tan Buddha (Ngong Ping village)
Credit: Video of Ngong Ping
Tian Tan Buddha Hong Kong, commonly referred to as Big Buddha, is one of the best outdoor destinations for a family. The extraordinary bronze statue sits 34 meters high upon a picturesque mountain. Apart from being one of the most popular tourist attractions, the site offers a lot of exciting family-friendly activities, be it a visit to Ngong Ping Village, climbing the 268 steps to get a close look at Big Buddha, eating a yummy meal at the famous vegetarian restaurant or the ride on the Ngong Ping cable car. The 25-minute journey gives an opportunity to admire the incredible surroundings, while you swiftly move above the trees and hills.
8. Dolphins Watching Tour
Credit: Photo of Shared.com
Take your children on a day out to enjoy the company of beautiful pink dolphins. Indo-Pacific humpback dolphins are truly a symbol of Hong Kong and a reminder for the little ones of the miracles and magnificent beauty of nature. A great chance to connect with one of the friendliest species in their typical habitat.
9. Hong Kong Science Museum
Credit: Video of Hong Kong Science Museum
The hub of exploration and discovery learning for your little scientists. Kids are encouraged to experience science, to see it in action and to get inspired for their studies. The museum is largely hands-on and is equipped with numerous interactive displays. Children Gallery is specially designed with little ones in mind and is aimed to provide tons of joy to the curious visitors. The museum can boast of more than 500 exhibits spread over the four floors. And don't forget to drop into the gift shop, it has plenty to offer as well!
10. Kowloon Park
Credit: Photo of Hong Kong Leisure and Cultural Services Department 
Kowloon Park in Tsim Sha Tsui provides an amazing outdoor experience for the whole family. A place to relax from the hustle and noise of a busy city and to immerse into beautiful natural surroundings. For kids the highlights of the park are different species of birds they can observe and the playgrounds. Let your little ones enjoy the exciting play of knights and princesses in within a three-storey tower. And to crown the day, your little athletes can try one of the indoor or outdoor swimming pools!
Subscribe to weekly newsletter from "Tickikids"