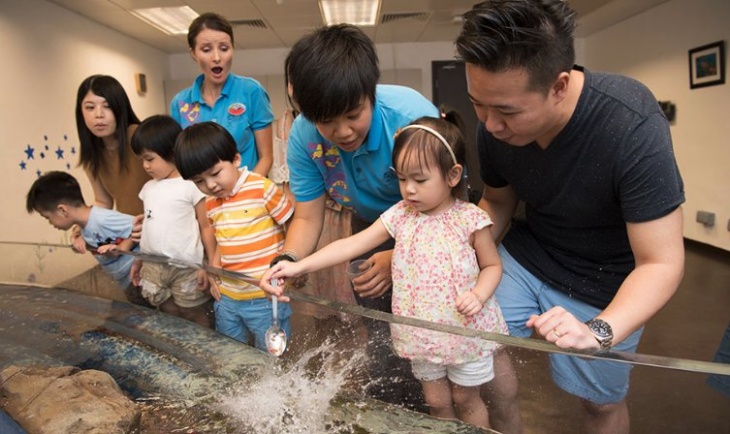 Children connect with nature by discovering animals and the natural environment at Ocean Park.
Different sensory stimulation activities help build their confidence and cognitive development. Through art activities, children are encouraged to make use of what they have learnt, and express their thoughts. Once a month, a "messy play" activity is held to enhance their sensory experience and improve their hand-eye coordination. It's fun!
Features
Enhance Cognitive Development:
A variety of sensory activities aid children' cognitive development
Encourages them to step out of their comfort zone and build confidence
Art activities help children make use of what they have learnt during their nature exploration and demonstrate their learning creatively by making art
Develop School readiness:
A snack break is provided for the Sprout Playgroup. Children will learn about distributing food and tidying up after themselves, which enhances their awareness of self-care and communication with others
Programme Details
Starts from October 2017
3-5 classes per month
Monday to Thursday (Children attend class once a week)
Class Duration: 90 min
Capacity: 14 per class
Tutor to Participant Ratio: 1:7
Language:
English course supplemented by Cantonese.
The course will be taught by a native English speaking instructor. Some activities will be led by experienced local instructors.
Class Rundown Sample
30 min: Nature exploration
Animal feeding/ demonstration / observation, nature observation
Class greeting/ singing/ learning recap & introduction for the following parts
30 min: Art creation/ Sensory Play/ Messy Play
Art & craft/ coloring/ drawing/ sensory with different materials
Class scale messy play with an art creation on a big cloth/paper/board
15 min: Snack & social time & Say goodbye
Enrolment
Credit: Image of Ocean Park Hong Kong
---
Age
2–3
---
Price
Original Price: 1400 HKD
Early bird discount for non-SmartFun Annual Pass members: 1288 HKD (before Oct 10)
SmartFun Members: 1260 HKD
---
Telephone number
+852 3923 2323
---
Links
---
Address
Hong Kong
Ocean Park, ‎Wong Chuk Hang‎, ‎Hong Kong Island