10 Fun Things to Do in Singapore with Kids
---
Published 19 October 2016 at 06:00
Tickikids Blog Singapore > Digest > 10 Fun Things to Do in Singapore with Kids
---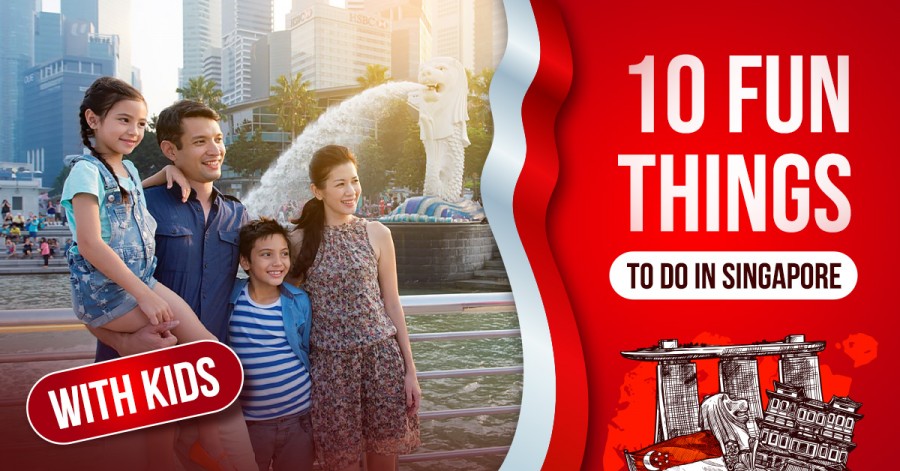 ---
Being one of the most family-friendly Asian cities, Singapore offers an abundance of attractions both children and adults can enjoy. Here's TickiKids' pick of top 10 places in Singapore that are worth visiting with kids. 
1. Gardens by the Bay


Credit: video of Gardens by the Bay
Singapore's iconic landmark, Gardens by the Bay is a 101-hectare state-of-art outdoor recreation space. The design of the park is something absolutely unique, so get ready to be amazed with its futuristic seashell-shaped bio-domes, fantastic super-sized trees (which are actually vertical gardens) and Supertree Grove skywalk giving you a mesmerizing view of the city. Gardens by the Bay offers tours and educational programmes that will make your family visit there not only enjoyable, but also enriching. 
Credit: video of  Wildlife Reserves Singapore
An exciting water adventure, giving you a unique chance to explore the  wildlife of the world's most legendary rivers in one place! See the most unusual and mysterious creatures, inhabiting the Nile, Congo, Ganges, Yangtze, Mekong and Mississippi rivers with your own eyes! The ultramodern design of the park and the largest freshwater aquarium in the world will definitely make your experience unforgettable. And don't forget that River Safari is also home to Kai Kai and Jia Jia, Singapore's resident giant pandas!


3. ArtScience Museum
Credit: video of Marina Bay Sands: ArtScience Museum
Located right in the heart of the city, ArtScience Museum is one of the most famous museums in Singapore and
the world's first museum of art and science
. Museum's exhibitions, both permanent (stunning
Future World
and cutting-edge (and free!)
Into the Wild: An Immersive Virtual Adventure
) and touring, are the examples of creativity at its best and are equally enjoyed by kids and their parents!
4. Kidzania Singapore
Credit: video of KidZania Singapore
Kidzania Singapore is an amazing 81,000 square feet kid-sized city, where children have an opportunity to discover various professions through a role-play, and make their dreams come true! In Kidzania children learn about the world, earn kidzo (the currency of Kidzania) and spend it as they want!
5.Singapore Flyer
Credit: video of IAHphotog 
One of Asia's most iconic tourist attractions and one of the biggest observation wheels in the world, Singapore Flyer offers an incredible view of the city! Actually, you will be able to see 45 km away, when on board of this observation wheel, which means you will even catch a glimpse of Indonesia and Malaysia!
6. Singapore Duck Tours
Credit: video of Duck & Hippo
Is there a more original way to tour the city than on a remodeled WWII amphibious Vietnamese war craft that looks like a... duck? Weird as it sounds, it is a wonderful way to explore Singapore with your family! The car-boat will take you to the most famous landmarks in the city centre and then it will just splash into the river to give you a marvelous bay view!
7. Feeding Birds at Jurong Park
Credit: video of Wildlife Reserves Singapore
A unique chance to watch the rarest and the most beautiful birds at the time they are most active! You will learn a lot of new facts about the amazing world of birds from the keepers, who will make the experience safe and fun. Buy special bird food in the park and you will get a chance to feed some of the birds yourself!


8. Bedok Reservoir Park Forest Adventure Tree Top Course
Credit: image of Forest Adventure Tree Top Course
Located in one of the most picturesque parks of Singapore and being the first and only tree top course in the city, Forest Adventure Tree Top Course offers your family quite a unique and exciting experience.
Forest Adventure has 3 Tree Top Courses, designed for different ages
. Wonderful series of obstacles, including spider nets, wobbly trapezes, balancing beams, thrilling zip lines and tarzan swings, will be a challenging and fun adventure for little brave ones and their parents! Check
TickiKids' review on Forest Adventure Tree Top Course
 to make your family's experience as hassle-free and fun as possible!
9. Images of Singapore LIVE
Credit: video of Madame Tussauds Singapore
Discover the incredible story of Singapore, a little fishing settlement that became one of the most influential and marvelous cities in the world. Images of Singapore LIVE give you the insight into the past of the city, recreating its sights, atmosphere, sounds and even smells. A character-guided tour of the immersive themed installations with special effects bring the 200-year history of the city to life.
10. Adventure Cove Waterpark
Credit: image of Resorts World Sentosa
The best way to beat Singaporean heat! Adventure Cove Waterpark is an awesome place where
extreme high-speed water slides
,
relaxing Adventure River with stunning views
and
perfect snorkelling facilities
can be found side by side. You can also find there lots of
entertaining water activities for younger kids
, including Seahorse Hideaway, a pool with fountains that is just shallow enough for little children. Read
TickiKids' review on Adventure Cove Waterpark
and get to know the tips for making your family's experience at the waterpark the best it can be.
Subscribe to weekly newsletter from "Tickikids"