Best Cooking and Baking Classes for Kids in Hong Kong
---
Published 13 October 2017 at 21:29
Tickikids Blog Hong Kong > digest > Best Cooking and Baking Classes for Kids in Hong Kong
---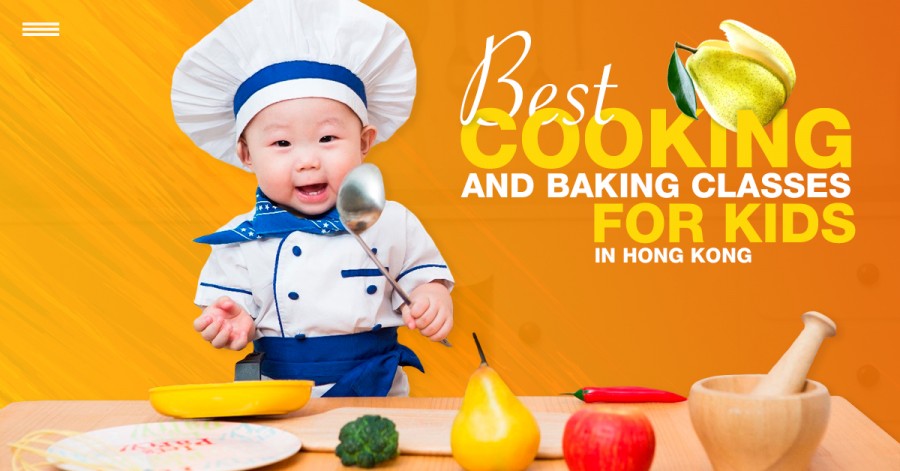 ---
Baking, cooking and working in the kitchen is not something Hong Kong kids have access to in their everyday lives. Of course, knowing how to cook may be not considered by modern Hong Kong parents as important as being good at math, coding or languages. However, we shouldn't forget that this skill makes a kid much more independent and can have positive influence on a child's eating habits. Moreover, learning to cook and bake can be an exciting and enriching experience for your little ones, letting them explore the world of tastes and smells, giving them knowledge in math and science, challenging their problem-solving skills, making them work as a team and, of course, giving them that special pleasure of tasting the fruit of their labour!

TickiKids has rounded up some of the best baking and cooking classes for kids Hong Kong has to offer.

Kid's Cooking Hub


Kid's Cooking Hub aims at providing children with culinary knowledge and practical skills in the kitchen in order to prepare them for independent living in future. Most of their cooking classes are suitable for kids aged 4-14 years, but there are some menus suitable for kids as young as 2 years old (of course, with their parent's support). Regular cooking courses and single classes are available, as well as private cooking classes and even cooking parties with family and friends!

You'll be surprised to find out how much your child can share with you after a class! At Kid's Cooking Hub kids are encouraged to replicate dishes with their family at home, from shopping for the ingredients to serving at the table, which is a perfect opportunity for them to practice what they have learnt, to have some fun and bond with their loved ones.
What we love about Kid's Cooking Hub:
Their cozy and safe learning environment
They usually have small groups
All the recipes are designed and trialed by their professional team
Their classes can be in both English and Cantonese
Are you intrigued yet? Then how about checking out their Halloween-themed baking class at which kids will learn to make a mini pumpkin bundt cake? What a lovely way to surprise friends and family this Halloween!
For contact information visit Kid's Cooking Hub page.

SPRING


This spacious 9,000 sq. ft. learning centre in Wanchai, Hong Kong, invites budding chefs from as young as 18 months to 6 years old to don their chef hats and aprons and set off on an exciting cooking adventure with their Cooking@SPRING programme.

Through this programme, children learn to cook famous dishes of different cultures in addition to nutrition, hygiene and table etiquette for a comprehensive learning experience.
Learning with Food@SPRING (CK2  and CK3) will take your children on a sensory journey to discover new tastes, textures and smells of different foods. Little Chefs are given plenty of opportunities to practice their language, motor and cognitive skills through participation in food preparation and play activities.
For older children, Cooking by Myself (CK4) lessons also allow opportunities for students to learn how to organise themselves, follow instructions, work together in teams, lead others, work safely and store food properly. They also learn the importance of good nutrition which is vital for a long healthy life by gaining knowledge to make healthy food choices every day.
After little chefs share the experience of learning and cooking in a safe purpose-built professional kitchen, they eat the prepared dishes together, which promotes the ideals of a cohesive family unit.
For contact information visit SPRING page.



Complete Deelite
Located in the heart of the city (5 min walk from Central MTR), Complete Deelite provides a range of baking and cake decorating classes for ages 5 to adults. Their programs are carefully thought through, so for some classes, a "Mummy & Me" option is available for parents who like to bond with their kids over activities. Adult can be there to stand in and handle hot stuff, or when a bigger pair of hands is required.
Older kids prefer to learn on their own, though, and you will be surprised to discover how creative and independent your child can be the "pressure" of parents hanging around.
Here are Complete Deelite's fall/Halloween classes: Unicorn Cake Workshop, Pumpkin Treats Box (Bake and Decorate), 3D Halloween Cookies (Bake/Decorate) and Halloween Cookies. There's still time to sign up!
For contact information you can visit Complete Deelite's page. 
TownGas Cooking Center
Established in 1977, Towngas Cooking Centre has promoted the joy of flame cooking to inter-generational customers for 40 years! Besides providing cookery classes for parents and their children, Towngas Cooking Centre also stages the Cooking Competition for Hong Kong Secondary Students. The centre's team sees its aim in nurturing an interest in cookery among youngsters, and to narrow the gap between parents and children, as well as the divide between teachers and students. They use the interactive teaching methods for students to acquire basic culinary knowledge to in-depth cooking skills.
"Towngas KIDchen" is equipped with cooking tables with adjustable heights for young kids and "Fun to Cook" service for youngsters so members at all ages can further enjoy flame cooking. Here's one of their past events, hope they will have more coming soon!
For more information about the venue, please see Towngas Cooking Centre's page.
AppleTree Creative Art Centre
The aim of AppleTree Creative Arts Centre is to nurture creativity in children by providing top quality educational programmes and experiences. Currently the centre offers 2 special cooking classes per month. They have just had a Mooncake Workshop in September, and they are going to have a Halloween Cooking Class in October!
AppleTree's cooking classes are designed for children ages 4 and up, they are hands-on and conducted in English. Parents are more than welcome to stay and help their kids. Apple Tree is an art center, not a professional kitchen, but it has basic cooking utensils and a small oven. The cooking instructor is formally trained and has work experience in the culinary industry.
It's hard to find similar English-speaking cooking classes for kids in Tsuen Wan area, and reasonable price makes Apple Tree's classes even more attractive! Kids are always super happy and excited to show off the foods they made to their parents.
For Apple Tree's contacts you may check their page.

BiteUnite
BiteUnite makes it easy for everyone to experience the love and care that goes into a home-cooked meal. This community of professional chefs, passionate bakers and amazing cooks organizes fun, day camps and thematic celebration cooking classes, where young chefs master the fundamentals of cooking: from visiting the local marketplace and selecting fresh ingredients for cooking to practising essential kitchen skills and preparing a tasty healthy dishes. Kids enjoy working alongside classmates learning techniques.

A private kid's cooking, baking or pizza/pasta making class for a minimum of 6 kids can be organized. For more information, please, see BiteUnite's page.


ABC Cooking Studio

Originated in Japan, ABC Cooking Studio is quickly growing its business worldwide. Currently, it has over 130 studios in Japan, and 15 outside of Japan, with 290,000 active members and over 1,000,000 members historically.

ABC Cooking Studio's Kids Course is designed to teach children aged from 4 to 8 years old basics of cooking; at the same time, they will learn the relationships between food and science. Kids can develop healthy daily eating habits and learn culinary basic skills in a fun and happy atmosphere. The class size is just 4 kids. Throughout the year children learn to cook yummy dishes, such as Pork Steak with Pineapple, Healthy Cheese Banana Parfait, Piggy Pizza and more! The members can either purchase 6 lessons (valid for 6 months) or 12 lessons (valid for 12 months).
ABC Cooking Studio regularly organizes trial classes, like this Halloween-themed one, at which little ones will bake a delicious Pumpkin Chiffon Cake.
For contact information you may check ABC Cooking Studio's page.



Lead image sourced via Getty Images, other images sourced via respective websites and Facebook pages
Subscribe to weekly newsletter from "Tickikids"