The Family Review of Amma's Sarees Premiere at Esplanade Theatre Studio
---
Published 05 March 2021 at 05:40
Tickikids Blog Singapore > Reviews > The Family Review of Amma's Sarees Premiere at Esplanade Theatre Studio
---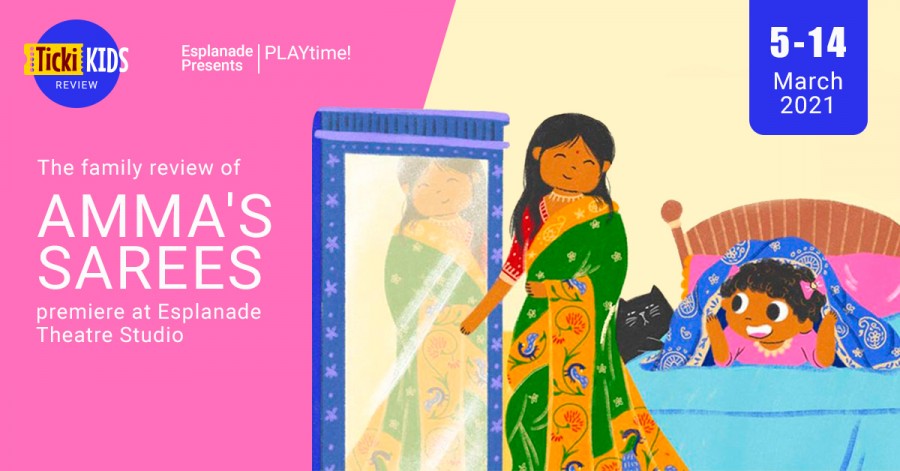 ---
Sometimes we take our children to the theatre to be entertained, sometimes we go there to learn more whilst having fun, and sometimes we simply want to watch a show that makes us feel better. Whatever is happening outside the theatre, we can hit pause for an hour: children's performances gently transport us away from our reality and let us see the world through the characters' eyes. By bringing together the greatest stories, actors, musicians, playwriters and directors, the interactive PLAYtime! theatre series opens up a discussion with the very youngest of children about different feelings and emotions. At the same time, they distil deep questions about life into accessible, colourful children's performances. Who could ask for more? This is one of the reasons visitors flocked to Esplanade yesterday to watch a new production Amma's Sarees.
If you have a little one with questions about an absent father or don't know how to explain why some children have two parents and some have one, especially if your family is not like their friends' families, you will find the answers in this production. Brought to life in a riot of colour by a talented theatrical director, author and actress Grace Kalaiselvi, Amma's Sarees is the perfect production for little inquisitive minds. It was written for actors Ruby Jayaseelan and Mumtaj Maricar, and both turn into adventurous and compelling performances. The actresses were encouraged, guided and overseen by a playwright and dramaturg Noor Effendy Ibrahim. At the heart of this production is Indian music by Thirukumaran. Grace Kalaiselvi made a notable impression in Crocodiles in Kurtas and The Old Fogies at Esplanade in 2018 and 2019 and at PIP's PLAYbox during the Indian Festival of Arts in 2019. But what should we look out for this time?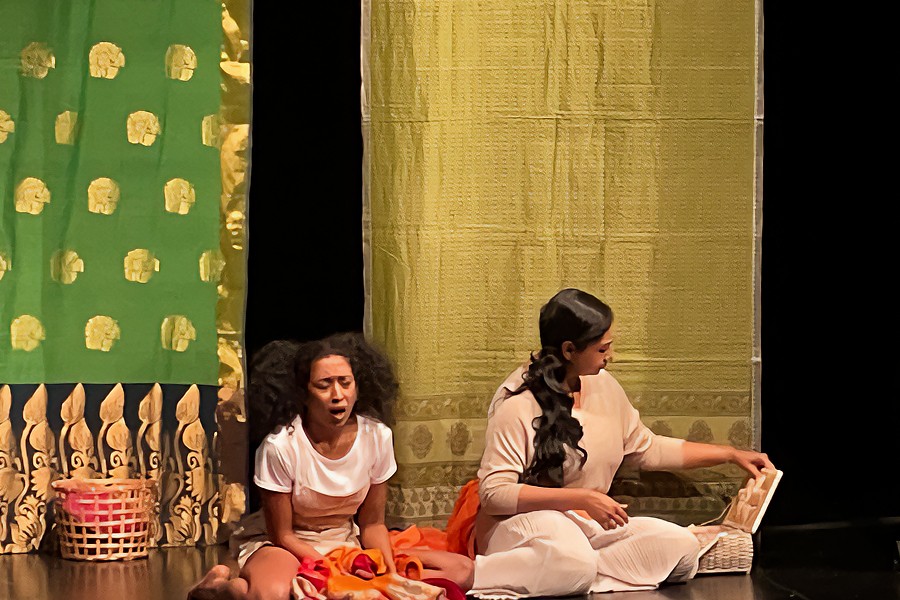 "Amma's Sarees is a meaningful work for kids, parents and anyone who enjoy the magic of theatre. I have written and directed this piece and devised it with my actors Ruby Jayaseelan and Mumtaz Maricar. 30 minutes packed with love between a mother and daughter and their journey moulding as a family unit," says Grace Kalaiselvi.
This performance has been created in collaboration with a production designer Emanorwatty Saleh to produce an accurate visual concept of the world of printmaker Saratha and her little daughter Rathi.
At the premiere – attended by a Test Patrol Family of Shubathira Puvanendran and her 6-year-old daughter Isha on assignment for TickiKids – the captivated audience witnessed a short story about the true meaning of family. This is one of those fabulous stories with a big heart, that's genuinely funny but also unexpectedly touching and powerful. So just keep reading to find out more about the family's impressions on this children's production, which takes place at Esplanade Theatre Studio, between 5 and 14 March 2021.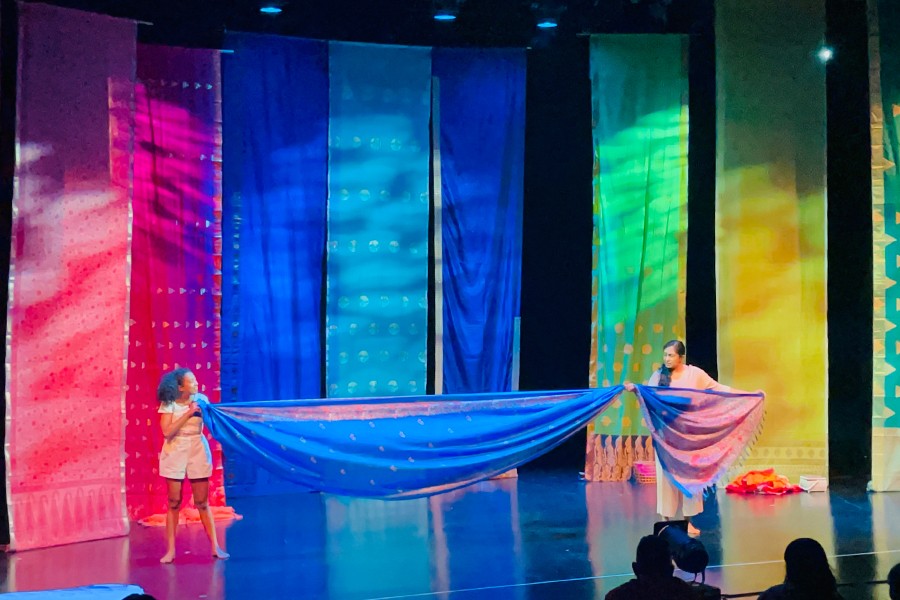 Answering the question about the surroundings, Shubathira Puvanendran said:
"This wasn't our first visit to Esplanade, however, the theatre is increasingly catering for young audiences through a special relaxed child-friendly atmosphere: children are free to come and go as they please, dance, walk around, knowing that no one is going to judge you or tell you off. The whole experience was very enjoyable: lovely cosy theatre, great surroundings, tidy and clean venue."
"Speaking about the production itself, it was a very clever, thoughtful plot-line which didn't require any explanation," continues Shubathira. "However, Isha wanted to talk more about this story and why the dad was missing, as the show was very well-acted in regards to the loss of a loved one and the play was pretty compelling."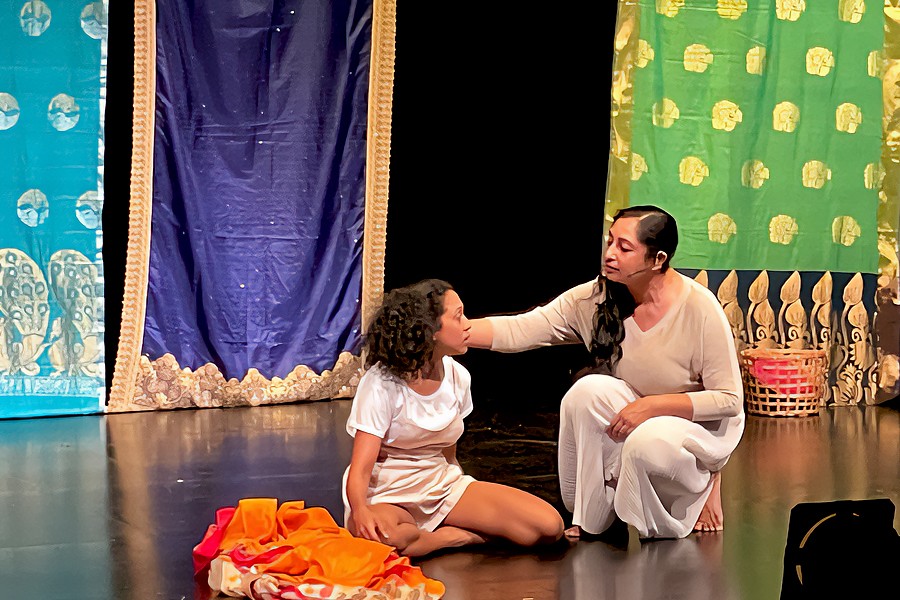 Is there anything in this production that sets it apart from other children's shows? If so, what would you say makes this play unique?
This performance embraces cultural elements, so the children see the culture-specific elements being represented in an art form and see the saree-making routines behind it. Unlike other children's shows, this one deals with slightly deeper themes like a loss and celebration of family. This is a good discussion point to raise with kids. The Amma's Sarees show uses dance, puppets, a variety of musical instruments which we enjoyed a lot. The play with the sarees has definitely given some ideas for home play as well.
Isha liked Rathi, the daughter in the story, describing her as a happy and playful character. She was amazed by the shadow puppets, sound effects and musical notes drifting up from a live musician during the performance.
One minor disappointment was that the kids were supposed to have been given stamps and a cloth for them to do an activity, but these were only distributed at the end. Due to social distancing measures, there was less interaction than in previous shows.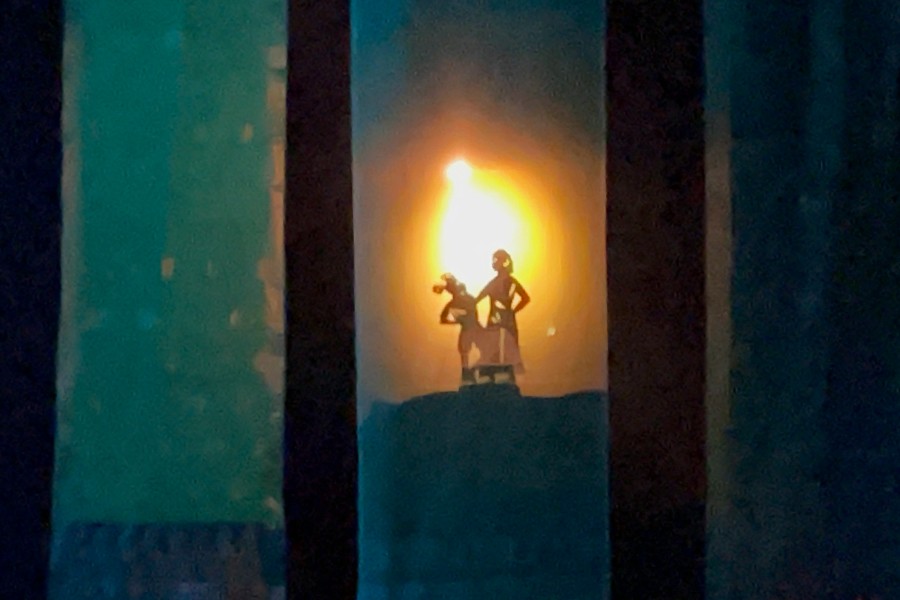 What do you hope your child will take away from the play?
It is a good introduction to an emotional loss and death and acts as good conversation starters for these topics. Hopefully, she learns that loss is inevitable, and life is a continual circle. For us, it was more poignant as we watched it together with Isha's grandparents.


The TickiKids' team would like to say thank you to Mrs Shubathira Puvanendran and her daughter Isha for providing us with their impressions and photos of the performance.


By Anna Khan
Subscribe to weekly newsletter from "Tickikids"