Top 10 Destinations to Visit with Kids in Dubai
---
Published 11 April 2019 at 13:33
Tickikids Blog Dubai > Top 10 Destinations to Visit with Kids in Dubai
---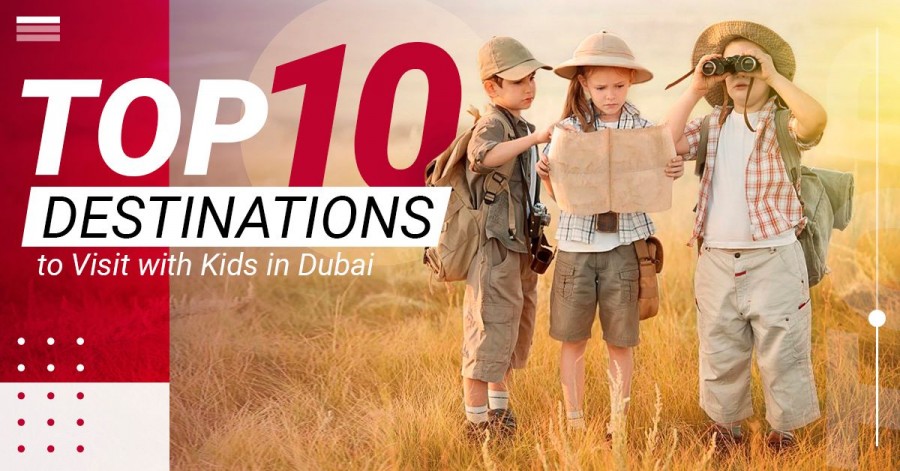 ---
Dubai is well-known for the world's first-class tourist attractions and entertainment options for the whole family. Ski Dubai, Atlantis, Dubai Aquarium, Dubai Garden Glow — you must have heard of these destinations or visited them at least once in a lifetime (and if not, be sure to do it as limitless fun is guaranteed), but one thing is for sure — having visited once, you will want to return over and over again. Regardless of age and whether you are a visitor to Dubai or a resident of this vibrant city, these topmost destinations will not leave you unmoved.
Let your family experience true emotions of joy and excitement, unwind their imagination and creativity, and embark on an action-packed adventure to make long-time memories. With this TickiKids' bucket list of perfect hangouts for you and your family in Dubai, you surely won't miss out on the fun!
The world's largest glow garden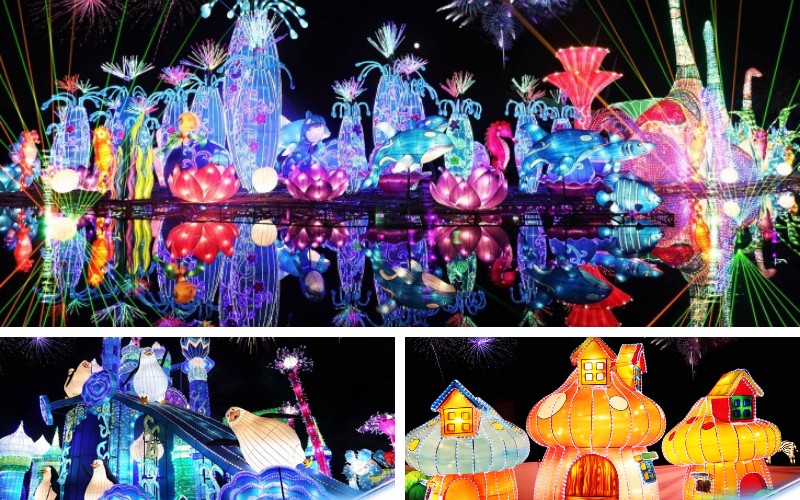 Image Credit: Dubai Garden Glow
Explore the magic and experience the fun and excitement in this unique recreation park attracts and entertains audiences of all age groups
Experience 4 magical themes in one venue:
Glow Park: The 'largest glow-in-dark garden' made of Millions of energy saving bulbs and yards of recycled luminous fabric
Dinosaur Park: The 'biggest Dinosaur park', that displays more than 120 animatronic Dinosaurs
Ice Park: The Polar climate in the Middle of the Desert with 'All New Marvelous Ice Sculptures at Ice Park'
Art Park: Very New 'Eco-Friendly ART Park' made up of Thousands of recyclable Small Bottles, Ceramic Dishes and CDs.
Dubai Garden Glow also has a special edutainment zone where kids can have interactive fun. For food lovers, there is a large food pavilion that offers delicacies from all around the world.
Children up to 3 years old enter free of charge.

Opening Hours: Saturdays to Thursdays 4:00 PM to 11:00 PM,  Fridays 4:00 PM to 12:00 AM
A unique expedition in a tropical rainforest with over 3,000 plants and animals


Image Credit: The Green Planet Dubai
Explore and interact with a whole new world of exotic flora and fauna in this fully immersive vertical tropical forest. Learn how to nurture and protect the many beautiful, interesting and unique species that can be found in the forests of the world by visiting different floors: Flooded rainforest, Forest Floor, the Midstory, and the Canopy.

Among experiences at the Green Planet are sugar glider encounter, the Bat Cave, Cuban Amazon parrots, piranhas feeding session, all new Australian animal experience, squirrel monkeys and more!
Bring the family and spend the day making new friends in the tropical forest.
Children up to 3 years old enter free of charge.

Opening Hours: Sunday to Wednesday 10:00 AM to 7:00 PM, Thursday to Saturday 10:00 AM to 8:00 PM
The world's largest indoor snow park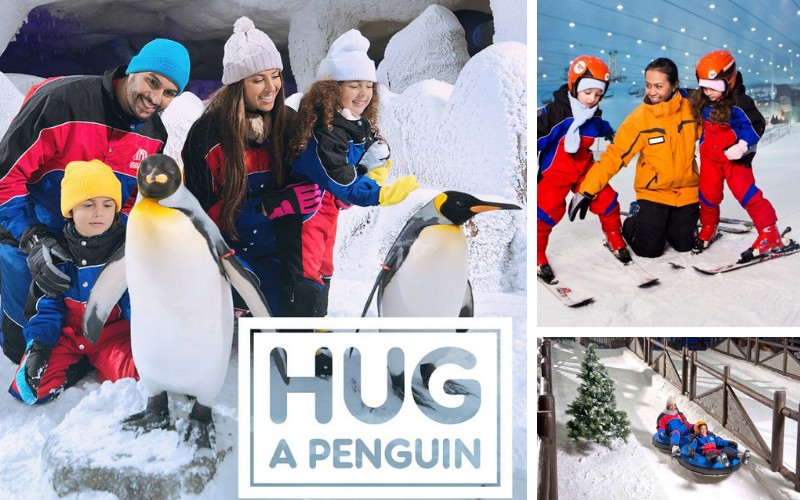 Image Credit: Ski Dubai
Fun for the whole family, the world's largest indoor snow park houses an amazing 3,000 square meters of snow. Strap on your snow boots and experience Twin Track Bobsled runs, a Snow Cavern filled with interactive experiences, and Tobogganing hills. Head one down to the upgrade station for an exhilarating ride on the Giant Ball or jump on the chairlift for a one of a kind bird's eye view of the entire park. The most popular of all the winter sports, skiing provides enjoyment and excitement for all ages. Have an unforgettable experience while gliding through fresh snow all year round and Ski Dubai!
Don't miss out on the resident royalty with the Peng-Friend Encounters occurring during the day. The encounters begin at midday and run every half hour until 9:00 PM.
Opening Hours: Sunday - Wednesday 10:00 AM to 11:00 PM, Thursday 10:00 AM to 12:00 midnight, Friday 09:00 AM to 12:00 midnight, Saturday 09:00 AM to 11:00 PM
Role-playing by mimicking traditionally "adult" activities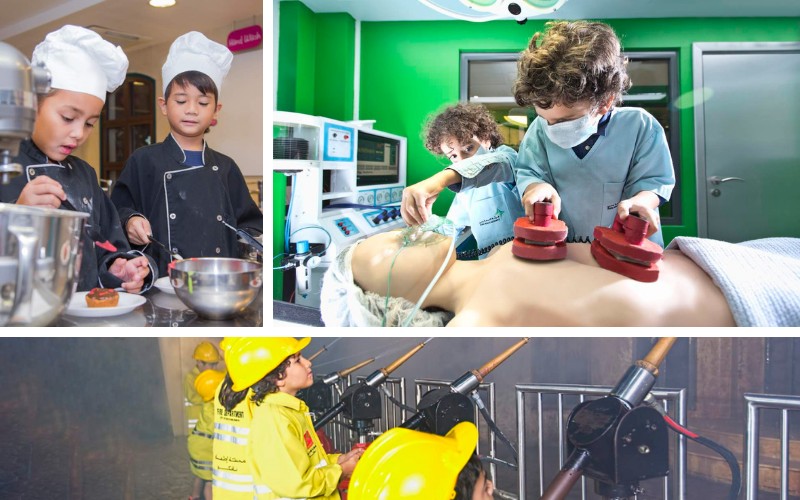 Image Credit: KLOOK

An 80,000 sq ft interactive mini-city, KidZania combines play with learning through a fun and innovative approach! KidZania is packed with over 40 role-playing activities for children aged 4-16 years old.
As in the real world, children perform "jobs" and are either paid for their work (as a firefighter, police detective or journalist for example) or pay to shop or be entertained. KidZania features offices, university, fire station, race track, radio station, pizzeria, hospital, bank, theatre and ATM machines amongst others, all scaled down to a smaller, child-friendly size.Children dress up in real-life uniforms and perform realistic professional tasks in a fun and meaningful way.
Entry for children 0-1 year old is free.

Opening Hours: Sunday to Wednesday 10:00 AM to 10:00 PM, Thursday 10:00am to 11:00 PM, Friday to Saturday 09:00 AM to 11:00 PM.
The first integrated resort destination in the region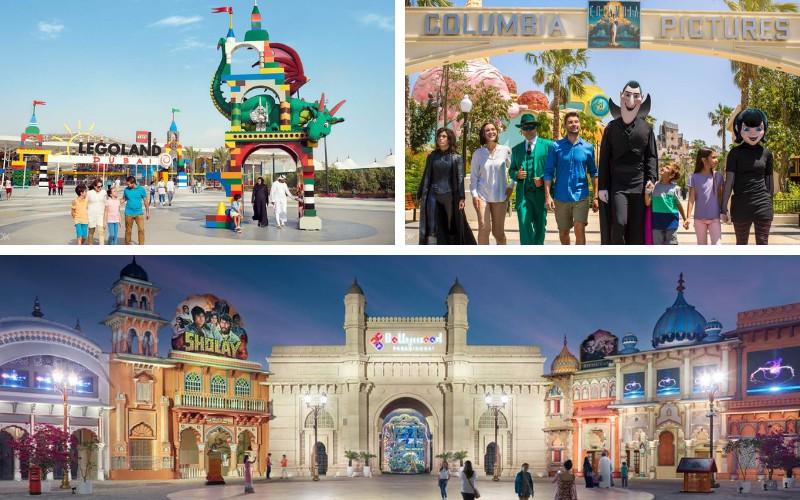 Image Credit: KLOOK

Dubai Parks And Resorts is the home of three world-class theme parks and one water park, as well as Riverland Dubai, the grand entrance plaza, and a Polynesian themed family resort.
Step into the adventurous world of Columbia Pictures at MOTIONGATE™ Dubai theme park.
Experience different environments inspired by the greatest Bollywood blockbusters at Bollywood Parks™ Dubai.
Build your way through non-stop interactive fun at LEGOLAND® Dubai with over 40 LEGO® themed rides, shows, building experiences and  attractions.
Trick your eyes and entertain your mind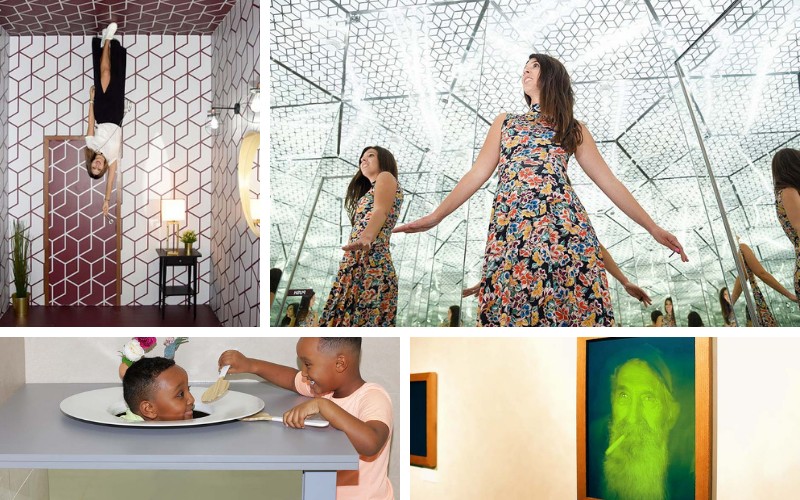 Image Credit: Museum of Illusions

Enter this fantastic world as you explore one of the Middle East's most unique attractions, the Museum of Illusions. Have fun and unforgettable experience as you discover the limits of the human mind's perception of the world.
Explore the world of illusions and experience how far the human brain can perceive the outside world.
Jump into the Vortex Tunnel that will make you believe that the ground under your feet is shifting!
Deceive your eyes as you discover the wide collection of hologram installations and tricks.
Grab your camera and have fun taking pictures with optical illusion displays, perfect for families and friends.
Children below 5 years old enter for free.
Opening Hours: Sunday to Wednesday 10:00 AM to 10:00 PM, Thursday to Saturday 10:00 AM to 12:00 midnight
Aquaventure – more than a water park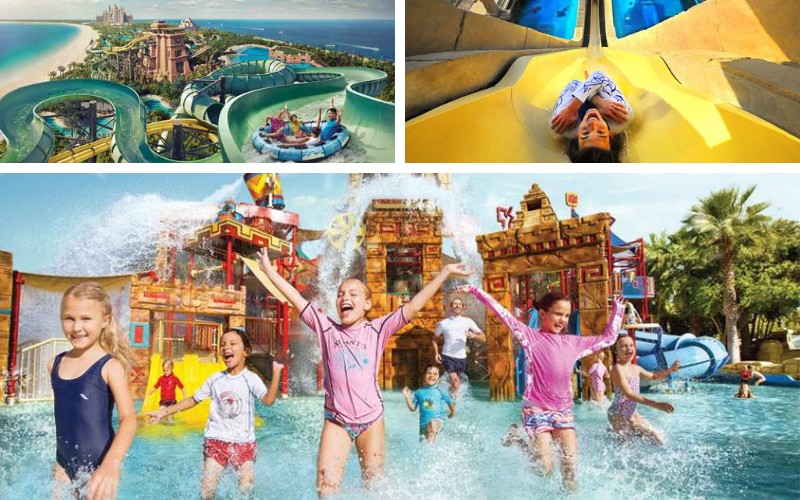 Image Credit: Atlantis Aquaventure Water Park

Get ready for a day filled with excitement at the Atlantis Aquaventure Water Park, the Middle East and Europe's No. 1 water park, overflowing with 17 fun-filled hectares of adrenaline pumping fun on Palm Jumeirah Island.
Over 30 Water Slides and Attractions
2.3km of Interconnected Rivers Rapids
A Kids' Paradise at Splashers Island
The UAE's Coolest Surf's Up Wave Rider
500 Meters of Private Beach Line
Over 15 Dining Outlets
Feel the thrill of this unforgettable experience with the whole family!
Free entrance for kids 0 - 2 years old.
Opening Hours: Open daily 10.00 AM to Sunset
Skip the line at Dubai's gravity-defying water park!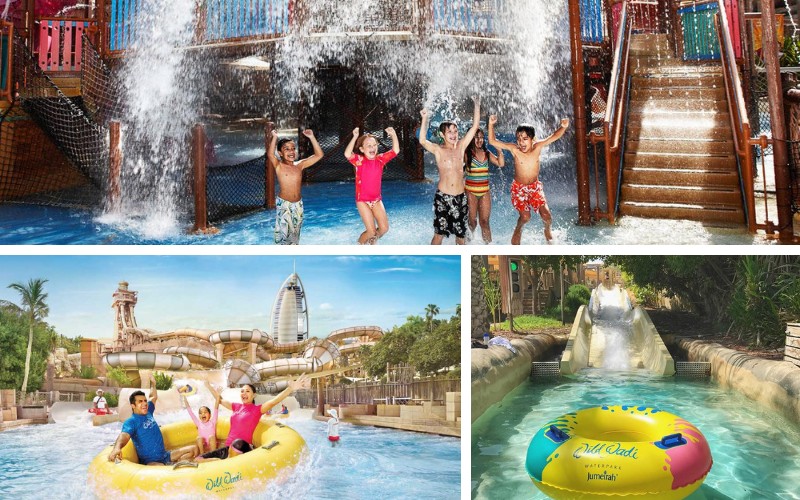 Image Credit: Wild Wadi Water Park

Located in Dubai and situated in front of the stunning Burj Al Arab Jumeirah, Wild Wadi offers 30 rides and attractions for the whole family. Wild Wadi is themed around the tale of Juha, a known character from the Arabian folklore.
Jump the queue for unlimited access to 30 waterslides and rides from the tame to the terrifying
Dare to face the 32-meter Jumeirah Sceirah, the tallest and fastest slide in the Middle East for a truly heart-stopping experience
Kids will love Juha's Lagoon, an interactive play area complete with water guns, racing slides and huge dumping buckets
Discover the park's unique upward-moving water network that'll give you one adrenaline rush after the other- no need to queue or even leave the water!
Beat the heat and cool down in the Middle East's largest wave pool
Grab a surfboard and put your bodyboarding skills to the test at Wipeout and Riptide Flowriders, one of only four such rides in the world
Feel the thrill of this unforgettable experience with the whole family!

Free entry for kids below 2 years old.
Opening hours: Monday–Sunday 10:00 AM to –06:00 PM
One of the largest suspended aquariums in the world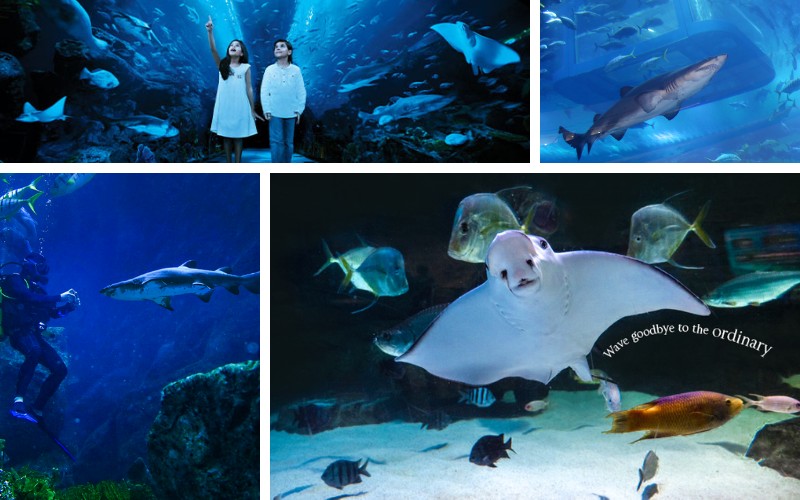 Image Credit: Dubai Aquarium & Underwater Zoo

The 10-million litre Dubai Aquarium tank, located on the Ground Level of The Dubai Mall, is one of the largest suspended aquariums in the world. It houses thousands of aquatic animals, comprising over 140 species. Over 300 Sharks and Rays live in this tank, including the largest collection of Sand Tiger Sharks in the world.
Hop into a simulator submarine ride or a glass-bottom boat to see the underwater world up close
Join a behind the scenes tour and find out what it takes to look after over 33,000 marine animals
See one of the world's largest suspended aquariums holding 10 million liters of sea water
Go in for the ultimate underwater experience right in the heart of Dubai
Have your camera ready and admire mesmerizing panoramic views
And for the adventurous ones, a Shark Dive is a once in a lifetime opportunity, bringing you within inches of a large variety of sharks and rays
Opening hours: 10:00 AM to 12:00 midnight, Last admission 11:30 PM

Home to a number of UAE's most unique indoor family entertainment & one of the most loved Dubai tourist attractions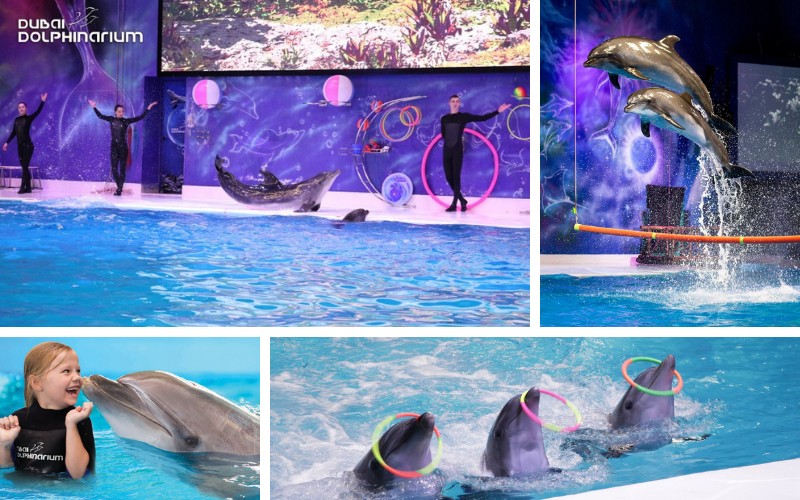 Image Credit: Dubai Dolphinarium

Don't miss the opportunity to be impressed by the amazing dolphins and seals show. Watch these adorable sea creatures doing incredible stunts in a 45-minute indoor interactive extravaganza that showcases these talented animals' astounding skills as they dance, sing, juggle, play ball, jump through hoops and even create their own masterpiece!
Swim with Dolphins: From poolside dolphin interactions to deep water adventures, swimmers get a unique experience to meet these incredible mammals, all under the supervision of the expert trainers.
In addition, Dubai Dolphinarium brings one of the unique attractions in UAE featuring exotic birds - Creek Park Bird Show! Get the chance to encounter beautiful and fascinating species of birds including the sun conures, Amazon parrots, cockatoos, blue & gold macaws, green-winged macaws, hornbill, toucans, and more!

Experience all the fun, all in one roof!
Children under 2 years old are free of charge.

Show timings: Daily at 11 AM, 2 PM & 6 PM
Exotic bird show: Daily at 12:15 PM, 4:15 PM & 7:15 PM

Subscribe to weekly newsletter from "Tickikids"