Make the Most of Your Holidays with These 20 Fun and Offbeat Family-Friendly Activities
---
Published 17 May 2017 at 19:54
Tickikids Blog Singapore > Digest > Make the Most of Your Holidays with These 20 Fun and Offbeat Family-Friendly Activities
---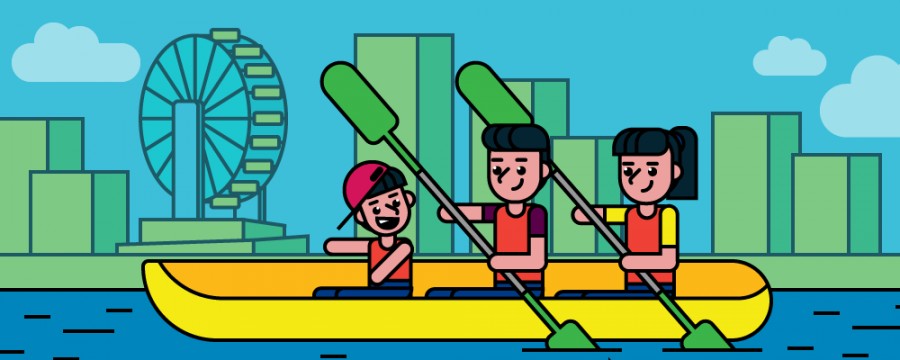 ---
Explore fun DIY ideas
1. Giving DIY a twist is this floating restaurant in the middle of the sea that promotes fresh seafood. You will be handed a rod and bait to fish in their sure-catch pond. Along with the ferry ride required to get here, this promises to be a lot of family fun! You can choose to have the restaurant prepare your catch for you or take it home for some more DIY.
Where: Smith Marine Floating Restaurant, located off Changi and Pulau Ubin. 
When: 10am to 7pm
Prices: The restaurant cooks your catch for S$35, or you get to take it home for S$15.
2. Give the kids a crash course in pancake making and catch a break from the kitchen yourself. Head to Slappy Cakes and turn a breakfast date with the family into lots of fun. This DIY place has tables with griddles where you can customise your pancake. Choose your own batter, fixings, and toppings!
Where: Slappy Cakes, The Grandstand, 200 Turf Club Road, #01-20/21, Singapore 287994 
Let that adventurous spirit out
3. Get the adrenaline flowing by exploring Singapore on a kayak. Paddle through the mangroves with Kayakasia, a Singapore based company that takes you to the less visited parts of your country by river. 
Where: Kayakasia SG, 59C Temple Street, Singapore 058604
4. Give those cutesy multi coloured indoor climbing walls a miss and head to the real deal. At Dairy Farm, there is some serious quarry rock climbing going on. Don't get scared; there is enough support and guidance for newbies and beginners.
Where: 100 Dairy Farm Road, Singapore 679057
Make furry friends
5. For all things feline, there is the Lion City Kitty: The Cat Museum, Muses, and Mansion. Cat lovers get to browse through an entire museum dedicated to the history of cats, admire cat centric art creations, and spend time at the mansion playing with kitties and their toys. Quite a way for an animal friendly family to spend time with the purry ones.
Where: #02-02, 8 Purvis St, Singapore, 188587
Price: $9; free for children aged six years old and below


6. If being around animals is what you enjoy together, then we recommend you head to Farmart Centre. You can feed and pet animals here as well as go on farm tours. Dig into local food as you relax and unwind in the greenery of the surroundings.
Where: 67 Sungei Tengah Road 
When: Sunday to Thursday (10am-10pm) Friday & Saturday (10am-12am)
Explore the great outdoors
7. What's a family day out at Marina Barrage like? Think picnic, great city views, and kite flying! The public spaces at Marina Barrage are open through the day, it's windy, and perfect for some kite flying action. 
8. Spend a day at the beach. Sentosa Island is home to some of the best beaches in the country – Palawan, Tanjong, and Siloso. Though made famous by the Resorts World Sentosa and Universal Studios, Sentosa is perfect for a lazy day on the sand with the family. Rent a bicycle to go around the island, or bring your dog to Palawan beach for a fun day with the entire family. 
Get physical
9. Jazz up your regular sport outings with a splash, literally. Queenstown Swimming Complex holds sessions twice a week for – hold your breath – underwater hockey! Yes, this is hockey at the bottom of a swimming pool, complete with a puck and sticks. 
Where: Queenstown Swimming Complex, 473 Stirling Road, Singapore 148948
When: Tuesdays and Fridays, 7pm to 9pm
10. Another activity that can be quite a hoot in the name of a family activity is stand-up paddling. You are essentially paddling while standing on a huge surfboard. This may need some lessons, though kids pick it up quicker than adults. 
Where: Windsurfing Kitesurfing Stand Up Paddling Singapore, East Coast Park, and Pasir Ris Beach
Price: 1-person instruction (1.5 hours) for S$100
Make learning fun
11. A trip to the amazing Future World display at ArtScience Museum is definitely a must-visit. Kids and adults can both explore the country's largest digital art gallery that is full of amazing installations like the Crystal Universe made of 170,000 LED lights set to beautiful music.
Where: 6 Bayfront Ave, Singapore 018974
When: Monday to Sunday 10 am to 7pm
12. Make museums fun for the family. Take them to the MINT Museum of Toys. This private museum has a collection of about 50,000 vintage toys and collectables from over 40 countries, some from as far back as the 1800's. Visit their website for latest exhibition schedules and events for families.
Where: 26 Seah Street, Singapore, 188382
When: Daily from 9:30am to 6:30pm

Explore Singapore's attractions
13. Cruise along the Singapore River in style with Float @ The Bay. Hop on to a fancy boat for a four-course dinner with the family; the twinkling city lights make for a beautiful night view. This is no regular tourist filled tour boat chugging along the river. You need to dress up for this one!
Where: Check their website for various pick up points along the Singapore River
When: Boats sail daily from 5pm to midnight
14. Sometimes it is interesting to explore your own city. And what's more fun than doing it on Singapore's open-top hop-on-hop-off bus? Get the family a 24 or a 48-hour tour pass and check out all the famous attractions throughout the city at your leisure.
Solve mysteries
15. Put on your collective detective hats and get some thrills at one of the many escape rooms that have come up across Singapore. Try out Exit Plan for some spine chilling action with games like Pandora the Haunted.
Where: 279, New Bridge Road, # 03-01, Singapore 088752
Go on movie dates
16. Bond over the latest movie releases and throw in a meal while you are out together. The perfect places to do that are Golden Village Vivocity and Filmgarde Cineplex. You could also keep an eye out for international movie festival schedules, which are an entertaining way to be introduced to another culture.
Where: Filmgarde Cineplex – 5 Stadium Walk, Singapore – 397693 and Golden Village Vivocity – 1 Harbourfront Walk, 098585, Singapore - 098585


Shop together
17. It is vacation time and there is no better time to head out to the glitzy malls in the country and enjoy some time out shopping for clothes, accessories and things to do up your room and home. Family- and kid-friendly malls like City Square Mall, Westgate, Paragon, Vivocity, and NEX are great options for family outings. Make sure you arm yourself with shopping credit cards to get more out of your spending!
18. Grocery shopping is a chore sometimes; we get that. But we have an idea. Make meal plans and head out grocery shopping to enjoy cooking and exploring new cuisines. Save even more on groceries by getting a credit card like the HSBC Visa Platinum Credit Card for up to 5% cash rebates or the Citi Cash Back Credit Card for 8% cash back on supermarket shopping. 
Dine as a family 
19. Enjoy a Sunday brunch: Make time for a long Sunday brunch instead of a golf session or a shopping plan. Spend time together with absolutely no agenda and with nothing on your plates except for a delicious meal. A Sunday well spent! Some of the best buffet options in Singapore are Melt Café, Mandarin Oriental (S$55 for lunch); The Line, Shangri-La Hotel (S$62 for lunch); Carousel, Royal Plaza on Scotts (S$62 for lunch). 
20. Go hawker-stall hopping. To avoid food comma, there's only so much we can eat during lunch, even though some of us might be lucky enough to work near a hawker centre. So over the weekend, get the whole family out to have a hawker feast. Not only is this highly affordable, it's a great way to bond with the family, without having to wash dishes subsequently. 
Where: Too many in Singapore, but our favourites are food centres at Amoy, Maxwell, Chomp Chomp, Tiong Bahru, Alexandra Village and Old Airport Road
With so much to do, make time for some family fun!

If you'd like to get a credit card to get more discounts for your activities, BankBazaar is here to help. We provide you with over 80 choices so that you can find one that best suits your needs. And when you've made your mind, go ahead and apply directly on our site.
This post appeared first on the BankBazaar blog.
BankBazaar.sg is a leading online marketplace in Singapore that helps consumers compare and apply for the best offers across all financial products: personal loans, home loans, credit cards & investments. Like BankBazaar Singapore on Facebook to discover tips, clever hacks, and deals to save and earn you more money.


Check out related BankBazaar's articles:
5 Fun Things That Grandparents Can Do With Kids This Summer Vacation
10 Easy Ways to Stick to your 2017 Fitness Resolution
5 After-School Classes for Kids in Singapore to Discover Your Child's Potential
25 Free and Fun Things to do in Singapore
6 Interesting Hobbies You Can Pick up After Work in Singapore
Living in Luxury: Top Cruises from Singapore You Need to Book
Events to Watch Out for in Singapore in 2017
3 of the Best Credit Cards for Cashback in Singapore
8 Ways to Get Cheaper Groceries in Singapore
Love Food? Ditch the Knife & Fork and Get These Dining Credit Cards
5 Incredible Restaurants Matched with Perfect Cards for Foodies In Singapore
Subscribe to weekly newsletter from "Tickikids"