The Influence of Art on Children's Social and Emotional Development
---
Published 30 August 2020 at 05:31
Tickikids Blog Singapore > Digest > The Influence of Art on Children's Social and Emotional Development
---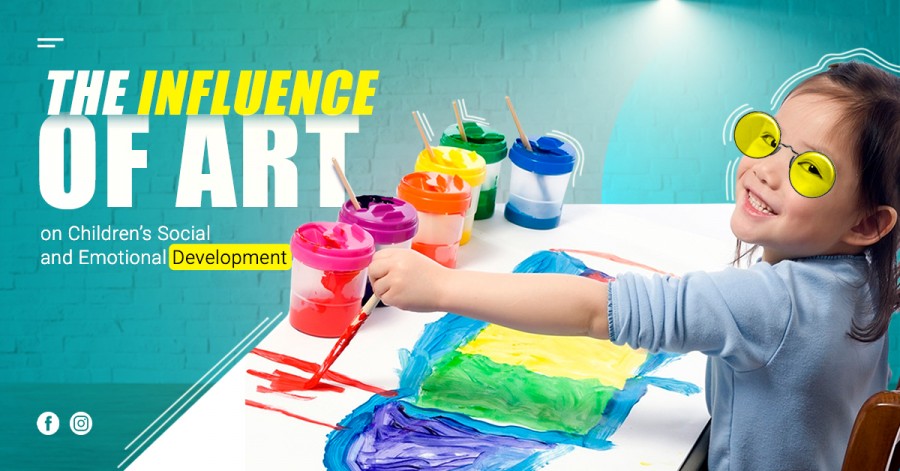 ---
In this article we focus on the social and emotional influences of art on development of all aspects of children's potential, personality and wellbeing. This has long been debated, and my professional musical background plus Master's degree in Music got me thinking about how arts empower children.
For better or for worse, the left and right hemispheres of the brain you have been endowed with, do not necessarily gift you the substantially identical development of both halves. As you will see, the inherited component is surprisingly small – there will be clearly the influence of lifestyle. But there is a field of psychology comparing and contrasting the functioning of the brains of students who learn some form of art either music, visual arts & crafts, dance or drama. How art influences the way the brain processes information is such a complex topic, that even if you don't set a goal to raise a creative genius, yet the most spectacular fact is that involvement with arts stimulates functioning of both hemispheres.


Photo Credit: MuzArt


Being a visual learner myself, I reviewed several studies that said that the anatomy of the visual system is such that objects viewed in the left visual field are initially processed in the right hemisphere of the brain and the other way round. The right side of the brain is used before a child develops spoken language and this is where visual memories are stored. Through several studies, we can make suggestions about the effect of art on children's subsequent reading ability and good progress in maths and science. So, why leave things to chance, when you can make smart use of the creative learning and greatly enrich your child's personal, social and academic development?
Art improves self-esteem and confidence: this goes without saying. Based on my own observation of the children, participating in competitions and occasionally winning improves their confidence and develops their maturity to cope with challenges. They learn that disciplined hard work leads to their desired goals. It gives children the opportunity to discover strengths that may be not obvious in an academic setting. Also once a child realises that they are good at something, it gives them the incentive to improve in other areas with perseverance.


Photo Credit: MuzArt


Learning to perform artistically in front of others trains children to overcome the anxiety and shyness and unlearns irrational fears. Nothing terrible will happen to you even if your performance is not perfect. Visual arts allow children to express their hidden emotions non-verbally. You can emotionally connect with other people though arts. After all, who hasn't watched an exciting film where you root for the hero and fear for their safety? You'd made an emotional connection with somebody who isn't necessarily real.
It is also clear that in Singapore children come from a range of social and ethnic backgrounds. Participation in arts allows them to form relationships with others regardless of backgrounds, because they are united by a love of shared interests and experiences. In other words, it breaks down language, cultural and societal barriers.
Photo Credit: MuzArt


It is true that arts can help with bonding between parents and children as a parent sets aside dedicated time with their child to help them with their creative activity. Also there has never been a better time for parents to learn about something of which they previously didn't know. For example, when I just started going to music school, my mother tried to help me with music even though she was from a non-musical background. Whether through family trips to museums, galleries or concerts, your joint participation in art has positive and long-lasting effects on your child's emotional creative abilities.


Photo Credit: MuzArt


In the remainder of this article, I will be looking at the impact of the passionate and attentive teachers on the child's developmental needs at their age group. It has long been known that creativity is a human capability that can and should be developed through education. Asking parents of TickiKids Test Patrol Families what excites them about the art classes for kids at MuzArt, almost all parents report that it's a very friendly art centre that turns out well-rounded, confident children. MuzArt is a national leader of arts-rich education who ensures that children thrive and develop in different ways through the Heuristic Learning Method. To find out more visit www.muzart.com.sg or follow @MuzartSingapore on Facebook and Instagram. Call for further information on +65 9180 7010.
By Anna Khan
Subscribe to weekly newsletter from "Tickikids"