Singapore's Most Highly-Rated March and Easter Holiday Camps for 2021
---
Published 19 February 2021 at 06:14
Tickikids Blog Singapore > Digest > Singapore's Most Highly-Rated March and Easter Holiday Camps for 2021
---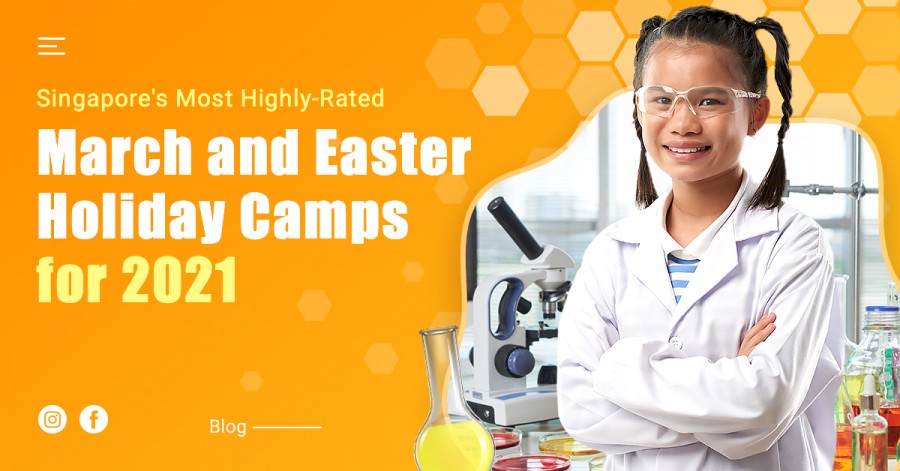 ---
The March school holidays are upon us and we know parents have been going above and beyond with the challenging task of keeping children entertained and active during this period. Trying to book a holiday camp that will appeal to your child is no easy feat. And it's not hard to see why considering that there are a mind-boggling number of options on offer in Singapore. According to our survey, the vast majority of Singapore's families seek sports, adventure and enrichment over relaxation when they choose a programme for school holidays. But which is the best March and Easter holiday camp for your kids? In January 2021, the TickiKids' team began the search for the nation's best-loved children's holiday camps, and we asked our Test Patrol Families to nominate their kids' favourite multi-sports, science, programming and robotics holidays programmes. Below, our family experts report on these favourites, and our editor reviews the best of the best.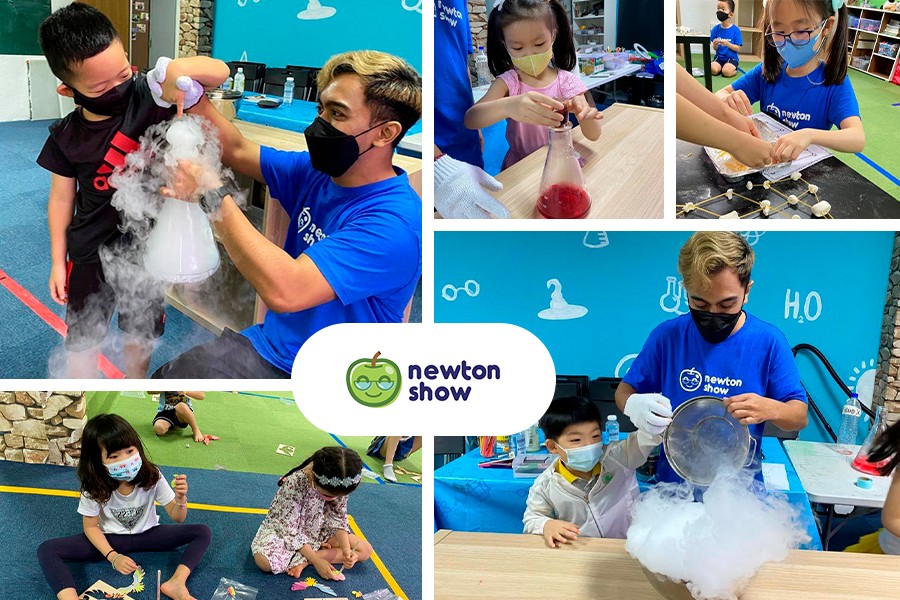 It's a small wonder that most new children come to NewtonShow science camps on the first-hand recommendation of others. Put simply, kids acquire knowledge in a new format – FUN science – and this makes them feel remarkably happy. This ability is built not only upon 11 years of experience across 5 countries, cutting-edge teaching methodologies accumulated through resources and technologies verified and approved by actual scientists, but also the chance to undertake many experiments actively participating in the process themselves, like real scientists.
The children with inquisitive minds won't be stuck looking for things to do at this fun-filled EASTER Science programme. Parents praise the ideal balance between gaining new knowledge, hands-on activities, fun science experiments and games that NewtonShow has perfected, meaning the kids' potential is maximised in a fun and positive way.
Each weekly Easter Science programme will be available for children aged three to 13 and run from 9am to 4pm from Monday till Friday. There is no better place to start your "journey through time" from the formation of the universe until the modern-day. From Earth formation experiments, water science, bubble workshops, chemical battles, space and Dino quizzes, 3D puzzles and slime in the egg to weather lore, prehistoric mould, animal migration and colourful seas, NewtonShow campers savour every moment in this veritable children's wonderland.
Dates: 1 – 5 March 2021 and 15 March – 16 April 2021;
Timing: 9am – 4pm;
Ages: 3 – 13;
Fees: SGD 630 per child for an all-inclusive 5-day-programme including 2 snacks, lunch, a branded t-shirt, photo, certificate, bus transportation (optional);
Venues: East (229 Joo Chiat Road), Centre (9 Mohamed Sultan Road), West (887a Bukit Timah Road), Novena (175 Thompson Road).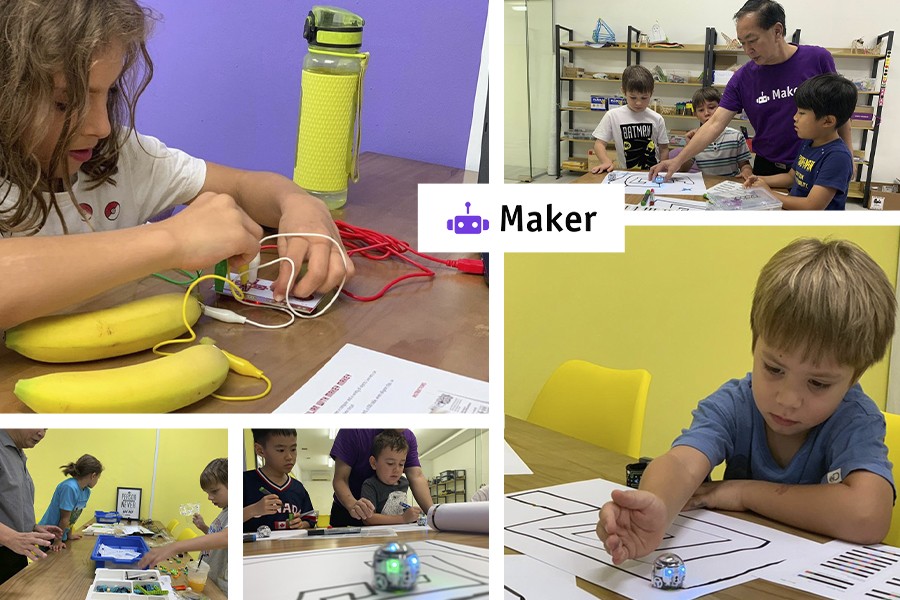 Flooded with robotics, coding and maker projects, Maker SG is the place to go for little inventors. Maker SG has now delivered its latest high-performance holiday programme to encourage advanced thinking. This Easter holiday programme utilises the most innovative, premium quality, original equipment and tools such as 3D pens, Chibitronics, Makey Makey, Squishy Circuit, 3D puzzles and Quibits, that will inspire curiosity, intellect, creativity and imagination in each and every child. All of this, combined with heaps of choice from robotics, coding, circuit modelling, inventing, 3D modelling, engineering and basic programming to Lego EV3 and Lego WeDo, produce budding programmers and engineers, happy boys and girls with a can-do attitude. A variety of competitive challenges will follow a wealth of Easter-themed interactive games. The most popular activities are, by far, Strawbee Easter competition, mind football, doodling bunny robot, Robo battle, excavator eggs game, circuit city, the Quirkbot bunny and Ozobot chicken robot. Experienced tutors and a ratio of one teacher to five students are a top priority at these Easter holiday camps. The children's only complaint? Camps simply aren't long enough.
Dates: 15 March – 16 April 2021;
Timing: 9am – 4pm;
Ages: 5 – 13;
Fees: 630 SGD including 2 snacks, healthy lunch, a t-shirt, certificate, all relevant supplies and materials.
Venues: WEST (887A Bukit Timah Road), CENTRAL (9 Mohamed Sultan Road).




Soccer, frisbee, athletics, rugby, tennis, floorball, basketball, dodgeball, martial arts, cricket, baseball, kickball, dance. Is there any sport ProActiv Sports can't offer to your child? Meanwhile, a host of dazzling new holiday programmes – along with a range of team-building fun games, Robotics, arts & crafts, and dances – has marked them out as the capital's undisputed Multi-Activity School Holiday Camps leader. But what sets ProActiv Sports apart from the rest is their pioneering coaching curriculum held in more than 50 locations across Singapore. Add in an all-star team of sportsmen and first-aid certified coaches handpicked for their specialist skills, and an innate understanding of what modern children need, and it's little wonder their reign continues to blaze. While ProActiv Sports is known for its sporting prowess, the centre doesn't measure its success on its medal haul, but rather on its encouragement of participation for all. This March and Easter school holidays, there is something to suit every interest.
Sports and Robotics Camp promises a 5-day programme for children aged 7 to 10 developed and run in collaboration with Youth Champions Academy. Balancing the digital and sporting focus, the campers will enjoy a sense of community through a roster of physical activities, participation in a competition, building and transforming their own 12-in-1 WarriorBot to bring the kids together and help to foster friendship.
Multi-Activity Camp must not be missed if your 5-12 year-olds are keen on running, jumping or throwing, not to mention all manner of sports listed above, as well as dance, arts and crafts, fun games and even Sports Day held in OCBC Arena, Singapore Sports Hub.
There is a lot on offer for children aged three to eight at a hugely popular Taglin Trust Easter Camp. Multi-sports and team-building games thrive here, but another selling point is its emphasis on young campers' essential values like respect and discipline through every element of their holiday.
There are myriad ways to have a good time at Dover Court Easter Camp. Children can participate in many sports in Dover Court International School, but if they haven't expended all their energy soaring over the sporting activities and team-building games, there are plenty of creative endeavours to pursue.
Dates:
15 March – 19 March 2021 for the Sports and Robotics Camp and Multi-Activity Camp;
29 March –  1 April, 5 April – 9 April 2021 for the Easter Multi-Activity Sports Camps.
Age groups: 3 – 8, 5 – 12, 7 – 10 subject to the camp;
Fees: from 299 to 818 SGD subject to the camp;
Locations:
YCA, River Valley, and Fort Canning Park;
OCBC Arena, Singapore Sports Hub;
Curran Hall, Tanglin Trust School, Portsdown Road;
Dover Court International School, 301 Dover Road.




Camposaur by VivoKids is clearly on the up and there is a definite buzz about this camp in Singapore. Winning, losing and taking part together – children's sporting activities thrive at Camposaur. Each day every child participates in multi-sports, team-building games, arts and craft, dance fitness and further provision is offered during the camp time in small, expert-led groups. Despite being renowned for its sporting prowess, VivoKids encourages young children aged three to 10 to find new interests. Parents are very thrilled that their kids will also take advantage of the trip to Shimano's Bicycle Museum, take part in a basic bike-maintenance workshop and VivoKids' most successful and exciting Camposaur Amazing Race.
Camposaur is such a loving, happy place that cue laughter all round. The strong sense of community, kindness across the camp and innovative coaching are cited by many parents as the reason they chose VivoKids. Parents are also impressed that the committed team of coaches, who are athletes with a multi-sports background, put children's well-being and happiness ahead of sporting achievement, ensuring that kids really can have it all: a proper childhood and a healthy work-fun balance. The children's only complaint is that they can't stay here forever.
Dates: 15 March – 9 April 2021;
Timing: Monday to Friday 9am – 1pm;
Ages: 3.5 – 10;
Fees: $425 for a full 5-day package, $340 for a 4-day package, including two snacks (granola bar, milk, juice, fruits and cookies), a branded t-shirt and certificate.
Venue: Sport Hub Library, 3 Stadium Walk, Singapore 397697.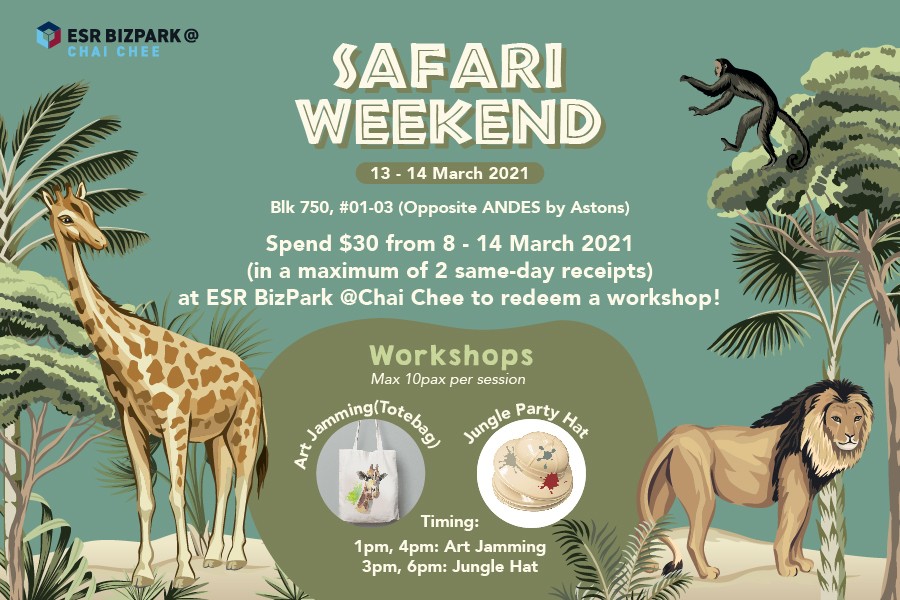 Add a boost of creativity to spring with a series of fun and engaging workshops for children aged 5 to 12. This March school holidays, a Safari weekend will be making a return to ESR BizPark at Chai Chee. Children will get the chance to show off their painting skills whilst working on their very own Totebag and create a Jungle Party Hat that they can cherish forever. Due to popular demand these free safari-themed workshops – Art Jamming (Totebag) and Jungle Party Hat – will take place for two days, Saturday 13th and Sunday 14th March 2021 between 1pm and 6pm inside ESR BizPark. Taking part is absolutely FREE! All you need to do to take part is spend $30 (in a maximum of 2 same-day receipts) at ESR BizPark at Chai between 8th and 14th March 2021 and provide the physical receipts at the redemption booth on the day of the workshop. To ensure all children who attend can take part you need to pre-book a time slot online for one of the activities. Slots are available at 1pm, 3pm, 4pm and 6pm and sessions are limited to 10 children per session.
Dates: 13 – 14 March 2021;
Timing: Art Jamming – 1pm and 4pm. Jungle Hat – 3pm and 6pm;
Ages: 5 – 12. Children under 5 years must be accompanied by one parent/guardian;
Fees: Free. Spend SGD $30 from 8th to 14th March 2021 at retailers in ESR BizPark @Chai Chee to redeem a workshop ($30 in a maximum of 2 same-day receipts);
Location: ESR BizPark at Chai Chee (formerly Viva Business Park) 750 - 750E Chai Chee Road Postal Codes 469000, to 469005, Singapore 469000.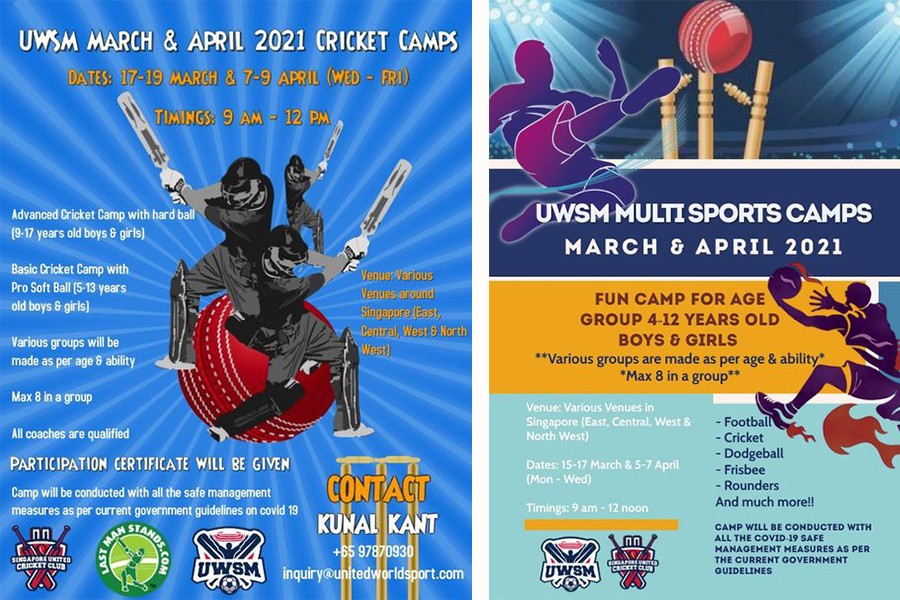 Singapore United Cricket Club managed by the United World Sports Management is soaring so high that it's landed right at the top of the league tables. It has scored the best results for various cricket leagues, tournaments and friendly games. Undoubtedly, this comes in part from Head Cricket Coach Kunal Kant, who is an England & Wales Cricket Board (ECB) level 1 and Cricket Australia level 2 qualified cricket coach with experience of playing cricket in the UK, India and Singapore at various levels. But beyond the competitive programmes for children aged 5 to 17, there is ample space here for school holiday camps.
During this March and Easter school holidays, there is a vast range of camps and sporting activities on offer, as well as a unique benefit of being trained by highly qualified, ACC (Asian Cricket Council) / ECB (England & Wales Cricket Board) / CA (Cricket Australia) certified coaches. Each student is part of an age-specific, small coaching group with a maximum of eight children.
UWSM offers children the opportunity to develop their cricketing skills through game scenario training (modified matches), batting, bowling and fielding techniques, a theory of cricket and video analysis over the holidays at the Basic Cricket Camp (ages 5 – 13) and Advanced Cricket Camp (ages 9 – 17). The camp programme also features fitness and nutrition discussion.
Multi-Sports Camp is a half-day programme that offers children aged 4 to 12 a broad range of activities to ensure that each child finds a sporting activity that they love and will carry on in later life. The camp introduces the kids to football, cricket, dodgeball, frisbee and rounders. There is an emphasis on balance, values and principals of sports and encouragement to foster leadership, co-operation, resilience and empathy.
Dates:
Specialised Cricket camp: 17 – 19 March and 7 – 9 April 2021;
Multi-Sports camp: 15 – 17 March and 5 – 7 April 2021;
Timing: 9am – 12noon;
Ages: 4 – 17;
Fees: from 190 SGD to 270 SGD subject to the camp and venue.
Locations: for venues, please contact the club on +65 97870930.


The Brainery Code is a highly respected and much sought-after provider of Coding and Robotics enrichment programmes and considered one of the top Robotics and Python courses for children aged 5 to 16 in Singapore. Having delivered annual TECHCATION™ and TECHAdventure™ holiday camps since 2015 with truly exceptional results, the Brainery Code has gained the admiration and respect of many of Singapore's most demanded parents.
In anticipation of the arrival of the first cohort of boys and girls on 16 March 2021, two new children's programmes – TECHCATION and Python Fast Track – have been unveiled. Continuing the focus on technology, the Brainery Code has maintained its Techcation™ programme through a variety of new projects. The camp takes in a wide range of kids with different abilities – Juniors aged five to eight and Seniors aged nine to 16. Thus, Juniors will enjoy working on their own vlogs about popular destinations around the world. They will virtually pay a visit to famous landmarks in different countries, digitally recreated in Minecraft Education Edition, capture the sights and scenes. Once the "trip" is over, the campers will create and edit a vlog with a Video Editor.
Meanwhile, there is a thriving Techcation Senior programme where children learn to code in Minecraft Education Edition and work in teams on building their own famous destination. As part of their 2-day activities, youngsters will code a ticketing machine for their attractions using the popular Python programming language.
At the Brainery Code, they seek to give children a wider range of experiences, building their knowledge, skills and confidence from age of 9. This March, children also have a chance to immerse themselves in Python coding within a 2-day Python Coder Fast Track home-based learning classes. During the Fast Track Class, your child will complete Foundation 1 and be ready to join their Foundation 2 Classes starting in April 2021. The campers who attended the Python Fast Track Class will be issued a $50 Python Coder™ e-Voucher for signing-up for a regular PYTHON CODER™ class.
Dates:
16 – 17 or 18 – 19 March 2021 for Techcation programme;
 16 – 17 March 2021 for Python Fast Track programme;
Age groups: 5 –  8, 9+;
Fees: $350 for Techcation programme; $400 for Python Fast Track programme. Use code TickiTech for $25 off.
Locations:
134 Jurong Gateway Road #03-307D Singapore 600134;
1 Marine Parade Central, Parkway Centre #06-02 Singapore 449408.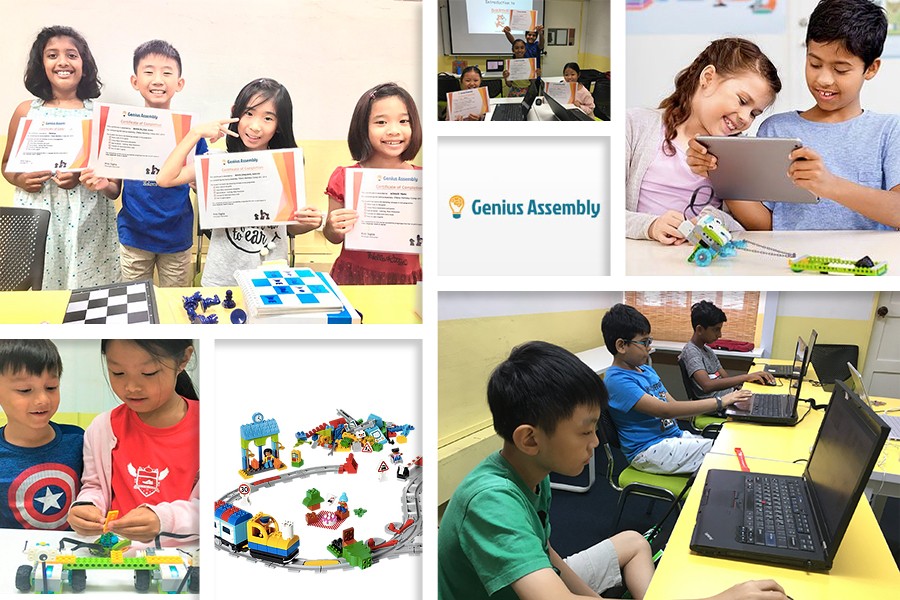 Genius Assembly puts the interests of children at the centre of everything they do, believing that young people learn best through play and discovery. During the holiday camps, pre-schoolers can try their hands at early coding concepts, while elementary and high school students can take advantage of STEAM and more advanced Robotics projects. Whether your kids want to level up their coding skills in just a few workshops, master the secrets of HTML or learn coding languages such as Python and Scratch, there is plenty to explore in an age-appropriate manner. All this is underpinned with a structured approach to coding through a series of fun, game-based exercises, various Lego products easily adaptable to fit any learning environment. And opportunities abound. The new Lego Science for children aged 4 – 6, 6 – 10 and 11 – 14, Code Easy (Scratch) for 6 – 10-year olds and Code Easy (Real-World) for ages 8 – 14 to learn the workings of Python or HTML.
Coding is not the only holiday activity: there is also a chess camp on offer. Giving children aged five to 14 the opportunity and the inspiration to start playing chess, Genius Assembly is providing a supportive framework in which youngsters learn basic rules of chess, special moves, tactics and notations to arrack and defend, plus a few checkmate techniques to win a game.
Dates: 15 March – 16 April 2021;
Timing: 9:30am – 12:00pm, 9:30am – 11:30am, 12:30pm – 2:30pm or 1pm – 2:30pm subject to the camp.
Ages: 4 – 14;
Fees: from $139 to $260 for a 10-hour course. As they say, the early bird catches the worm – so why not take advantage of their Early Bird booking discount?
Location: Kovan MRT, 212 Hougang Street 21 Hougang, #01-319, 2nd floor, Singapore.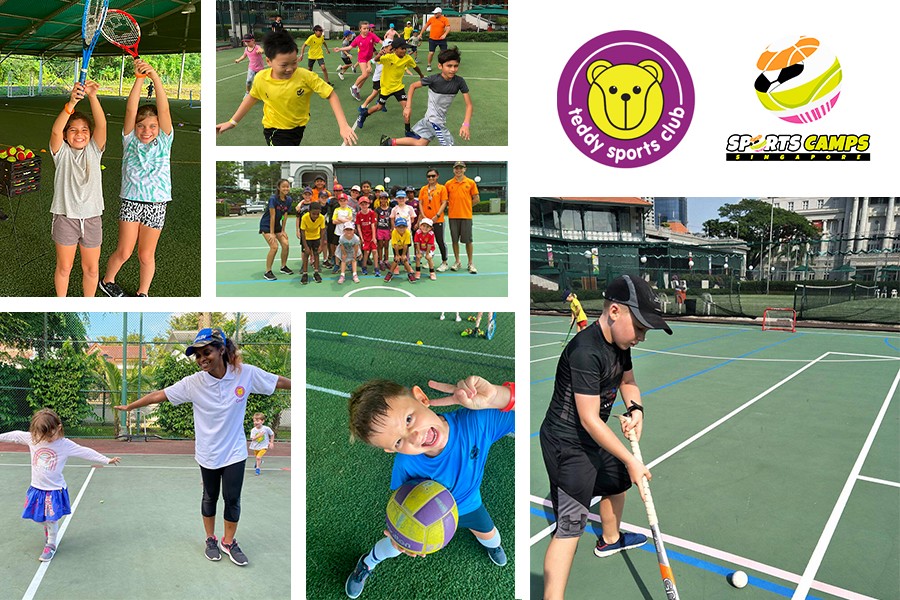 Sports Camps SG has a reputation for having starry results in a wide range of sports. This year's Easter holiday programmes for the youngest campers aged three to five will be run in partnership with Teddy Sports Club offering excellent coaching in three different sports – rugby, netball and soccer. A camp of character, a camp of serious fun – an emphasis on these elements indicate the "Visual, Audio, Kinaesthetic" multi-sensory learning approach to all sports sessions. Special mention must go to an interactive side of this approach: a combination of music, pictures and Teddy Bear characters integrated into the multi-sports holiday programme helps them to bear fruits. Their 5-day multi-sports camps are offering your child sufficient time to get to know each sport and enjoy a diverse range of activities and games over a course of a week. In the early stages, little campers are introduced to fundamental skills and develop agility, balance and co-ordination, while imparting a lifelong love of sport to all of them.
If The Cage Sports Park is too far away from you, fret not. Teddy Sports private classes can be held at your condominium. All you need is an open space (preferably a tennis court), and the coaches will handle the rest. Pick a day and time that works best for you, gather a maximum of five friends of your child to enjoy 10 weeks of sports and games with Teddy Sports coaches. Trial sessions start at $60 per group.
Dates: 15 March – 9 April 2021;
Timing: Monday to Friday 9am – 12pm;
Ages: 3 – 5;
Fees: SG$ 375 for a 5-day camp.
Location: The Cage Sports Park, 220 Turf Club Rd, Singapore 288001.




By Anna Khan
Subscribe to weekly newsletter from "Tickikids"