Singapore's June Holiday Programmes Worthy of Your Attention in 2021. Part 1
---
Published 21 April 2021 at 16:24
Tickikids Blog Singapore > Digest > Singapore's June Holiday Programmes Worthy of Your Attention in 2021. Part 1
---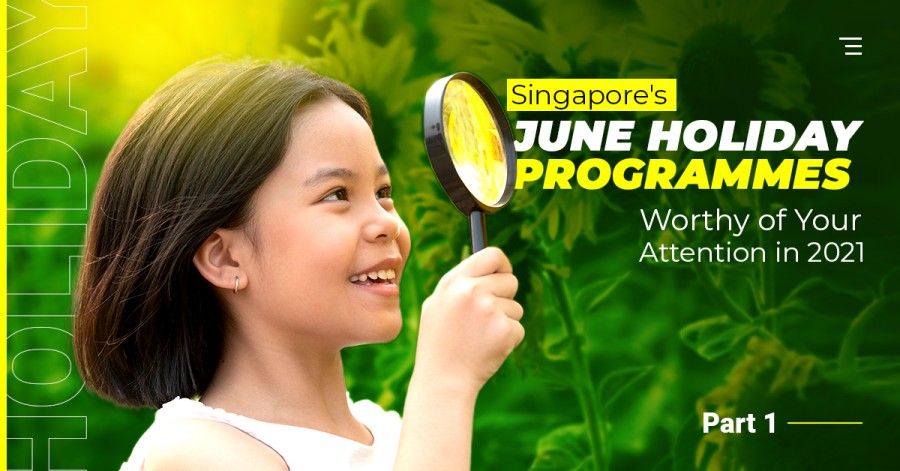 ---
June school holidays are well on their way. If you're looking for meaningful insights into the most acclaimed camps, you've come to the right place. One of the advantages of looking for a holiday programme in Singapore is that there are a lot of excellent centres to choose from. Given that the decision to choose a holiday camp is made, the best programmes selected and reviewed by our editors, reaching a conclusion as to which holiday programme will best suit your child is fairly straightforward. With so much to look forward to, let us show you around these Singapore's unmissable holiday programmes. From language study camps, science, coding, robotics, children's sporting activities to dance programmes, as we see it, the right decision is best founded upon an all-important, subjective sense of where you, as parents, can visualise your kids thriving and being happy.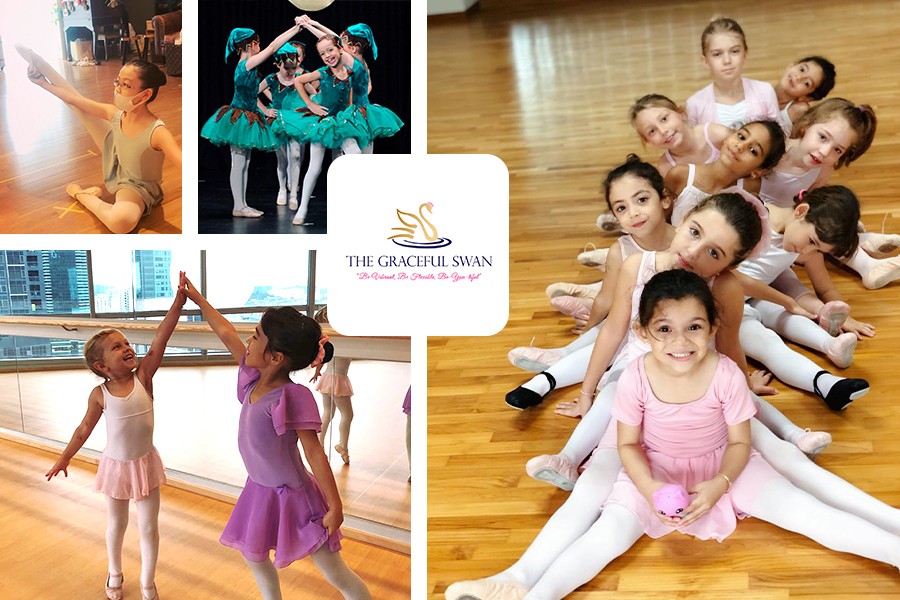 The Graceful Swan was founded by a former professional dancer, teacher and choreographer Evelyn Wong. She was trained at the esteemed ballet schools in Singapore and the USA before studying under leadership scholarship in Manhattanville College, NYC with dance luminaries. She has enjoyed a rich and diverse professional career, performing internationally for many years.
The Graceful Swan has developed a reputation over the years as one of the most sought-after dance schools for children and adults in Singapore. Leading academic schools in Singapore attribute that success to meticulously planned international dance programmes and a team of dance teachers with outstanding international experience. Because of that, its students continue their vocational education at some of the most prestigious dance schools and universities in Australia, Russia, Switzerland and the United States. But then there is an extraordinary range of holiday opportunities – seasonal dance events, school holiday camps and workshops – which introduce children to different kinds of dance genres, endowing them with physical and mental strength, gracious and elegant posture. Even if your aspiring ballerina is a complete beginner, there is no need to be apprehensive, as The Graceful Swan promotes a "can do" culture at their dance school and offers an inclusive and flexible opportunity suitable for a wide range of abilities and ages.
The Graceful Swan's list of holiday workshops and camps has grown over the years and for this June holidays, they offer a variety of camps and sessions that cater for children from ages 4 to 12, helping kids foster new interests in dance. Apply to be a part of 4-day Coppélia Theme Ballet Camps or try out new dance styles each day at Let's Move in Dance workshops, Hip Hop, Jazz, Lyrical Dance, K-Pop or Creative Movement and Ballet workshop.
To promote a sense of achievement and progression, Coppélia Theme Ballet Camp participants will be awarded a special dance gift worth $50 and a professional video recording.
Dates:
Coppélia Theme Ballet Camp: 14 – 17 June, 5 - 8 July and 12 – 15 July 2021;

Workshops: 14 June – 15 July 2021.
Timing: Camps 9:30am – 11:30am, 11:30am – 1:30pm. Workshops 9:30am – 10:45am, 11:00am – 12:15pm.
Age: 5 – 12.
Fees: $350 for a 4-day camp, $60 per workshop.
Online camps 9:30am-11:00am, 11:30am-1:00pm.

Online workshops : 9:15am -10:30am, 10:45am-12:00pm.

Fees: $325 for 5-day online camp, $60 per workshop.

Locations: 51 Waterloo Street, #03-05, S187969. 8 Grange Rd, Cineleisure Orchard, #03-05, S239695.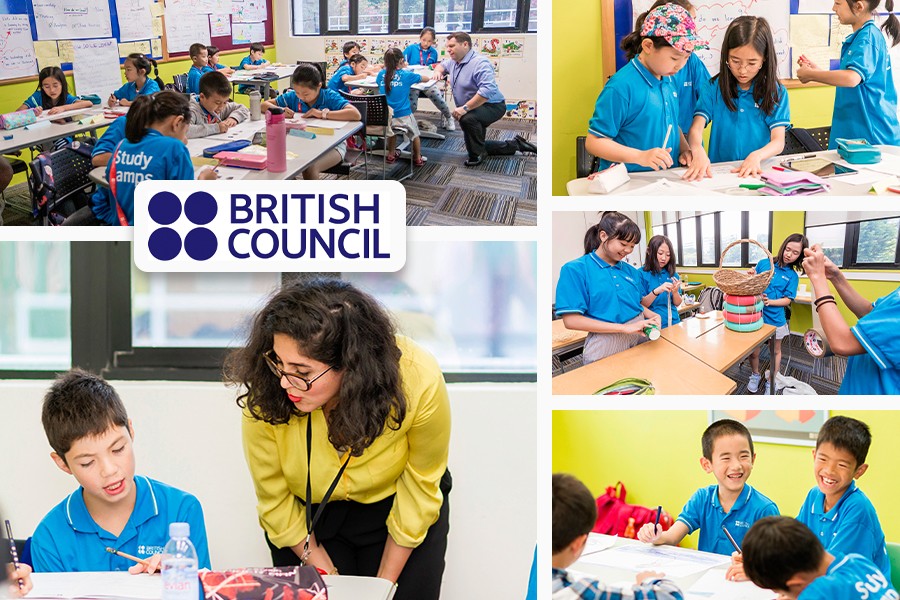 Ever since the British Council opened its doors in Singapore in 1947, this world-renowned language and cultural centre of the UK has made it its mission to deliver excellent teaching, thriving programmes, interactive classes and holidays camps for children of all levels from beginners to advanced learners. Its upcoming June 2021 Online Holiday Study Camp is no exception, in the form of exciting games and fun activities, group research projects, hands-on experiments, drama games and presentations. Delivered online, it features insightful camp programmes – many of them new – that cover a wide range of topics and situational skills as well as giving your child a sound basis for further study. Each week, students are taught English by addressing subjects that are of interest and relevance to them and exploring different themes while developing their written or spoken communication skills. Through these exciting topics, learners build their knowledge of the world around them, ignite their love of learning and develop the 21st century competencies needed for academic and future success.
While all language schools stress the importance of developing students' vocabulary, gaining confidence in communication in different situations in a practical, enjoyable and engaging way, at the British Council they practise what they preach. From Primary to Secondary students, over the online holiday study camp, everyone has lots of time to practise speaking English, more personalised attention from the most qualified and experienced international teachers, fun learning with classmates of the same age in groups and pairs, fully immersing themselves in the myriad aspects of British culture and use of the language.
As always, teachers are approachable at the British Council. Parents have an opportunity to speak to them through parent-teacher online meetings. Demand a place at this vibrant language camp now and enjoy discounts up to 25%.
Dates: 31 May – 25 June 2021;
Timing: Monday to Friday. Primary courses 9am – 12pm. Secondary courses 1:30pm – 5:30pm; 
Age: Primary to Secondary students;
Fees:
Primary 1 to 6: $552 a week, 3 hours a day;
Secondary: $736 a week, 4 hours a day.
All prices include materials, certificate and 7% GST. The minimum sign-up is for one week. You can register your child for as many weeks of the camp as you wish.
Location: online.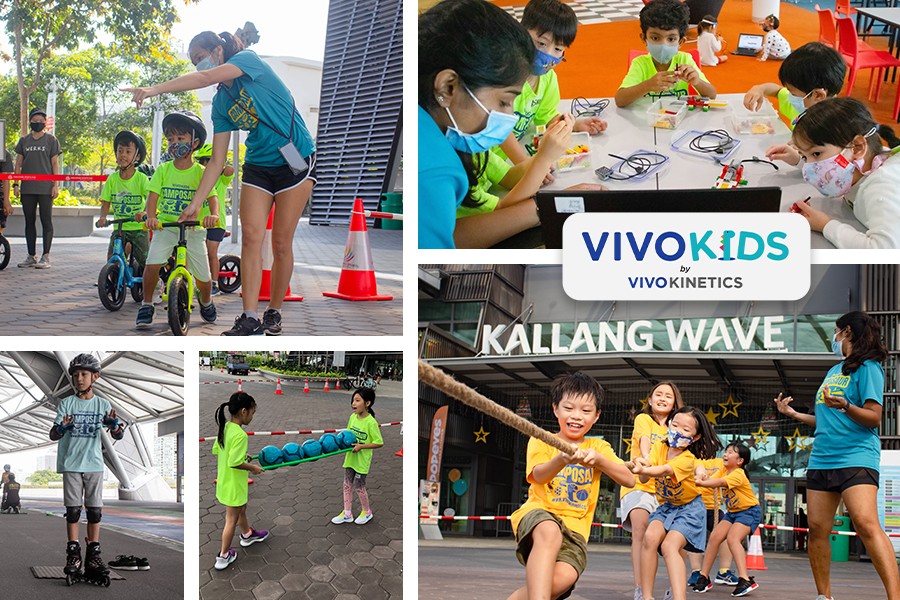 There is something reassuring about Vivo Kids Camposaur Camp by Vivo Kinetics. Perhaps it is because they are one of Singapore's long-serving multi-activity camps. Or maybe it is because Vivo Kids founder Vivian Eng is a former pre-school teacher with a Sports Science and Nutrition background, and a former athlete of the Singapore National Women's Soccer and Rugby team. Or possibly it is because of her team of dependable coaches making everything tick like clockwork. Ask Vivian Eng to define her team in three short phrases, and she replies: "athletes with a multi-sports background, kids-loving approachable instructors with true enthusiasm and passion for coaching, everyone works together as a family". Parents of their campers will surely agree.
There are a whole host of community-focused and team-building games that your kids will benefit from in the camp, enabling them to form genuine friendships. Here, kids are exposed to multi-sports like Soccer, Rugby, Floorball, Rollerblading, Cycling/Balance Bikes, Muay Thai, and simply the joy of being active children. Yet, other activities – Cookery and Baking sessions, as well as Robotics, Arts and Crafts, Slime Making and Water Play expand the opportunities for kids to learn more about themselves. A trip to Shimano Bicycle Museum and the most anticipated Camposaur Amazing Race is another contributing factor in the camp's success.
This homely Camposaur Camp, where kids over six years old can have a one-night sleepover and enjoy a Movie Night and Breakfast Cookout, knows what makes youngsters tick. Add into the equation of delicious food – Fruits, Granola Bars, Bread Rolls, Cookies, Milk and Juice for day-campers and a tasty lunch at the food court, Pizza for dinner and a breakfast cookout (eggs, toast, cereal) for sleepover children – and it's easy to see why Vivo Kids Camposaur Camp remains a top choice for children and their parents.
All of this, combined with small expert-led groups with a low coach to kids ratio of 1:5 for the youngest and 1:7 for older kids, looks to be taking on a camp that's very much on the up. With an array of activities available, it is no surprise that lots of kids come here regularly four or five holidays in a row!
Dates: 1 June – 15 August 2021;
Timing: Monday to Friday 9am to 1pm;
Age: 3.5 to 10;
Fees: from $445 to $575 for a 5-day camp including food, a branded t-shirt and attendance certificate;
Location: Sports Hub Library (4 Stadium Walk, Singapore 397697).


While you might think of Singapore as lacking in Parkour holiday camps, head to MOVE Academy in Bishan and be prepared to be surprised. This centre, previously known as ADD Academy Singapore, is the brainchild of the Yamakasi founders Chau Belle, Williams Belle, Yann Hnautra, and Laurent Piemontesi. To those not in the know, the name "Yamakasi" comes from Lingala, a Central African dialect, and signifies "strong spirit, strong body, strong person", while "Parkour" derives from the French word "Parcours" meaning 'route' or 'course'.
Far from the tired old stereotype, Move Academy Singapore provides a safe, supportive and non-competitive environment in which the campers can learn the fundamental movements and methods of parkour, how to manage and control yourself in response to the environment, moving safely, effectively, and efficiently. Run under the expert guidance of Coach CP (Denester), the Vice President of Parkour Singapore and lead Parkour coach at MOVE Academy Singapore, it's no surprise that the holiday intensive camp is attracting increasing attention. The Academy takes in a wide range of children aged 7 to 12 with different abilities and each is encouraged to do their best. Parkour is a training discipline where agility, balance and coordination are all developed in the individual child as well as self-confidence and physical strength. Parents really like the fact that in addition to the core discipline, there are so many opportunities for their kids to grow mentally, physically and socially which are the vital aspects of every healthy child's upbringing.
The campers are placed into small groups according to their maturity and ability, in order to give them the most optimal learning experience. There are three types of camps on offer: Kids Parkour Camp, Kids Intermediate-Advanced Parkour Camp for those who have attended previous Parkour Camps, and Kids Multi-Disciplinary Camp where the campers can engage in dance, parkour, flips, capoeira and more. There are options of 3-day and 5-day holiday camps to choose from.
Dates:
Kids Parkour Camp: 14 June – 30 July 2021, Kids Intermediate-Advanced Parkour Camp: 14 – 18 June 2021, 5 – 9 July 2021, Kids Multi-Disciplinary Camp: 21 – 25 June 2021, 19  – 23 July 2021.
Timing:
3-day camps: Monday to Wednesday 9am to 2pm, with a lunch break (lunch isn't provided – kids are encouraged to pack their own light lunch, such as a sandwich, fruits and biscuits.)
5-day camps: Monday to Friday 9am to 12pm or 9am to 2pm (depending on the week chosen);
Age: 7 – 12;
Fees: from $420 to 680.
Locations:
Bishan Spot 1 – Open-air auditorium next to Blk 204 Bishan Street 23, Singapore 570204;
Kraken Gym – Kraken Gym, 1 Pemimpin Drive, #02-05, Singapore 576151;
Bishan Spot 2 – Open-space near Blk 228 Bishan Street 23, Singapore 570228.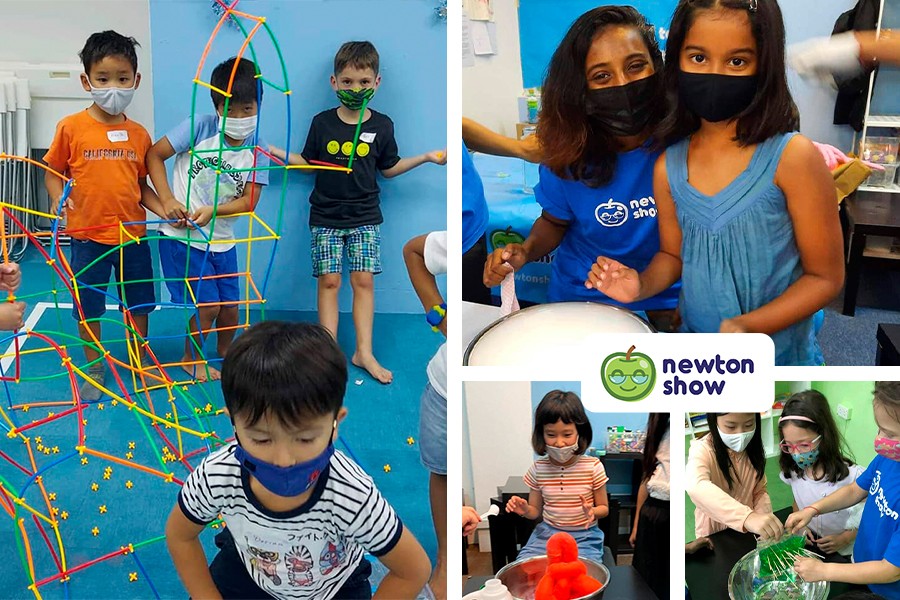 NewtonShow ranks among the very best holiday camp in Singapore. Parents and kids rave about its fresh take on science education. It is genuinely and passionately focused on children's development through fun science experiments and games. A multitude of facts may impress parents: 11 years of experience, 5 countries, more than 4,000 happy campers. Equally remarkable is the focus on providing its campers with materials that are sourced and certified in the USA and Canada. On the subject of quality and safety, all experiments and tests featured within the courses are extensively verified and approved by actual scientists.
This summer holiday season they offer two science programmes – Chemistry Monsters and Space Academy for children aged 3 to 13.
What could be more exciting for kids than SPACE and SCIENCE? It is not only up-to-date and relevant but also the most exciting, adventurous and valuable subjects to study today. So many of the world's current problems boil down to space. And over the Space Academy Camp children will have enough time to immerse themselves into two subjects – mysterious SPACE and unpredictable SCIENCE. And, behind all the fun, the campers will actually design creative scientific questions, investigate and communicate ideas.
We know that Chemistry, with its exciting fizzes and bangs, is a subject that really engages and fascinates kids. It gets them to think 'What will happen if...?' Giving children handles to understand what is going on and an ability to think critically about the processes that are driving what is happening, Chemistry Monsters Camp is the most hands-on camp NewtonShow has ever provided!
Dates: 31 May – 27 August 2021;
Timing: 9am – 4pm;
Age: 3 – 13;
Fees: SGD 630 per child for an all-inclusive 5-day-programme including 2 snacks, lunch, a branded t-shirt, photo, certificate, NewtonShow magazine, bus transportation (optional);
Venues: East (229 Joo Chiat Road), Centre (9 Mohamed Sultan Road), West (887a Bukit Timah Road), Novena (175 Thompson Road).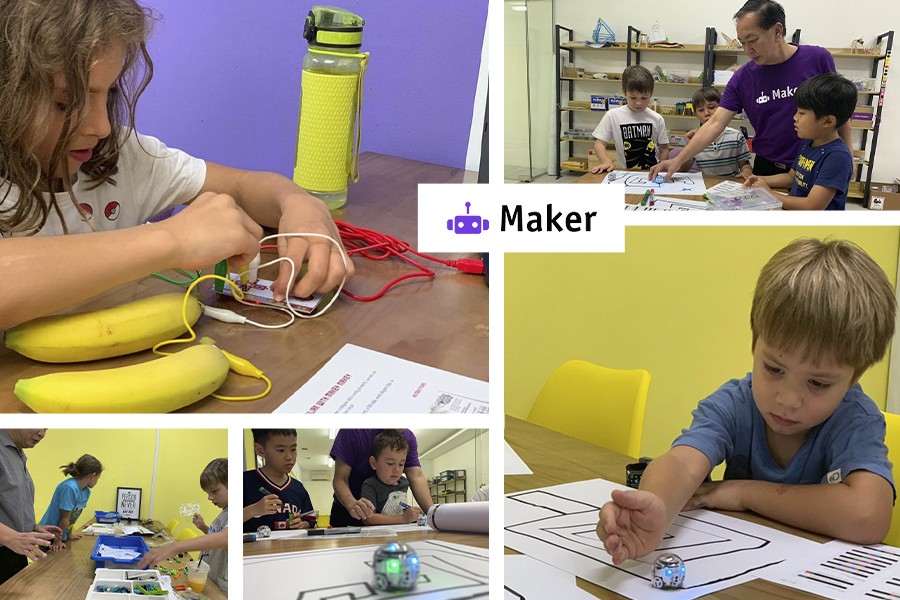 Flooded with robotics, coding and maker projects, Maker SG is the place to go for little inventors. Maker SG has now delivered its latest high-performance holiday programme to encourage advanced thinking. This summer, their two camps – Harry Potter Maker Camp and Hands and Brain Maker Camp – utilise the most innovative, premium quality, original equipment and tools such as 3D pens, Chibitronics, Makey Makey, Squishy Circuit, 3D puzzles and Quibits, that will inspire curiosity, intellect, creativity and imagination in each and every child. All of this, combined with heaps of choice from robotics, coding, circuit modelling, inventing, 3D modelling, engineering and basic programming to Lego EV3 and Lego WeDo, produce budding programmers and engineers, happy boys and girls with a can-do attitude. A variety of competitive challenges will follow a wealth of themed interactive games. The most popular activities are, by far, Straw bridge competition, mind football, Robo battle, doodling Hypogryph, aerodynamics for wizards, levitation/flying toes, magic wand project and Hogwarts for Ozobots. Experienced tutors and a ratio of one teacher to five students are a top priority at these summer holiday camps. The children's only complaint? Camps simply aren't long enough.
Dates: 31 May – 27 August 2021;
Timing: 9am – 4pm;
Age: 5 – 14;
Fees: 630 SGD including 2 snacks, healthy lunch, a t-shirt, certificate, all relevant supplies and materials.
Locations: WEST (887A Bukit Timah Road), CENTRAL (9 Mohamed Sultan Road) and Novena (175 Thompson Road).




Founded in 2017, Genius Assembly has truly established itself as an oasis for those seeking the best possible STEM and chess courses for kids in Kovan. While the results are fantastic – around 200 completed camps and courses, over 1,000 certificates and genuinely happy children – Genius Assembly believes they are inspiring a love for learning and championing future thinkers.
In light of the latest set of covid restrictions under Phase 2, for the upcoming June holidays, Genius Assembly offers the most sought-after online and in-person holiday programmes, including the online Chess Holiday Camp for novices and beginners, in-person Coding & Robotics Camp for 4- to 6 year-olds and online for 7-9-year olds, in-person Lego Robotics Camp for children aged 8 to 12, as well as online Code Easy Scratch for 7-9-year-olds and in-person Code Easy Python for youngsters aged 8 to 12.
Every camper is part of a small age-specific tutor group (with a maximum of four students per group), given lots of support from experienced coaches and engaged in a wide and varied holiday programme. During the holiday camps, pre-schoolers can try their hands at early coding concepts, while elementary and high school students can take advantage of STEM and more advanced Robotics projects. Whether your kids want to level up their coding skills in just a few workshops, master the secrets of HTML or learn coding languages such as Python and Scratch, there is plenty to explore in an age-appropriate manner. All this is underpinned with a structured approach to coding through a series of fun, game-based exercises, various Lego products easily adaptable to fit any learning environment.
Meanwhile, the online Chess Camp will focus on five principal areas as per the International Chess Federation – chess rules & etiquettes, chess openings, special moves, chess tactics and basic checkmates to win a game. The camp is aimed at complete beginners and novices aged 5 to 10, so no previous knowledge or practice is necessary. It is also suitable for those who have some background in playing chess.
Dates: 31 May – 25 June 2021;
Timing: 9:30am – 11:30am or 12:30pm – 2:30pm subject to the camp. Chess online camps 3pm – 5pm.
Age: 4 – 14;
Fees: from $139 to $260 for a 10-hour course. As they say, the early bird catches the worm – so why not take advantage of their Early Bird booking discount?
Location: online or Kovan MRT, 212 Hougang Street 21 Hougang, #01-319, 2nd floor, Singapore.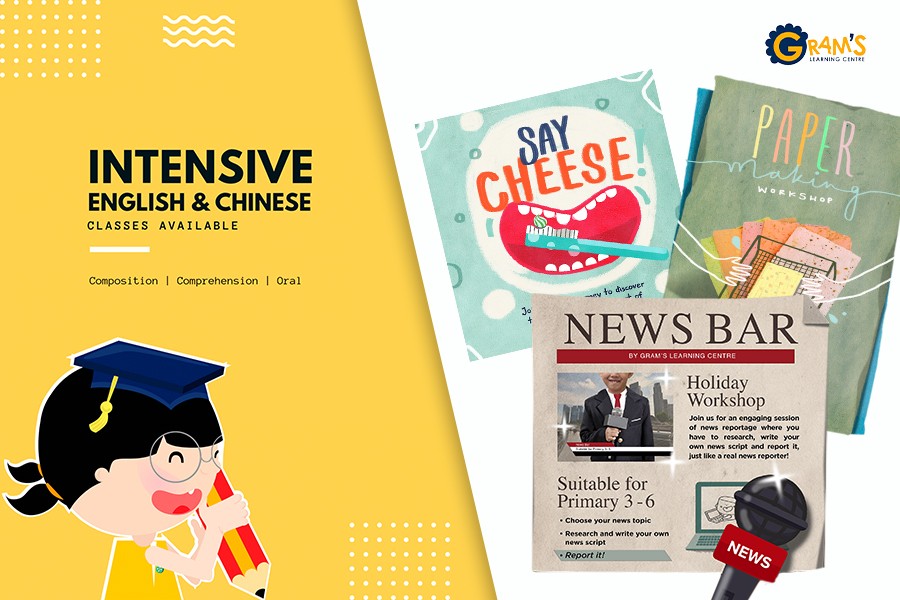 Children clearly thrive off Gram's Learning Centre's fusion of creativity, brainstorming, interesting craft and hands-on activities during the fun imaginative holiday workshops. There's nothing quite like the News Bar holiday session, Papermaking workshop and Say Cheese session.
While it may be some time before your little one is able to work on real news reports for one of the famous TV channels, they can at least experience some aspects of journalists' lives, making the most of their existing talents but also exploring new ideas and opportunities. To that end, Gram's Learning Centre offers participants of the News Bar holiday session to research, write their own news script and report it, just like a real news reporter! The kids are also involved in the process of choosing the news topic, brainstorming and researching in-depth on it with their fellow classmates. Afterwards, parents will receive a private video link to their child's news reporting.
For three days only, the kids over 5 years old will get the chance to take part in the fun-filled morning Papermaking Workshops. The participants will have their handmade paper mailed back after drying.
Say Cheese sessions get participants actively involved in fun and enjoyable hands-on activities and interesting crafts, ensuring everybody learns something positive about their oral health, sugar and snacking. They will also be making a healthy snack and having it in class.
Being a leading children's learning centre in Singapore, Gram's Learning Centre also offers an intensive private 1-2-1 session in Chinese or English. Parents may choose a lesson with a focus on some specific area such as comprehension, composition or oral communication.
Dates: 2 – 17 June 2021;
Timing: varies depending on the date;
Age: 3 – 6;
Fees: from $55 to 118 subject to the workshop;
Location: 144 Upper Bukit Timah Road #02-15 Beauty World Centre, Singapore 588177.




It's always exciting when tried-and-tested STEAM teaching methods find a new path appropriate to children's abilities. The importance of analytical thinking and innovation as well as the relevance of STEAM subjects in today's world are reflected in the importance it is given within Neobael's online holiday programmes. Founded by an entrepreneurial couple and experienced educator, Neobael is always at the cutting edge of technology providing inquiry-led learning modules that are completely aligned to the Singapore MoE syllabus. All modules are pedagogically sound and designed with minimum parent dependency in mind. That's not to say these programmes aren't fun.
From 14th June, children will be working on a series of experiments to explore how we can measure force and incorporate our knowledge of forces into design. Alongside, they explore the running blades used by world-class athletes, how humanitarian aid can be delivered by parachute and how we can present factual information using good literacy techniques. Together the exploration of these themes helps the youngsters to gain a more comprehensive understanding of how things work in the world around us and build an essential understanding of our existence, our lifestyles and how we interact with this world.
Dates: 14 – 25 June 2021;
Timing: 4pm – 7pm;
Age: 10 – 11;
Fees: $125 for a 5-day online workshop or $249 for a 10-day camp.
Location: online.
By Anna Khan
Subscribe to weekly newsletter from "Tickikids"