Fantastic Summer Holiday Camps You Won't Want to Miss in 2021
---
Published 17 May 2021 at 21:27
Tickikids Blog Singapore > Digest > Fantastic Summer Holiday Camps You Won't Want to Miss in 2021
---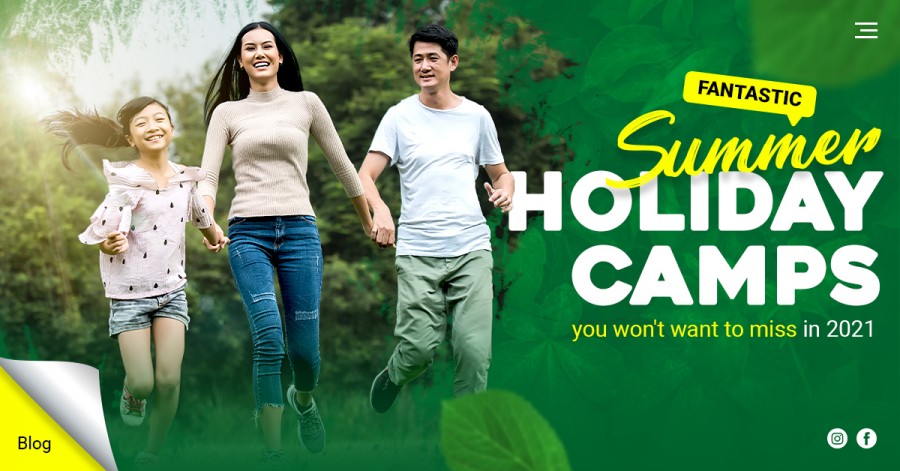 ---
Ahead of summer holiday camps opening for some richly deserved rest and learning outside the school curriculum with bookings able to commence right now, here is our edit of the Singapore holiday camps and workshops worth visiting for playing sports, getting crafty, painting, performing, inventing, improving English and catching up with friends. In these exciting times, it pays to have a perspective that you can trust. And our team will take you through all the best holiday events if you're planning to attend summer holiday camps, daily programmes or workshops from 31 June 2021.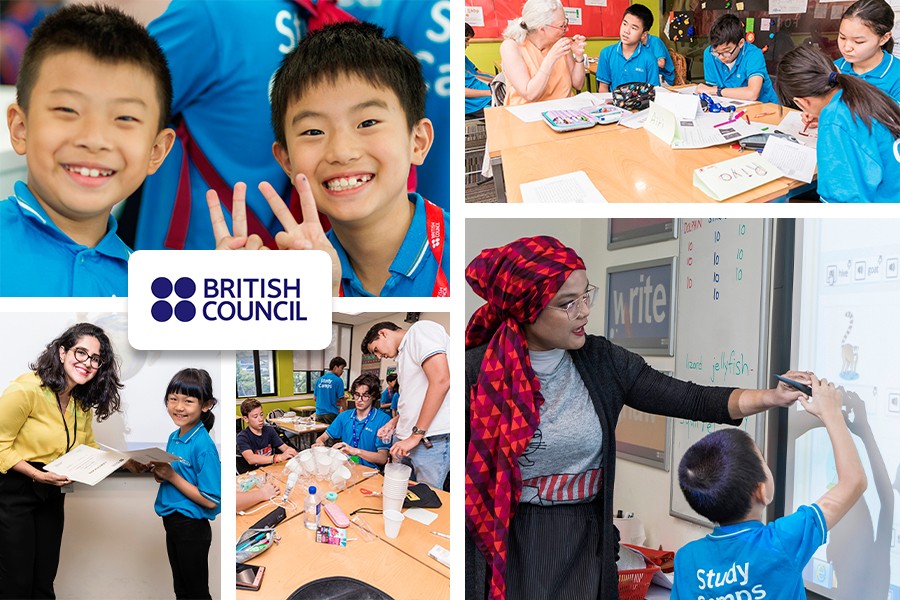 Ever since the British Council opened its doors in Singapore in 1947, this world-renowned language and cultural centre of the UK has made it its mission to deliver excellent teaching, thriving programmes, interactive classes and holiday camps for children of all levels from beginners to advanced learners. Its upcoming Summer Study Camp is no exception, in the form of exciting games and fun activities, group research projects, hands-on experiments, drama games and presentations. It features insightful camp programmes – many of them new – that cover a wide range of topics and situational skills as well as giving your child a sound basis for further study. Each week, students are taught English by addressing subjects that are of interest and relevance to them and exploring different themes while developing their written or spoken communication skills. Through these exciting topics, learners build their knowledge of the world around them, ignite their love of learning and develop the 21st-century competencies needed for academic and future success.
While all language schools stress the importance of developing students' vocabulary, gaining confidence in communication in different situations in a practical, enjoyable and engaging way, at the British Council they practise what they preach. From Kindergarten 1 to Secondary students, over the Summer Study Camp, everyone has lots of time to practise speaking English, more personalised attention from the most qualified and experienced international teachers, fun learning with classmates in small group sizes, fully immersing themselves in the myriad aspects of British culture and use of the language.
As always, teachers are approachable at the British Council. Parents have an opportunity to speak to them through parent-teacher meetings. Demand a place at this vibrant language camp now and enjoy discounts up to 25%.
Dates: 
31 May to 25 June 2021 – Online Camps for Primary and Secondary students. There is no Camp Plus afternoon add-on programme during this period.
28 June to 27 August 2021 – Face-to-Face Camps for students aged 4 to 15. Camp Plus afternoon add-on programme is available during this period.
Timing: Monday to Friday. Study Camp morning programme 9am – 1pm; Camp Plus afternoon add-on 2pm – 4pm;
Age: 4 – 15;
Fees:
From 31 May to 25 June 2021:
Primary 1 to 6: $552 a week, 3 hours a day;
Secondary: $736 a week, 4 hours a day.
From 28 June to 27 August 2021:
Study Camp morning programme: S$736 a week, 4 hours a day;
Camp Plus afternoon add-on: S$300 a week (only for students who sign-up for the morning programme).
S$30 for two shirts (uniform).
All prices include materials, certificate and 7% GST. The minimum sign-up is for one week. You can register your child for as many weeks of the camp as you wish.
Location: Napier Road Centre – 30 Napier Road.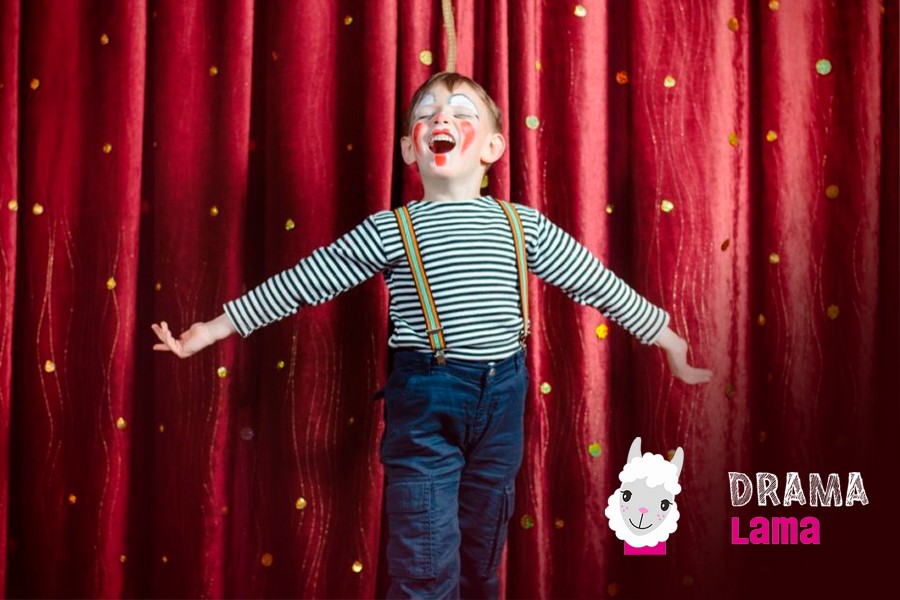 Photo Credit: Oleg Mikhaylov / Shutterstock


DRAMA Lama opens performing art to all – from the future starts who want to achieve greatness on theatrical stages and the big screen to those for whom drama builds confidence with communicative and collaborative skills. This is a drama-based holiday camp for kids aged 6 to 14. For the campers, there is the opportunity to work with top-flight drama teachers who have got world-class education and staged children's productions in China, India and Eastern Europe. They are determined that theatre at DRAMA Lama should spark the imagination, entertain and inspire. Child development is at the heart of everything they do, so the 5-day camps are designed to teach life skills that will be invaluable in future life such as public speaking, stage performance, improvisation, creativity and communication. Two productions The Pied Piper for kids aged 6 to 8 and The Devil With Three Golden Hairs for 9- to 14-year-olds are an unquestionable highlight with the camp participants rehearsing every day. Activities are delivered in an inclusive way that enables every child to participate fully and benefit from the time at the holiday camp. The course will culminate with a stage performance involving all the kids.
Dates: 14 June – 28 August 2021;
Timing: Monday to Friday 9am – 4pm;
Age: 6 – 14;
Fees: $630 for a 5-day camp including all materials, lunch and two snacks, a t-shirt, photo, certificate and bus (optional).
Location: 278 River Valley Road at OMG building, Singapore 238319.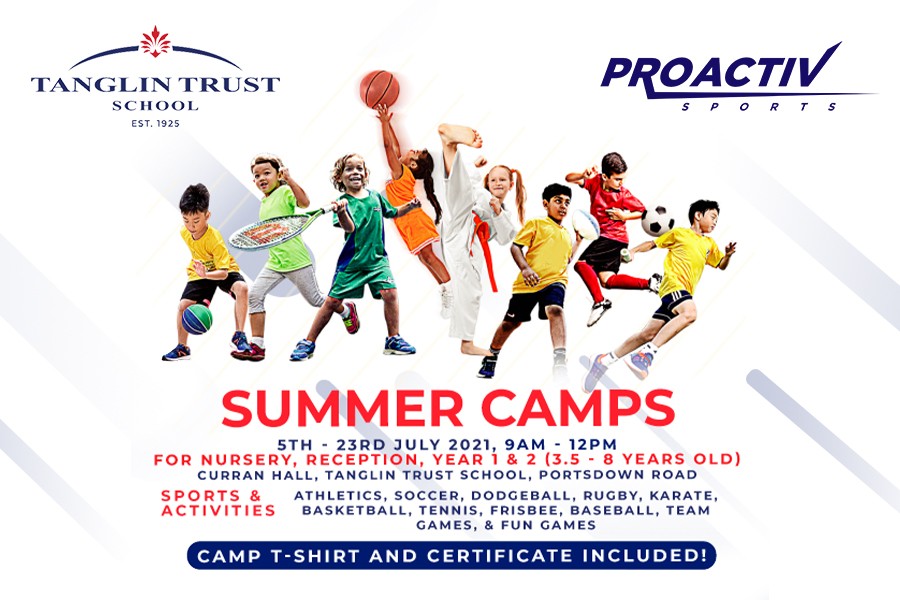 From developing fundamental movement skills at an early age to honing the foundations for becoming successful in sports, ProActiv Sports is unrivalled in giving any aspiring athlete the best chance of realising their sports dreams.
During the summer camps run at Tanglin Trust School, all children aged 3.5 to 8 will have a chance to play soccer, dodgeball, rugby, basketball, tennis, frisbee, baseball, do athletics and karate. Even if sport isn't the most obvious talent of your child, the good news is that the highly qualified coaches, who have run camps for over 10 years, know how to create a welcoming and inclusive environment for young children. Their pioneering coaching curriculum is relevant for all levels of ability and enthusiasm, and it enables every child to participate in and enjoy the sport. There is plenty of fun for the kids too with daily team-building and fun games. The experiences of playing as a team, winning and losing graciously, help build strong bonds between the campers and grow respect and discipline. On the very first day, every child receives a branded t-shirt and it also makes the children feel part of a team.
Dates: 5 – 23 July 2021;
Timing: 9am – 12pm;
Age: 3.5 – 8;
Fees: $349 for a 5-day camp, including a t-shirt and certificate.
Venue: Curran Hall, Tanglin Trust School, Portsdown Road.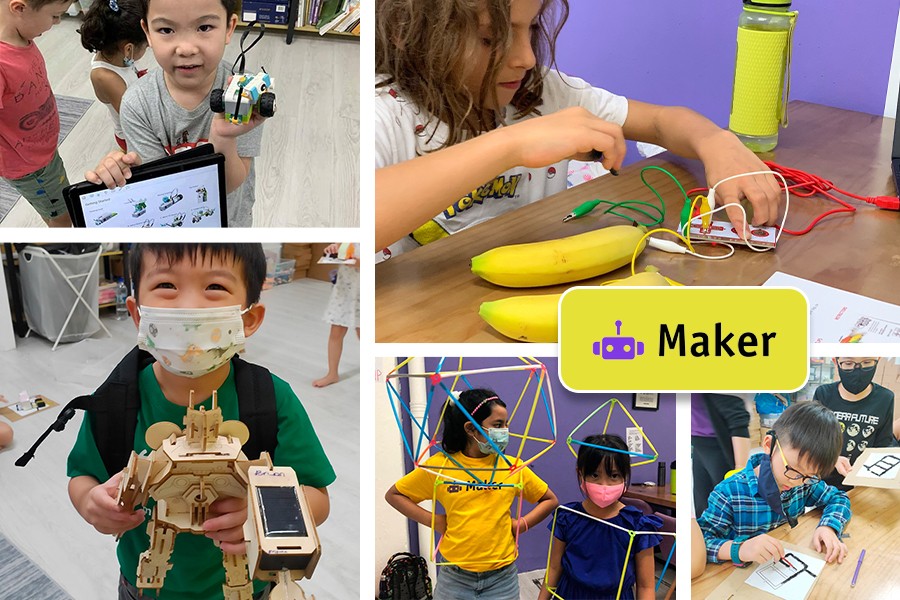 Flooded with robotics, coding and maker projects, Maker SG is the place to go for little inventors. Maker SG has now delivered its latest high-performance holiday programme to encourage advanced thinking. This summer, their two camps – Harry Potter Maker Camp and Hands and Brain Maker Camp – utilise the most innovative, premium quality, original equipment and tools such as 3D pens, Chibitronics, Makey Makey, Squishy Circuit, 3D puzzles and Quibits, that will inspire curiosity, intellect, creativity and imagination in each and every child. All of this, combined with heaps of choice from robotics, coding, circuit modelling, inventing, 3D modelling, engineering and basic programming to Lego EV3 and Lego WeDo, produce budding programmers and engineers, happy boys and girls with a can-do attitude. A variety of competitive challenges will follow a wealth of themed interactive games. The most popular activities are, by far, Straw bridge competition, mind football, Robo battle, doodling Hypogryph, aerodynamics for wizards, levitation/flying toes, magic wand project and Hogwarts for Ozobots. Experienced tutors and a ratio of one teacher to five students are a top priority at these summer holiday camps. The children's only complaint? Camps simply aren't long enough.
Dates: 31 May – 27 August 2021;
Timing: 9am – 4pm;
Age: 5 – 14;
Fees: 630 SGD including 2 snacks, healthy lunch, a t-shirt, certificate, all relevant supplies and materials.
Locations: WEST (887A Bukit Timah Road), CENTRAL (9 Mohamed Sultan Road) and Novena (175 Thompson Road).




Neobael prepares children for the future by enriching them with 21st Century skills such as problem-solving, critical thinking, empathetic leadership to name a few. Their global classrooms are designed with an online-first approach empowering children and educators across the world to connect, collaborate and learn. 
Neobael makes learning fun as well as meaningful through its experiential and thematic S.T.E.A.M-aligned modules. The modules are pedagogically sound and pegged against the MoE Singapore as well as UK Key stages. Each module at Neobael is meticulously designed by educators and industry experts by tackling the Why first. It is a direct result of about 100 works of meticulous planning that ensures every child has an incredible learning experience. It is designed with zero parent dependency in mind.

This team is a group of parents, educators and industry experts from across the globe from Ireland to Australia with a passion for designing and delivering high-quality learning for the younger generation. Founded by an entrepreneurial couple and an experienced educator, Neobael is headquartered in Singapore and has attracted learners from Prague to the Philippines. 

Neobael offers a variety of classes through 1.5 hour sessions, 3 hour sessions, 15 hour sessions or 30 hour sessions. All spread across the summer which includes breaks, offline tasks and independent work too! Their unique teacher to student ratio of 2:6 ensures that every child has a personalised learning experience and provides real time feedback with detailed analysis.

This summer experience the magic of Neobael from the comfort of your home. Enhance your child's learning through fun topics such as football, space, rainforest and forces. These camps will not only inspire child(ren) to imagine, connect and collaborate but also coach them towards their learning goals. Hurry, the camps are offered with 50% off! Still a bit unsure? No problem! Sign up for any of the trial classes and experience the Neobael global S.T.E.A.M classroom at just $15 from the comfort of home! 

Dates: 7 June – 13 August 2021;
Timing: Monday to Friday 3.30pm – 6.30pm or 4pm – 7pm;
Age: 7 – 11;
Fees: $125 for a 5-day online workshop or $249 for a 10-day camp;
Location: online.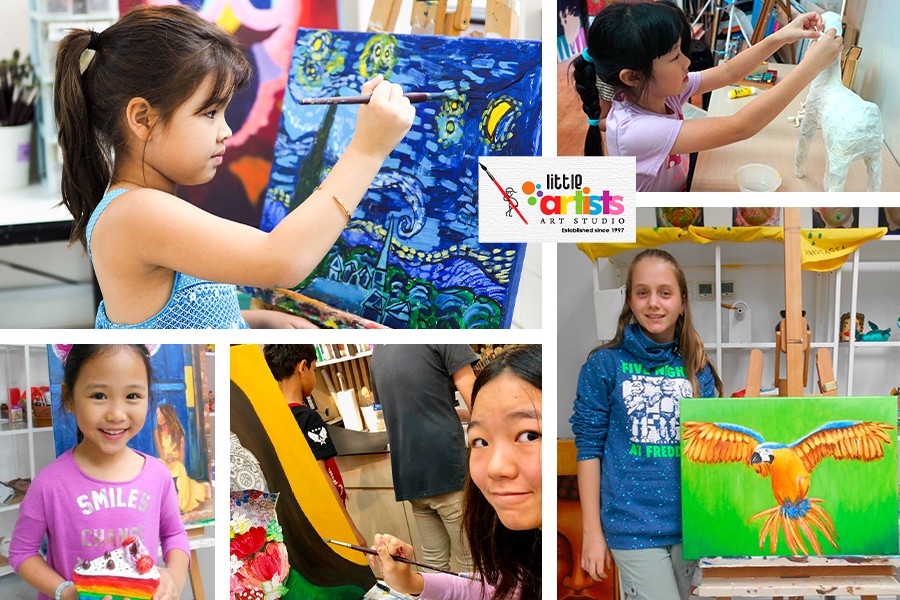 This is the Fine Art camp to opt for if an enjoyable path to self-discovery is top of the agenda. The cosmopolitan team of art tutors, who are all professional artists with degrees in Fine Arts or Design, is doing a great job, preserving Little Artists' well-balanced focus on fostering imagination, freedom of expression and curiosity – important aspects of creativity. By giving children the confidence to explore art, uninhibited by ability, and a little peace and relaxation after a school term, the budding artists and masters alike immerse in painting, sketching, sculpture and 3D projects over Artrageous Art Camp. All of the campers are taught through careful demonstrations and a full series of project samples – from clay sculptures to charcoal sketches and big canvases – that allow campers to gain in confidence and explore everything Fine Art has to offer.
A varied and stimulating curriculum of Artrageous Art Camp is enriched by watching and discussing movie clips, extension work, complimentary bonus classes and art tours, available to kids throughout the camps. Recent highlights include a movie clip Loving Vincent about Dutch painter Vincent Van Gogh, a clip featuring a contemporary Chinese master calligrapher painting a classical poem with a giant brush, a sneak peek of modern animators at Disney creating sketch boards for Zootopia, and vintage animation footage of Mickey Mouse.
The campers also enjoy visits to studios of practising artists and behind-the-scenes tours at some museums and galleries. Plus, in exciting news for enthusiastic campers, Artrageous Art Camp provides you with bonus classes to do additional projects in new mediums if you did not have enough time to make in your 2- or 4-day camp. For instance, a child who focused on painting and sketching in a two-day half-day camp would make a terracotta sculpture in their complimentary bonus class.
Dates: 31 May – 15 August 2021;
Timing: Monday to Thursday. Full-day 10am – 5pm, half-day 10am – 2pm;
Age: 4 – 17;
Fees: $300 – $850 including materials.
Location: 55 Siglap Road #02-18 (Siglap Centre) Singapore 455871.
Find Out More


An iconic female pilot Amelia Earhart, a trailblazer of voyages Christopher Columbus, a brilliant scientist Albert Einstein and a pioneer of computer programming Grace Hopper – these renowned historical figures made remarkable discoveries as part of their lifework in their areas of expertise.
Paying homage to these inspiring pioneers of discovery, ISS Discovery School: Summer 2021 welcomes aspiring young discoverers onboard our journey of exploration and learning! Dive into the areas of Language, STEM, Arts and Sports through our holistically designed programmes that are customised to suit the learning needs of learners across the ages of 4 to 16.
The courses are holistically designed to last a week and each week provides different activities and challenges under an overarching theme for all age groups and all programmes. So even if you pick the same Discovery programme for multiple weeks, the topics evolve and are guaranteed to pique your child's interest. Adventure awaits, at ISS Discovery School: Summer 2021!
Dates: 28 June – 23 July 2021;
Age: 4 – 16;
Timing: Half-day 9am – 12pm, 1pm – 4pm. Full-day 9am – 4pm (includes lunch break);
Fees: $490 - $640 or a half-day course, $980 - $1280 for a full-day course. Prices are inclusive of GST as well as excursion fees (depending on courses chosen).
Location: 21 Preston Road, Singapore 109355.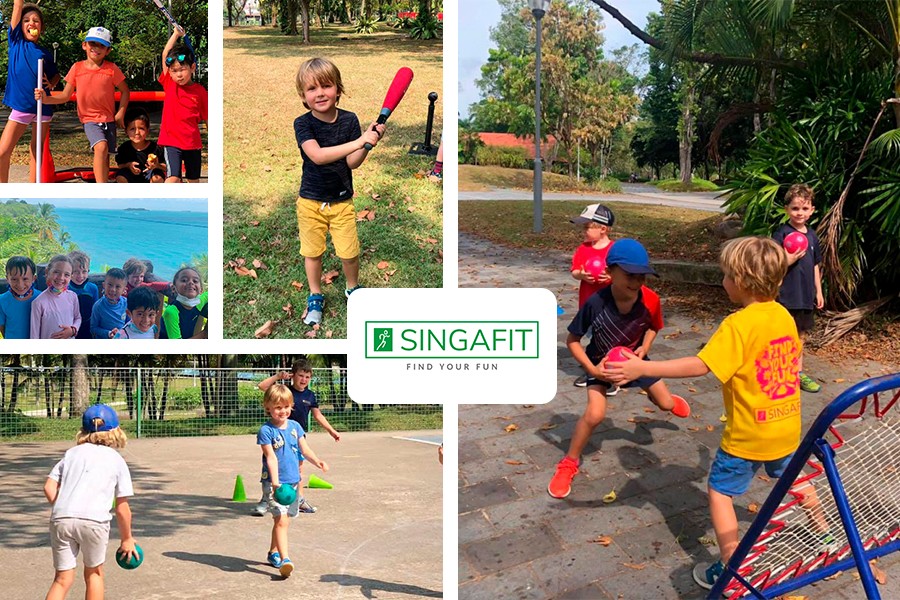 There's nothing quite like a summer jam-packed with vigorous sporting activities each week. There is surely nowhere better for long-awaited multi-sports games-playing bolstered by matches, activities and clubs than Singafit Multi-Sports Camp. Children here need bags of robust energy, as camp life involves lots of time outside letting off steam in the parks' grounds and on the games fields: youngsters enjoy three or even seven hours of a daily games programme, taking part in a huge range of fun activities on offer. Just think – 50 various activities and 30 different sports including rare disciplines like kinball, tchoukball, capoeira, archery tag, laser tag, circus arts and dance sessions. Full-day campers will benefit from Friday trips to places like Sentosa (Hydrodash), GymKraft (Gymnastics) or Rock Climbing.
Part of the extensive summer holiday programme that particularly distinguishes Singafit is a strong emphasis on values called C.A.R.E.S Value System (Courage, Appreciation, Respect, Effort, Selflessness). Young people have much to gain from the challenge of sport, as well as improve self-discipline. They learn how to work in a team and cope graciously with both victory and defeat which shape the kid's character.
In addition, Singafit offers their brand new programme Multi-Sports Games for the older kids aged 10 to 14. Playing competitively is an integral part of every single day while converting coaching to skill development, sportsmanship and C.H.A.M.P (Co-Operation, Honour, Adaptation, Motivation, Passion) values.
If you don't want to leave the comforts of your condo to attend a camp, Singafit can also arrange specialist coaching for a group of a minimum of 4 – 5 children, bringing the multi-sports Condo Camps to your premises. When children have individual sporting interests, the coaches make arrangements so as to encourage and foster these pursuits.
Dates: 31 May – 10 September 2021;
Timing:
Morning camps 9.30am – 12.30pm. Afternoon camps 1.30pm – 4.30pm;
Morning and Afternoon full-day camps 9.30am – 4.30pm;
Age: 3 – 14;
Fees: Singafit Multi Sports Camps – $300 for morning or afternoon only; $475 for a full-day camp. Singafit Multi-Sports Games – $400 for the morning only.
Locations:
Multi-Sports Camps: Bishan Park, Serangoon Community Park, West Coast Park, Tanjong Rhu;
Multi-Sports Games: Kovan Sports Centre.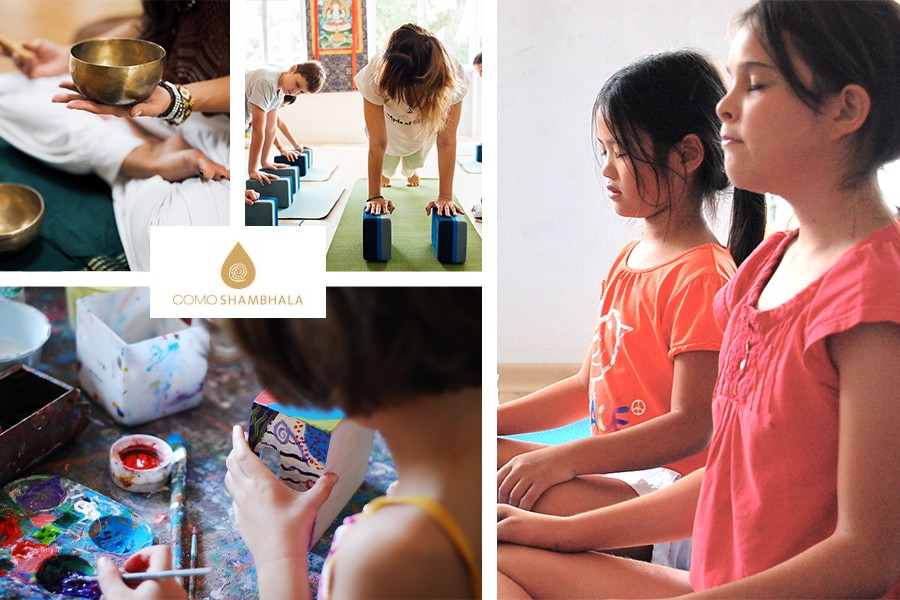 COMO Shambhala is synonymous with quiet luxury with show-stopping spas across nine countries worldwide and top-of-their-game therapists. Established in 1997, COMO Shambhala is famous for proactive holistic wellness, combining modern science with ancient healing. It has a winning formula: an inspirational founder Christina Ong with several decades of committed daily yoga practice, plus a team of accredited specialists – all united by a shared philosophy. That philosophy aims to inspire a lifelong commitment to all-round wellbeing. Even now, not a single teacher joins the COMO Shambhala without Mrs Ong's approval.
COMO Shambhala is also known for being at the forefront of children's holistic development, paying attention to their physical, personal, social, emotional and spiritual wellbeing. By offering the 3- or 5-day holistic online camp Awaken Joy and Travel Around The World With Us, held each week during the summer season, COMO Shambhala surpasses the expectations of even the most clued-up parents. Every week, the children will be travelling around the globe, exploring different countries to learn their culture, languages, art and food. Along the way, they will create their own journal about the world through mindfulness-based activities. Among the first two countries are Japan and Hawaii. As part of the programme, COMO Shambhala will provide you with a special 'travel pack' which contains creative art materials for your child to use during the activities. The travel kit includes material such as canvas board, watercolour, drawing papers, chalk pastels, sketch pen/pencil/erasers, sticker pack, acrylic paint pods, food clay material, origami, shrink plastic, ornaments, and tie-dye materials.
Led by Jolie Michelle Ow, the camp incorporates her signature programme – Movement, Art and Mindfulness – that uses singing, dancing, music, relaxation and meditation to encourage more creative ways of thinking. But despite this relaxed atmosphere, children will embark on a holistic learning journey filled with joyful daily practices that develop social skills, body awareness and new ways of looking at our beautiful world.
What's more, each parent can expect a complimentary block of three online classes worth $70. Download the CSUE app, create a profile, then check out via this promo code LIVE3 and earn access to the free live-stream classes including Yoga, Pilates and meditation sessions. What more incentive could you need?
Dates: 31 May – 11 August 2021;
Timing: Monday to Friday 9am – 8pm;
Age: 5 – 18;
Fees: $315 (inclusive GST) for a virtual 3-day camp, top-up $135 for a virtual 5-day camp.
Location: Currently Online. When restrictions are lifted, in-person at 402 Orchard Road, #06-01-02 Delfi Orchard, Singapore 2388876.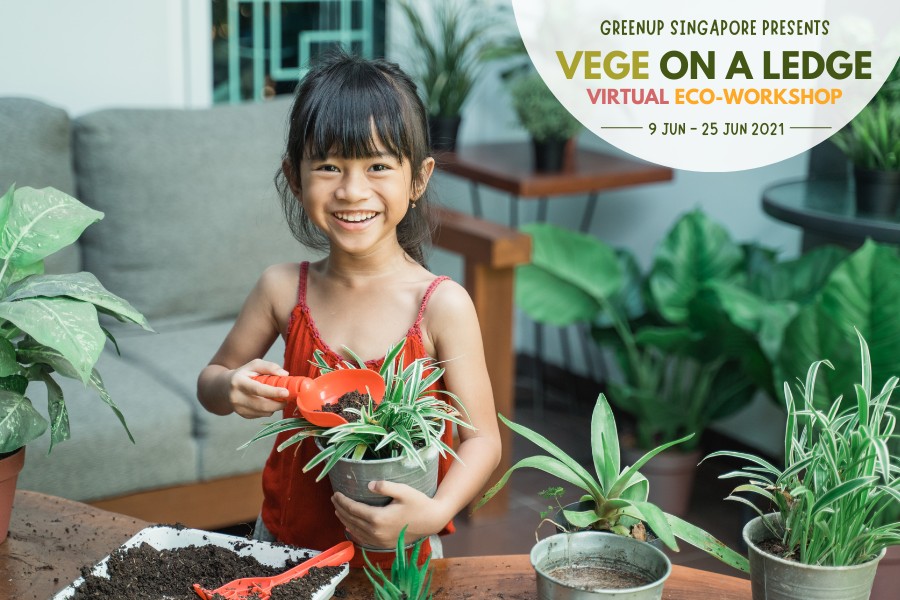 Summer is a magical time for your children to explore the beauty and generosity of Nature!
Green Up Singapore prides itself on being able to provide an authentic gardening experience for today's urban city children, from the comfort of their homes, through its Vege On A Ledge Virtual Holiday Workshops.

With its commitment to enrich, engage, enjoy, empower, and embrace, Green Up Singapore encourages children aged 6 to 12 to dig in the dirt and have fun through its nature-inspired activities. 

These workshops are designed to include practical aspects of gardening such as hands-on planting, creating organic fertilisers, making homemade natural pesticides, and harvesting their very own fresh-grown produce.
A carefully curated Garden Starter Kit will be sent to your doorstep and will include an assortment of seeds, planting medium, and growing containers. 
Bringing nature into their homes will not only enhance children's health and well-being but will inspire and develop a sense of responsibility towards the environment. If today's urban city kids fall in love with nature, they will be more likely to pass on this value to the next generation allowing everyone to benefit from the beauty of the world around them.
Dates: 9 Jun – 25 Jun 2021.
Timing: Monday to Friday, 3pm – 4:15pm or 5pm – 6:15pm.
Age: 6 – 12.

Fees: $50.00 inclusive of delivery charges.



By Anna Khan
Subscribe to weekly newsletter from "Tickikids"