Best Gifts for Newborns and Kids up to 3
---
Published 05 June 2021 at 21:39
Tickikids Blog Singapore > Digest > Best Gifts for Newborns and Kids up to 3
---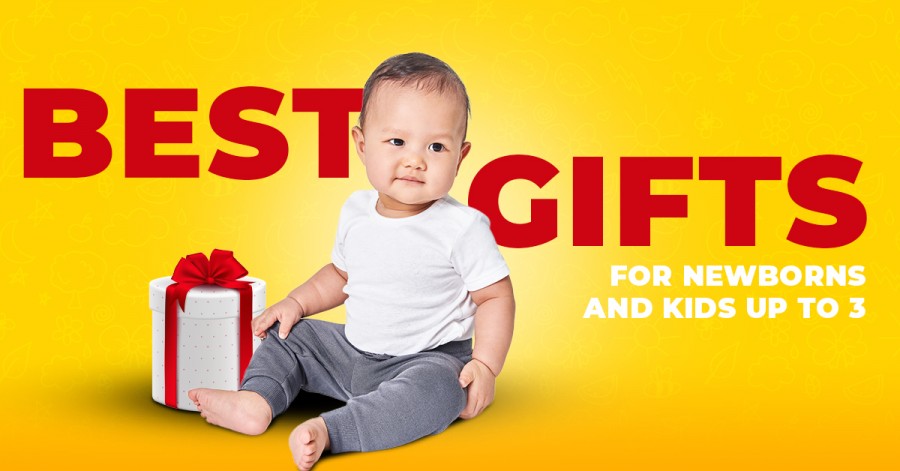 ---
Babies find everything interesting. The world is new to them, it is full of adventures and uncharted territories and anything can be a toy. Still, not all of the things that babies find interesting are kid-friendly and age-appropriate. More than that, there are so many toys, tools, and sets that can make young parents' lives easier! It can be an interesting educational toy, or a catching construction kit, or a set of toys. In addition, you will be confident, that your gift is appropriate for kids, has no toxic or harmful elements, and will be useful for parents and a baby.
We've rounded up some great gifts for newborns and kids up to 3 years old to save your time. All these items are of high quality, made of eco-friendly materials, and are easy to use by infants.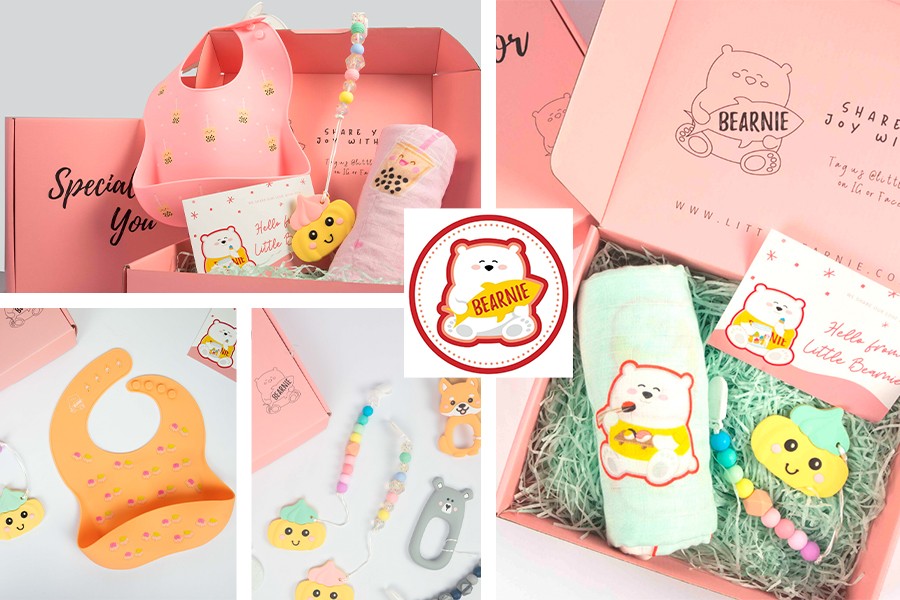 Photo Credit: Little Bearnie


Price range: $49.90  
Age range: 0+
Want to buy readymade sets that can work as practical yet beautiful options for baby shower gifts or as presents for pregnant friends? The gift bundle sets by Little Bearnie come with a range of product and price options to help you choose the right present for any occasion for the little ones.
The best-selling Baby Premium Gift Set (Boba Series) is a curated Boba Tea fabric Bib and their exclusively-designed Boba Swaddle as well as a Teething Clip Set or your choice, making it a perfect match for any bubble tea or boba lover!
• Baby Premium Gift Set consists of Swaddle, Bib & Teething Clip Set (SGD72)
• Baby Signature Gift Set consists of Swaddle & Teething Clip Set (SGD55)
• Baby Classic Gift Set consists of Bib & Teething Clip Set (SGD46)
These gift sets are exclusive on their website.
Find Out More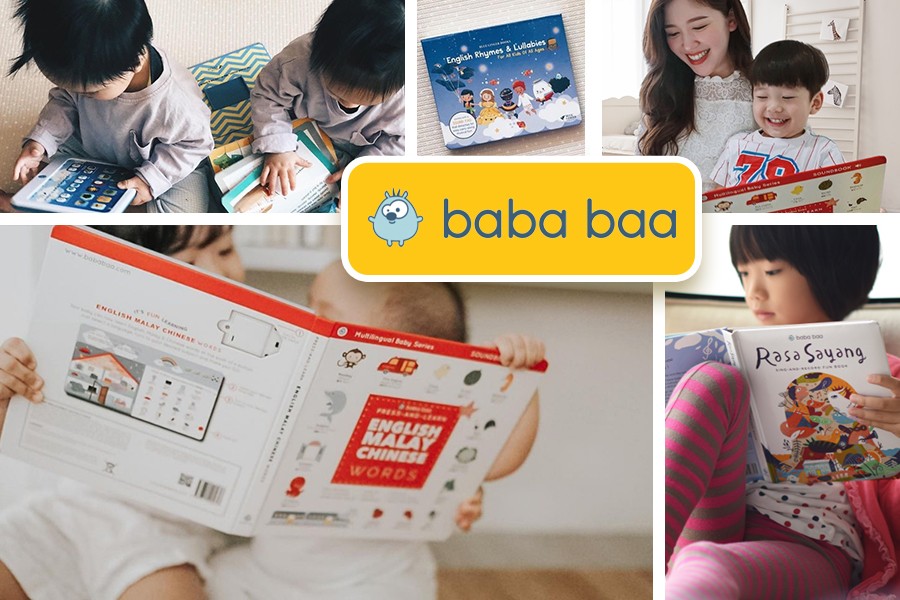 Photo Credit: Baba Baa


Rasa Sayang Sing-and-Record Fun Book
Price Range: SGD 28
This interactive songbook is the first book of its kind that would represent the vibrancy of the Singaporean, Malaysian & Indonesian cultures. The book features 7 familiar Nusantara folk songs with beautiful illustrations and listen-and-record functions. The Rasa Sayang Children Fun Book includes:
a 'play' mode for pre-recorded songs
a 'record' mode for interactive play
a 'playback' mode to play your recording.
Songs include Rasa Sayang, Chan Mali Chan, Burung Kakak Tua, Lenggang Kangkung, Bengawan Solo and Gelang Sipaku Gelang,
Visit the product video page
Find Out More
Press-and-Learn English Malay Chinese Words Book

Price Range: SGD 22
This sound book is the first English Malay Chinese words trilingual book. It is perfect for teaching a baby's first words! Containing more than 400 words in 3 languages covering 9 subjects including zoo animals, farm animals, insects, underwater world, vegetables, fruits, vehicles, things at home, and colors and shapes, the little one will have fun learning the language with the included sound module and dazzling sound effects.
Check out the product video
Find Out More
English Rhymes & Lullabies For All Kids of All Ages
Price range: SGD 22
This is a book designed for all kids of all ages. Press the buttons on the sound panel of this charming book to hear twelve much-loved nursery rhyme songs and lullabies. Each richly illustrated scene shows a different cultural setting that will fascinate all children.
Every song also comes with a question in both the book and the sound pad. Does the rain have a smell? What's the biggest fish in the ocean? Read or listen to the fascinating answers and expand your knowledge!
Songs include - One Two Three Four Five, Row, Row, Row Your Boat, Lavender's Blue, Incy Wincy Spider, Rain, Rain, Go Away, Are You Sleeping?, Hickory Dickory Dock, The Muffin Man, Humpty Dumpty, Twinkle Twinkle Little Star, Baa Baa Black Sheep, and Rock-A-Bye Baby.
Take a look at the product video.
Find Out More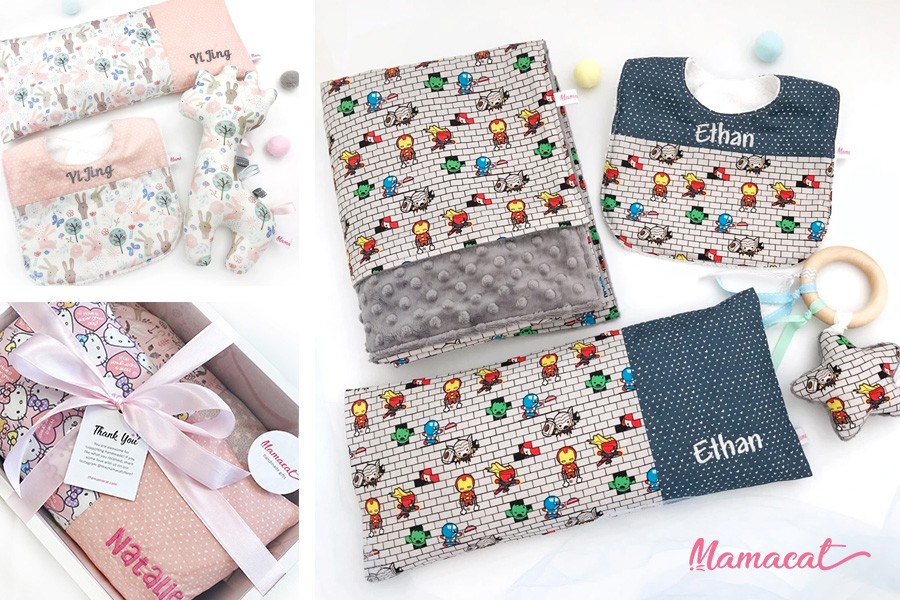 Photo Credit: The Mamacat Store
Price range: $70 - $100++
Age range: 0+ 
The Mamacat Store has been in operation since 2012 and maintains the quality and style of the items for babies and moms through all these years. You can find a wide range of products that are customizable and made of top-quality materials. 
Their pre-selection of gift options are stylish and beautiful and will make the best gifts for your friends who are welcoming a new addition to their family. It is also possible to mix and match a completely customized gift box, with your special choice of fabric and items. 
Their store offers a wide choice of selection, including the popular "chou chou" beanie pillow that provides comfort to babies, a well-designed range of rattle toys, teethers and bibs that keeps baby entertained or drool without a mess. With the variety of designs, you will be spoilt for choice! All items will be wrapped beautifully by the Mamacat team and will definitely bring joy to your friend receiving the gift. 
Find Out More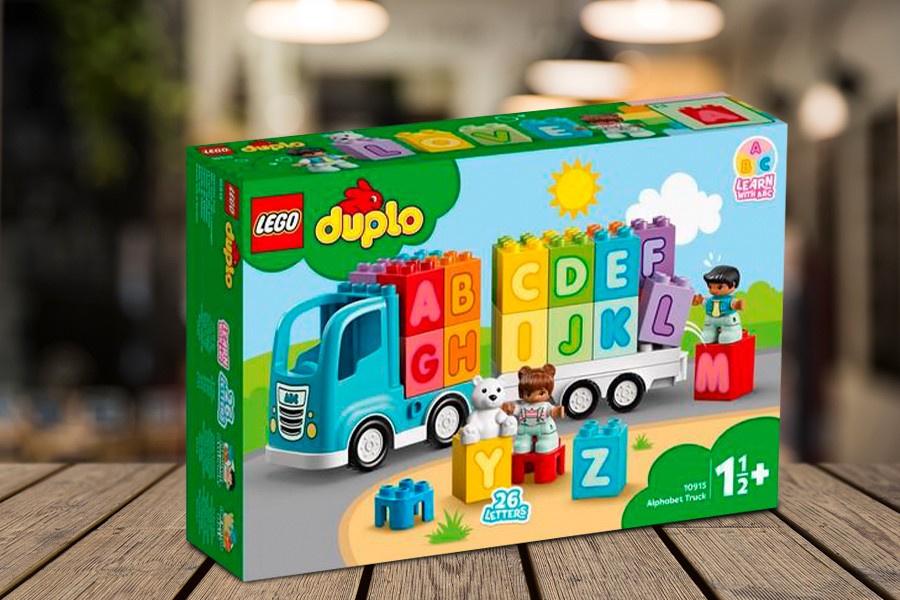 Photo Credit: Bricks World


Price range: $39.92
Age range:18 months+
Toddlers love LEGO, this is an axiom. There are so many sets and building kits that it is possible to find a set suited to any fancy and budget. 
This LEGO® DUPLO® Alphabet Truck can become the perfect first construction set for the infant. It offers several gaming activities so children never get bored with it. They can sort, stack, and transport letters on fun and bright truck. This toy introduces children to the letters of the alphabet and offers open-ended play as these letters can be transported on a train with three little helpers – a boy, a girl, and a cute bear.
Such toys are brilliant when it comes to the development of fine motor skills, spatial awareness, and creativity boost.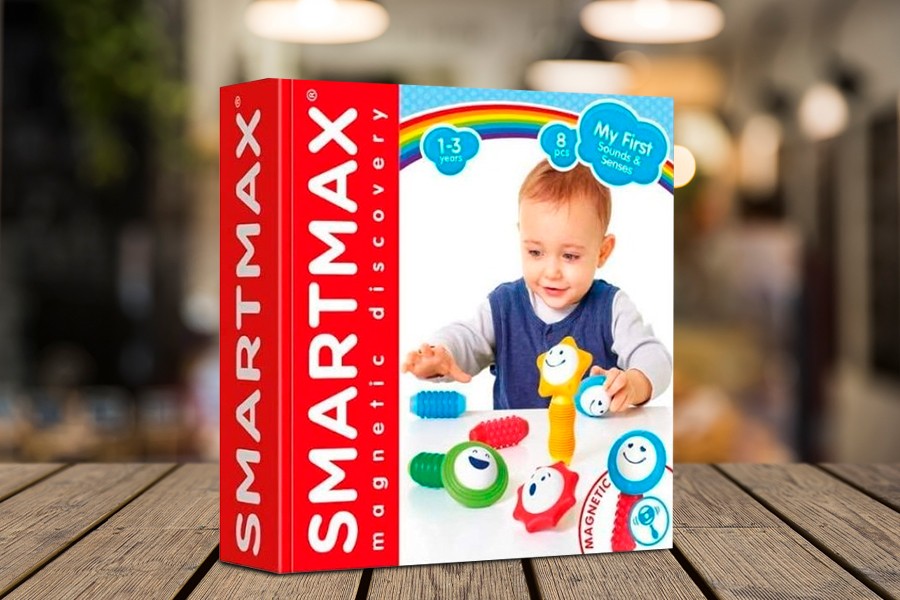 Photo Credit: Toyster


Price range: $31.90
Age range: 1-3 years
Science is almost like magic for infants, still, it is never early to learn something new! And SmartMax Magnetic Discovery Building kit can become a real window for engineering in the little explorers. This kit demonstrates the possibilities of magnetism, can mesmerize infants and keep them engaged for a long time. Even without proper understanding, kids learn the ropes of  STEM sciences in the most catching, fun, and magical way! Also, the pieces have different textures, make different sounds, and depict different emotions. So, apart from learning kids can play open-ended games and create their own stories together with parents.
This toy is a go-to for the development of hand-eye coordination, logical thinking, color, and form recognition.
Find Out More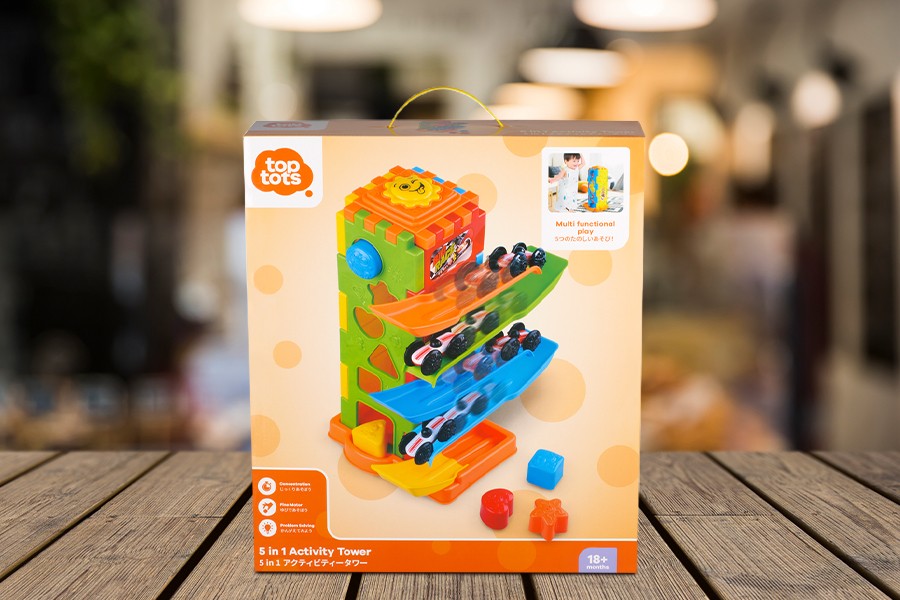 Photo Credit: Toysrus


Price range: $39.99

Age range: 18 months+
Young parents will thank you for additional free time as a toddler can spend hours playing with this toy! This tower offers so many different activities that it can become a favorite toy for a long time.
Kids can race the car down the ramp, make a squeak by pressing a button on the roof, sort shapes, let the teddy climb the wall and guide him down, and guide the rattle down the wiggly wall.
It is a great tool to improve the concentration and independent play of the child.
Find Out More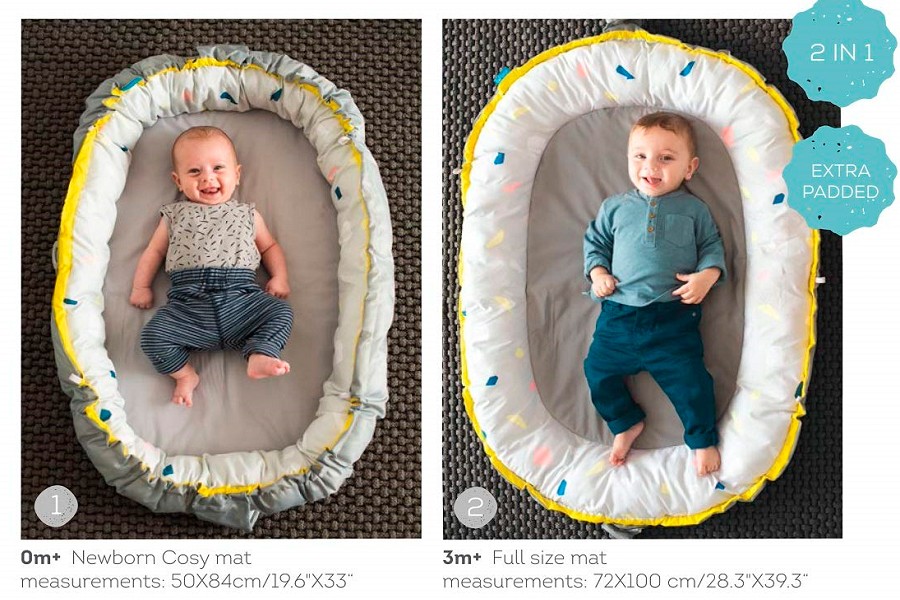 Photo Credit: Lamkins


Price range: SGD 69
Age range: 0+
Once again, this gift is all about new parents' freed hands, saved time, and nerves. This cocoon-like playmat creates a cozy environment for a newborn and ensures that a baby won't fall due to the quite high boards. What's great, this mat can 'grow' together with a baby thanks to the fastening strap that can resize the mat. The mat can be used as a gym for playing, crawling, and wriggling in a full-size position. Thanks to the convenient shape and size parents can take this mat with them on the go to make sure that a baby is safe and can sleep or play snugly.
This mat is foldable, washable, and is made of baby-friendly materials.
Subscribe to weekly newsletter from "Tickikids"