Singapore's Best Art and Craft Studios to Support Your Child Artistic Journey
---
Published 14 February 2022 at 15:17
Tickikids Blog Singapore > Digest > Singapore's Best Art and Craft Studios to Support Your Child Artistic Journey
---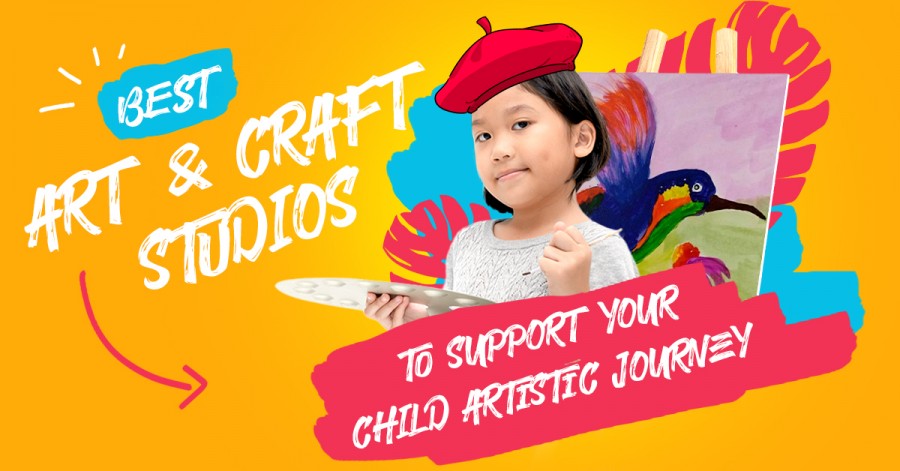 ---
Art and craft classes and workshops are the ultimate way for children to explore their talents, develop their creative thinking and take some time off the screens. Art not only expands children's capability to interact with the world and express themselves but also fosters their intellectual development, cognitive abilities and design thinking. The valuable skills developed through the arts come in useful in adulthood as creative thinking is in high demand within the workforce. To nurture your children's creativity and unleash their artistic potential, TickiKids has rounded up some of the best art and craft studios in Singapore.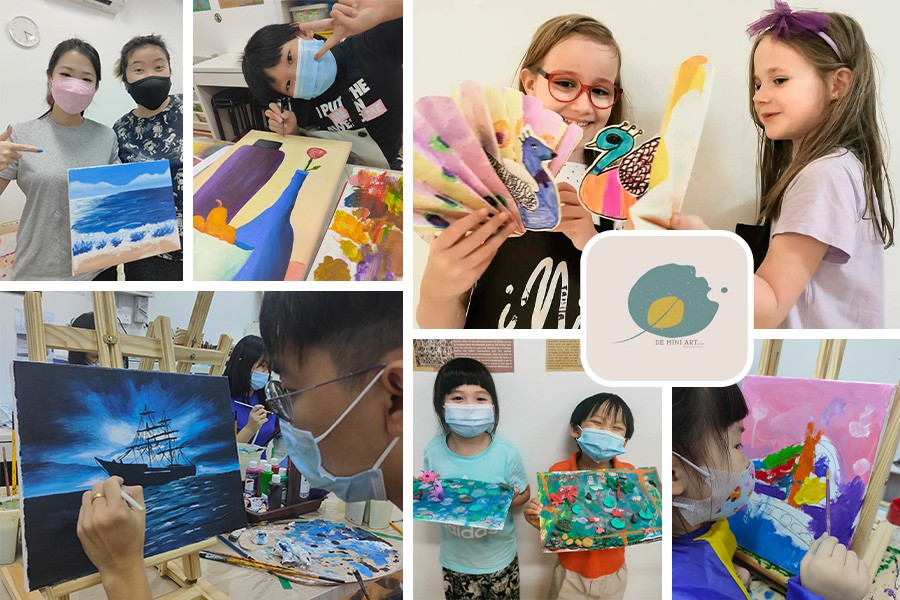 Image credit: De MiNi Art

De MiNi Art is the place where the magic of art begins! If you or your little one wish to experience the power of creating art and discover your hidden talent, De MiNi Art is proud and ready to guide you through your artistic journey.
De MiNi Art studio has been providing innovative art programs to children, teens and adults in Singapore. Their professional Instructors and Artists deeply believe that anyone can create their own masterpiece with guidance and attentive mentoring. Passionate in their pursuit for students to push their boundaries in their style, medium and creative thinking, De MiNi Art teachers provide a welcoming and safe environment so anyone can enjoy the process of creating art. During classes, educators apply the step-by-step approach to teaching art and, at the same time, they encourage MiNi Art students to develop experimental spirit by trying out every single step on their own.
De MiNi Art studio delivers a wonderful schedule of painting and drawing classes for children that cover a wide spectrum of art techniques and are suitable for all skill levels and ages. Available both in online and offline mode, De MiNi Art's unique and inventive curriculum enables children to explore their creativity and enhance their artistic skills in a huge range of fields including drawing, painting, sketching and more.
Age: 4-17 years old and Adults

For those who are on the verge about starting their artistic journey, De MiNi Art has prepared a special offer and grant art enthusiasts a chance to join a trial class at a special price. Suitable for all ages from 3 to 17 years old and even adults, De MiNi Art trial class is a memorable and fun way to gain hands-on experiences in the arts and meet the hidden artist in you.
Fees:
Children Art $15
Adult Art $18

Class duration: 1.5 hour

For more details about De MiNi Art schedule and available programmes, make sure you follow them on Facebook and Instagram.
Location: Space Kovan #01-27, 9 Yio Chu Kang Road, 545679 Singapore
Contact details: +65 9359 6503
Miniartcorner.sg@gmail.com

Social media: Facebook, Instagram




Led by trained teachers and artists, MuzArt offers art classes and workshops for children as young as two years old. MuzArt's creative curriculum combines a range of art techniques and materials to expand your children's imagination and nurture their appreciation of art. As young MuzArt artists manipulate a paintbrush, not only do they foster art skills, but also develop other crucial traits including persistence, empathy, emotional intelligence, self-confidence, problem-solving, motor and cognitive skills. Striving to provide little learners with a relaxing and stimulating environment, MuzArt Learning Centre cultivates future leaders through the creative, intellectual, psychological, and aesthetic aspects of teaching art.
With four programmes held at thirteen MuzArt centres across the island, every child is expertly coached and tutored to create a unique piece of art.
Junior Art is the perfect head start towards concentration development, hand-eye coordination and line control skills. During this programme, children will pick up basic art techniques and build upon them with the next levels of MuzArt's classes. Young art enthusiasts will enhance their observation skills, gain an understanding of colour diversification and learn the difference between dark and light colours.
Age group: 2-6 years old
Foundation Art is a three-level programme that helps children develop a clear understanding of curves and horizontal lines, foster overlapping skills, learn about composition and subject drawing. With the subsequent levels of Foundation Art, little Picassos will hone the skills of physical observation, memory drawing and painting, mind-mapping and art planning.
Age group: 7-9 years old
Through the Intermediate Art programme, children will explore collage creation, special effects drawing skills and colour mixing methods using a plethora of colour schemes. With the second level participants will discover various watercolours and outline techniques through finger paintings. As children learn to explore the depths of colours on the third level of the programme, they will gain expertise in colour mixing methods and schemes, learn thick and paint stack skills, painting of various cartoon characters and understand pastel effects.
Age group: 10-12 years old
Advance Art is designed to open numerous opportunities for a child's aesthetic education. Advance Art programme celebrates the creative independence of participants, their imagination and their artistic vision.
Age group: 13-18 years old
What is more, MuzArt holds various 90-minutes workshops for children aged three and above. Each MuzArt's workshop, be it Floral Design, Origami Fashion, Stone Painting, Colouring, Clay or Puzzle Design, is process-driven, which means they are centred around the development of the child's imagination, creativity, and confidence. To learn more about MuzArt's diverse offer click here.
Multiple MuzArt centres allow you not to feel suffocated by traffic and select a convenient art classes location for your precious little one.

Locations&Contacts:
MuzArt @ Jurong East HQ: MuzArt @ Jurong Regional Library, 21 Jurong East Central 1 Level 1
admin@muzart.com.sg
+65 9180-7010
MuzArt Ang Mo Kio: AMK Hub, 53 Ang Mo Kio Avenue 3, #03-15/16
amk@muzart.com.sg
+65 6909-7908 / 9046-0673
MuzArt Bukit Timah: Beauty World Centre, 144 Upper Bukit Timah Road, #04-10/11
bukittimah@muzart.com.sg
+65 6952-0410 / 8200-0983
MuzArt East Coast: The Yards, 406 Joo Chiat Place, #03-21/22 Off Telok Karau Road
eastcoast@muzart.com.sg
+65 9188-2700
MuzArt Hougang: The Midtown, 1187 Upper Serangoon Road, #01-64
hougang@muzart.com.sg
+65 8877-5447
MuzArt Kallang: Kallang Wave, 1 Stadium Place, #01-53
kallang@muzart.com.sg
+65 8882-3289

MuzArt Jurong West: ActiveSG Jurong West Sports Centre, 20 Jurong West Street 93, #02-01 to 04
jurongwest@muzart.com.sg
+65 9851-5495
MuzArt Queenstown: 125 Bukit Merah Lane 1, #01-176
queenstown@muzart.com.sg
+65 9171-7565
MuzArt Sengkang: ActiveSG Sengkang Sports Centre/Anchorvale Community Club, 57/59 Anchorvale Road #01-02/09
sengkang@muzart.com.sg
+65 8868-0102
MuzArt Serangoon: Blk 266 Serangoon Central Drive, #02-251
serangoon@muzart.com.sg
+65 6909-8738 / 9459-9418
MuzArt Tampines: Our Tampines Hub, #B1-20A, 1 Tampines Walk
tampines@muzart.com.sg
+65 9224 9993
MuzArt Toa Payoh: HDB Hub, 500 Toa Payoh Lorong 6, #04-36
toapayoh@muzart.com.sg
+65 9105-5616
MuzArt West Coast: West Coast Plaza, 154 West Coast Road, #02-10/11
westcoast@muzart.com.sg
+65 9338-5898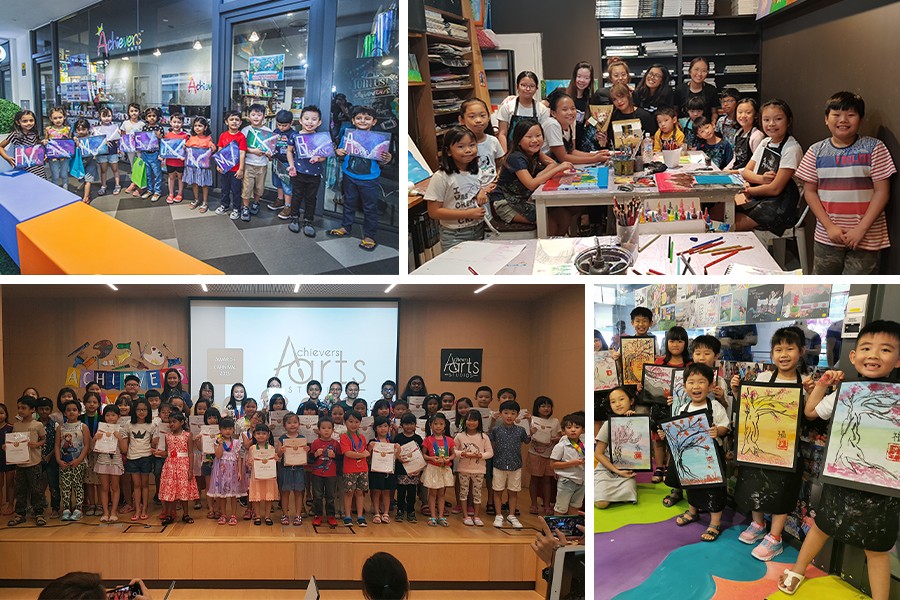 Image credit: Achievers Arts
Achievers Arts is an established art studio with creative art classes for kids as young as three years old and above. Founded in 2016, Achievers Arts has developed an extensive schedule of art and craft workshops, from canvas painting, pastel, acrylic, watercolour, and sketching to digital art and fashion illustrations. With such an ever-increasing list of unique art classes, Achievers Arts Studios has something to offer for every art enthusiast.
The small classes with a 5:1 student-teacher ratio ensure all children get the most out of the artistic activities with support and attention from experienced art staff. Professional Achievers Arts' instructors guide little learners step-by-step and use the method of repetition to enhance students' drawing skills even more. Achievers Arts classes are available in several categories, each tailored around children's abilities at different ages.
Artventurer programme is designed to encourage and introduce artists to the basics of drawing, various painting techniques and texture in 2D and 3D artworks. Working with different mediums such as acrylic paints, watercolours, and oil pastels allow children to enter imaginative worlds, explore and represent their experiences through art.
DrawVinci is an enjoyable leisure program that allows students to master their basic drawing skills. In DrawVinci classes, young artists learn how to work with dry mediums such as pencils, colour pencils and markers.
Canvas Wizard introduces kids to art tools such as brushes, sponges and palette knives. With this programme, children gain an understanding of Colour Theory, polish various painting techniques and discover diverse art styles.
Sketcher Master programme covers various pencil types and techniques. During this programme, students will acquire the knowledge of highlighting, toning and shading and will be engaged in sessions of observational sketching.
For more serious participants, who wish to build their portfolios and prepare for future interviews, Achievers Arts Studios prepared Junior Fine Arts and Portfolio Art programmes. To enhance creative thinking and students' knowledge in art history, these two programmes include diverse project themes and project discussions with peers. Guided by experienced artists, little artists will build confidence in art, explore ideas from different perspectives, improve their artistic skills and insights.
To find a class that will hone the artistic skills of your precious one, inquire about trial classes and the schedule click here.
Locations&Contacts:  
Tampines Studio (OTH), 1 Tampines Walk, #02-86, tel. 6204 1662
Pasir Ris Studio (DTE), Pasir Ris Close, #03-102, tel. 6951 1732
Bedok Studio (HBB), 1 Bedok North Street 1, #01-22, tel. 6929 3225
Subscribe to weekly newsletter from "Tickikids"